July 16, 2011 · Posted in
Uncategorized
·
Comments Off

on Subdecay presents the tiny Octasynth
The Octasynth uses square waves, suboctaves and a resonant low pass filter to create thick creamy gritty synthy goodness
Background info:
This pedal with streamlined controls converts your guitar signal in to three octaves of square waves singing in unison, then sends them through a resonant filter. The end result is reminiscent of a vintage analog synthesizer… or in some cases a malfunctioning analog synthesizer.
The Octasynth reacts to your guitar and playing style. Tracking is usually best with the neck pickup. For some guitars it may help to roll the treble back a little too. Some experimenting with your playing style may be needed to really get full use out of this pedal. Palm muted runs can yield anything from funky bass stabs to staccato sequences. Let the notes ring for some sub bass thump or dreamy filter sweeps.
The Octasynth takes a "blunt instrument" approach to create synthesizer sounds. The filter is controlled by the depth knob AND how hard you pick each note. As a note fades away the filter sweeps lower and lower. This can trail notes off gracefully with the right settings and playing style.
The Octasynth is 100% analog. The Octasynth is MONOPHONIC. It will only track one note at a time. Power chords can sometimes create a musical, but glitchy effect. Diminished 9th chords… not so much. They just splatter and make a mess. Don't try this on the carpet.
Controls:
The Octasynth's controls are tailored to creating a sound quickly. No endless tweaking required.
Blend- A mix control for 3 octave voices. To the left, two octaves down. To the right, one octave. In the center a mix of all three.
Depth- The range of the filter. As this knob is turned to the right each note you play pushes the filter cutoff frequency higher. This control can be a bit touchy, especially in the lower range. When turned all the way down the filter stays below audible frequencies (i.e. there will be no sound at all.) It needs to be turned up at least a little bit for any audible effect. This design allows the filter to trail off to ultra low frequencies, which can make notes trail off gracefully rather than sputtering out.
Res- Resonance/Feedback for the filter. Turned to the right the cut off frequency of the filter is intensified. Turned all the way to the right the filter will approach near oscillation.
Level- Total output volume.
The Octasynth is tuned for electric guitar. We do NOT recommend the Octasynth for use with Bass guitar.
Here's AfroDJMac's new free weekly Ableton rack featuring the fender guitar.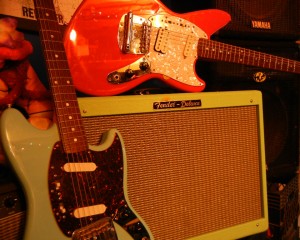 Here's two instrument racks created using screeching feedback from Fender Mustang and Jag-Stang guitars, played through sea-foam green Fender Deluxe. Surprisingly, despite coming from such a loud and wild source, these racks are fairly mellow and reminiscent of a vintage keyboard. In the video, it is also shown how the racks work and take you through the effects. Also spend a little time explaining the mapping of the racks.
Download the rack here: http://bit.ly/freesynth15
One of my favorite sounds is that of a distorted electric guitar as it begins to screech into blazing feedback.  It's very unpredictable, wild, and difficult to control.  The overtones and harmonics it creates are hard to replicate with any other instrument.  For this weeks Ableton Live Rack installment, I sampled some feedback from my Fender Mustang and Fender Jag-Stang coming out of my sea-foam green Fender Hot Rod Deluxe.

Sometimes the results are surprising when you create a sampled instrument, and this is one of those unexpected outcomes.  The resulting instrument sounds more like a vintage keyboard with some rich harmonic content than a screeching guitar.  Also, the actual guitar used makes quite a big difference as well, so I've include two racks this week, one created with the Mustang and one with the Jag-Stang.  I added effects that I thought were useful to the sounds, Lo-pass Filter, Tremolo, Vibrato, Chorus, Reverb, Flanger, and just to dirty it up a bit, Vinyl distortion, which can be mix to taste.  Enjoy, and as always, send along word of any music you create with this or any of these racks.
June 10, 2011 · Posted in
Uncategorized
·
Comments Off

on MOOG SOUND LAB: Tegan & Sara – Living Room
Tegan and Sara re-envision their single "Living Room" from their album entitled "If It Was You," filling it with Moog Guitars and the ultra low end of the Taurus 3 Bass Pedals. Sara uses the Full Sustain mode on the Paul Vo Collector Edition Moog Guitar to create swooshing string pads to accompany Tegan's upbeat acoustic guitar.
Ted Gowans uses the E1 Moog Guitar in a couple of ways: He's using Mute mode during parts of the versus that give a real staccato feel, then switches over to Controlled Sustain where energy is given to just 1 or 2 strings at a time.
Shaun Hubert makes use of his hands and feet with the Taurus 3 Bass Pedals, bringing a massive low end growl to the song. There's also an Etherwave Plus Theremin being used to sweep the Taurus 3's filter via the CV output on the theremin.
See other Moog Sound Lab performances: http://www.moogmusic.com/sight-and-sound/sound_lab
June 7, 2011 · Posted in
Uncategorized
·
Comments Off

on Effectively control Native Instruments' Prism synth
Jacques returns with some more creative ways to control Native Instruments Prism synth. Using a Starr Labs Ztar Jacques can control any number of parameters found within this soft-synth, such as decay, harmonic ratios, delays, FX, tempos etc. he's easily programmed the touch pads, ribbon, joystick, and volume knob to interact with Prism, allowing for quite an expressive and creative journey into sound!
May 23, 2011 · Posted in
Uncategorized
·
Comments Off

on Mixing a concert guitar with breakbeat
Not your everyday mix up

In this video:
here i am trying to mix concertguitar and breakbeat… this are the steps to my coming live shows. keep control over various parameters makes my performance challenging but also fun
if technical detail is needed, please ask me
April 27, 2011 · Posted in
Uncategorized
·
Comments Off

on Monolith Low latency guitar Synth plugin Preview
Monolith is a very low latency, guitar driven VST plugin Synthesiser.
This is just a preview of the prototype.
Monolith is planned for release in the spring of 2011.
April 5, 2011 · Posted in
Uncategorized
·
Comments Off

on Packy Plays Tetris – with a Nintendo Guitar
Packy Lundholm (lead guitarist for I Fight Dragons) plays Tetris in various locations around Chicago. Then things get a bit crazy.
Also his guitar is made from an actual Nintendo Entertainment System (NES).
"As always, you can get a free song at www.ifightdragons.com/free!
And if you live in the Chicago area, come see us play live @ Lincoln Hall on Thursday, 3/31. It's all ages, and we'll definitely be using this guitar


http://www.lincolnhallchicago.com/
March 20, 2011 · Posted in
Uncategorized
·
Comments Off

on The Gizzards on FNL – featuring the NES guitar
The Gizzards performed on WTV's FNL (Friday Night Live) show on the 18/03/2011. This is how it went.
March 18, 2011 · Posted in
Uncategorized
·
Comments Off

on Turn you guitar into a string synth and tin whistle
Welcome to Electro-Harmonix's "Effectology" series, in which we create a remarkable collection of impossible sounds using just a regular guitar and EHX effect pedals!
No keyboards, samplers or midi pickups were used.
In this episode I show how to turn you guitar into a string synth and Irish tin whistle.
For more info and pedal settings:
http://www.ehx.com/forums/viewthread/4512/
March 14, 2011 · Posted in
Uncategorized
·
Comments Off

on Techno-trance meets Ewan Dobson – Time 2 – Guitar
Pretty cool I must say

CD & Guitar Tabs available at http://www.candyrat.com
Also available on itunes and amazon
Visit Ewan Dobson at http://www.facebook.com/ewan.dobson and http://www.myspace.com/ewanguitar