This is a preview of Sentient FX's upcoming Monolith – an application that turns your guitar into a Moog synthesizer.
Here's what they have to say about Monolith:
Our guitar synthesisers do not use MIDI to achieve their tones. We feel that the MIDI protocol is too crude to deliver the full range of guitar players' nuances, rendering performances sterile and lacklustre. Pitch informaion is derived directly using "Literal Nuance Interpretation" which values "feel" above all else.
Somebody once said of conventional MIDI guitars, "it feels like the guitar is playing you, not you playing the guitar". We aim to put you back in control..
You can use palm muting, harmonics, ebows, sustainiacs and whammy bars with this technology. You don't have to close old doors to open new ones here.
Monolith is expected for release in Spring 2011.
Monolith is a very low latency, guitar driven VST plugin Synthesiser.
This is just a preview of the prototype.
Monolith is planned for release in the spring of 2011.
The Moog Guitar, Moogerfooger an Multi-Pedal (M3) setup from our recent video was so much fun to play with, we just had to stretch out a bit more with it… and throw in some self-indulgent video editing.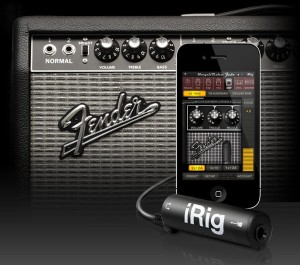 IK Multimedia has announced that its AmpliTube Fender apps for iPhone, iPod touch and iPad are now available for download from the iTunes App store.
Designed and developed in close cooperation with Fender Musical Instruments Corporation, AmpliTube Fender™ is a full featured recording studio, guitar amp and FX rig offering the legendary Fender™ tone.
AmpliTube Fender features
Real time guitar mobile multiFX + recording and practicing app.
Full rig with 3 stompboxes (iPhone)/4 (iPad) + amp with effects + cabinet + mic.
6 Fender™ Stomps — Fender™ Phaser, Fender™ Blender™, Tape Delay, Overdrive, Compressor (by registering) and Noise Filter.
5 Fender™ Amps with matching Cabinets — '65 Deluxe Reverb™, '65 Twin Reverb™, '59 Bassman™ LTD, Super-Sonic™ and Pro Junior™.
2 Microphone models, dynamic and condenser.
Single track recorder (with re-amping) expandable to full 4 track (iPhone)/8 track (iPad) recording studio with master effects through in-app purchase.
Import and play up to 50 songs/backing tracks directly from your iPod library on your device or from your computer.
Ultra-realistic tones derived from the AmpliTube Fender Mac/PC studio.
Slow down or speed up the tempo (-50% to +200%) of imported songswithout affecting their pitch.
36 presets can be saved/named/recalled on the fly.
Includes tuner and metronome.
Low-latency for real time playing.
FREE version also available – can be expanded by individual gear model purchases, or bundle purchase via the in-app purchase feature.
Can be incorporated into the AmpliTube 2 for iPhone/iPad app via in-app purchase.
The AmpliTube Fender apps for iPhone and iPad are currently available from the iTunes App Store, and cost $14.99 USD / 11.99 EUR each. Free versions are also available for iPhone and iPad, both expandable with the individual amps and effects a-la-carte through in-app purchases.
The 4-track recorder and 8-track recorder with master effects' sections on the iPhone and iPad cost $9.99 USD / 7.99 EUR and $14.99 USD / 11.99 EUR respectively as in-app purchases. AmpliTube 2 for iPhone/iPad users are able to add AmpliTube Fender™ stomp box and amplifier models as individual in-app purchases for only $4.99 USD / 3.99 EUR per amp, $2.99 USD / 2.39 EUR per stomp box, or $14.99 USD / 11.99 EUR for the entire collection of models.
More information: IK Multimedia
Moog engineer Cyril Lance and lap steel virtuoso Billy Cardine introduce the Moog Lap Steel, taking a look at what the Moog Guitar technology means for the lap steel player.
The Moog Lap Steel combines award-winning Moog Guitar technology with the unique expressive capabilities of the Lap Steel guitar. All the innovations of The Moog Guitar; Full Sustain, Controlled Sustain and Mute modes, Harmonic Blends and the onboard Moog Ladder Filter are seamlessly integrated to enhance new and traditional playing techniques.
http://www.moogmusic.com/moogguitar/?…
Electro-Harmonix Effectology, Vol.20 "The Caribbean Steel Drum Effect."
By Bill Ruppert
Welcome to Electro-Harmonix's "Effectology" series, in which we create a remarkable collection of impossible sounds using just a regular guitar and EHX effect pedals!
No keyboards, samplers or midi pickups were used.
In this episode I show how to turn a regular guitar into a Caribbean Steel Drum.
For pedal settings for this video visit the user forum at :
http://www.ehx.com/forums/viewthread/…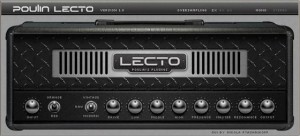 LePou Plugins has announced the release of an Audio Unit version of LeCto, a guitar amplifier effect plug-in.
LeCto is a guitar amp simulator inspired by an american modern high gain head. This simulator has 2 channels with 3 modes on each channel. It can go from crunch (raw mode) to modern high gain (modern mode).
LeCto features
Up to 8x oversampling.
Mono/stereo signal routing.
Input signal magnitude.
Gain drive control.
Controls for low, mid, and high frequency.
Presence control.
Control for resonance resulting from the interaction with the speaker cabinet (only active on modern mode).

Note: LeCto is only an amp simulator, so you need to use a cabinet simulator.

LeCto is now available as a freeware effect plug-in for PC and Mac (VST/AU).

More information: LePou Plugins
Finally, we introduce – Kitara – available for pre-order!!


http://www.misadigital.com
Misa Digital Instruments debuted the Kitara and Kitara Limited Edition digital guitar instruments.
The Misa Digital Instruments Kitara  and Kitara Limited Edition are unique 100% digital guitars. The Kitara includes a multifunction touch-screen, MIDI controls and an on-board polyphonic synthesizer with effects. Instead of using strings, guitarists control sound through their fingertips, using the touch-screen and fret board to play, enhance and alter sounds in real-time.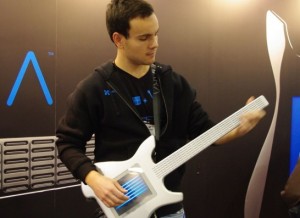 I like the blue chords, looks really cool – reminds me of something new I will share with you all very soon

Finally, we introduce – Kitara – available for pre-order!!


http://www.misadigital.com
Propellerhead Software has a Christmas gift for Reason users:
We'd like to celebrate the end of a great year for us by giving the gift of rockin' out to the Reason user community. We proudly present the Dr. Octo Rex Guitar Collection!
The Dr. Octo Rex Guitar Collection is a free library of acoustic and electric guitar loops for Reason 5.
Patches are organized by style and song key, using the multiple loop capable Dr. Octo Rex, making it easy to lay down a guitar track using natural chord progressions.
The included playing styles cover anything from open strumming to single string riffs and punk power chords.
Pricing and Availability
Dr. Octo Rex Guitar Collection is a free download for fans that "Like" Propellerhead Software on Facebook.
Link: