A festive message from Vince Clarke and Andy Bell…
Having some fun with Rene, Bit Blob 2, Korg er-1 mkII, DFMZ-1 Modular synth. Just a jam with some filming fun as well.
Another video of the BitBlop
Desmond Dodecahedron has the craziest way of celebrating the season I've seen this year: just build a giant Christmas tree from LEGOs, then use visual programming environment Max/MSP and some custom electronics to trigger tunes. Desmond writes:
Once I discovered that the word "advent" was actually an abbreviation of "audio event" and the fact that we have had lots of snow in London – I decided to create this Christmas Carol note filtering tree. (in this case it is actually a midi event tree – but you get the general idea). Each pitch class of a Carol i.e. all the Ds or all the Fs are allocated to a Lego door. When the door is opened, a midi file is played and the notes are sent to a vst synth in a Max Patch. The doors have small magnets which trigger a reed switch. I built a couple of resistor ladder multiplexers so that I could use nine doors with just 3 analogue ins of a Make Controller. This device could be used as a sophisticated "Name that Tune" device – fun for all the family – if that's what your family considers to be fun – unlike my own. Keep up the good work with CDM – and a festive maximum to all your readers – Des
More music on umop.com Read my full review of the MicroStation in the February edition of Keyboard Magazine. Enjoy this tribute to Christmas and synth metal.
Via hamsterdunce
Circuit bent Casio MT-520. Added a severe cut-off filter and a minor cut-off filter and a light dependent resistor and one momentary switch to activate it. Most circuit bent stuff is heavy on the glitch side. This one is not. More mellow, for the season. Happy Holidays.
Christmas Movie made with Lego. English text version.
Instruments :
Melody and Chord = Mellotron-400 (Flute, Cello, Violin)
Piano sound = Roland JV-1080
Arpeggio = Roland Juno-60
Bass = Moog IIIc
Organ (intro) = Moog CDX Organ
Greetings from electro performer Jon Johnson
http://www.youtube.com/watch?v=eOhFTZl5Q2w
Back in 2002 I was asked to compose and perform a Christmas themed piece of music in a more modern Electronic, Chillout type composition. The music of this video is a slightly modified and beefed up mix of that piece interfaced with pics from the Holiday Greetings from Karma Labs OASYS user forum and a few of it's members greetings. the music in no way is related to Karma or the Korg OASYS. I thought I would include them for some backround gazing however this video is more about the music after all. The music was recorded and performed using Propellerhead's Reason. All music was played in realtime when possible. A couple familiar Yuletide themes are played here and there in the music with several soundbites. Enjoy!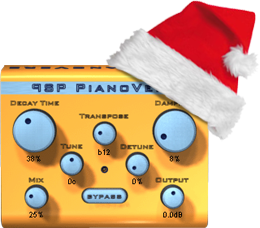 Plug-in developers PSP have re-released their freeware PianoVerb plug-in updated to work with all the most recent operating systems. You will need to register the plug-in to use it, but it is still absolutely free. Here's what PSP has to say about it:
"PSP PianoVerb reproduces special kind of reverberation originally provided by piano strings. It generates reverberation using twelve string operators with adjustable damping and decay time. Each of them is tuned to a particular note starting from A(55Hz) to a G#(103.8Hz). The PSP PianoVerb string system can be transposed in the range of +-24 semitones, tuned within a range of +-100 cents and be detuned as well. Transposing to lower octaves produces a bigger and less resonant sound similar to traditional reverbs, while in turn transposing to higher octaves produces a very bright harp-like effect."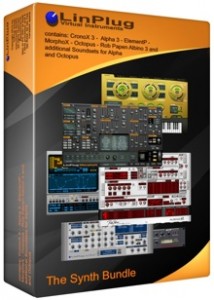 The Holiday Music Gear Deal list has been updated with a special from LinPlug – the Synth Bundle XMas Special – at more than 50% off the price of the individual synths.
The Synth Bundle Includes:
The LinPlug CronoX 3 Sample Synthesizer ( 129€ / 149US$ )
The brand new LinPlug MorphoX Synthesizer ( 99€ / 129US$ )
The Rob Papen Albino 3 Synthesizer ( 149€ / 179US$ )
The Octopus FM Synthesizer ( 99€ / 129US$ )
The Alpha Classic Synthesizer ( 79€ / 99US$ )
The LinPlug ElementP Percussion Synth ( 29€ / 39US$ )
The Ian Boddy Soundset for the Alpha Synthesizer ( 39€ / 49US$ )
The Summa Soundset for the Octopus Synthesizer ( 39€ / 59US$ )
including altogether more than 5500 preset sounds
The Synth Bundle is available for $399/299 EUR through December 31st, 2010.