http://youtu.be/LhYOfDyENiE
Pretty cool
Electro-harmonix BIGMUFF on Max for Live(M4L).
AVAILABLE: http://designthemedia.com/products/file/11-the-alterator for 4.99€ only!
This Max for Live device is an audio effect combining a pure raw comb filter with a kind of sound degrader.
It can be used for rythmic, but for melody processing too.
Features
– raw comb filter
– LFO modulation of the comb filter
– sound degrader (bit resolution + sample rate)
Requirements
– Max for Live (5.1.9)
– Ableton Live (8.2.6)
This is the teaser of The Uncanny Sequencer, the new Sequencer for Ableton Live made with Max for Live.
Latest developments on this can be found here >>
Ableton in action:
Trying to find a way to combine a couple of tracks and keep it as live as possible(without losing the plot). The control is stock Live and Automap, no Max4Live. Sounds are 50% standard Ableton and 50% sampled hardware (mostly Oberheim Matrix-1000). FX all standard Ableton except the free "King Dubby" plug-in used in the first track. My brain is the bottleneck. I just wish Novation would do a $500 version of the Launchpad with LCD buttons which could display text/color.
MSP Audio Quality
just a couple of clicks and drag in the NEW user interface !
Here's an overview of what's new:
Discoverability: A "wheel" makes the mysterious functions of different objects immediately visible; Object Explorer makes them easier to find, and new help and reference sidebar keep documentation close at hand.
64-bit audio engine
Open multiple patches, solo and mute them, open and close them without stopping audio, mix audio between them with independent volume, and take advantage of multiple processors with multiple patches.
Low level building blocks: You don't get new synth objects, but you could build them yourself. New low-level data-crunching goodness work with MSP audio, Jitter Matrix, and OpenGL textures
More JavaScript: An overhauled JavaScript engine makes JS scripting faster and more flexible, and there's a proper text editor with syntax highlighting (though, of course, you may still prefer your own).
New visuals: Vector graphics and "HTML5 Canvas-like" UI scripting (though to me it's a shame this isn't just the HTML5 Canvas). There are also massively-expanded Jitter powers, but those are best left to our sister site Create Digital Motion.
Filters: New filter-visualizing tools for audio filter construction and manipulation.
Dictionary data type and associated objects let you describe information in a more structured way (all kinds of potential here from control to composition)
Projects now let you organize data, media, and scripts in the manner more associated with conventional development environments
What about Ableton? No news on that front, but I expect more soon. Max for Live users will at the very least get the advantages above, since Max for Live is really Max inside Live.
In case you have missed this nice Max for Live device:
A small demo of the "Iannix Sequencer" MaxForLive device I created. Using this device inside Ableton Live and Iannix you can create rhythmic patterns (like using a step – sequencer) with visual feedback of whats going on directly in Iannix.
download link: softcore.net.gr/​IannixSequencer
For more info on Iannix software visit: iannix.org
For more info about Softcore visit: softcore.net.gr
http://youtu.be/4pRcj3XfFkw
Max4Live effect sequencer patch by Mark Egloff. This patch turns your AKAI Professional APC20 or APC40 into a versatile effect step sequencer.
Download this Max4Live patch at http://www.maxforlive.com/library/device.php?id=879
The second in a series of tutorials about nwdlbots, a suite of generative modules for Ableton Live.
This episode demonstrates the way in which nwdlbots can interact within a Live Set using two modules called "noodle control" and "noodle send". By attaching noodle sends to each EventBot in a set, you can relay MIDI information to the control module, which collates the information and then feeds it back to the EventBots, informing their decisions regarding onset and pitch.
This allows the bots to work together controlling the density and harmony of the set.
nwdlbots are available for download at sundaydance.co.uk
(Ableton Live and Max for Live required).
So here is this week's free Ableton live rack featuring the sounds of the 4th of July:
This weeks free Ableton download was made entirely with a recording of fireworks from the 4th of July on Long Island, NY. I put the sample into a granulator synth in Max for Live, and then sampled that with Sampler (and Simpler!) in Ableton. There's a nice textured pad/keys sound, as well as a dangerously ferocious bass sound. I tried to get something fierce a few weeks ago with the Fender Feedback Rack ( http://bit.ly/freesynth15 ) but the results were unexpectedly (yet pleasingly) mellow and smooth. This time it's different, this bass sound is ruthless if you ask me.
Download it here: http://bit.ly/freesynth17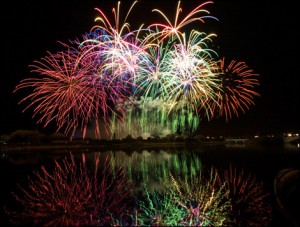 Fireworks light up the sky with beautiful colors and patterns for the eyes.  But can they do the same for the ears?  We are about to find out…  This weeks Free Ableton Live Rack, "The AfroDJMac FirecRACKer Synth, " was made entirely from the sounds of the fireworks screaming through the sky over Long Island, New York on July 4, 2011.

I recorded the sound of neighborhood firecrackers and brought them into The Granulator, a free granulating synthesizer that comes with Max for Live.  (I haven't spent a lot of time with this, but it seems pretty awesome).  After messing about, I was able to get some nice grainy sounds and then sampled that sound and brought it into Ableton's samplers.  The result is a nice, textural pad/keyboard sound, as well as a thunderously dirty and fat bass sound.  A couple weeks ago I thought I was going to develop a rather ferocious synth using guitar feedback (Free Ableton Synth #15: Fender Feedback Rack), but the results were unexpectedly mellow and smooth.  This week is much different.  I put this synth together to offer the naturally rich timbre that the fireworks created, but also to give you about as ferocious a sound as I could, given the source material.  It seems appropriate to me that a firework, which is essentially an explosive device, should deliver a fierce earth shaking bass.  Next time you play one of your tracks for your friends you can nonchalantly brag "that bass was created with explosives."
A Dub Siren built in Max4Live inspired by the one found on Dub Scrolls. A Square wave controlled by 2 independent LFO's (a rectified sine and a pulse) both with retriggered phase, and a chopper section. There are 20 MIDI CC accessible internal presets and new ones can be saved as a seperate instance or with your track. It was designed to be used Live so it is very simple, very user friendly and sounds just about right I think. For more information just open it up and have a look inside.
You can download it from http://www.maxforlive.com/library/device.php?id=712