After more than a decade of obsession over granular synthesis, Robert Henke aka Monolake releases his signature Granulator for Max for Live. Get the instrument for free here: http://www.ableton.com/granulator
Through April 2011, save big on Suite 8 and Max for Live: http://www.ableton.com/maximized
Note: The Monolake Granulator requires Ableton Live 8 and Max for Live.
I'm always looking to do things a little differently. It occurred to me that with a midi/parameter LFO I could automatically and rhythmically change the waveform parameter for each of operator's operators
How To Build A MIDI Synth In 60 Seconds With Max For Live. Yes, it's basic, monophonic, and limited to sin waves, but I challenge you to create a velocity sensitive synth in less than 1 minute with fewer max objects!
I'm going to add features in future tutorials, including polyphony, other waveforms, filters, envelopes and much more, so subscribe and tune in! Will include modulation for that dubstep/DNB wobble of course!
Via eameres2
New! Ableton m4l tutorial: modulate any device parameter, dubstep style, with Max for Live!!
Watch this in full screen in HD to really follow what's happening!!!!
Use this quick max for live device to modulate any device parameter dubstep and dnb style! Add as many LFOs (low frequency oscillators) to Operator, or any other device as you like!
This is a short demo of the ag.granula.suite, which is a collection of Max/Msp patches for generalised granular sound processing written using FTM/Gabor libraries (developed at IRCAM) and encapsulated as Jamoma modules. The ag.presetmixpad module is used here to control preset interpolation of ag.granular.control. You can read more about the patches at audibledata.com/​Software.html and download them at audibledata.com/​Download.html
Design the Media has introduced version 1.5 of LFO everything, a Max For Live device that lets you add an LFO to control any device parameters in Ableton Live.
Features:
Updates free for all buyers.
Tempo synced or not.
Waveforms drawable.
Easy to use & user-friendly.
Control LFO by LFOs by LFOs…
LFO everything is available now for 8 EUR.

This Max for Live midi device controls every other devices parameters in Ableton Live.
VERSION 1.5 with customize waveforms available !
designthemedia.com/​products/​abletonlive
Features:
Tempo sync toggle
Multiple waveshapes – new ones added this version – or draw your own.
Route an LFO to another LFO to another LFO, etc., for some sophisticated signal chains.
Lifetime free updates.
This demo, by Anton Crnkovic, demonstrates using an XBox 360 controller as an OSC music controller.
I have wanted to do something creative with a game controller ever since I first discovered the [human interface] object in Max. And as soon as the new Nodes object was released I thought a great implementation would be to use it with some sort of joystick.

I'm using MaxMSP to receive all the control data from an XBox 360 controller and converting it to OSC messages to be used with any program that accepts OSC, in this case Reaktor. I've made each message range scalable as well, for fine tuning control possibilities.

I added 9 nodes for each joystick which gave me 11 control parameters (including XY) for each joystick! It was a little unpredictable to know what kinds of results that would achieve but that was the fun part
I pretty much randomly assigned all the controls to this ring modulating synth and buffer effect Buffeater. Fun times.

Max for Live version in progress as well which will use Abletons device parameter control API. Will post when I have time to finish it.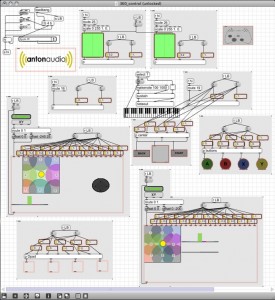 Liine has released a free Max For Live device, Kapture, that was originally created for Richie Hawtin's Plastikman Live tour.

The sounds and sonic signatures in Plastikman Live are heavily reliant on complex configurations of sends, returns and feedback loops, as well as combinations of instrument and effect parameters. Liine's challenge was to build a system to manage this huge number of parameters in a live scenario.
Kapture is the solution that they came up with. Similar to a preset management system for the whole of Ableton Live, it lets you "Kapture" the state of your set.
More info on Kapture:
We're now very glad to be able to release it to the public and to see how other people use it in performances and in the studio. Kapture is not a polished mainstream product but something developed for a very specific show. However, we think that it's something that many people will find very useful if they are willing to get their hands a little dirty and tweak it to fit their setup.

We aim to continue releasing bits and pieces like this from the Liine Laboratory, more rough and ready experimental/custom devices and works in progress, alongside the polished, premium products such as Griid.
Kapture requires Ableton Live 8 and Max For Live.