Here's what Kebu has to say about the tune:
This is a remix I made for a competition. If you like it, please follow this link and vote for it by pressing "spin" (requires registration):
http://www.beatportal.com/remix/detail/ab-you-got-to-go-k…
I didn't plan to make any more videos before my upcoming album is ready, but I stumbled upon a competition to remix Above & Beyond's "You got to go". Since I've recently discovered Anjunabeats and their great trance compilation Worldwide 03, which I've been spinning almost every day now for two weeks, I just had to take the time to give it a shot!
I saved only the vocals (sung by Zoë Johnston) from the original track and remade all music using only analog synths. The analog synths and analog drum machines were controlled in realtime by a MIDI sequencer and mixed together with the vocal using an analog mixer and hardware effects.
Equipment used: Korg Mono/Poly, Polysix, Poly-61; Roland Juno-60, Alpha Juno, TR-808 (w. MIDI); Moog Source; Oberheim Matrix 6R; Vermona DRM1 Mk III; Electro Harmonix Small Stone; Boss BD-2 (H2O mod), DD-3; Lexicon MPX500; DBX 290; Emagic AMT8; M-Audio Midisport 8×8/s; Alesis iO26; Cubase SL 1.06; Allen & Heath GS1; Yamaha S30 (as MIDI keyboard); Doepfer MCV1; Kenton Pro 2.
Camera: Canon HF100
Hope you enjoy my t-shirt! 😉
French synth pop featuring the Microkorg, but also Drumulator, Monopoly, TR707 etc
Is it good – well you have to judge for yourself

Videosequence"Warp"http://de.dreamscene.org/gallery.php?page=3&Cmd=Show&site=3D_
­animation#downloadgallery
1. Korg Triton Le 61 FX Pad
2.Korg Mono Poly Sequence(Arpeggiator)
3.Quasimidi Polymorph Chöre
4.Roland JP 8080 Solo
Hardware feature Quasimidi: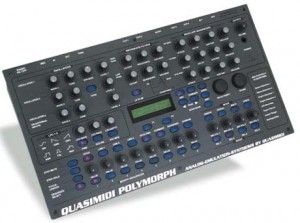 The all new PolyMorph sequencer / synthesizer is a full featured and powerful virtually analog synthesizer that assumes an evolved form and purpose of its breakthrough hit predecessor – the RaveOLution 309! First the sounds: the PolyMorph is basically four synths loaded with synth and drum sounds geared towards electronica and other forms of synthesizer music. Individual ADSR's and filters per oscillator make for a totally tweakable and flexible synthesizer. The sequencer: 16 step, 8 variations, 4 parts or instruments. Parts and even notes can be muted or changed in real time to build and decompose your grooves or synth textures. There are also preset phrase patterns to play around with.
Aside from sounding quite nice, the PolyMorph is beefed up by a great set of effects. Add distortion, EQing, reverb, chorus, flange, etc. to each of the four parts independently! The controls, knobs and sequencer can all be controlled via MIDI for in-studio use, however the impressive multi-effects implementation alone is a major hint that the PolyMorph is a machine suited for live, DJ and on the fly music production. The PolyMorph is for those of you looking to create synth music from a stand-alone box that is not entirely focused on dance.
http://youtu.be/RVVspfo0XvU
100 brand new presets programmed by music producer, remixer and sound designer Rob Lee
Cool video from synthjuk – pure synth jam
Produced with analog sounds.
Jomox drums, Moog Bass, Sh101 controlled by csq600
Monopoly triggered by TR707 . MPC sequencing / master clock.
Doepfer gate pulses . CV DCB Midi interfaces & sync devices."
Oberheim OB-Xa as well. More vids by synthjunk here.
Here is a demo of the korg mono/poly and concertmate mg-1 by moog
http://www.youtube.com/watch?v=UUWaobmUb0s
Shared by kerikino