The Oberheim polyphonic is an analog music synthesizer that was produced from 1975 to 1979. Four dual-oscillator SEM modules each with its own filters and envelopes are joined together along with a simple analog mixer and 49-note keyboard to give you a polyphonic/polytonal Obie-beast!
This combination gives you eight oscillators and four voices of polyphony because there are basically four discrete mono-synths all connected together. This has its pros and cons. What is cool is that this was a lot of simultaneous voices for the mid-seventies. And the ability to craft a different sound on each voice led to some diverse and complex sounds. However, it also meant you have to program each voice independently. Each voice also has its own independent audio output.
The Polyphonic Synthesizer Programmer, released in 1976 and added to the Four Voice stores 16 patches per voice (all of which can be different). The Four Voice could accommodate an additional four SEMs, making it just like the Eight Voice model which officially appeared in 1977.
Unfortunately the Four Voice was blown out of the competition by the release of the polyphonic Sequential Prophet-5, which offered true polyphony with a single set of sound shaping controls and comprehensive patch memory.
Vintage synthesizer demo track by RetroSound
"Games"
bass and sequencer sounds: ARP Odyssey Mk III Analog Synthesizer from the year 1980, sequenced by the SCI Pro-One internal step sequencer
all other sounds: Oberheim OB-Xa Analog Synthesizer from the year 1981
drums: Roland TR-707
recording: multi-track without midi
fx: a little bit delay and reverb
more info: http://www.retrosound.de
A frightening programming session on the nightmarish data entry of Oberheim Matrix 6. It seems an eternity, but in the Eighties this was the most common way to program the less expensive synthesizers: one parameter at time, first select then entering desired values!!!
God bless potentiometers and encoders (and Editor programs…).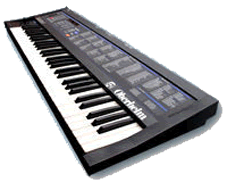 The Matrix 6 was one of the last few synthesizers from Oberheim to come out during the mid-eighties following the classic OB-series. The Matrix 6 utilized high-tech but less expensive digital and midi features and still retained a totally analog sound. It did this by using DCOs (digitally controlled oscillators) to provide stability, programmability and more. All the Matrix synthesizers featured Matrix Modulation which allows for extremely wild virtual patching for almost unlimited range of sounds and modulation capabilities!
The Matrix 6 is a very popular synthesizer today because it offers access to the legendary sounds and power of the Matrix 12, though not as meaty but at a fraction of the cost. The Matrix 6 is also like the Xpander, but with only 6 voices of polyphony and slimmer programming. Each of its 6 voices has a pair of DCOs, a low pass filter, 2 VCA's, 3 envelope generators, 2 LFO's, and 2 ramp gens for a variety of complex analog pads, basses and sounds.
The programmability is vast, but it can be very tedious. As was the growing trend in synthesizers during this time, knobs and sliders were replaced by just a few membrane buttons and a simple data slider. This is accompanied by gobs of programming and patch data written across the face of the unit. Fortunately Midi SysEx is fully supported so you can get patches on-line and transmit them into the Matrix. Access, makers of the Virus, used to make the Matrix Programmer which gives you much more user friendly hands-on controls too. And software editors such as Unisyn make graphic editing possible for much easier programming.
Pearl Drum-X ( Kick, Snare, Tom ), Roland TR-808 ( open/close Hihat ), Roland TR-707 ( Master Clock ), Oberheim OB-1 ( Noise ), OSCar ( Bassline ), OSCar ( Funny Sound ), Roland Juno-60 + RE-201 ( Pad ), Elka Synthex ( Pad + Space Sound ), Minimoog ( Space Sound ), Roland Jupiter-4 ( Space Sound ), Fender Rhodes + Yamaha NE-1 + Electro Harmonix vintage Bass Micro Synthesizer playing " Catching Sound Waves " :-))
"New OB-Xa improvisation with a Saw/Square wave patch, 4-pole VCF sens. :)"
All you can eat vintage synths on this nice Sunday morning, featured gear listed below:
MOOG Minimoog / ARP Odyssey / KORG MS-20 / E-MU Modular System / MOOG System 55 / Sequential Circuits prophet-5 / Oberheim SEM / Oberheim OB-1 / RML ElectroComp 100 / Roland-SH-2 / KORG 800DV / EMS Synthi AKS / YAMAHA CS10
The title track from 1983′s Sweet Dreams (Are Made Of This) album has one of the most instantly recognisable synth riffs around. There have been many different theories about the synths used on it, but the consensus seems to be that either an Oberheim OB-X was used for both the left and right riffs, or perhaps a Juno-6 and Roland SH-09 for the left and right channel riffs, probably sequenced using a Roland CSQ-100.
I guess asking Eurythmics themselves wasn't an option

Featured instruments in this video:
Alesis Metavox & 3630
Buchla 292e
Line6 FilterPro
Moog CP251 FreqBox MP 201
Oberheim Sem
Roland SVC-350
Logic Ultrabeat Drum
All sounds self-programmed: Oberheim OB-X Analog Synthesizer from the year 1979
recording: multi-track without midi, sequenced by the SCI Pro-One step-sequencer over CV/Gate and synced with the TR-808.
drums: Roland TR-808
fx: a little bit delay and reverb
more info: http://www.retrosound.de
About the synth:
The Oberheim OB-X is an analog polyphonic synthesizer first commercially available in June of 1979 . It was the first Oberheim synthesizer that was created with internally pre-wired modules (albeit still mostly discrete circuits) and not with the earlier, unwieldy S.E.M.s (Synthesizer Expander Module). Because of this, it was more functional for live performance, and more portable. It was hurriedly introduced to compete with competitor Sequential Circuits' Prophet-5, which took the industry by storm during the prior year. While the OB-X had moderate success in the limited numbers produced (aprx. 800 units), the design was quickly updated and streamlined with the OB-Xa; the OB-X being discontinued in 1981.
Originally, the "X" in OB-X, stood as a variable for the number of voice-cards – thus, polyphony – installed. Whereas earlier Oberheim modular systems would require multiple S.E.M.s to achieve polyphony, the OB-X condensed the S.E.M. down onto a single printed circuit board called a "Voice Card". Using this method, along with the Z-80 microprocessor to program the cards, the OB-X was far less laborious to program than it's ancestors. It came in four, six, and eight-voice models. The starting price for the base model of only 4 voices of polyphony was a steep US$4,595. Besides the generous polyphony, each OB-X came with a memory capable of holding 32 user-programmable presets, along with polyphonic portamento, and polyphonic sample and hold. Also, a first for Oberheim's polyphonic range were the "paddle" levers for pitch and modulation. This was Oberheim's answer to the then standard "wheel" style controls seen on the Sequential Circuits Prophet-5. The OB-X would be used by artists such as Nena, Rush, who used it extensively on "Moving Pictures" and "Signals" Queen, being the bands first Synthesizer to appear on an album Prince, who swore by the Oberheim OB line, and Jean Michel Jarre who used it for it's massive brass-type sounds. The OB line of Synthesizers developed and evolved even after the OB-Xa with the OB-8, and finally the Matrix series of synthesizers.
SonicProjects have created a VSTi emulation of the OB-X, for Windows and Mac platforms called the OP-X, with near-identical sounds to the hardware version. Widely praised as the most accurate emulation of an Analog Polysynth, SonicProjects include multiple versions of the OP-X including two "Pro" versions.
Here is a brief demo of the Futureretro 777 monophonic analog synthesizer/sequencer and the Akai MPC-60 sampler/sequencer. The 777 is running off of it's internal sequencer and is sync'd via MIDI clock to the MPC-60. The MPC-60 has a sampled set of Oberheim DMX sounds. The delay that the 777 and drums are sent to is the Ibanez DMD2000. All are mixed on my StudioMaster mixer and sent straight to my soundcard (Native Instruments Kore 1).