This video demonstrates the New England Analog Pyxis Expression System.
This adds expressive aftertouch to the keybed as well as a removable pressure sensitive pad that can both control the VCOs, VCF, and VCA in the synth. By pressing down on keys, or by pressing on the pad, players can bend one or both VCOs, swell the volume or open the filter of the synth. The Pyxis also has its own internal triangle/square wave LFO. The LFO is free running, and has the option of being modulated by pressure. The LFO amount can be dialed in to the VCOs, VCF, and VCA, and LFO will only be sent to these if pressure is being applied. The Pyxis LFO runs through 3 voltage controlled attenuators that are controlled by pressure. As the player presses harder on the sensors, more LFO will be sent to the modulation destination. This allows for an amazing array of interesting and organic sounds to be created.
The Pyxis is available as an internal installation or in a separate wood enclosure. It has the option of having aftertouch installed in the keybed of the synth (we must do this at our shop), or the pressure sensor pad. The sensor pad has a magnet underneath it to secure it to metal surfaces. It also sits firmly on any other flat surface. As shown in the video, a synth can have both the pressure pad and keybed aftertouch installed. The installation of the Pyxis varies from synth to synth. Monophonic and Duophonic synthesizers take the least time to install the system in, while polysynths usually take a few hours to do the installation in. The aftertouch installation also varies as well. Small keyboards like the ARP Odyssey, Pro One, Minimoog, Prodigy, Multimoog, etc. will take less time than Jupiters, OBX/OB8, Polysix, Monopoly, etc. We offer custom installations of aftertouch, breath control, and pressure controllers for all analog systems. For more information, please check us out at www.NewEnglandAnalog.com. Thanks for watching!
Vintage synthesizer track by RetroSound
"Apperception"
lead and fx sounds: Oberheim OB-X Analog Synthesizer
bass sounds: Moog Taurus 1 bass pedal
pad sounds: Roland Juno-60 Analog Synthesizer
arp and sample sounds: Korg MicroX
recording: multi-tracking without midi
fx: reverb and delay
more info: http://www.retrosound.de and
http://www.facebook.com/pages/RetroSo…
There is lots of nice gear for all of us electro fans in this in-studio performance of Broken by Depeche Mode.
Check out the Teenage Engineering OP-1, Roland Jupiter 8 synthesizer, Oberheim OB8,  Korg MS20 and Korg MonoPoly synthesizers. Not to mention, the tasty Eurorack modules that have been seen in pictures of the Delta Machine studio sessions.
Mitchell Sigman compares the King Korg's modeled Prophet-5, Oberheim SEM and Moog filters to the real instruments. Opening sound montage created with King Korg. Watch for the full King Korg review in the June 2013 issue of Keyboard!
Vintage synthesizer demo track by RetroSound
"Lost City"
synthesizer sounds: Oberheim OB-X Analog Synthesizer (1979)
analog strings and human voice choir: Roland VP-330 Vocoder Plus (1979)
recording: multi-track without midi
fx: a little bit delay and reverb
the long version:
https://soundcloud.com/retrosound-ii/…
A voyage into the heart of the Oberheim Matrix-1000 analog synthesizer from the year 1987.
Exploration by Marko Ettlich (RetroSound)
6 voices
2 oscillators per voice saw, triangle, square variable pulse width, fm
resonant filter 24dB/oct lowpass filter
2 LFOs
1000 sounds
used by Apollo 440, Moby, Fatboy Slim, Depeche Mode, Pet Shop Boys, Faithless and many more

The analog Matrix 1000 is essentially 1,000 Matrix 6 patches in a single-space compact rackmount MIDI module. It has the same synth architecture as the Matrix 6. Each of its 6 voices have two DCO's (digitally controlled analog oscillator), a low pass filter, 2 VCA's, 3 envelope gens, 2 LFO's, and 2 ramp gens. The sounds are plentiful and good enough, however sounds can only be edited via MIDI, so you'll need an external MIDI editor (such as MOTU's Unisyn) or Access' Matrix Programmer to edit parameters. You can also load sounds from the Matrix 6 via SysEx or software.
The Matrix 1000 provides an excellent source of pads, textures and ambient sounds. It has 195 "keyboard" sounds, 118 "strings", 130 "woodwinds & perc", 239 "synthesizer", 119 "bass", 74 "lead" and 125 "effects". For the price, there is no better way to find genuine analog Oberheim Matrix sounds in a compact and very in-expensive rack module that is loaded with more sounds than you'll ever need! The older versions of the Matrix 1000 have a black front-panel. The newer models in the '90's have a cream colored face-plate.
http://youtu.be/Y_K9RQKVUG0
Info on the OB-XA:
The OB-Xa is a massive analog synthesizer with a very familiar and classic Oberheim sound. Its sound, size and power are very similar to the Prophet 5 from Sequential. However this one has up to 8 voices which can be split, layered and stored!
The OB-Xa was available in four, six or eight voice polyphonic models. They all featured patch memories, also in varying degrees. A minimum of 32 patches were available on early models (4 banks of 8). The maximum amount of patch memory storage found on many OB-Xa's is 120 patch memories. All models of OB-Xa, however, featured the new Curtis chips which offered great stability for an analog synth and they are attributed to its great filters and sounds.
The OB-X was very similar to the OB-Xa except that its voices could not be split or layered and, more significantly, the OB-X had a lowpass-only discrete SEM 12dB/oct state variable filter, which had a great and classic Oberheim sound. The OB-Xa changed that in an attempt to economize manufacturing and increase stability by switching to CEM3320 Curtis chips for its filters. The Xa offered two switchable filter modes: 12 dB/oct (2-pole) or 24 dB/oct (4-pole). This hardware change resulted in a more agressive sound, not quite as creamy as the OBX original, but what still became a "bread and butter" sound of the Oberheim line.
Splitting the keyboard mode separates the OB-Xa into two 4-voice synths with two available patches. The Layer mode plays the two patches simultaneously. There are also some added effect sources, perfect for any analog polysynth, including portamento, unison, sample & hold, chord memory and three LFO's!
The Oberheim polyphonic is an analog music synthesizer that was produced from 1975 to 1979. Four dual-oscillator SEM modules each with its own filters and envelopes are joined together along with a simple analog mixer and 49-note keyboard to give you a polyphonic/polytonal Obie-beast!
This combination gives you eight oscillators and four voices of polyphony because there are basically four discrete mono-synths all connected together. This has its pros and cons. What is cool is that this was a lot of simultaneous voices for the mid-seventies. And the ability to craft a different sound on each voice led to some diverse and complex sounds. However, it also meant you have to program each voice independently. Each voice also has its own independent audio output.
The Polyphonic Synthesizer Programmer, released in 1976 and added to the Four Voice stores 16 patches per voice (all of which can be different). The Four Voice could accommodate an additional four SEMs, making it just like the Eight Voice model which officially appeared in 1977.
Unfortunately the Four Voice was blown out of the competition by the release of the polyphonic Sequential Prophet-5, which offered true polyphony with a single set of sound shaping controls and comprehensive patch memory.
Vintage synthesizer demo track by RetroSound
"Games"
bass and sequencer sounds: ARP Odyssey Mk III Analog Synthesizer from the year 1980, sequenced by the SCI Pro-One internal step sequencer
all other sounds: Oberheim OB-Xa Analog Synthesizer from the year 1981
drums: Roland TR-707
recording: multi-track without midi
fx: a little bit delay and reverb
more info: http://www.retrosound.de
A frightening programming session on the nightmarish data entry of Oberheim Matrix 6. It seems an eternity, but in the Eighties this was the most common way to program the less expensive synthesizers: one parameter at time, first select then entering desired values!!!
God bless potentiometers and encoders (and Editor programs…).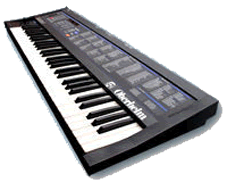 The Matrix 6 was one of the last few synthesizers from Oberheim to come out during the mid-eighties following the classic OB-series. The Matrix 6 utilized high-tech but less expensive digital and midi features and still retained a totally analog sound. It did this by using DCOs (digitally controlled oscillators) to provide stability, programmability and more. All the Matrix synthesizers featured Matrix Modulation which allows for extremely wild virtual patching for almost unlimited range of sounds and modulation capabilities!
The Matrix 6 is a very popular synthesizer today because it offers access to the legendary sounds and power of the Matrix 12, though not as meaty but at a fraction of the cost. The Matrix 6 is also like the Xpander, but with only 6 voices of polyphony and slimmer programming. Each of its 6 voices has a pair of DCOs, a low pass filter, 2 VCA's, 3 envelope generators, 2 LFO's, and 2 ramp gens for a variety of complex analog pads, basses and sounds.
The programmability is vast, but it can be very tedious. As was the growing trend in synthesizers during this time, knobs and sliders were replaced by just a few membrane buttons and a simple data slider. This is accompanied by gobs of programming and patch data written across the face of the unit. Fortunately Midi SysEx is fully supported so you can get patches on-line and transmit them into the Matrix. Access, makers of the Virus, used to make the Matrix Programmer which gives you much more user friendly hands-on controls too. And software editors such as Unisyn make graphic editing possible for much easier programming.