About the synth: The OB-Xa is a massive analog synthesizer with a very familiar and classic Oberheim sound. Its sound, size and power are very similar to the Prophet 5 from Sequential. However this one has up to 8 voices which can be split, layered and stored! The OB-Xa was available in four, six or eight voice polyphonic models. They all featured patch memories, also in varying degrees. A minimum of 32 patches were available on early models (4 banks of 8). The maximum amount of patch memory storage found on many OB-Xa's is 120 patch memories. All models of OB-Xa, however, featured the new Curtis chips which offered great stability for an analog synth and they are attributed to its great filters and sounds.
The OB-X was very similar to the OB-Xa except that its voices could not be split or layered and, more significantly, the OB-X had a lowpass-only discrete SEM 12dB/oct state variable filter, which had a great and classic Oberheim sound. The OB-Xa changed that in an attempt to economize manufacturing and increase stability by switching to CEM3320 Curtis chips for its filters. The Xa offered two switchable filter modes: 12 dB/oct (2-pole) or 24 dB/oct (4-pole). This hardware change resulted in a more agressive sound, not quite as creamy as the OBX original, but what still became a "bread and butter" sound of the Oberheim line.
Splitting the keyboard mode separates the OB-Xa into two 4-voice synths with two available patches. The Layer mode plays the two patches simultaneously. There are also some added effect sources, perfect for any analog polysynth, including portamento, unison, sample & hold, chord memory and three LFO's!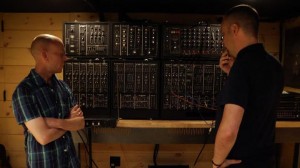 The I Dream of Wires crew checkod out Vince Clarke's new Brooklyn studio in July 2012. Above: Vince Clarke and Jason Amm (Solvent) contemplate The Roland System 700…check out the huge sequencer!
Vintage Emu Modular on the left and ARP 2500 in the background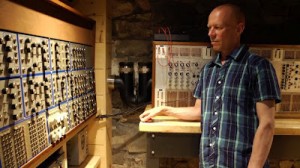 Oberheim SEM wall, OB-1, Xpander, Sequential Circuits Prophet-5 & more in the background.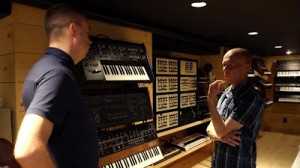 Remaining pictures can be found here >>
Kebu on stage performing a classic Jarre song, here's what he has to say about it:
This tune by Jarre is one of the most joyful tunes in the world and always makes me smile. Therefore, I picked this one as of the very few covers I performed at my mini-tour in May 2012. This video was recorded live at my show in Doo-Bop Club, Vaasa, 12th of May 2012.
The song was performed using only analog synthesizers, either played live or sequenced. The performance was recorded line in to one of the cameras. The ambience in the club was recorded using the built-in microphones on two of the remaining cameras and mixed together with the line signal.
Equipment used in this song: Arp Odyssey Mk II; Korg Polysix, Poly 61, Mono/Poly, Micro-preset M500; Roland TR-808, Juno 60, Alpha Juno 1&2; Moog Source, Touched-by-sound DRM1, Oberheim Matrix 6R, Yamaha RM1x (only for MIDI sequencing), Behringer DDX3216, Lexicon MPX500, as well as a midi patchbay and additional preamps for my mixer. Cameras: Canon HF100 (x2), HF200 and HF406.
Tone2 has announced Analog, a new soundset for the Saurus software synthesizer.
Taking you on a journey through an analog world, the Analog soundset digs deeper into Saurus' offerings with a strong emphasis on authentic vintage sounds.

A collection of 200 classic synth sounds including emulations of the Moog, Oberheim, Jupiter, Arp Solina, Clavinet and many others that suit almost every style of Electronic music. Let Analog take you back to a time when these machines were at the center of every studio and now be the source for your creative productions

Enjoy its warm strings, expressive brass, dirty leads, squelchy basses, screaming synths, vibrant pads and just let it inspire you.
Analog for Saurus is available to purchase for 39 EUR.
Background details:
I made this track in the mid 80's with the Oberheim OBXa on a 4-track analog tape recorder Tascam 144.
Everything was played by hand, without a sequencer or MIDI.
The remastering is made with SONAR 8.0
This piece was also featured on our national radio called BRT-2 in 1987 in a special program "maneuvers in het donker" for home made electronic synthesizer music
http://gstormelectronica.blogspot.com/
This is the first tutorial in a series dedicated to editing sounds on the Oberheim Matrix-12 and Xpander synthesizers. In this video I will cover the basics of creating and saving a SINGLE-mode patch. If you already know how to get around in the programming interface you might want to skip this video. Having a basic knowledge of editing synthesizers, oscillators, filters, LFOs, and envelopes will help get the most out of programing this beast.
0:12 Introduction
0:58 The Programmer
1:47 Primary Pages
1:55 VCO1 Page
2:47 VCO2 Page
3:17 FM/LAG Page – LAG
4:06 FM/Lag Page – FM
5:30 Tracking Generator
6:27 VCF/VCA Page – Filter
7:44 VCF/VCA Page – The Amplifiers
8:21 Envelopes Page
8:39 LFO Page
8:58 RAMP Page
9:48 Name Page
It's time for a second short demo from the Oberheim Matrix 1000. Maybe a good alternative for a cheap and good sounding polyphonic rack synth.
As always a multitrack recording with some FX.

The analog Matrix 1000 is essentially 1,000 Matrix 6 patches in a single-space compact rackmount MIDI module. It has the same synth architecture as the Matrix 6. Each of its 6 voices have two DCO's (digitally controlled analog oscillator), a low pass filter, 2 VCA's, 3 envelope gens, 2 LFO's, and 2 ramp gens. The sounds are plentiful and good enough, however sounds can only be edited via MIDI, so you'll need an external MIDI editor (such as MOTU's Unisyn) or Access' Matrix Programmer to edit parameters. You can also load sounds from the Matrix 6 via SysEx or software.
The Matrix 1000 provides an excellent source of pads, textures and ambient sounds. It has 195 "keyboard" sounds, 118 "strings", 130 "woodwinds & perc", 239 "synthesizer", 119 "bass", 74 "lead" and 125 "effects". For the price, there is no better way to find genuine analog Oberheim Matrix sounds in a compact and very in-expensive rack module that is loaded with more sounds than you'll ever need! The older versions of the Matrix 1000 have a black front-panel. The newer models in the '90's have a cream colored face-plate.
Oberheim's Matrix 12 is a legendary analog synthesizer from the mid-eighties that is still the king of analog sounds. One of the fattest, roundest, pleasantly analog synthesizers around! It's long been known for creating some of the thickest and best analog pads, sweeps, buzzes, basses and textures. It features Matrix Modulation for extremely wild virtual patching for almost unlimited range of sounds and modulation capabilities!
The Matrix 12 is similar to the Xpander and the lighter Matrix 6. But the Matrix 12 is much fatter and more programmable than either. Every control can have an effect on some other parameter thanks to Oberheim's flexible design. For example, there are 15 types of LFOs and VCAs per voice! And there's plenty of diagrams drawn out on the front panel of the synth to help you figure out some signal routing.
The Wurlitzer V is a high end software recreation of the classic Wurlitzer 200A electric piano.
Unlike sample libraries, its physical modeling engine reproduces the very acoustic properties of reeds, key action and amplification, bringing you high realism while offering maximum flexibility on sound.
As most producers know, the legendary bright and overdriven Wurlitzer sound heard on classic records also comes from the use of fine amplifiers, micing and processing. This is why the Wurlitzer V goes further by putting you in command of a studio from the 70's, filled with vintage stompboxes and classic tube amps… everything you need to get a true classic vibe!
If you are looking for a lively electric piano combined with inspiring studio tools, the Wurlitzer V is the ultimate package.
This DX has a toggle switch for each voice, allowing choosing between two different samples for each. The regular 2764 EPROMs were replaced with 27128 types. Some relatively minor circuit board mods were required.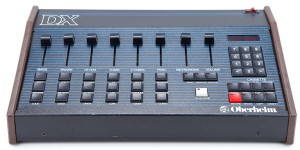 The DX was a lighter version of the classic DMX drum machine. In fact its look, features and programming method are basically the same as the DMX. The DX has individual tuning knobs for the drum tones and an external trigger input. Its sounds are sampled recordings of actual instruments. The DX only has 18 drum sounds and the DMX has 24. Both drum machines have a number of human like feel effects such as a great swing function, rolls, flams and other weird time signatures and grooves. Best of all it's easy to operate. There are also 6 individual outputs like the DMX for easing studio use.
Apart from the stupid synthetic voice in the beginning of this video, the demo is pretty cool

In this demo, you will see that while playing an arpeggiator in FL studio, the parameters of the Xpander can be changed on the expander itself, with the keyboard controller, or directly on the touch screen. Whatever the input mode is, everything is synchronized.
Xplorer is more that an simple editor, it can acts as a real time controller too.
Enjoy the demo !
More info, technical specification, buy link: http://xplorer-editor.com