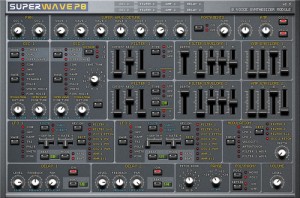 If you're looking for great leads, pads and strings, then check out this beast of a synth. Don't forget to check out the P8′s big brothers, the Professional and Trance-Pro which both feature upgraded specifications and new preset patches.
SuperWave P8 Specifications
Technical Specifications v2.1
Oscillators
2 Oscillators: Single, Dual, 7 Oscillators SuperWave mode
Waveforms: Sine, Saw, Ramp, Triangle, Pulse, White Noise, Pink Noise
Controls: Waveform, Mode, Fine-Tune, Semi-Tune, Detune, Octave, Sync
Filters
2 Resonant Filters: 12dB
Filter Types: Low Pass, Band Pass, High Pass
Controls: Filter Type, Cutoff Frequency, Resonance, Key Follow, Lock (Cutoff Frequency)
Amplifiers
2 Amplifiers
Controls: Level, Pan, On/Off
Envelopes
4 Envelopes (Filter x2, Amp x2)
Controls: Depth, Attack, Decay, Sustain, Release
Low Frequency Oscillators
2 LFO's with multiple routing options
Waveforms: Sine, Saw, Ramp, Triangle, Pulse, White Noise, Pink Noise
Beat Ratios: 10
Controls: Waveform, Destination, Mode, Rate, Beat, Depth, Key On, Route
Modulation
Modulation with multiple routing options
Controls: Input, Destination, Depth
Effects
Effect Types: Mono Delay x2 (1 Stereo pair)
Delay Controls: Level, Feedback, Pan, Beat, On/Off
Other Features
8 note polyphonic operation
Main volume control
Mono/Polyphonic control
Portamento control
Midi CC control with learn capability
64 high quality presets
800 MHz+ Processor recommended / 1024 x 768 pixels screen resolution / 24 bit colour depth
Get the SuperWave P8 for free legally from the official product page at http://www.superwavesynths.c…

Sample Logic tell us that Metalix is a toolkit of morphed metallic instruments, percussives, atmospheric soundscapes, pads, and tempo-synced audio loops for cinematic music production. Here's what they have to say about it…
Based on recorded metallic instruments and sounds, Sample Logic has once again revolutionized sample programming by creating never before heard evocative organic instruments and bombastic loops. Following in the footsteps of Sample Logic's long tradition of award-winning products that "blur the line between music and sound design", Metallix is a must have for musicians, performers, and producers of all types.
Pricing and Availability:
$99.99
More information:
In this video, Brian demonstrates how to make excellent pad sounds using the free spectral processing plug-in Spectral Dronemaker by composer Michael Norris.
Spectral Dronemaker is one of Trifonic's favorite tools, and (as Brian discusses) it was used most recently to create sounds for their remix of Hybrid's track Can You Hear Me.
Travis Huckins once again has provided CombinatorHQ the ability to display his wonderful talent for sound design in his newest refill "Alien Music Factory".
This refill is packed with Combinators clearly organized for easy navigation such as Bass, Pads, Organs, Leads, Arps and many more. It stays amzingly true to it's theme having Pads sounding spacey, Drums being synthetic and mechanical and Strings awkwardly eerie and sometimes serene.
This is a very pleasureable and meaty refill at just over 200MB!