November 12, 2011 · Posted in
Uncategorized
·
Comments Off

on SPD-SX sampling pad demo featuring Craig Blundell
http://youtu.be/1ZXwi_wOOPk
Craig Blundell demonstrates the new features of the SPD-SX Sampling Pad. The SPD-SX puts powerful sample creation and playback under your sticks with innovative audio-capturing features, expressive playability, three multi-effects engines, and much more.
The perfect addition to any acoustic or electronic drum kit, percussion setup, DJ booth, or keyboard rig, the SPD-SX is equally at home on the live stage, in the recording studio, pre-production suite, or dance club. The SPD-SX takes many of the proven concepts from its predecessor and raises them to a new level. Whether you're firing off one-shot samples, looped phrases, or complete audio playback tracks, the SPD-SX is loaded with the latest technology and tools to get the job done with speed, precision, and convenience. Enjoy the most advanced triggering and sampling technology in a sleek, easy-to-use percussion instrument.
May 25, 2011 · Posted in
Uncategorized
·
Comments Off

on New stuff from SoundCells Pads – the BIG box' version 2!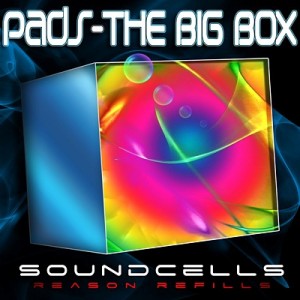 "Pads – the BIG box V2" contains all patches from the three Mystic Dream Pads – 2, 4 and 5 – in ONE really big ReFill with (since version 2) 62 new combinator patches that have not been released before – and all this at a sharp "bundle"-price. All patches were revised to match perfectly together. This ReFill gives you all you need when searching for atmospheric patches, conventional pads – bright or dark, inspiring soundscapes, rhythmical pads, fx & experimental sounds and more… The variety of sonic atmospheres coming from three original ReFills makes this collection very complete so chances are big that you´ll find what you are looking for while browsing for the right pad. Version 2 is adding 30 new combinator patches, furthermore every original combinator patch has been reworked – same sound as before, but highly expanded button / knob assignment, consistent naming of the functions and new backdrops…
'Pads – the BIG box' Contents:
– 447 combinator patches (62 "BIG box" only ones).
– 11 different folders: Ambient, Atmospheres, Electric Keys, Exclusive Big Box Patches, FX & Experimental, Miscellaneous, Old MDP Reminiscence, Pads Conventional, Pads Dark, Pads Light, Rhythmic.
– The modules folder contains the basic synth and NNXT patches which are used for the combinator sounds:
183 Thor patches, 156 NNXT patches, 105 Malstroem patches, 59 Subtractor patches, 38 RV7000 patches
– All patches & demo tracks coming from MDP2, MDP4 & MDP5 are included.
More info here:
Offering price is 44.90 ,- EUR per Unit (normally 59.90 ,- EUR)
May 6, 2011 · Posted in
Uncategorized
·
Comments Off

on Looking for great leads, pads and strings?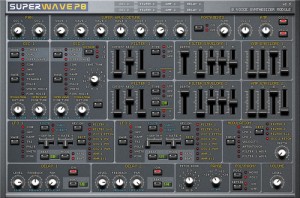 If you're looking for great leads, pads and strings, then check out this beast of a synth. Don't forget to check out the P8's big brothers, the Professional and Trance-Pro which both feature upgraded specifications and new preset patches.
SuperWave P8 Specifications
Technical Specifications v2.1
Oscillators
2 Oscillators: Single, Dual, 7 Oscillators SuperWave mode
Waveforms: Sine, Saw, Ramp, Triangle, Pulse, White Noise, Pink Noise
Controls: Waveform, Mode, Fine-Tune, Semi-Tune, Detune, Octave, Sync
Filters
2 Resonant Filters: 12dB
Filter Types: Low Pass, Band Pass, High Pass
Controls: Filter Type, Cutoff Frequency, Resonance, Key Follow, Lock (Cutoff Frequency)
Amplifiers
2 Amplifiers
Controls: Level, Pan, On/Off
Envelopes
4 Envelopes (Filter x2, Amp x2)
Controls: Depth, Attack, Decay, Sustain, Release
Low Frequency Oscillators
2 LFO's with multiple routing options
Waveforms: Sine, Saw, Ramp, Triangle, Pulse, White Noise, Pink Noise
Beat Ratios: 10
Controls: Waveform, Destination, Mode, Rate, Beat, Depth, Key On, Route
Modulation
Modulation with multiple routing options
Controls: Input, Destination, Depth
Effects
Effect Types: Mono Delay x2 (1 Stereo pair)
Delay Controls: Level, Feedback, Pan, Beat, On/Off
Other Features
8 note polyphonic operation
Main volume control
Mono/Polyphonic control
Portamento control
Midi CC control with learn capability
64 high quality presets
800 MHz+ Processor recommended / 1024 x 768 pixels screen resolution / 24 bit colour depth
Get the SuperWave P8 for free legally from the official product page at http://www.superwavesynths.c…
August 5, 2010 · Posted in
Uncategorized
·
Comments Off

on Metalix – a toolkit of morphed metallic instruments

Sample Logic tell us that Metalix is a toolkit of morphed metallic instruments, percussives, atmospheric soundscapes, pads, and tempo-synced audio loops for cinematic music production. Here's what they have to say about it…
Based on recorded metallic instruments and sounds, Sample Logic has once again revolutionized sample programming by creating never before heard evocative organic instruments and bombastic loops. Following in the footsteps of Sample Logic's long tradition of award-winning products that "blur the line between music and sound design", Metallix is a must have for musicians, performers, and producers of all types.
Pricing and Availability:
$99.99
More information:
July 4, 2010 · Posted in
Uncategorized
·
Comments Off

on How to makes pads with Dronemakes
In this video, Brian demonstrates how to make excellent pad sounds using the free spectral processing plug-in Spectral Dronemaker by composer Michael Norris.
Spectral Dronemaker is one of Trifonic's favorite tools, and (as Brian discusses) it was used most recently to create sounds for their remix of Hybrid's track Can You Hear Me.
March 12, 2008 · Posted in
Electronic Music
·
Comments Off

on New nice Reason Refill from Travis Huckins
Travis Huckins once again has provided CombinatorHQ the ability to display his wonderful talent for sound design in his newest refill "Alien Music Factory".
This refill is packed with Combinators clearly organized for easy navigation such as Bass, Pads, Organs, Leads, Arps and many more. It stays amzingly true to it's theme having Pads sounding spacey, Drums being synthetic and mechanical and Strings awkwardly eerie and sometimes serene.
This is a very pleasureable and meaty refill at just over 200MB!