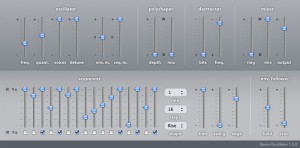 Sinevibes has released version 1.2.0 of Space Oscillator, an audio-controlled synthesizer plug-in for Mac.
Space Oscillator is a unique combination of a synthesizer and a sound processor.

At it's core, it has a unison oscillator with a spacious stereo sound, which is modulated by input signal envelope follower or a complex step sequencer. The oscillator is then fed into a polyphonic waveshaper, decimator and can be ring-modulated with the input signal. With such an experimental generation and effect chain, Space Oscillator allows you to create new sonic textures with a lot of original character and attitude: from organic synth and bass lines, old-school game boy sounds to rhythmic zaps and noises, extreme lo-fi glitches and much more.
Changes in Space Oscillator v1.2.0
Vastly redesigned user interface which improves usability and now has the same style as the recently updated Gateboy plugin.
Improved synchronization in GarageBand, Logic and Live.
Improved synchronization during sequencer Rate changes.
New user manual.
30 new factory patches (for a total of 100).
Space Oscillator for Mac (AU) is available for to purchase for $29 USD until the end of 2010 (regular price $39 USD). The update is free to all existing owners.
More information: Sinevibes
Arturia Analog Laboratory is a new software synth that offers 3500 "legendary classic synthesizer sounds', along with the ability to edit each of them in depth.
Main Features:
3500 synthesizer sounds selected from the Arturia Classic Synths (minimoog-V, Moog modular V, CS-80V, Prophet-V, ARP2600 V and Jupiter-8V).
Full screen preset editing (for owners of Arturia Classic Analog recreations only): Analog Laboratory allows opening any other Arturia Classic Synth plugin for in depth patch edition in a separate window. It is also possible to assign any of the 4 key parameters of the Laboratory to one knob of choice inside the favourite software synthesizer.
Scene mode: It allows to:

Combine 2 synthesizer sounds over a MIDI keyboard in either split, layer or multi configuration.
Assign melodic phrases based on advanced arpeggiation thanks to the library of 200 melodies organized by genres.
Trigger Drum loops from the pads thanks to a library of 350 Rex files.

Organize Presets view by Name, Instrument, Type, CPU usage, Favorites, or User Preset.
Fast filter the presets to meet requirements: by Instrument, Type and Characteristics
Midi Learn Controllers: 1 clickable encoder, 10 encoders, 8 sliders, 11 switches, 1 modulation wheel, 1 pitch bend wheel.
Arturia Analog Laboratory is expected to be released November 25th. MSRP: $299/Eur269
TONSTURM 01 I Breaking Glass this soundpack features a big collection of very unique glass effect recordings. The sounds were captured during extensive recording sessions in the field and in a recording studio. All sounds were recorded, edited and mastered in High Definition Audio @ 24 Bit, 192 KHz.

With TONSTURM 01 I BREAKING GLASS you get 100 sound files containing over 500 different glass sound effects. We have collected all sorts of different glass types to make this soundpack possible. You will find hits, smashes, impacts, cracking, friction and a lot more, recorded from huge 4m² glasspanes security glass, insulated glass, laminated glass, wired glass, car windscreens and so on…

TONSTURM releases royalty free, high quality sound effect libraries for sound designers who work in the field of films, games, and arts or anyone who is serious about sound design and soundeffects.

TeamDNR Collaborative Designs has announced the release of Symmetry Pro, a package of 82 sounds for u-he ACE synthesizer, including dark cinematic ambiences, heavy basses, drones and dark rhythmic sequences.
Symmetry Pro is perfect for adding dark soundscapes and rugged, developing atmospheres to compositions or some bite to a hard industrial sequence.

Symmetry Pro was designed to give you more of a variety of sound through the included patches by programming them specifically to react in a softer, more ambient manner when played soft, or a heavier, brighter sound when playing with any amount of force.
Symmetry Pro is available to purchase as a download for $9 USD. A free demo pack with 12 sounds can be found on the TeamDNR product page.
More information: TeamDNR / Symmetry Pro
Ande here is how you make those creepy sounds in FL Studio
Via dilliot2k : this is how you make a spooky sound on fl studio. More videos to follow soon.
Richard Devine and Antonio Blanca in collaboration with Miguel Isaza (Designing sound) releases 200 free sounds for a modified version of Reaktor 5 Spacedrone instrument created by Antonio Blanca and announce lemur/iPad/TouchOSC templates can be downloaded free for a better experience designing/mutating sounds. Check out the video and download it here: http://absoundscapes.blogspot.com/
The patches include warm space pads, Berlin School arpeggios and organic sound effects suitable for ambient, cinematic and filmscore productions.
http://www.youtube.com/watch?v=MjzjafGXG-M&feature=player_embedded
Audio demo of Luftrum 6 – Soundbank for Roland GAIA SH-01 containing 64 ambient patches ranging from warm space pads over Berlin School arpeggios and organic sound effects – suitable for ambient, cinematic and filmscore productions. 32 of the 64 patches are spine-tingling ambient pads, lifting the GAIA up to the next level of sound!
Luftrum 6 is drawn out of inspirations from Brian Eno, Tangerine Dream, Biosphere and Steve Roach and is a follow up to soundbank successors released for Propellerheads Reason and lately the standalone Luftrum:Ambient for Camel Audio's Alchemy – which cemented Luftrum's signature as an ambient tone painter.
Luftrum 6 is available as download-only from luftrum.com