In case you have not seen this series on Kraftwerk, make sure to check it out. It contains a lot of information on these synth pop pioneers
The internationally celebrated Greek composer talks about the role of music in times of chaos, crisis and uncertainty.
Vangelis – conquest of paradise
Vangelis began his professional musical career working with several popular bands of the 1960s such as The Forminx and Aphrodite's Child, with the latter's album 666 going on to be recognized as a psychedelic "classic". Throughout the 1970s, Vangelis composed music scores for several animal documentaries, including L'Apocalypse Des Animaux, La Fête sauvage and Opéra sauvage; the success of these scores brought him into the film scoring mainstream. In the early 1980s, Vangelis formed a musical partnership with Jon Anderson, the lead singer of progressive rock band Yes, and the duo went on to release several albums together as Jon & Vangelis. In 1981, he composed the score for the Oscar-winning film Chariots of Fire. The soundtrack's single, "Titles", won Vangelis the Academy Award for Best Original Music Score and also reached the top of the American Billboard.
In a career spanning over 50 years, writing and composing more than 52 albums, Vangelis is regarded by some music critics as one of the greatest composers of electronic music of all time
Here's a new interview with John Foxx that was published by Resident Advisor:
In conversation with the synth pop pioneer and his current collaborator, Benge.
The final track on John Foxx's 1981 single, Burning Car, was called "Mr. No." And you'd be forgiven for thinking that it was the man's theme song. Whether it be leaving a band at the exact moment they were primed for stardom (Ultravox) in the late '70s, going it alone on legendary synth albums like Metamatic and The Garden or withdrawing from music altogether in the '90s to pursue graphic design, Foxx has been more than willing to play Bartleby time and time again. Turn it around, though, and you have a guy who has had the courage to walk away. A guy who can't help but hate to do the same thing twice. A guy you can also call Mr. Yes.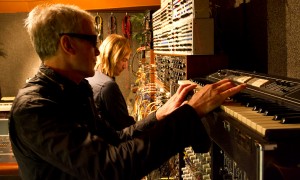 At this past year's Unsound Festival, we talked to Foxx alongside his current collaborator Benge as part of RA's Live Exchange series. The duo had recently put together an album, Interplay, that formed the basis for our conversation. Typically eloquent, Foxx was so engaging that we decided to edit and condense it for publication. Speaking with RA's Todd L. Burns in front of a crowd, Foxx and Benge touched on their partnership, the creative process and the power of the bass drum.
The new record is a return to synth pop in a way for you. I am wondering why now? Why was this the right time to revisit this space?
John Foxx: It was an accident in many ways. Benge made a record called Twenty Systems, in which a lot of synthesizers sounded like themselves. What I mean by that is that they didn't imitate any other instrument. I think it is a great sickness to try to imitate orchestras or bells or something specific. I think that this is a misuse of the instrument. What Benge was able to do was that he allowed them to make sounds that no other instruments could make, and therefore allow them to sound like themselves. When I heard that album, I wanted to work with him and to make some abstract music with him, but it didn't quite work out.
At what point did you realize it was turning into a more "pop" project?
Benge: Halfway through the first track I think.
John Foxx: Once we had set up something on the Moog, we let it run by itself and produced a rhythmic loop, and we were able to produce a song immediately. You have the melody, you have rhythm and you have harmonic intervals that lend themselves to layering. So I instinctively started started to sing along with the machine, which is a lovely way to work: the machine leads. The machine takes precedence. All you do is listen to what the machine produces. Benge would set up things, and it was delightful to respond to it.
John, were there any lyrical themes that seemed to recur throughout the album?
John Foxx: Yeah, I always seem to write about the basic level; a man, a woman and a city. It's because I am an urban creature most of the time. I think that's increasingly relevant now because I think most people do live in cities and I think it is very interesting what happens in that environment. We alter ourselves constantly to live in it, to survive in it and that process has very poetic levels. I don't want to sound pretentious, but it is very moving the way people accommodate each other and the city that they live in, and try to build this environment together. You almost have to dissolve yourself, re-incorporate yourself with the city in order to make it work on any level. All those tiny interactions and the major draws and minor draws that result from all that. I find it endlessly fascinating. I could sit in a cafe all day and some times I do. It's like being part of a beautiful ocean that is constantly moving. A lot of what I sing about is trying to describe some of that process.
I've read you talking about the importance of acoustic space in your work. I was wondering how that came to play in this album if at all.
John Foxx: We weren't so concerned with it because I think everything is artificial in some way.
Here's a nice new video featuring one of my favorite synth acts – Yellow Magic Orchestra
This strange message was accompanying the video, if anyone knows what it means, please let us know

"Previously I UP, UP was again!" (Googlish japanese)
Check out this exclusive footage of electro legend and serial Artrocker cover star Gary Numan talking to Tom Artrocker…
"And it is interesting to note that Numan has now unequivocally the king of This Kind Of Thing. Nine Inch Nails have retired (notably Numan was a star guest at a handful of the farewell shows, coming on stage to perform Cars and Metal with Trent Reznor). Marilyn Manson has slumped into cocaine bleached self parody. Al Jourgensen of Ministry and Revolting Cocks stumbles from one ill-conceived schlocky album to the next. The Young Gods have sadly lost the spark that once made them true innovators. This leaves Numan, who is significantly older than all of them bar Jourgensen, weirdly as one of the only credible practitioners of industrial metal at this scale."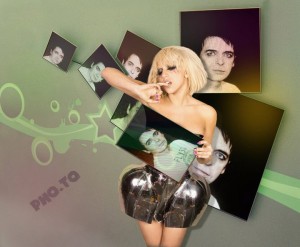 Background data:
We recently posted an excellent stage tour from the John Foxx and the Maths gig at London's XOYO Club. Benge took us around selected highlights of the live rig used to reproduce the latest (and brilliant) release  from Foxx titled  Interplay. Its a lesson in how to produce minimal, dark electronica but with a healthy dose pop – recommended.
  Also shot on the day of the gig was a three way chat between Tara Busch – who was supporting for the UK section of the tour, Benge – musical collaborator for John's recent works and live drummer for the show and of course John Foxx himself.
Many thanks to Tara Busch for the interview
Via SS
Tim Blake interviewed and playing for French TV in 1979 ..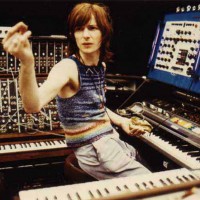 Composer, Performer – Sound & Light Artist since 1970 Tim has been based in France since 1971. One of Europe's first synthesiser players, working as Crystal Machine, as well as collaborating with cult Space Rock bands
GONG & HAWKWIND
Tim's attitude to electronics has profoundly marked the sound of electronic et rock music from the late '70's to this day, resulting in a discography of more than 25 titles, including 5 solo albums . Tim has greatly influenced the musiciens he has collaborated with, in particular
STEVE HILLAGE & JEAN-PHILIPPE RYKIEL
Light work with long-time partener PATRICE WARRENER, Has totally changed the world of Light Shows & Illumination, with the Introduction in the the very early '70's of LASER light in Crystal Machine performances, as well as the introduction of Giant Image projection, with the HOLD-UP Team as early as 1976. Tim continues to collaborate with Patrice on projects using his CHROMOLITHE POLYCHROMIC ILLUMINATION SYSTEM as well as on some Crystal Machine performances.
Despite beeing very seriously injured in a car accident in 2004, Tim, totally fit at last, is currently touring with HAWKWIND, (with whom he performs on Theremin and 'Virtual Lead Guitar') performing also as Crystal Machine, in particular with Jean-Philippe Rykiel, as well as participating in some of Europe's major Light events , with Patrice.
Sonic State has produced this video featuring the synth maestro himself on stage and behind the scenes, here's a quote from article:
The thing that really hit me, was the power and purity of the sound and the songs. With Benge (musical collaborator on Interplay) playing the  Simmons SDS V analog drum kit, the sounds were MASSIVE and really made me rethink my opinions of electronic music played live. I became rather evangelical.

Fast forward to London and the first of two gigs at XOYO further into the UK leg of the tour. We were able to grab a few precious minutes post sound check with Benge, who gave us a look at some of the gear used to recreate Interplay live, as well as some earlier tunes from the Foxx catalog.

Stay tuned  for a pre-show interview with John  Foxx, Benge and Tara Bush.
For those of you who wants to know more about John check out our interview with him here >>
Electronic music pioneer Morton Subotnick performs at Berlin's 11th Transmediale, a festival of Experimental sound and visuals.
Subotnick combines the famed Buchla synthesizer, which he helped develop in the 60s, with Ableton Live, to reach what he says is, "a performance that is made of gestures, and that is completely immediate."
The American Morton Subotnick is one of the great pioneers of synthesizer music. His most famous piece Silver Apples From The Moon is a classic of the new electronic music. In Bremen, accompanied Tony Martin, who experimented since the 60s with abstract images projected light from the concert with his projections. In the opening act of the Belgian Jurgen de Blonde with his project Koehn is heard.
Concert and Lecture Tour 2011
October 14 and 15
Morton Subotnick performs and lectures
at the Unsound Festival in Krakow
October 17
Morton Subotnick performs at Bozar
in Brussels, Belgium.
October 18
Morton Subotnick performs
in Paris, France.
October 19
Morton Subotnick performs at Worm
in Rotterdam, Holland
October 20
Morton Subotnick performs
in Bremen, Germany.
October 21
Morton Subotnick lectures
and workshops at the University of Bremen,
in Bremen, Germany.
October 22
Morton Subotnick performs at ZDB,
in Lisbon, Portugal.
John Foxx And The Maths performing 'He's A Liquid' at the Roundhouse, London in 2010
For full details of this month's Interplay Tour (October 2011) please visit www.johnfoxxandthemaths.com
www.metamatic.com
Don't forget to read our recently made interview with John Foxx >>