Gary Numan is set to release a new DVD, "Machine Music: The Best Of Gary Numan" on 11 June, 2012. This limited edition DVD (only 3000 will be made) brings together for the first time promos and some TV appearances from right across his career, including the videos made for tracks such as "We Are Glass" and "I Die: You Die", right up to more recent promos "The Fall" (from the 2011 "Dead Son Rising" album) and the Battles collaboration "My Machines".
The DVD will initially be sold on the Machine Music Tour which runs from late May into early June and will feature a one-off set, based around Gary Numan's singles over the last 33 years, and material from the recent "Dead Son Rising" album.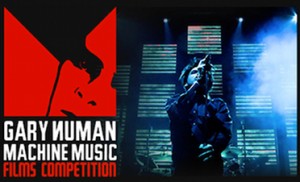 Numan will be supported by Officers at all the shows except for Dublin. Gary Numan has also been confirmed for the main stage at the Bloc Festival on 7 July, along with acts such as Orbital, Battles, Jeff Mills and Squarepusher.
Machine Music UK Tour:
MAY 2012
Human League – Path of Least Resistance (live BBCtv 1979)
Top clip of the original line-up performing a song from the first album on some programme called "Mainstream". Repeated as part of the "Sounds of the Seventies" series, hence the daft bookending with Paul Darrow and Patrick Troughton.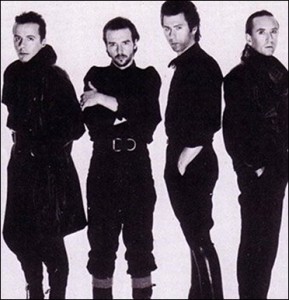 EMI announce the return of Ultravox with their first studio album in 28 years. Following on from the sold-out "Return To Eden" reformation shows in 2009, the classic Ultravox line-up has recorded a 12-track collection of brand new songs, "Brilliant", which will be released on May 28th ahead of a full UK tour in September and October.
Emerging from the new wave and electro scenes of the late 70′s, Ultravox fashioned a form of electronic rock music that was uniquely powerful and delivered massive hits through the 1980′s such as "Hymn", "Dancing With Tears In My Eyes", "The Voice", "Reap The Wild Wind", "Love's Great Adventure", "We Came To Dance" and of course the timeless and atmospheric "Vienna". Full details of the album will be revealed soon along with the thirteen-date tour they will be embarking on later this year.
Ultravox is the quartet Midge Ure, Billy Currie, Chris Cross and Warren Cann.
The tracklisting for "Brilliant" is as follows:
Live Again
Flow
Brilliant
The Change
Rise
Remembering
Hello
This One
Fall
Let It Lie
Satellite
Contact
Enjoy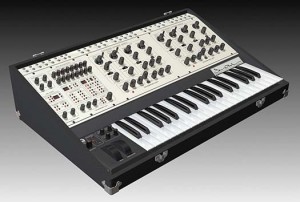 Synth pioneer Tom Oberheim has announced the Oberheim Two Voice Pro Synthesizer, a modern recreation of the 1975 classic.
Oberheim says "It is similar to the original from 1975, but with some very interesting upgrades."
Features:
Mini-Sequencer is enhanced – you still generate a sequence with the knobs ( up to 16 positions ) but you can store sequences from the knobs into flash memory (up to 99 sequences stored)
Two sequences can be played simultaneously (or play one sequence while also playing on the keyboard, like the old one)
After sequences are stored in flash memory, you can edit them to add 2-way, 3-way or 4-way ratcheting and you can program the gate length from zero (like a rest) up to almost the complete step length
Sequences can be chained into songs, and each step in a song can be programmed for sequence number, transpose amount and number of repeats
Sequencer syncs to Midi Clock
Keyboard outputs velocity and pressure
Each module (both SEMs, Mini-Sequencer, Keyboard Control) has mini-jack patch points (over 50 patchpoints)
Pitch and Modulation wheels
Pan pots
Headphone output
Separate Vibrato LFO
The Oberheim Two Voice Pro Synthesizer is expected to be available in June, priced at $3495.
Enjoy
"Jean-Michel Jarre
interviewé à Berlin par Arte pendant la tournée Europe en Concert – Chronologie
démonstration du Digisequencer, Roland JD800, DJ70, Synthi AKS, Rack Mini-Moog et démonstration du bouton on-off de l'AX1
clip Chronologie 5
avec Patrick Rondat, Guy Delacroix, Dominique Mahut, Laurent Faucheux, Francis Rimbert, Sylvain Durand et Dominique Perrier
24 11 1993″
http://vimeo.com/37393905
Just in time for their new tour in the states that we have reported on earlier this week, this new video documentary appears. Mkae sure to check it out.
Enjoy

For fans of krautrock, drone, ambient, and electronic music, Kraftwerk and the Electronic Revolution is a fascinating history of how some of the most influential music of our times emerged from the boredom and hopelessness of 1960s Germany. The filmmakers take the subtitle of their movie very seriously, and they want to crawl back to find the Big Bang of cultural influences that would make something as innovative as Kraftwerk possible. It's not an unimportant question, since the ideas the electronic musical collective would establish in their 1970s output would influence everyone from glam rockers like David Bowie and Brian Eno to early hip-hop pioneers and New Wave bands like Duran Duran, and on into today, where techno and arty experimentalists like Radiohead still borrow from the German group's bag of tricks. Even wuss-rockers Coldplay lifted the hooks for their song "Talk" from "Computer Love," somehow achieving the impossible and proving one could actually be bigger nerds than the pasty originals, Florian Schneider and Ralf Hütter. And that Kraftwerk core duo likes to dress up as robots, so you know they're plenty nerdy.

Kraftwerk and the Electronic Revolution traces the rise of German music back to the influx of British bands that went to the European country to ply their trade in the early 1960s. (The Beatles most famously cut their teeth in Hamburg nightclubs.) At that point, German youth were looking to establish a new identity that embraced the freedom of the West and finally unshackled them from the shame of their country's past—much in the same way Pete Townshend has argued that British rock stood in direct defiance of an older generation in England who were always rubbing past glories in the faces of their children. Though German musicians initially copied their British idols, who themselves were copying African American blues musicians, eventually they would want something that was more in tune with their own experience. As Karl Bartos, one of two former Kraftwerk members to participate in this unauthorized film, put it, they knew they weren't from the Mississippi Delta, so why pretend they were?" – James S. Rich
In case you have not seen this series on Kraftwerk, make sure to check it out. It contains a lot of information on these synth pop pioneers
The internationally celebrated Greek composer talks about the role of music in times of chaos, crisis and uncertainty.
Vangelis – conquest of paradise
Vangelis began his professional musical career working with several popular bands of the 1960s such as The Forminx and Aphrodite's Child, with the latter's album 666 going on to be recognized as a psychedelic "classic". Throughout the 1970s, Vangelis composed music scores for several animal documentaries, including L'Apocalypse Des Animaux, La Fête sauvage and Opéra sauvage; the success of these scores brought him into the film scoring mainstream. In the early 1980s, Vangelis formed a musical partnership with Jon Anderson, the lead singer of progressive rock band Yes, and the duo went on to release several albums together as Jon & Vangelis. In 1981, he composed the score for the Oscar-winning film Chariots of Fire. The soundtrack's single, "Titles", won Vangelis the Academy Award for Best Original Music Score and also reached the top of the American Billboard.
In a career spanning over 50 years, writing and composing more than 52 albums, Vangelis is regarded by some music critics as one of the greatest composers of electronic music of all time
Here's a new interview with John Foxx that was published by Resident Advisor:
In conversation with the synth pop pioneer and his current collaborator, Benge.
The final track on John Foxx's 1981 single, Burning Car, was called "Mr. No." And you'd be forgiven for thinking that it was the man's theme song. Whether it be leaving a band at the exact moment they were primed for stardom (Ultravox) in the late '70s, going it alone on legendary synth albums like Metamatic and The Garden or withdrawing from music altogether in the '90s to pursue graphic design, Foxx has been more than willing to play Bartleby time and time again. Turn it around, though, and you have a guy who has had the courage to walk away. A guy who can't help but hate to do the same thing twice. A guy you can also call Mr. Yes.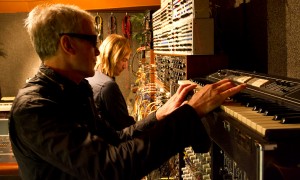 At this past year's Unsound Festival, we talked to Foxx alongside his current collaborator Benge as part of RA's Live Exchange series. The duo had recently put together an album, Interplay, that formed the basis for our conversation. Typically eloquent, Foxx was so engaging that we decided to edit and condense it for publication. Speaking with RA's Todd L. Burns in front of a crowd, Foxx and Benge touched on their partnership, the creative process and the power of the bass drum.
The new record is a return to synth pop in a way for you. I am wondering why now? Why was this the right time to revisit this space?
John Foxx: It was an accident in many ways. Benge made a record called Twenty Systems, in which a lot of synthesizers sounded like themselves. What I mean by that is that they didn't imitate any other instrument. I think it is a great sickness to try to imitate orchestras or bells or something specific. I think that this is a misuse of the instrument. What Benge was able to do was that he allowed them to make sounds that no other instruments could make, and therefore allow them to sound like themselves. When I heard that album, I wanted to work with him and to make some abstract music with him, but it didn't quite work out.
At what point did you realize it was turning into a more "pop" project?
Benge: Halfway through the first track I think.
John Foxx: Once we had set up something on the Moog, we let it run by itself and produced a rhythmic loop, and we were able to produce a song immediately. You have the melody, you have rhythm and you have harmonic intervals that lend themselves to layering. So I instinctively started started to sing along with the machine, which is a lovely way to work: the machine leads. The machine takes precedence. All you do is listen to what the machine produces. Benge would set up things, and it was delightful to respond to it.
John, were there any lyrical themes that seemed to recur throughout the album?
John Foxx: Yeah, I always seem to write about the basic level; a man, a woman and a city. It's because I am an urban creature most of the time. I think that's increasingly relevant now because I think most people do live in cities and I think it is very interesting what happens in that environment. We alter ourselves constantly to live in it, to survive in it and that process has very poetic levels. I don't want to sound pretentious, but it is very moving the way people accommodate each other and the city that they live in, and try to build this environment together. You almost have to dissolve yourself, re-incorporate yourself with the city in order to make it work on any level. All those tiny interactions and the major draws and minor draws that result from all that. I find it endlessly fascinating. I could sit in a cafe all day and some times I do. It's like being part of a beautiful ocean that is constantly moving. A lot of what I sing about is trying to describe some of that process.
I've read you talking about the importance of acoustic space in your work. I was wondering how that came to play in this album if at all.
John Foxx: We weren't so concerned with it because I think everything is artificial in some way.
Here's a nice new video featuring one of my favorite synth acts – Yellow Magic Orchestra
This strange message was accompanying the video, if anyone knows what it means, please let us know

"Previously I UP, UP was again!" (Googlish japanese)