This little teaser video shows off a couple of new patches for the Access Virus TI by Andy@Icon Of Coil.
Icon of Coil is a Norwegian electronic music band. The band was established as a solo project in 1997 by Andy LaPlegua who was joined by former Sector 9 (now Moonitor and Zombie Girl) bandmate Sebastian Komor to perform live. With the release of Shallow Nation, the band's first single, Komor joined full-time. In 2000, Christian Lund joined the live lineup. Later that year the band's first full-length album, Serenity is the Devil, was released, which climbed to number one on the Deutsche Alternative Charts. Shortly thereafter, Lund became a full-time band member.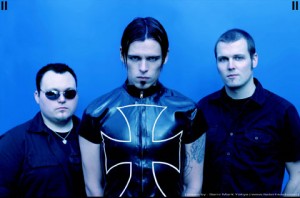 "The Virus is known as much for its flexibility and powerful sound as for Total Integration, our award winning way to interconnect a hardware synthesizer with your DAW.
The first Virus was released in 1997 and each new iteration has added more features more powerful hardware, and greater musical potential. That evolution explains why the Virus TI series is so sought after and why it receives such praise from owners, press, and fans all over the world.
Artists including Depeche Mode, Madonna, Linkin Park and the Prodigy tour with a Virus-based setup in 2009. Producers such as Sasha, Pete Tong, Roger Sanchez and Dr. Dre consider the Virus a core part of their studios. Composers such as Hans Zimmer, James Newton Howard, John Powell and Mark Isham are enthusiastic Virus users, utilising its signature sound for their Hollywood blockbuster soundtracks."
About the Virus C: A brand new and ever more powerful strain of the Virus was released in 2002 to replace the entire B Series line-up. First up is the flag-ship desktop module, the Virus C. Polyphony is expanded from 24 to 32 voices! Otherwise the synth engine is virtually the same as the B series. Three oscillators, one sub osc., two independent multi-mode filters, two ADSTR envelopes, three LFOs, 16 arpeggiators, 32-band vocoder, five FM synthesis modes and 16 part multitimbrality. The C series offers an expanded mod matrix with 6 source and 9 destination slots, 98 effects, wood side panels, and more! A new 3-band EQ section is available as well as an Undo/Redo function. The operating systems can be easily upgraded via MIDI and there is a free SoundDiver Virus editor/librarian for Windows and MacOS systems available.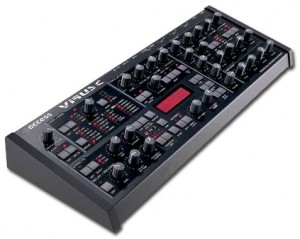 It has been used by Nine Inch Nails, KMFDM, and Max Graham
In this video:
Voice to Spirit : Synth Session 05
Showcasing the Access Virus C as the main pad.
The low bass comes from my Synthesizers.com Modular.
Using the Roland Juno (Junior ) 106 as a controller the Virus.
Filmed with the Canon EOS Rebel T3i w/ 18-135mm lens.
The first progression heard is for a new song that's a work in progress called 'Grace & Love'. Hear a sample here: http://voicetospiritmusic.com/blog/?p=650
Roland Junior 106 here: http://voicetospiritmusic.com/blog/?p=13
A short demo of some sounds that can be produced on an Access Virus Polar via the arpeggiator. Arp is cycled through note values, swing factor, and values are modulated throughout, Recorded in one take by Raul Pena III. Performed March 31,2011 at Switched On Electronics.
Access just released their Darkstar version of the TI Polar. This seemed like the perfect excuse to play with a Polar to Troy and I! -Brian
The Virus TI Polar is the last part of the Virus TI WhiteOut special edition. Only a limited number of units have been produced.
The technical specifications are identical to the Virus TI Polar 2009, the color scheme of the housing does differ as you can see.
This is the last part of the Virus TI WhiteOut special edition. The first two editions, a white Virus TI desktop and a white keyboard, were all sold on the first day.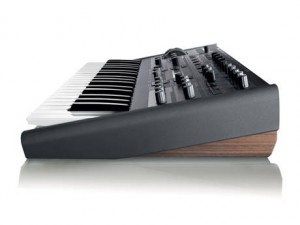 This is a little preview to one of the new things we will present at the NAMM show in 2011.
We will show you a preview version of the forth coming OS 4.5 for the entire Virus TI series.
This video captures a microtonal synth jam, via davidryle:
Alternate tuning using a Q172 Quantizer Aid module from Synthesizers.com.

The melody line played is through Lil' Miss Scale Oven (LMSO) from Red Barn Goat Farm into an Access Virus TI synthesizer.

The three variations on the tuning are loaded into the Quantizer Aid module using midi from an instance of LMSO.
Access Music has announced their latest "special edition" keyboard, "The WhiteOut Keyboard" limited edition, which will only be produced as 150 units with laser engraved serial number. If your favorite Virus Ti is the Polar edition, but you always wanted a "bigger" model, now you can get one (if you hurry).
According to the company, "White metal, wood and aluminum are the main ingredients for the WhiteOut's signature look. Perform with a Virus TI WhiteOut and you can be assured that your presence on stage will not fade into the background."
The technical specifications are identical to the Virus Ti Keyboard 2009, the color scheme of the housing does differ as you can see (see photo).
This is the second part of the Virus TI WhiteOut limited edition. The first part was a white Virus TI Desktop which we've released around Christmas. All units sold in a day.
In the U.S., dealers like Sweetwater, and NovaMusik are taking pre-orders, with a street price of $2999. Although the non-white "normal" models can sell below MAP pricing, you likely won't get as much of a discount on the Whiteout edition unless you have an existing sales relationship with your music dealer.
I had a Ti Polar (first version) and sold it to buy the rack mount/desktop model. I have missed the Polar ever since. This new 61-key model is even cooler (no pun intended), since there is plenty of room on top for a PC keyboard, Korg pad and external knob controller, etc. Gorgeous!
More information and a complete PDF brochure can be downloaded from this page (in English): www.access-music.de/page/render/lang/en/p/136/do/Virus_TI_WhiteOut_Keyboard_Limited_Edition.html .
This teaser, via Novamusik, showcases the Access Virus TI2 Whiteout Synthesizer.
Cheers Ola

Looking for a place to find nice drum samples? At Cyberworm you can find a real nice collection of synthetic drum sample packs from the likes of the Polivoks above, the Jomox, the Access Virus and genre kits like glitch/electro house/minimal.