A little late-night jam on some old-school IDM stylee by Chris Randall – Texteral
Gear used: Ableton Live, Audio Damage Phosphor, Replicant, Filterstation, and Automaton, Native Instruments Maschine, Eventide Space, Access Virus, and MeeBlip.
Korg Prophecy + Access Virus Ti2 impro – performed by S4K (space4keys keyboard solo)
About the KORG:
Digital does analog! The Prophecy was among one of the first synthesizers to lead a revolution started in the mid-nineties by synthesizer makers to satisfy a growing segment of the market that was lusting after old-school vintage equipment in the pursuit of making electronica-style music, by providing a state-of-the-art retro synthesizer that could sound like a classic analog.
The Prophecy Solo Synthesizer was unveiled in 1995, and was a purely monophonic solo/lead synthesizer. It employed DSP synthesis first developed for the Korg OASYS synthesizer, with algorithms for producing realistic analog timbres, VPM (Variable Phase Modulation) tones similar to FM synthesis, and physically modeled brass, reed, and plucked string instruments. At your finger tips were tons of real-time control over traditional analog editing parameters like filter cutoff and resonance, envelopes and the arpeggiator. It had a pitch wheel, a mod wheel, an expressive dual action ribbon wheel, six effects processors and more!
In this video, we take a closer look at the new filters in OS5 for the Access Virus TI synthesizer
In this tutorial, we take a closer look at the new additional envelopes in OS5 for the Access Virus TI synthesizer
For more info, longer demo and more, please visit the VIRUS "A" page at this URL:
http://www.polynominal.com/site/studio/gear/synth/access_virus/virus.html
Get the sounds here: http://xenossoundworks.com/virus.html
Astral Voyage contains 100 high quality ambient style patches by sound designer Effrain Beccera, which are perfect for space music and new age compositions, as well as excellent material for film and videogame soundtracks.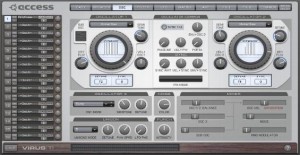 Played live on Korg EMX, Access Virus Snow, Micron MIDI'd to IPad running Sunrizer. Korg for drums, Virus for Bass and leads, IPad \ Sunrizer for Pads, FutureRetro for Acid.
Featured gear: The micron is an eight-voice analog-modeling synthesizer. Despite its small size, you'll be impressed with the micron's big sound. Whether you use a synth to accompany you on stage or in the studio, and whether you prefer to work with the hundreds of preset Alesis sounds or create your own, the micron is the perfect companion. The micron also contains a powerful sequencing section with phrase, step, and drum sequencing, an arpeggiator, and stereo effects. The micron has two multi-mode filters, three envelope generators, and two LFOs: the full spectrum of synthesis components for shaping and creating sonorities and textures. For stage and studio-ready quality, the microne has 24-bit audio outputs and inputs via balanced connections.
Each of the micron's voices contains two filters, and each filter can be one of the following different types, each with its own character and sonic flavor: Bypass, Low Pass: ob 2-pole, tb 3-pole, mg 4-pole, rp 4-pole, jp 4-pole, al 8-pole; Band Pass: ob 2-pole, al 6-pole, octave dual, band limit; High Pass: ob 2-pole, op 4-pole; three Vocal Formants, four Comb Filters, Phase Warp, Frequency, Resonance, Key Tracking, Envelope Amount, Offset, and Absolute. Each of the micron's voices contains two LFOs, each of which offers rate, depth, shape, and tempo sync; and three envelopes: Amp Envelope, Filter Envelope, and Pitch/Modulation Envelope.
This episode is all about modulations and in particular the modulation matrix of the Virus TI.
"We show you how to create pulsing pads beyond the omni present pumping pad effect."
Live performance, Korg EMX is providing drums and sequencing the Snow, FutureRetro is providing the bass and sequencing the Sunrizer App.
Featured hardware:
The ELECTRIBE-MX is a major step up in power and quality from the original ElecTribe series of dance music sequencer/synthesizers from Korg. The EMX-1 comes in a sturdy metal chassis with larger back-lit LCD display, expanded memory, voices & multitimbrality, more real-time controllers and vacuum tubes! Effects, Motion Sequencing, and Pattern length have also been expanded. And a new ribbon controller and slider have been added, providing a remarkable realtime interface for accessing the powerful arpeggiator.
Starting with its synth engine, the EMX-1 uses MMT synthesis (Multi Modeling Technology) which offers sixteen different oscillator algorithms, providing powerful analog synthesis models as well as sophisticated additive, PCM, chord, unison, combination, wave shaping, formant models and more. The built-in PCM library includes 207 drum PCM sounds and 76 synth PCM sounds ready for immediate use, ranging from powerful kicks and snares through amazingly unique organic sounds. External audio signals can be manipulated using the Comb Filter oscillator algorithm, and then further processed by the internal filter and effects. The EMX-1 allows you to create up to nine drum parts, five synth parts, plus accent parts that let you add dynamic accents to the drum and synth parts (for a total of 16 parts). Each part features extensive LFO and EG modulation. Each algorithm of the synthesis engine has two realtime adjustable parameters, plus some other menu-based parameters like waveform type, or chord quality. The brand-new filter lets you chose Low Pass, High Pass, Band Pass or Band Pass Plus.
The two Vacuum tubes (Valve Force Circuitry) create an analog tube circuit to add warmth and presence to your sounds. The tube gain knob adjusts the level of the output signal passing through the vacuum tubes, creating dynamic sounds with the distinctive tonal quality that only tubes deliver. Three stereo effect processors are available for simultaneous use. Each part can be independently routed to any of the three effects processors, and you can even use the Chain function to link multiple effects in series. Each processor offers 16 effect types including reverb, delay, flanger and chorus, tempo-based delay, talking modulator, grain shifter, decimator and more. The edits you make to each of the effects processors can be saved with each pattern.
As for the sequencing capabilities, up to 256 patterns can be created and stored to the internal memory. The EMX-1 ships with 196 assorted patterns covering house, hip-hop, R&B, electronica, drum n bass, techno, trance and more. You can combine patterns, add mute data and knob movements to create up to 64 songs, the EMX-1 ships with 3 demo songs. Favorite patterns can be assigned to Pattern Sets for instant access. Data can be quickly saved and loaded via SmartMedia cards. Realtime recording lets you record phrases as you perform, and step recording allows you to input the timing, pitch and duration one note at a time. Motion Sequencing records your realtime knob tweaks and plays them back as part of the pattern. Two types of motion sequence are provided; one for effects and one for parts, and you can also edit the value of individual steps. Up to 24 motion sequences can be used in a single pattern, allowing you to control virtually every sound parameter. And, using Auto BPM detection, the EMX-1 can follow the tempo of an external audio source. You can also use Tap Tempo to input the beat, set the tempo internally, or sync up to an external MIDI clock.
Played live on Korg EMX, Access Virus Snow, IPad Sunrizer Synth App
Background info:
Sunrizer synth is a virtual analog synthesizer that takes the definition of iOs synthesizer to the next level.
Thanks to carefully designed architecture and heavy usage of coprocessor it blurs the boundaries between iOs and hardware synthesizers.
Sunrizer was built to perform and works perfectly with any MIDI keyboard or sequencer. A lot of research has been done in order to achieve unheard warmth and clarity.
* Introductory price – 50% off for limited time only *
HIGHLIGHTS
· True SuperSaw sound emulation, first found in the legendary Roland JP-8000 synthesizer. SuperSaw is a layered waveform consisting of multiple saw waves which are detuned to create an extremely full and epic sound. It's possible to use 2 supersaw oscillators per voice * 7 polyphony = 98 saw oscillators playing the same time!
· Two independent filters per voice with configurable routing. You can select between various filter types including classic resonant LP,HP,BP,Notch and less common like Comb and Formant.
· The Morph Group function lets you continuously morph of up to 30 parameters in a sound (including effects), using only the modulation wheel.
OSCILLATORS
· 2 warm-sounding analog modelled oscillators per voice + 2 sub-oscillators (except SuperSaw). Available waveforms: Saw, PWM pulse,Triangle, SuperSaw.
· Oscillator 2 hard-sync and configurable routing
· Osc-mix, ring modulator
· White noise oscillator
FLEXIBLE MULTI FILTERS
· Two independent filters per voice with configurable routing. You can select between various filter types including: resonant LP,HP,BP,Notch, Comb and Formant.
· Configurable routing: serial or parallel with bypass option.
· ADSR envelope, keyboard tracking and full LFO control
MODULATION
· Two LFOs per voice. It's possible to assign each LFO to almost any parameter. 3 LFO running modes: trigger, 1 shot, global. 6 waveforms, phase and fade-in knobs
· The Morph Group function lets you continuously morph of up to 30 parameters in a sound (including effects), using only the modulation wheel.
· Two Modulation ADSR Envelopes for amplitude and filters cutoff
· Pitch and modulation wheels
EFFECTS
· A number of effects are built in: distortion, chorus, equalizer, stereo delay. All parameters can be modulated using mod-wheel.
ARPEGGIATOR
· Sunrizer incorporates very powerful programmable arpeggiator. You should think of it more like a small step sequencer.
OTHER FEATURES
· Over 200 presets
· 7 voices polyphony
· Playback modes: poly, solo, arp
· Built-in recorder supporting AudioCopy and iTunes file sharing.
· Supports CoreMidi and MidiMobilizer. MIDI key velocity can affect up to 3 parameters.
· Configurable piano keyboard size
· Hold button allows you to to keep notes sustaining until you play new notes.
· With Chord Memory function you can play the chord by only pressing single keys.
· Tube soft saturation on output
This little teaser video shows off a couple of new patches for the Access Virus TI by Andy@Icon Of Coil.
Icon of Coil is a Norwegian electronic music band. The band was established as a solo project in 1997 by Andy LaPlegua who was joined by former Sector 9 (now Moonitor and Zombie Girl) bandmate Sebastian Komor to perform live. With the release of Shallow Nation, the band's first single, Komor joined full-time. In 2000, Christian Lund joined the live lineup. Later that year the band's first full-length album, Serenity is the Devil, was released, which climbed to number one on the Deutsche Alternative Charts. Shortly thereafter, Lund became a full-time band member.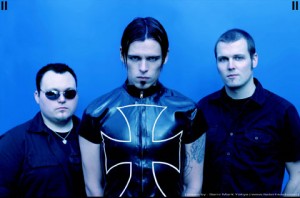 "The Virus is known as much for its flexibility and powerful sound as for Total Integration, our award winning way to interconnect a hardware synthesizer with your DAW.
The first Virus was released in 1997 and each new iteration has added more features more powerful hardware, and greater musical potential. That evolution explains why the Virus TI series is so sought after and why it receives such praise from owners, press, and fans all over the world.
Artists including Depeche Mode, Madonna, Linkin Park and the Prodigy tour with a Virus-based setup in 2009. Producers such as Sasha, Pete Tong, Roger Sanchez and Dr. Dre consider the Virus a core part of their studios. Composers such as Hans Zimmer, James Newton Howard, John Powell and Mark Isham are enthusiastic Virus users, utilising its signature sound for their Hollywood blockbuster soundtracks."