"Hello, AfroDJMac here with a tutorial and free Ableton Live Device Rack for you! This week I give you an Roland 808 bass drum sample that can be tuned to play in key with your song or as a bass line. The Roland 808 has some great low end on it and it makes for a nice instrument to create earth shaking bass sounds. At higher octaves this synth makes for a nice electric keyboard like instrument #bonus! "
Download: http://bit.ly/freesynth36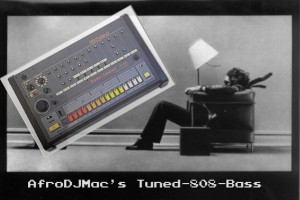 The iconic Roland 808 drum machine is a staple in modern music.  Each sound is loaded with character and can be found across many musical genres.  This week I spent some time with samples of the heavy hitting bass drum.  The result is a Free Ableton Live Device Rack that allows you to play the bass drum like an instrument.  I've tuned the bass drum and spread it out over the keyboard to create a bass instrument that allows your bass drum to play in key with your songs and even play melodies.  To help give it some punch, I have fortified it with an additional 808 bass drum sample and a sample made with Ableton's Operator.  These two layers add a more high end "click" sound to the bass drum notes, helping to round out the sound and add definition to the low end melodies.  In the accompanying video, I take you through how I created it, so you can mimic this idea with any sample you like, and then explain how the device rack is set up.  So get your subs out and get ready to shake the neighborhood as we dive in to some serious lo frequency madness!
Download the live set @ http://bit.ly/freesynth35
All sounds made with my Yamaha PSR-190 keyboard from the early 90s or so. Have fun with it and enjoy!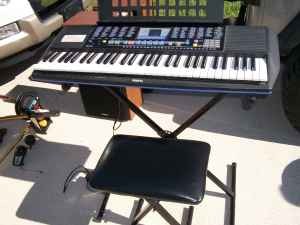 I like to think that there is a place for just about every sound or instrument, somewhere, in some song.  It doesn't matter how cheap it is or whether it's top of the line gold or a bargain bin reject, sometimes things fit perfectly.  I've found this to be true with a cheap RadioShack microphone, which barely qualifies as a nice toy, but actually records some nice room sounds for drum tracks.  And another time with my far-from-classic Yamaha PSR-190.  I got the PSR-190 shortly after starting to play guitar and was immediately amused by its built in rhythms and preset sounds that are nothing like the instruments they are named after.  Its career in dust collecting was off to an impressive start.  But as I grew and ventured off into the world of recording, I began to appreciate its character. I think I began incorporating it into some of my songs as its final test, failure meaning a swift trip to the Wednesday morning trash pick up or an adolescent reenactment of the final minutes of any good Nirvana concert (read: smashed to smithereens). Now I would never want to listen to a track composed entirely of PSR-190 sounds, but a layer or two often fit surprisingly well.

This week's Free Ableton Live Rack is a drum rack made up of the Yamaha PSR-190′s awesomely late 80s-ish kit.   There's some really indispensable kick and snare sounds, and the toms… the toms are such a charming $80 attempt at Phil Collins that you have to love them.  There were fourteen sounds in total, but to make things fit nicely on your MPC style pads, I modified a Kick and Snare sound, stretching them using Ableton's Impulse instrument.  I've included some FX to allow for some further sculpting.  The video will take you through the particulars.
Our ever so persistent friend AfroDJMac explores the world of space music. Keep wondering if he will fail to deliver any week soon, LOL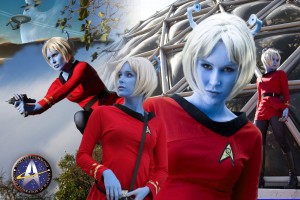 The 34th Free Weekly Ableton Live Rack from AfroDJMac is a warm textured and evolving pad sound created from a heavily processed vocal sample. The perfect soundtrack to an a day in an intergalactic forest in deep space. Space out with this fun synth

Download @ http://bit.ly/freesynth34
For anyone looking for a space aged, intergalactic sound straight out of an alien planet, this week's free Ableton Live rack is for you.  Here is a sound that is alive with movement and textures.  Created from a heavily processed vocal sample, the Space Forest Synth offers some exciting sound sculpting possibilities.  The synth is then racked up with some effects to add to the spacey feel, as well as a built in arpeggiator, allowing you to morph it to taste.

Lately, I've been having a lot of fun resampling chords from all kinds of instruments from guitars to synths.  In the following video, after taking you through the Ableton rack, I show you my technique for creating all new sounds by resampling instruments.  From there, it's quick and easy to create all new sounds and progressions from your preexisting material.  It's a total blast!  Below is an instrumental track I created last night using that exact technique (drums from my Operator Drums Rack and resampled arpeggiated chords and baseline created with the new Kasio M4L Instrument)  Enjoy
Get your drums going with AfroDJMac's latest Live rack featuring the Operator synth
I made a rack of 16 drums, exclusively with Ableton's Operator synth. They sound pretty glitches out yet exciting. Some fun and interesting effects added into the instrument rack helps to spice things up with a healthy dose of character. Follow along as I show you how it works. Thanks!
Download @ http://bit.ly/freesynth33
Background information:
After last week's Ableton Rack, the Gibson Pad, I received a few questions regarding the drums I used in creating the demo video.  So, this week's rack is the drum rack I used to create those sounds.  The FM synthesis in Ableton's Operator can be used to attain nearly any sound imaginable. Lately, I have been using it to create some far out drum sounds.  This week's Free Weekly Ableton Live Rack is just that, a collection of different drums made with the Operator synth.  Every time  I open Operator and start messing around with it, I am always amazed at what I get.  The drum sounds I created are all racked up into a drum rack and from there I added a bunch of useful effects.  First is a bit of New York Style Compression, which is just a combination of the dry, uncompressed signal and a heavily compressed version; the macro knob allows you to blend them to taste.  I've added both a lo and hi pass filter, distortion, reverb and delay.  Also, I've thrown in a vinyl distortion that is designed to emulate the sound of a drum hit being sampled from a record.  One of the cool things about sampling off a vinyl is the crackling you get behind the drum sounds and the way it cuts out at the end of the sample.  To achieve this, I set up a vinyl distortion followed by a gate. The gate is set to close out the vinyl crackles, but open when the drum sounds.  The result is that you only hear the vinyl crackles while the drums are sounding, just like with a vinyl sample.  I love this effect, it adds so much life and grit to the drum sounds.  This technique can be emulated for any sample, not just drums. So here it is in all, I hope you enjoy it!
A virtual instrument created with the sounds of an acoustic guitar. The strings of my Gibson acoustic were sampled and racked up in Ableton Live to create a lush pad sound. Enjoy and spread the word!
Download @ http://bit.ly/freesynth32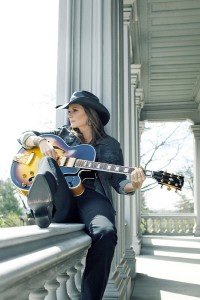 "My Gibson acoustic guitar is a true one of a kind, it has a sound like no other and plays like a dream.  I've exploited it previously with my Gibson E-bow rack and this week I have put it to work again in another free Ableton Live Rack.  I sampled each of its six strings and racked them all together inside Live, added effects, and created what turns out to be a nice atmospheric pad sound.  I've designed it with a compressor ready made for easy side chaining, so you can get this instrument breathing and moving in time with other elements of your tracks.  Have fun with it and spread the word!"
AfroDJMac Free Weekly Ableton Live Racks #31: Space Heaven Pad and Drums. Enjoy the sounds of traveling through the cosmos and into the great beyond with this virtual instrument rack. Also included is a drum rack from the demonstration music. Enjoy them.
As a little added tip, I show how I organize my personal presets to make them super easy to locate. I hope you find that useful, it's made my life way better.
Download @: http://bit.ly/freesynth31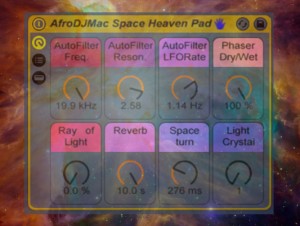 After digging around in my folder of Ableton presets (I keep a separate folder for all my own personally created presets, more on that later in this post), I came across this little gem, made probably over a year ago.  It is made with a few layered synths, each one made of different sampled sounds.  In all honesty, I'm not really sure where I got these samples from; whether I downloaded them somewhere, got them from a friend, or made them myself remains a mystery, but the sounds this synth produces is nothing less than heavenly.  To me it sounds like being beamed up into the universe and flying through the celestial plains, on my way to heaven. At least, this is what I imagine it would sound like.  Check it out and have fun on your intergalactic journeys.  Oh, and as a little bonus, I've included a drum rack of some interesting sounds I've processed. So, for this installment of Free Weekly Ableton Live Racks, you get two racks for the price of none!

As I said before, I like to keep my own personal presets in a separate folder.  As my collection of sounds grew, I got tired of sifting around through different folders for each instrument I made a preset for.  My solution: create a folder of my own that I save my presets to.  After I save a preset, I simply drag it into my presets folder.  The benefit is that all my presets are in one folder, rather than scattered across my stock Ableton presets.  This has saved me hours of searching around for my own unique sounds.  In the video, I detail exactly how I do it, as well as give you a taste of the AfroDJMac Space Heaven Rack.
This is Free Weekly Ableton Live Rack #30! Made from samples from JM-DG http://www.jm-deejay.com/ Check it out and enjoy!
download the instruments here: http://bit.ly/freesynth30
This weeks free Ableton Live racks come from reader JM-DG.  Over the last few months JM-DG has sent me a couple tracks made with various AfroDJMac racks, and he recently stepped it up with an offering of his own.  Created with an old trumpet that almost landed in the trash, JM-DG brings us an instrument with lots of warmth and character.  Not always perfectly in tune but packed with plenty of charm, this trumpet is sure to add a bit of life into your music.  I've taken what he sent me and added a couple of little touches and effects, as well as adjusting the tuning to make it a bit more playable.  As an extra bonus, I took the drums from JM-DG's demo song and chopped them up into its own instrument rack.  So you get a unique trumpet sound as well as a drum kit to play around with.  Make sure you stop by JM-DG's site and say thanks!
This weeks update from our ever so persistent AfroDJMac

"I felt a strange compulsion to create a BroStep style synth in Ableton Live. Whether or not it is a good BroStep sound I will leave to the experts, but it turned into something pretty cool and diverse. I hope you dig bro

"
Download @ http://bit.ly/freesynth29
Any decent movement in music comes with its own inevitable backlash.  The Beatles came to us at the cost of The Monkees.  Nirvana became disenchanted when the people they were originally rebelling against started showing up at their shows yelling "Teen Spirit."   And now the DubStep community cries foul about an emerging sub-genre affectionately known as BroStep.  Although I've learned a lot from some of its production techniques, DubStep has never really dominating my own personal playlists.  So, I did a quick online search for BroStep and found tons of amusing articles and posts, packed with a lot of passionate disdain.  Check out this Urban Dictionary entry on BroStep.  James Blake had a go at it on Pitchfork.  Forums are jumping on the topic.
So, basically for my own amusement, I started putting together a synth to emulate some of the characteristic vowel formant and noisy controversy causing bass sounds.  I ended up with something I actually like a lot.  This weeks Free Weekly Ableton Live Rack is the AfroDJMac BroStep Rack!  It wound up getting pretty complicated.   It's made using the Operator synth.  I got the vowel sounds from racking up the vowel presets in Ableton's EQ Eight.  (Check this Ableton Forum Post for my inspiration) This vowel Rack is also included  and useful in other situations.  I believe that every sound has its time and place, so I'm confident this Ableton Live instrument rack will be useful at some point or another.  And, if using it as a bass type sound goes against your own musical values, this rack can be tweaked around into something entirely different.  Don't hate it for its name, bro:)
Our extremely productive friend AfroDJMac is at it again with more beef to your Live rack:
Serious bass sounds and much more. As part of the series of free weekly Ableton Live Rack Downloads, AfroDJMac brings you a synth designed to get those ferocious bass sounds. This rack makes use of Ableton's Analog synth and the results go beyond just maddening bass. Follow along in the video for details…
Free Download @ bit.ly/freesynth28
Sometimes you just need a thick heavy bass sound.  Over the last few months, I've gotten a few requests for some heavy bass sounds.   While working on one of my tracks called "Part of Me,"  I programmed a bass sound that I liked quite a bit, and for this installment of my Free Weekly Ableton Live Rack series,  I have modified that particular bass sound.
I really appreciate Ableton's Analog synth for its deep sound sculpting potential and really nice filter section.  It's a synth that seems to get deeper and deeper every time I load it up.  This Ableton Live Instrument Rack was created with the idea of thick bass sounds in mind.  I used both oscillators, one a saw wave the other a square wave tuned an octave lower.  There's a slight detuning to thicken up the sound and a bunch of effects stringed together, most notably, The Ableton Amp plug in.  Luckily and to my surprise, this rack winds up being more than just a bass sound.  Follow along in the video below as I take you through the rack and show how it can be sculpted into heavy bass sounds, pleasing chords/ pads, and soaring leads.
The Nintendo Gameboy has been kept alive thanks to producers around the world who appreciate its 8 bit gritty goodness. This week, http://bedroomproducersblog.com allowed me to use their Gameboy samples in creating some free instruments for you guys. These samples were made with the LSDJ software and from there I added effects and fun settings for you to play around with in Ableton Live. Enjoy and if you like it be sure to check out Bedroom Producers Blog!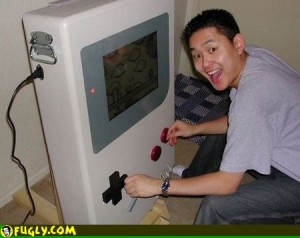 Download the Gameboy racks @ http://bit.ly/freesynth27
8 bit squelches and bleeps lovers come see this weeks installment of my Free Weekly Ableton Live Racks series!!

**Thanks to BedroomProducersBlog who assembled these fine samples using an old black Nintendo Gameboy running the LSDJ software, and who were kind enough to allow me to share with you my creations using those samples. [Visit BPB, it's a great resource for information, releases, samples, etc.]**

This week, since I'm feeling generous after some cyber-love from Ableton and Create Digital Music, you get two free Ableton Instrument racks.  The first is a drum rack loaded with all of these fine Gameboy glitchy noises, drops, risers, arps, and UFO sounds.  Secondly is a playable synth based on one of those wonderfully gritty samples.  Both are racked up in an exciting little effect rack that helps you finesse or destroy these sounds to suit your own personal productions!