Free Ableton Instrument #59: SynthPad Tape. This is an Ableton Live Instrument Rack created by sampling Big Robot Studio's SynthPad app. The Sample was originally recorded to my Tascam Reel To Reel Machine, which gives it some analog warmth, and then it was collected into an Ableton Instrument. From there it is coupled with a dirty sine wave synth and plenty of effects. Enjoy!
Download @ http://bit.ly/freesynth59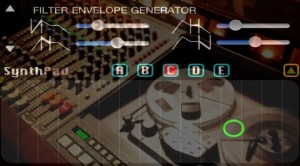 Here's what AfroDJMac has to tell us about his new rack:
"My main goal was to create an imperfect instrument, that is still completely usable, but has some character.  The sample I chose isn't the cleanest one, but it sounds nice looped.  I added some super subtle modulation to the pitch to make it sound a bit more like an analog synth.  These days, music is so perfectly in tune that it can take away from the character of the instruments.  I think it is worth playing around with the tuning of your soft synths to emulate the subtle intonation imperfections found in real instruments and hardware synths.  It gives the music a more "alive" feeling and can add tremendous character and charm.  So this particular synth is not perfectly in tune but it won't clash with instruments that are.  Also, pulling the sample from the tape machine adds some warmth to the sound as well."
This video details the features of the Super Tape Drums Ableton Live Pack created by AfroDJMac.
Features:
-450+ drum sounds recorded to a Tascam 8 Track Reel to Reel Machine
-30+ Ableton Live Racks of Drums and Effects Organized for efficiency and usability
-5 Ableton Live Sets
-Inspiring Instrument and effects, and super warm drum samples
It's Available Wednesday June 27th @: http://afrodjmac.com
Visit my site for more stuff like this, including Live Instrument downloads and music! http://www.afrodjmac.com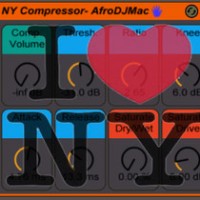 AfroDJMac has released a free New York Style Compressor for Ableton Live.
I have built a super handy Ableton Live audio effect rack for New York Style or Parallel Compression, and offer it to you as my newest Free Ableton Live Pack!

It works by compressing the audio (usually squashing the daylights out of it!) and mixing that processed signal with the original. The compressed signal has the fullness that a compressor offers, but the original maintains the dynamic range that the compressor can destroy. The end result is you get to have your cake and eat it too, the best of both worlds.

To achieve this effect in Ableton Live, I have built an Audio Effect Rack that has two chains: one with a Compressor (plus a Saturator for a little extra flavor), and one chain that allows the audio to pass through unaffected. The download link is below. The eight macro knobs allow for control over the most commonly used parameters (Threshold, Ratio, Attack, Release…) as well as an overall volume that allows you to mix in as much of the compressed signal as you like. I particularly like this effect on drum tracks, because it beefs them up while preserving their impact. Feel free to get creative an use it on all kinds of tracks (I've had a lot of success with vocals and acoustic guitars).
The Ableton Rack is a free download.
Ableton Live Pack featuring vinyl crackle effect. This effect rack is designed to make your audio sound as if it were sampled from a vinyl record. It's a modification of the vinyl distortion plug in, but will only introduce the crackles and pops when the audio is playing. Perfect for making drum samples sound like they were sampled from a record player.
Free Download: http://bit.ly/freesynth56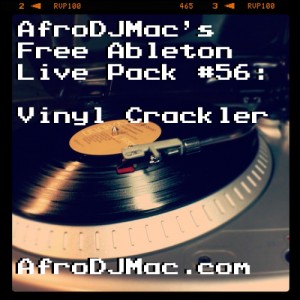 Ableton Live comes with a cool little plug in called vinyl distortion.  It adds a layer of record player crackles and pops over any track it is inserted on.  This can be a great effect for adding a retro quality to your tracks.

Recently, I was playing around with some live drum samples I set up in an instrument rack and I wanted to create the illusion that those samples came from an old record.  I placed the vinyl distortion plug in on the track, but it wasn't the effect I was looking for.  The plug in constantly emits a vinyl crackle.  It doesn't matter whether the song is playing or not, the vinyl distortion plug in is always outputting vinyl crackles.  If my samples were taken off of a vinyl record, you would only hear the crackling while the sample is playing.  To solve this problem I create this week's free Ableton Live Rack: Vinyl Crackler.
Ableton Live Pack of 22 instruments created with the Roland Juno 106 Polyphonic Analog Synthesizer. Each instrument was sampled from a custom patch on the Juno 106 and contains 8 macro knobs with its own unique effects to further twist and manipulate this diverse collection of sounds.
Available at http://afrodjmac.spinshop.com
The JUNO-106 is a very common and widely used analog polysynth. It continues to be one of the most popular analog synths due to its great sound and easy programmability. It was the next major incarnation of the JUNO-series, following the JUNO-60. While it has virtually the same synth engine as the JUNO-60, the 106 added extensive MIDI control making it one of Roland's first MIDI-equipped synthesizers. There was also increased patch memory storage, up to 128 patches instead of the 56 patches available in the JUNO-60. However, the JUNO-60 is often said to have a slight sonic edge over the more advanced 106. The 60 had the ability to modulate oscillator pulse from its envelope and has a "punchier" sound quality.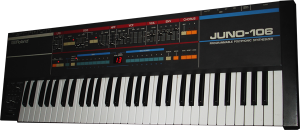 The JUNO-106 is a six-voice polyphonic and programable analog synth with one digitally controlled oscillator (DCO) per voice. While classic monophonic synths used two or three oscillators to create a fatter sound, the JUNO-106 uses built-in Chorus to fatten up its sound to dramatic effect. The nature of its DCO meant it was stable and always in perfect tune but still warm and analog. There is an excellent 24dB/oct analog lowpass filter with plenty of resonance and self-oscillating possibilities and a non-resonant highpass filter. The programable pitch/mod bender can be assigned to control the DCO pitch, VCF cutoff, and LFO amount all at once or individually.
The JUNO-106 was the first MIDI equipped JUNO and its implementation is quite good. There are 16 MIDI channels available and MIDI SysEx data can be transmitted/received from all the sliders and buttons for total remote control and sequencing capability. A switch on the back of the keyboard, next to the MIDI ports allows the user to switch between three types of MIDI modes: Keyboard and Hold data only; Keyboard, Hold, Bender, Patch selection data; or All data (including SysEx). Most users simply set it to MIDI Function mode 3 and forget it.
Live performance of a new track by AfroDJMac "This is on Your Mind." Performed in Ableton Live using an APC40, Launchpad, OP-1, MPK Mini. Track Originates from a jam in the iPad app Korg iMS-20.
Check out http://bit.ly/freesynth52 for an Ableton Live Set download with the sounds used to create the track!
Background details:
After creating the basic tracks using the Korg iMS-20 app for the iPad, I brought the track into Abletonto "take it to the next level." This week's download features sampled instruments created with the Korg iMS-20.

The track is relatively simple, based on just one chord, two synths and three drum sounds.  All of those sounds have been taken out the Korg iMS-20 app and placed into Ableton Instruments with their own effects and controls.  The beauty is that Ableton allows us to take those sounds to sonic places impossible within the app.  The Korg iMS-20 really sounds great and I hope you will find these instruments useful in your own productions.

As a bonus to these three most excellent instruments, I also created another instrument using the new Korg Monotron Duo (hence the title "Korg-asbord").  These samples were graciously sent to me by Hamtone.  (This was extremely kind of him, so please check out his site and Like his Facebook page).  I took some of those samples and stacked them up, along with a sine-wave-Operator synth, in an instrument rack.  This allows you to mix all three sounds together to create some exciting timbres.  If you checked out my 13th download, with the original Korg Monotron, you know not to be fooled by the diminutive stature of this synth; it is a deep, thick, heavy beast!

Now as if that is not enough, our friend JM-DG (the man who supplied the samples for the Dirty Trumpet and Shakey Muted Trumpet Packs) has sent me an incredible instrument rack made with an upright bass.  I didn't even touch the rack and give it to you just as he gave it to me, because it is incredible!  It has controls to change from bowed to pizzicato, arpeggiating delay, distortion, basically everything you could want.  I'm sure that this instrument will find its place in many productions down the road, amazing!
Here's a new freebie from AfroDJMac featuring more quirky percussions
This is a free Ableton Live download featuring 309 unusual percussion sounds. Follow along in the video tutorial and I show you how to use my technique of sampling and resampling to create your own interesting and unique percussion sounds.
Download the Ableton Live Project here: http://bit.ly/freesynth50
This week's free Ableton Live AfroDJRack is a continuation in the my study in unusual percussion.  I've been looking for new ways to create percussion sounds and this download is the result.  This week I have a total of 309 different sounds for you to play around with.  More importantly, though, I show you the technique I used to quickly create loads of unique sounds.  If you missed part one, check it out here.

I began this Ableton Live project by sampling some ordinary sounds.  I recorded the sound of pencil and eraser on paper.  Then I tore the paper (I felt inspired by this awesome video with Robot Koch). I snapped my fingers and rubbed my hands together, and recorded that.  Next, I tapped  my foot on the mic stand, which created some surprisingly bass-y kick drum like sounds. After that I took out my Casio SK-1, which is a sampling keyboard from the 80s, very lo-fi.  I sampled crackles, drum sounds and even noises created by plugging in an instrument cable and touching the end to create buzzes.  All of those sounds were sent into Ableton and are on the track labeled "Original percussion."  Feel free to do what you like to those sounds.

From there I played around with the clips I created, reversing some and messing around with the transpose envelope.  Next I set them up to play somewhat randomly using follow actions, and recorded the result on to another audio track.  The resulting clip was then "sliced to midi" and that created the drum rack on track 5 "AfroDJMac Unusual Perc  NOFX."

I then repeated the process of randomly triggering clips and resampling them, but this time I placed a host of effect racks on the track which I turned on and off and manipulated at random, using an iPad running the Lemur app.  This yielded two more instrument racks, found on tracks 3 and 4.  In the end, this download features 309 different percussive sounds!
Ableton Live Pack created using the Moog Slim Phatty Analog Synthesizer. This video takes you through the AfroDJMac Big Phatty Pack, which contains 33 Ableton Live Instruments.
Available here: http://afrodjmac.spinshop.com
Each instrument has its own unique effects and macro knob settings. I programmed each sound on my Slim Phatty and sampled them into Ableton Live from there, I added a ton of functionality to each instrument. Guaranteed to inspire!
This weeks free Ableton Live rack from AfroDJMac:
This is an effects rack I use on my master channels in Ableton Live. Very useful and practical!
Free Download @http://bit.ly/freesynth46
Every week I release a Free Ableton Live Pack! @ http://www.afrodjmac.com