Here's a quick Ableton Live Tip on how to change the tempo and bpm when you trigger a scene in session view. This is a must know for live performance! Enjoy!
Visit AfroDJMac's site for more stuff like this, including Live Instrument downloads, tutorials and music! http://www.afrodjmac.com
AfroDJMac's Free Ableton Live Pack #67: Gated Reverb! This Ableton Live FX rack will give you that 1980s gated reverb sound for your drums or any instrument you apply it to. It's a free download!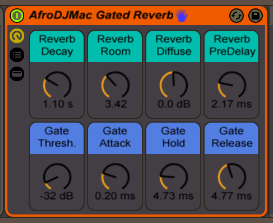 Get it here: http://bit.ly/freesynth67
The 1980s brought us some pretty cool production techniques.  I often try to emulate them in Ableton.  One of the more timestamped effects is gated reverb.  Producers wanted huge drum sounds, but didn't want the drums washed out in reverb.  The solution was found by placing a gate after the reverb.  This will suddenly silence the reverb once it drops to a certain level.  Think Phil Collins' "Coming in the Air Tonight." If you have ever wanted your drums to sound like they were being played by Godzilla in the Grand Canyon, this is the technique for you.

I found myself looking for those 80s drum sounds and created an Ableton Live effect rack called the AfroDJMac Gated Reverb Rack.  It's a pretty simple but very useful effect rack.  It gives you control over various reverb parameters and various gate parameters.  Together you should be able to dial in the exact gated reverb sound you are going for.
Here's a quick tip on how to use Ableton's stretch midi notes feature. It's a super useful technique for changing the duration of a set of midi notes.
Music made with AfroDJMac's Wind Chimes Synths: http://bit.ly/windchimesynth
Visit my site for more stuff like this, including Live Instrument downloads, tutorials and music! http://www.afrodjmac.com
My ever so persistent US DJ friend AfroDJMac delivers yet another inspiring Live pack
"Here's a free Ableton Live Instrument rack made from the sound of a rubber band plucked and recorded with a contact microphone. Special thanks to Theo, my cat, for helping out."
Full Post and Download: http://bit.ly/freesynth65
Homemade Contact Mic: http://getlofi.com/shop
Visit my site for more stuff like this, including Live Instrument downloads, tutorials and music! http://www.afrodjmac.com
AfroDJMac takes us on a tour exploring SideChain Compression:
Ableton Live sidechaining tutorial part 1: Compression. Ableton's compressor, gate, and auto filter all have side chaining capabilities. In this first part of a three part series, I will show how the sidechaining function on the compressor works.
Music created with AfroDJMac's Premium Ableton Live Packs: http://afrodjmac.spinshop.com
Get earth-shaking sub bass easily with this free Ableton Live Pack. It allows you to quickly drop any synth in the instrument rack, and adds heavy bass to get the floor moving.
Free Download @ http://bit.ly/freesynth63
Sub bass is an important part of many types of electronic music.  It is not so much heard as it is felt.  It can give a track tremendous power.  For this free Ableton Live Pack, I have created an instrument rack that features two different chains.  The first contains a simple sine wave synth that provides the sub bass. The second chain is almost empty, leaving room for you to drop any instrument you'd like to add a little sub bass to.

The first macro knob allows you to mix in the sub bass to the desired volume.  It is useful for balancing it with your main synth sound.  Next there is a macro that controls a low pass filter on the sub bass.  I  use this for preventing any higher pitched sounds from being heard.  Third, is an octave shifter for the sub bass.  This allows you to shift the pitch down by 1-3 octaves.  It's good for when you are playing higher notes, but still want the sub bass to be very low.  The final macro is an octave shifter for the main synth sound.  This allows you to get the relative octaves of the two synths exactly as you like.  I've left the last four macros open in case you'd like to map some of your synthesizers parameters to them.
The Roland Alpha Juno 2 is a classic analog synth that has been sampled inside and out for Ableton Live. This Ableton Pack features 64 instruments, 72 Ableton Instrument Racks, 9 Ableton Live Sets, and 1.5 GB of samples. Truly massive!
Get it here: http://afrodjmac.spinshop.com/details/157931
About the synth:
This is an upgraded version of the Alpha Juno 1. It adds an extended 61 note keyboard with velocity and aftertouch and an external memory cartridge slot. Other than that it has the same great sound and features as the Juno 1. Sliders and buttons were replaced by membrane buttons and the Alpha Dial which is used to edit and browse through the extensive selection of parameters: DCO digitally controlled oscillators, LFO, bend, ENV, pulse, waveforms, noise, PW/PWM, high pass filter, VCF (filter) with freq/env/res/lfo/kybd, VCA envelope, chorus, and more.
Adequate in the studio or on the stage, the Juno 2 has 64 presets and 64 user memory patches, a nice LCD display, an LFO capable of a very slow rate for some cool sweeping effects, and a great bass sound (especially nice for acid basslines) and noise effects! It also has chord memory which is perfect for rave & techno, portamento and keyboard transposing. The PG-300 Synthesizer Programmer gives you traditional slider control of each parameter for much easier and faster editing.
Solid as a rock – AfroDJMac on track with yet another Live session, check it out:
Learn how to use Ableton's Frequency Shifter plug in to add some Analog style pitch imperfections to your instruments or entire tracks. Can be used to add tremendous amounts of character to your sound!
Full Post here: http://bit.ly/2mintip12
This 2 Minute Ableton Live Tip will show you how you can use the frequency shifter to introduce some subtle pitch movement, that emulates the characteristics of a more analog signal path. I've written about this before, but Digital music can be so perfectly in tune, which is not how acoustic instruments or analog synthesizers actually behave in the real world. Real instruments are almost never have perfect intonation, and a group of instruments can almost never be perfectly in tune with each other. Analog tape will also introduce some subtle pitch movement. Most of this stuff is more or less unnoticeable, but it does affect the overall sound and feel of the music. Enter Ableton's Frequency Shifter Plugin. This gem can be used to create those slight imperfections on individual instruments or entire tracks.
AfroDJMac provides us with yet another useful tip for Ableton, worth checking out:
"This Ableton Quick Tip shows you how to get the LEDs on the Novation LaunchPad to Light up when you play notes, or whenever midi is sent to it. I'll show you how to create a visual metronome with the LaunchPad!
Visit my site for more stuff like this, including Live Instrument downloads, tutorials and music! http://www.afrodjmac.com"
Free Ableton Live AfroDJRack #60: Tape Hiss and Vinyl Crackle. This package contains 16 samples of tape hiss and vinyl crackle noises, a drum rack that allows you to effect them and put them together rhythmically, as well as an instrument rack that makes any synth sound as if it were sampled from tape or vinyl. Tape hiss from old cassette tapes and Tascam 8 track. Vinyl crackles from different records of varying quality. Super useful

Download @ http://bit.ly/freesynth60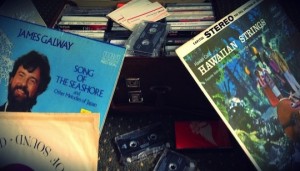 After busting out my old Ka-Boom Box, and dusting off what remains of my cassette tape collection, I started sampling empty sections of the tapes.   While I was at it, I took out some vinyl records of varying condition, sampled those, and grabbed a few minutes of tape noise from my Tascam Reel to Reel (the bad boy used on the Super Tape Drums Ableton Pack).  I've used those samples to create a pretty excellent Ableton Live Pack for you all!