July 21, 2011 · Posted in
Uncategorized
·
Comments Off

on Cakewalk sheds some light on their upcoming soft synth – Z3TA+2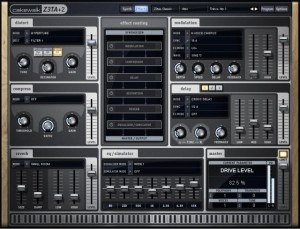 Cakewalk has shared some of the details of their upcoming Z3TA+ 2 soft synth:
Cakewalk, the world's leading developer of powerful and easy to use products for music creation and recording, today announces Z3TA+ 2 the Second Generation Waveshaping synthesizer featuring improved sound design, real-time expression, and sound quality.
Z3TA+ is highly revered as a classic synthesizer with unique character and tonality. Its unmistakable signature sound has been used in countless electronic, trance, and dance productions around the globe for nearly a decade. The key to Z3TA+'s success has been its formidable sound synthesis generation engine, featuring unique per-oscillator waveshaping capability, vast filters, multi-stage envelope generators, morphing and advanced modulation matrix with powerful effects routing.
Z3TA+ 2 builds upon the solid foundation of this classic waveshaping synthesizer with improved controls via a complete user interface overhaul for extensive, hands-on control of parameters including envelopes, effects routing, waveshaping, and performance functions. Real-time performance and expression controls are centralized into the Performance Module featuring the new Adaptive Pitch Bend. All this provides new inspiration for sound design, real-time expression, and is all bounded by impeccable sound quality.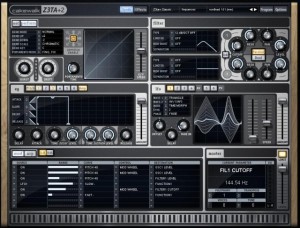 Z3TA+ 2 loads all original Z3TA+ patches and sports a new browser providing easy access and organization of patches. Z3TA+ 2 also includes hundreds of new presets from renowned sound designers Nico Herz of Big Tone Studios (who crafted many of the original Z3TA+ patches), Francesco Silvestri/FI Sound, Frank Genus/Pro Sounds, and Chad Beckwith/ FI Sound / Patch Arena.
Z3TA+ 2 highlights
· Waveshaper is now an integral part of the Oscillator section with 4 new Waveshaping modes. All Waveshapers are now accessible via the modulation matrix opening up an enormous amount of new sound shaping possibilities
· 4 new Filter modes bringing the total to 14 filter modes with separation control for tweaking resonance peaks on stacked filters. Both filters are readily accessible and visible simultaneously.
· New Graphically controlled Envelopes providing visual representation of all envelopes, mouse controlled ADSR, andimproved naming and interface arrangement.
· New Graphical LFOs clearly show the resulting LFO shapes when morphing between two waves and the newAMOUNT fader quickly scales an LFO's intensity.
· New Graphical Arp provides visual display of Arp patterns, including 100 new patterns from Dance MIDI Samples. 50 new 'Gate' patterns, also from Dance MIDI Samples, instantly apply trance gates to synth pads and leads while Humanize and Swing controls increase total Arp flexibility and expression.
· Effects enhancements include: Simple drag and drop routing of all effects, new Hypertube distortion algorithm, and highly flexible distortion module routing (apply to filter busses and master section or both simultaneously).
· Real-time Expression is enhanced with Adaptive Pitch Bend which allows for thebending of notes within the key and mode performed; automatically learns key based on performance.
· All Waveshapers can be mapped to the modulation matrix opening up a whole new world of expression when mapped to velocity and bend controls.
· XY Pad speed control allows users to adjust the morphing speed of XY coordinates.
· Z3TA+'s legendary sound engine has been improved with a new 'HIGHEST' SRC algorithm providing smoother, more accurate interpolation of wavetables.
Other UI enhancements
· Layout is rearranged with numerous usability improvements
· Menu items now show graphical previews (oscillator shapes, velocity curves, etc)
· New extended ribbon controller with latch (Shift-click)
· Menus are revamped with clearer organization and descriptions
Availability
Z3TA+ 2 has an estimated street price of $99/€99/£89 (vat inclusive) and will be available at www.cakewalk.com August 4, 2011. Customers who purchase Z3TA+ 1.5 starting July 18, 2011 will get a free upgrade to Z3TA+ 2 when it becomes available. Registered Z3TA+ customers can upgrade for $49/€39/£35 (vat inclusive) at www.cakewalk.com.
July 5, 2011 · Posted in
Uncategorized
·
Comments Off

on Teaser: Second Generation Waveshaping Synth from Cakewalk
Cakewalk has announced plans for  Z3TA+ 2, an update to their waveshaping software synth:
With a redesigned user interface, deeper editing controls, new effects, and superior sound quality, Z3TA+ 2 builds on the legendary reputation of its predecessor.
Of course Z3TA+ 2 would not be complete without a new collection of sounds so we retained many of the same sound designers of the original Z3TA+ to create exciting new programs that are sure to spark your creativity. If you already own Z3TA+, then the upgrade to Z3TA+ 2 is a must-have and will be available for a special price. Z3TA+ 1.5 is included with SONAR X1 Studio and Producer and those customers will also be eligible for this special upgrade pricing.
Z3TA+ 2 is expected to be available later in July.
June 7, 2011 · Posted in
Uncategorized
·
Comments Off

on Eager to test the Cakewalk Sonar X1?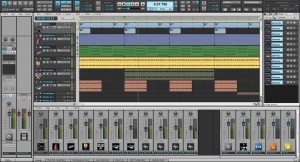 Want to try Sonar X1 with no strings attached? Now you can do just that with the free Cakewalk Sonar X1 Trial, now available for download at cakewalk.com.
The free Sonar X1 Trial is a fully-functional, 30-day version of the Sonar X1 DAW. Sonar X1, the latest version of Sonar software, offers new tools and features not found in previous versions of Sonar, such as the Skylight Interface that streamlines workflow.
The trial provides the full capability of the Sonar X1 Producer edition, including the Pro Channel console strip, which provides two types of compression, musical equalization, tube saturation, and flexible routing options. For a whole month, you can use the trial version to do just about everything possible with the full version — you can save projects (a major plus) and use most of Sonar X1 content minus a few synths, processors, and other features that ship with Sonar X1. It's free, so don't complain. Plugins included in the trial are the V-64 Vocal Strip, PX-64 Percussion Strip, and Rapture LE.
What you need to know about the Sonar X1 Trial:
It's a fully functioning version of Sonar X1 Producer
Works for up to 30 days if registered
Includes ProChannel, Rapture LE, VX-64 Vocal Strip, and PX-64 Percussion Strip
Lets you experience the new Skylight Interface
Trial version download is 612 MB
Tutorial content download is 624 MB
For Windows PC only
The Sonar X1 Trial is a fully functioning version of Sonar X1 that will work for up to 30 days if registered. To download the trial version, visit cakewalk.com and fill out the necessary information. Valid download links will be emailed to you. Note that there are two installers — one for the application and one for the optional content.
February 24, 2011 · Posted in
Uncategorized
·
Comments Off

on Cakewalk introduces Sound Center Expansion Packs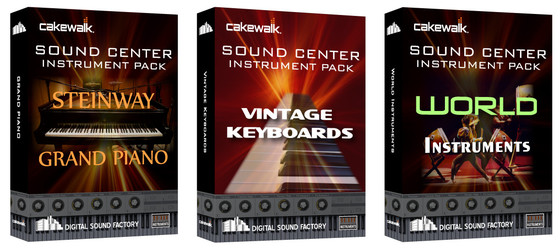 Cakewalk has announced the release of several Sound Center Expansion Packs, sound libraries for the Cakewalk Sound Center.
Digital Sound Factory has created a library of high-quality expansion packs for Cakewalk Sound Center (included in SONAR X1, Music Creator 5, and Production Plus Pack 3). To celebrate the release of these packs, we are offering a special introductory of price of only $19.95/£14.95/€19.95 for each pack (regularly $29.95/£24.95/€29.95).
Sound Center Expansion Packs features
Steinway Grand Piano – The Steinway Grand is one of the most classic grand pianos ever produced. Built with the best materials acquired, Steinway pianos create a rich full sound like none others. This beautiful Steinway Model L includes multiple layers matched for the ultimate realism. Each sample was reviewed, and the best were assembled to create this grand piano for Cakewalk's Sound Center. As a result of this process, this natural sounding piano will work in any track mix. (10 Programs).
Vintage Keyboards – Vintage Keyboards delivers the keyboard sounds that defined popular music in the '60s, '70s and '80s including the Hammond B-3 organ, Rhodes and Wurlitzer EP to legendary analog and digital synthesizers like the ARP 2600 and CP70, Vintage Keyboards gives you an all-in-one, no-compromise collection of over 30 classic keyboards meticulously sampled from the finest vintage instruments available. (220 Programs).
World Instruments – World Instruments represents an array of strings, winds, and percussion instruments from around the globe. African melodic and percussion, Chinese and India winds, Russian strings, and steel percussion instruments will color musical compositions with old world harmonic textures. This collection brings inspiring elements that weave the old world into the new world. (109 Programs).
More information: Cakewalk
January 8, 2011 · Posted in
Uncategorized
·
Comments Off

on Brand new soundpacks for Cakewalk announced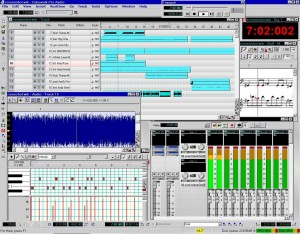 Cakewalk announced today several new sound expansion packs for their Rapture virtual instrument for PC and Mac. New Expansion Packs for Rapture and Rapture LE from Digital Sound Factory work on the full version of Rapture as well as Rapture LE. You can buy each one individually or buy all 3 for the price of 2.
Dance Tools: Rapture Expansion Pack:
Keep the crowd on their feet with this master set of sound tools. Hard core basses and raw synths give you the power to harness the sound. Create new exciting textures and grooves on the fly and send your music into the airwaves. Synth effects smear transitions, cool twisted modern synthesizer waveforms, and a large palate of dance hits are part of this high energy electronic expansion pack.
Analog Digital Synth Resource: Rapture Expansion Pack:
Blend the old with the new to create the fresh modern sounds like never before. Filled with fat analog synths combined with new digital renditions, these synths are primed for your mix. Expand your imagination and explore the endless possibilities. This collection has the resources that will take your sounds beyond your wildest imagination.
Synthesizer Rage: Rapture Expansion Pack:
Everyone has synthesizers in their closet, but no one has ever had synthesizers like these. Rapture is the 'Rage' and this sound set proves it. These hard edge slicing sounds will cut through just about any mix, and take your sound over the top. Synth basses that redefine 'bottom end' and hybrid sound combinations that will turn heads are awaiting your command.
November 7, 2010 · Posted in
Uncategorized
·
Comments Off

on Get to know Cakewalk's Sonar X1
SonicState has released this video providing insights into Sonar X1
Overview and presentation by Cakewalk's Brandon Ryan of the new Sonar X1 with Skylight, ProChannel and other features
November 2, 2010 · Posted in
Uncategorized
·
Comments Off

on The new Sonar X1 from Cakewalk is soon here
Cakewalk today announced SONAR X1 – the latest version of its Windows DAW:
SONAR has evolved and so can the way you make music. Imagine the power and maturity of an industry standard DAW combined with the cutting edge creative tools essential for today's music – all wrapped up in one of the most modern and (dare we say) beautiful user interfaces available.
Sonar X1 is available in several editions, at competitive price points:
Sonar X1 Producer – $399
Sonar X1 Studio – $199
Sonar X1 Essential -$99
Sonar X1 will be available Dec 8th. See the Cakewalk site for details.
July 12, 2010 · Posted in
Uncategorized
·
Comments Off

on Closer look on Rapture
Rapture's non-aliasing resampling engine technology sets a new standard for sound quality, and produces pristine, high-resolution rendering and playback. Its advanced modulation capabilities include over 40 Step Generators per patch, providing an intuitive interface for generating rhythmic sequences.
With its beautifully designed interface and extensive sound manipulation capabilities, Rapture is capable of producing the rich, hypnotic, and rhythmic basses, leads, and pads destined to put the spirit back into your music.
January 19, 2010 · Posted in
Electronic Music
·
Comments Off

on Interesting post on the sequencer battle
Found an interesting post/article called the Sequencer wars, where the author had used Google trends over the past years to analyze which sequencers are gaining or loosing in market share. The result is shown in the graph below.
And the result shows that Ableton continues to grow as the most popular system going forward.
Losers:

Cubase started from a high in early 2004 and has seemingly experienced a steady decline ever since apart from a few short-lived spikes; most notably in late 2004 when the news graph shows that Steinberg announced an update to Cubase SX 3.0.1

(I initially thought this result was quite odd so I performed other searches based around the [Cubase ] search-word to see if there was a correlation… and there is! The search trends for Cubase SX and VST pretty much match the same downward trend as above.)

Cakewalk shows an even more dramatic fall. It starts from a higher spike than Cubase at the start of 2004, but ends lower than it did in the last quarter of 2006!

(Still a bit sceptical, I ran another for Cakewalk SONAR Although there's been a more volatile ride, ithe graph shows a similar start and end-point as above.)

Winners:

Ableton on average, has experienced a steady rise in search volume all through the timeline, reflecting its new-kid-on-the-block rise into the mind-share of electronic musicians.

Flatlining:

Pro Tools does end at a slightly lower point than when the resultset began, but the trend-line itself is pretty much even when you look at the spikes it has seen. However, 2006 shows a fairly strong downward trend that is seemingly breaking-away from the rest of the line!
Read the full article here and some of the "conclusions" >>
Thanks to The Whippingpost for sharing
November 26, 2009 · Posted in
Electronic Music
·
Comments Off

on Five free VSTs from Cakewalk!!!
Cakewalk has announced that it's now offering it a bunch of free Windows music software, including synths and effects processors.
Here's what Cakewalk has to say about each of the freebies:
SFZ+ is rgc:audio's SoundFont player sample-playback engine, packed in a professional VST/DXi instrument.  Outstanding sound quality, stereo built-in effects, adjustable CPU/quality settings to adjust it to your hardware, fully multitimbral operation, multiple stereo outputs, several loading modes including direct-from-disk streaming and a beautiful interface make sfz+ the perfect choice for SoundFont users and professional composers.
Square I offers the warmness and classic sound of the vintage analog synthesizers, combined with the fidelity and precision of a VST instrument.  A simple synthesizer, oriented to the serious music enthusiast.
Cakewalk Audio FX 1 is a series of real-time audio processing plug-ins. All Cakewalk Audio FX plug-ins are Microsoft DirectX- compatible, allowing you to use them with any digital audio software that supports DirectX – including Cakewalk SONAR and other Cakewalk applications.
Cakewalk Audio FX 2.  Audio FX 2 uses advanced processing algorithms to apply the classic sound and warmth of several different vintage guitar amplifiers and analog tape decks to your digital audio.
Cakewalk Audio FX 3 SoundStage allows you to design acoustic environments in which to play back digital audio, resulting in unique, realistic reverb. Audio FX 3 Features Two Views: Performer's View and Room View. To create the perfect room, just click and drag your mouse to move walls and change ceiling height. Choose from different microphones, and place them inside the room. Then assign each audio track to different "performer" positions to hear custom reverb on each track. When you're finished, save your soundstage for other sessions, or use as a template for other designs. Audio FX 3 includes ready-to-use soundstages too.