Last week Sonic State had a visit from Ryan Harlin – he's the guy behind Propellerheads Music Making Month and also puts together the ongoing video content for Propellerheads.
"He showed us around the new features in the just released Reason 7, including (finally) the introduction of MIDI, some neat mixer functions – Spectrum EQ, bussing and parallel processing, plus the new audio processing module – Audiomatic."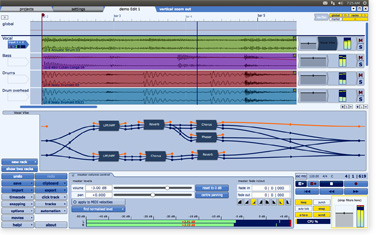 For those of you who haven't heard, Tracktion is back in the hands of its creator Julian 'Jules' Storer – otherwise known as 'The Chief' – and his new, completely independent company Tracktion Software Corporation (TSC).
Along with the the announcement of TSC is a new version of our beloved software – Tracktion 4 – featuring an all new audio engine that improves speed, stability and compatibility with the latest operating systems and formats. With the recent announcement of Linux support, "T4″ has become part of a rare group of creative software solutions that run in either 32 or 64 bit on Mac/PC and 64 bit Linux – the choice is yours!
Upgrading from any previous version of Tracktion is very easy and affordable at only $29.99.
Tracktion 4 (T4) features the same operational characteristics as the original program but with an entirely new audio engine. This progression is intended not only to make T4 compatible with all the latest operating systems, plug-in and controller technology, but also to create a modern platform for further development. TSC is dedicated to the continued evolution of the product.
To be specific, T4 provides support for OSX Mountain Lion to take advantage of Apple's very latest hardware and operating systems. It also provides support for Microsoft's Windows 7 & 8. Apple Audio Unit (AU) is supported to open a new world of effects and instruments for Tracktion users and the latest generation audio codec from Microsoft, Windows Media Audio (WMA) is also supported.
Windows Audio Session API (WASAPI) is included for optimized audio data management between applications. There is also support for 64bit Mac and PC operating systems so Tracktion can squeeze the highest performance out of current computer resources.
Enjoy
What do you get when you upgrade from Live 9 Intro to Live 9 Standard or Suite? Here's a rundown of 10 great features.
Check out your personalized upgrade pricing in the Ableton.com shop: https://www.ableton.com/en/shop/
More info on Reason: https://www.propellerheads.se/product…
The Audiomatic Retro Transformer is a new Rack Extension that comes free with Reason 7. Audiomatic is for your music what those insta-hipsta-analogififcation apps are for your cellphone pics. It's about taking your sounds and making them a little bit wrong in the right way. Color your sounds, add extra grit, or indulge in the lo-fi goodness.
In this microtutorial, we'll show you how Audiomatic was deployed across an entire mix to bring authenticity to the retro vibe. A little retro here… a little retro there… and it adds up to a dramatically awesomized mix.
More info on Reason: https://www.propellerheads.se/product…
Scream 4 Sound Destruction Unit is a multi-mode sound mangling utility that adds all kinds of distortion — from the gentle tape compression to full-on sonic mayhem. Relatively simple to use but satisfyingly nasty, in this video we cover the basics of this destroyer of sounds.
More info: http://bit.ly/175awvf
In this video, Reason guru James Bernard takes a look at Propellerhead Reason 7's new features including MIDI / CV output, the spectrum EQ analyzer, parallel processing, some new retro effects, and the addition of ReCycle to the already powerful music production and sound design software.
Jim Aikin shows how to conform audio files (such as drum loops) to MIDI grooves, and how to export and work with the results as a sliced REX file in Reason's Dr. OctoRex instrument.
Reason 7 brings tons of new improvements for the mixer, the rack and the sequencer. Integrate your instruments into Reason with MIDI out, audio slicing and audio quantize. Turn your recordings into REX loops. For mixing, we're introducing a spectrum analyzer with visual EQ, group and parallel channels and workflow improvements. To inspire, Reason 7 imports audio from your music library and web formats, the enhanced Factory Sound Bank comes fully loaded with tons of new loops and drum kits and the new Audiomatic Retro Transformer effect adds a futuristic-vintage sound to any tracks.
Learn more about what's new in Reason 7
More info on Reason: https://www.propellerheads.se/product…
The Reason Rack offers nearly endless sonic capabilities. But what if you just want the sound of your favorite hardware synth? Or that weird little drum machine you got half-price. In this tutorial we take a look at the External MIDI Instrument and how it can help you expand your Reason rack with your hardware.
Control Surface and Control Creator were added with FL Studio 11.0.1
Get the update here – http://forum.image-line.com/viewtopic…
You can use Control Surface as an Instrument OR Effect plugin and it's also in Patcher:
Manual entry – http://www.image-line.com/support/FLH…
Thanks to:
Youlean for the knobs – http://forum.image-line.com/viewtopic…
The Flashbulb for the music (project in the 11.0.1 update) – http://theflashbulb.net/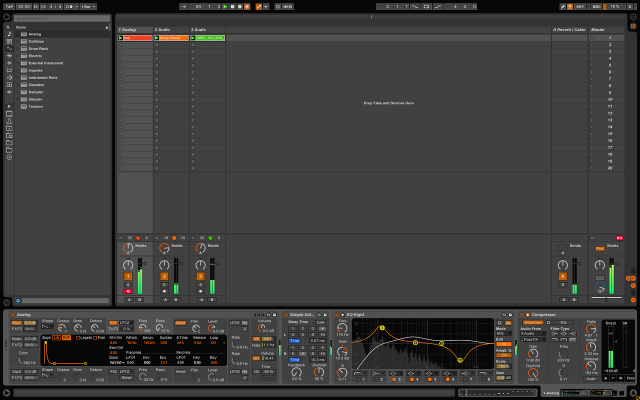 Ableton has released Live 9.0.4 – and Disco lives.
Here are the details:
9.0.4 Release Notes:
Bugfixes:
VST / AU plug-in devices could be inactive after loading a Live set containing a large number of plug-ins (regression in Live 9.0.3).
The "grab_control" function which allows to gain control over a control surface's button matrix via Max for Live would not work anymore (regression in Live 9.0.3).
Fixed a bug which could cause the File Manager window to reopen after launching Live.
9.0.3 Release Notes:
Improvements and feature changes:
Added a new skin: "Disco".
Added a new option to the "Record/Warp/Launch" preferences pane: "Start Transport with Record". If activated, the transport will start immediately when clicking on the Session- or Arrangement-Record buttons. If deactivated, it prepares for recording as in Live 8, so you have to launch a clip in Session View or click the 'Play' button. You can hold down the Shift modifier key when clicking on the record buttons to invert the behavior temporarily.
When recording automation on top of an existing automation envelope, and quickly clicking on different positions in parameters like sliders, X/Y pads, etc., Live now records a latching automation envelope instead of jumping back to the previous value.
The Compressor device does not clip input signals at +20 dB anymore.
Added control surface support for Novation Launchkey series.
Added control surface support for M-Audio Axiom Air Mini 32.
Added a user satisfaction survey. After several hours of usage, Live will ask you to rate the software on the next startup. You can submit a star rating or simply dismiss the survey.
Updated manual, lessons and translations.
Bugfixes:
The Trial version of Live 9.0.2 could hang on startup.
Live would not work as a ReWire slave on Windows.
The performance of the Ableton Index process has been improved, especially on OS X.
The Ableton Index process would sometimes not scan all folders after adding them to the sidebar.
The Ableton Index process could block the GUI during saving and exporting of Live sets, presets or clips.
Scanning folders containing a huge amount of files could take longer than necessary.
The Browser would not update its content pane after a change in the file system if the selection was somewhere outside of the Browser.
Expanding the Audio Unit folder in the browser's "Plug-ins" label could be slow for users which have a lot of library content installed.
Live would not save a clip self-contained after dragging it to the Browser and confirming the name of the new clip by clicking anywhere outside of the Browser.
The Session Record button would not turn off if the recording was aborted, e.g. by stopping or deleting the currently recording clip, disarming a track, etc.
Under certain conditions, MIDI notes would not get recorded into a clip slot after deleting a previous clip.
Overdubbing into MIDI clips could unnecessarily bloat the undo history file.
Fixed a graphical glitch which could occur in the representation of the filter curve in EQ Eight's Frequency Display.
Several MIDI control surfaces would not correctly shut down after quitting Live, e.g. motorfaders on the Mackie Control would not return to zero, Axiom Pro devices would not exit Hypercontrol mode, etc.
The "Project Mix IO" control surface would not work.
The channel strip buttons on the Mackie Control XT would not work.
Fixed a bug where the key navigation in track headers would not work properly when certain control surfaces are selected.
When using control surface scripts, the blue hand would sometimes not map to any device, e.g. after creating a device and then deleting it by using undo.
Live could sometimes crash on quit in case a faulty MIDI remote script throws an exception in the Python console.
Fixed a crash which could occur in Live Intro when right-clicking on a drum rack chain.
Changes for Push:
Using the touch strip to change banks in drum racks now requires to pick up the current value, to avoid changing banks accidentally while playing.
Fixed incorrect intervals in the Locrian scale.
The velocity curve setting would reset to the default value when opening a new Live set.
Changing the pad sensitivity settings could be slow if a drum rack was in focus.
Updating the LCD display could be slow when switching between Drum and Note mode.
The Push LCD could remain blank and no mode would be selected after holding the 'Browse' mode button.
Fixed a bug where 'Browse' mode would be exited after swapping a Max for Live instrument.
Tracks created by dragging an instrument would sometimes not be automatically armed if Push is connected.
The "Arm Exclusive" preference would not be respected when Push was connected.
Fixed a bug where recording wouldn't work properly if the default clip launch mode was set to 'Toggle' mode.
Fixed a crash which could occur when using the 'Quantize' function.
Fixed a crash which could occur when using Push to delete a device whilst recording automation for this device with the mouse.