Erik Hawkins (a.k.a. Erik Hawk) of Berklee Online shows you how easy it is to convert an audio loop into a REX loop directly in Reason 7. You no longer need ReCycle to author REX loops!
Erik Hawkins (a.k.a. Erik Hawk) of Berklee Online shows you how easy it is to set up sub mixes, using bus paths, in the Main Mixer of Reason 7.
Erik Hawkins (a.k.a. Erik Hawk) of Berklee Online shows you how easy it is to work with parallel channel effects in the Main Mixer of Reason 7, and how this type of processing can fatten up your tracks.
Background information:
I've got to say, the new features in Reason 7 are killer!  I'm having a whole lot of fun working with everything from the new Spectrum EQ Window, to the buses and parallel channels on the Main Mixer.  And of course all the rocking Rack Extension devices, especially the Korg Polysix and Propellerhead PX7 instruments, and the Pef Buffre and FXPansion Etch Red Filter effects, and iZotope Ozone for mastering.  Way too much fun and not enough time in a day to play with all these new shiny toys!
Editions compared – http://www.image-line.com/documents/e…
Lifetime Free Updates – http://www.image-line.com/documents/l…
Get the demo – http://www.image-line.com/downloads/f…
FL Studio is a full-featured, open architecture, music production environment for audio recording, composing, sequencing and mixing, and the creation of professional quality music. FL Studio is designed for creative freedom. However, Image Line wants to give you the option to decide, before you buy, which version you that fits your need
EM Technical Editor Gino Robair gives us his initial impressions of aspects of Apple's new release, Logic Pro X, including a run through of the Drummer Track, Drum Kit Designer, MIDI Plug-Ins, Logic Remote for the iPad, and more.
For more information on Reason:
http://www.propellerheads.se/tryreason
When Adam and his brother tried programming their own computer games as kids his own attempts were terrible. Fortunately however, the music Adam made for those games using ProTracker software on the old Atari ST computer wasn't terrible. In fact, it was so good he quickly outgrew what he could achieve on such a basic set up. After a recommendation from a friend and seeing the rack cables in action for himself, Adam was quickly a Reason user and now even pushes Reason to its limits with his epic full-bodied synth soundtracks.
After a couple independent releases, Adam Fielding's music caught the attention of Distinctive Records in the UK who promptly signed him for those and future releases. Now Adam splits his time between producing his own albums and soundtracks for TV and film use.
We caught up with Adam to check out how he builds up his ideas and arranges them in Reason using Blocks.
——————-
Project Genesis appears with permission from Conspiracy – www.conspiracy.hu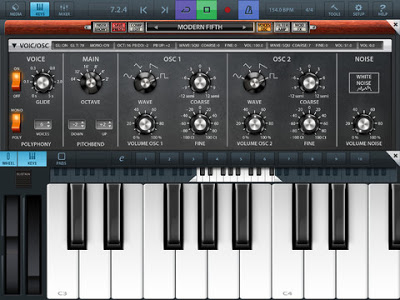 Cubasis is Steinberg's streamlined, multitouch sequencer for the iPad. Specially designed for quick and easy operation, Cubasis makes recording, editing and mixing a breeze. Record tracks in CD audio quality, and edit your music with the Key and Sample Editors, while the included mixer and audio effects polish your song to perfection. Cubasis comes loaded with dozens of virtual instrument sounds which can be played in real time using the virtual keyboard and drum pads. Cubasis' projects can be even opened in Cubase under Windows and OS X! Cubasis places touch-intuitive production tools in your hands, opening up a new world of possibilities for your creativity.
Short demo of the brand new Micrologue synth in Cubasis 1.5 update
Micrologue looks nice! Here's what's in the update:
Micrologue virtual analog synthesizer incl. 50 factory presets
16 Allen Morgan Signature drum kits incl. 80 MIDI loops
Open/close hi-hat problem solved
Instrument track freeze for internal instruments
Instrument rack to load and edit Cubasis' instruments
Modulation wheel support for Micrologue synth
New Avid Pro Tools 11 is now shipping. Pro Tools 11 offers a major upgrade of Avid's digital audio workstation that provides users with new, high-powered audio and video engines, 64-bit architecture, expanded metering, and direct HD video workflows.
"Pro Tools 11 represents a quantum leap in creative power," states Chris Gahagan, senior vice president of products and services at Avid. "The newly designed architecture turbo-charges production with more plug-in processing, the ability to run more virtual instruments—and a host of new features—letting users create ambitiously, without holding anything back."
Key benefits and features of Pro Tools 11 include:
Redesigned Audio Engine & 64-Bit Architecture
New Avid audio engine — Delivers multiple times the processing power of Pro Tools 10 on the same hardware configurations.
64-bit architecture — Exponentially increases the number of simultaneous virtual instruments and the performance to handle the most sophisticated sessions.
Offline bounce — Delivers mixes up to 150 times faster than real time.
Low-latency input buffer — Ensures ultra-low latency record monitoring without sacrificing plug-in performance.
Dynamic host processing — Maximizes plug-in count by reallocating processing resources as needed.
Expanded Metering
Extended standards support — Features a broad range of built-in metering standards, from peak and average to VU and PPM, to maintain adherence to regional broadcast requirements.
Gain reduction — Shows gain reduction for all dynamics plug-ins on each channel.
Direct HD Video Workflows
Built-in Avid video engine — Enables audio post professionals to play and edit a wide range of HD video formats including Avid DNxHD, directly in the Pro Tools timeline without transcoding, using the same core engine as in Media Composer.
Video interface support — Enables monitoring of DNxHD and QuickTime media through Avid Nitris DX, Avid Mojo DX, and other video interfaces.
"In the world of professional mixing, I constantly need more processing power, and the extra power in Pro Tools 11 is exactly what I need," says Tim Palmer, mixer and engineer for U2, Robert Plant, Ozzy Osbourne, The Cure, and INXS. "I love the new metering and the new sends view is excellent. It is really impressive. Pro Tools 11 is a big leap forward."
Pro Tools 11 and Pro Tools HD 11 are available in the online Avid Store and at Avid resellers worldwide. For more information, click here.
Pricing:
Pro Tools 11 software (full version)— $699 USD
Pro Tools 10 to 11 upgrade— $299 USD
Pro Tools 9 to 11 upgrade— $399 USD
Pro Tools Express to Pro Tools 11 cross grade— $499 USD
Pro Tools HD 10 to 11 upgrade— $599 USD
Pro Tools HD 9 to 11 upgrade— $999 USD
More info on Reason: https://www.propellerheads.se/product…
Thor sounds like no synthesizer you've ever heard before – and every single one of them. Where other synths use one specific form of synthesis and one single filter, the Thor polysonic synthesizer features six different oscillator types and four unique filters. Unlimited sound design potential at your fingertips.
In this micro tutorial we'll take a look at how to maneuver this unstoppable force of synthesis and give you an overview of its main features.
Well here's a treat for all Cubase fans – a full 13 episodes with in-depth tutorals on all things new in Cubase 7, enjoy
All the other episodes can be found here:
http://www.youtube.com/user/SteinbergSoftware/videos?sort=dd&tag_id=&view=0&shelf_index=0
Last week Sonic State had a visit from Ryan Harlin – he's the guy behind Propellerheads Music Making Month and also puts together the ongoing video content for Propellerheads.
"He showed us around the new features in the just released Reason 7, including (finally) the introduction of MIDI, some neat mixer functions – Spectrum EQ, bussing and parallel processing, plus the new audio processing module – Audiomatic."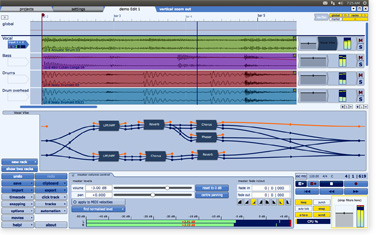 For those of you who haven't heard, Tracktion is back in the hands of its creator Julian 'Jules' Storer – otherwise known as 'The Chief' – and his new, completely independent company Tracktion Software Corporation (TSC).
Along with the the announcement of TSC is a new version of our beloved software – Tracktion 4 – featuring an all new audio engine that improves speed, stability and compatibility with the latest operating systems and formats. With the recent announcement of Linux support, "T4" has become part of a rare group of creative software solutions that run in either 32 or 64 bit on Mac/PC and 64 bit Linux – the choice is yours!
Upgrading from any previous version of Tracktion is very easy and affordable at only $29.99.
Tracktion 4 (T4) features the same operational characteristics as the original program but with an entirely new audio engine. This progression is intended not only to make T4 compatible with all the latest operating systems, plug-in and controller technology, but also to create a modern platform for further development. TSC is dedicated to the continued evolution of the product.
To be specific, T4 provides support for OSX Mountain Lion to take advantage of Apple's very latest hardware and operating systems. It also provides support for Microsoft's Windows 7 & 8. Apple Audio Unit (AU) is supported to open a new world of effects and instruments for Tracktion users and the latest generation audio codec from Microsoft, Windows Media Audio (WMA) is also supported.
Windows Audio Session API (WASAPI) is included for optimized audio data management between applications. There is also support for 64bit Mac and PC operating systems so Tracktion can squeeze the highest performance out of current computer resources.
Enjoy