Jim Aikin shows how to conform audio files (such as drum loops) to MIDI grooves, and how to export and work with the results as a sliced REX file in Reason's Dr. OctoRex instrument.
Reason 7 brings tons of new improvements for the mixer, the rack and the sequencer. Integrate your instruments into Reason with MIDI out, audio slicing and audio quantize. Turn your recordings into REX loops. For mixing, we're introducing a spectrum analyzer with visual EQ, group and parallel channels and workflow improvements. To inspire, Reason 7 imports audio from your music library and web formats, the enhanced Factory Sound Bank comes fully loaded with tons of new loops and drum kits and the new Audiomatic Retro Transformer effect adds a futuristic-vintage sound to any tracks.
Learn more about what's new in Reason 7
More info on Reason: https://www.propellerheads.se/product…
The Reason Rack offers nearly endless sonic capabilities. But what if you just want the sound of your favorite hardware synth? Or that weird little drum machine you got half-price. In this tutorial we take a look at the External MIDI Instrument and how it can help you expand your Reason rack with your hardware.
Control Surface and Control Creator were added with FL Studio 11.0.1
Get the update here – http://forum.image-line.com/viewtopic…
You can use Control Surface as an Instrument OR Effect plugin and it's also in Patcher:
Manual entry – http://www.image-line.com/support/FLH…
Thanks to:
Youlean for the knobs – http://forum.image-line.com/viewtopic…
The Flashbulb for the music (project in the 11.0.1 update) – http://theflashbulb.net/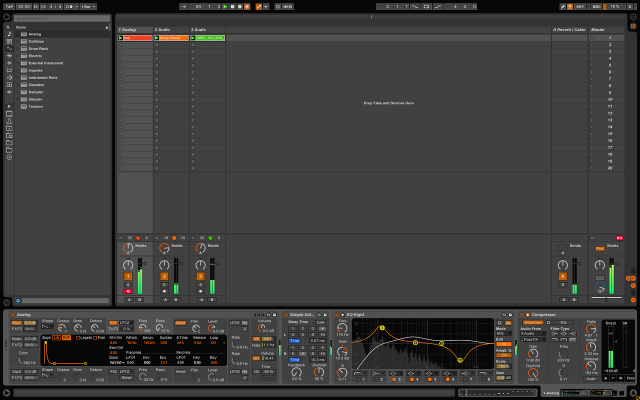 Ableton has released Live 9.0.4 – and Disco lives.
Here are the details:
9.0.4 Release Notes:
Bugfixes:
VST / AU plug-in devices could be inactive after loading a Live set containing a large number of plug-ins (regression in Live 9.0.3).
The "grab_control" function which allows to gain control over a control surface's button matrix via Max for Live would not work anymore (regression in Live 9.0.3).
Fixed a bug which could cause the File Manager window to reopen after launching Live.
9.0.3 Release Notes:
Improvements and feature changes:
Added a new skin: "Disco".
Added a new option to the "Record/Warp/Launch" preferences pane: "Start Transport with Record". If activated, the transport will start immediately when clicking on the Session- or Arrangement-Record buttons. If deactivated, it prepares for recording as in Live 8, so you have to launch a clip in Session View or click the 'Play' button. You can hold down the Shift modifier key when clicking on the record buttons to invert the behavior temporarily.
When recording automation on top of an existing automation envelope, and quickly clicking on different positions in parameters like sliders, X/Y pads, etc., Live now records a latching automation envelope instead of jumping back to the previous value.
The Compressor device does not clip input signals at +20 dB anymore.
Added control surface support for Novation Launchkey series.
Added control surface support for M-Audio Axiom Air Mini 32.
Added a user satisfaction survey. After several hours of usage, Live will ask you to rate the software on the next startup. You can submit a star rating or simply dismiss the survey.
Updated manual, lessons and translations.
Bugfixes:
The Trial version of Live 9.0.2 could hang on startup.
Live would not work as a ReWire slave on Windows.
The performance of the Ableton Index process has been improved, especially on OS X.
The Ableton Index process would sometimes not scan all folders after adding them to the sidebar.
The Ableton Index process could block the GUI during saving and exporting of Live sets, presets or clips.
Scanning folders containing a huge amount of files could take longer than necessary.
The Browser would not update its content pane after a change in the file system if the selection was somewhere outside of the Browser.
Expanding the Audio Unit folder in the browser's "Plug-ins" label could be slow for users which have a lot of library content installed.
Live would not save a clip self-contained after dragging it to the Browser and confirming the name of the new clip by clicking anywhere outside of the Browser.
The Session Record button would not turn off if the recording was aborted, e.g. by stopping or deleting the currently recording clip, disarming a track, etc.
Under certain conditions, MIDI notes would not get recorded into a clip slot after deleting a previous clip.
Overdubbing into MIDI clips could unnecessarily bloat the undo history file.
Fixed a graphical glitch which could occur in the representation of the filter curve in EQ Eight's Frequency Display.
Several MIDI control surfaces would not correctly shut down after quitting Live, e.g. motorfaders on the Mackie Control would not return to zero, Axiom Pro devices would not exit Hypercontrol mode, etc.
The "Project Mix IO" control surface would not work.
The channel strip buttons on the Mackie Control XT would not work.
Fixed a bug where the key navigation in track headers would not work properly when certain control surfaces are selected.
When using control surface scripts, the blue hand would sometimes not map to any device, e.g. after creating a device and then deleting it by using undo.
Live could sometimes crash on quit in case a faulty MIDI remote script throws an exception in the Python console.
Fixed a crash which could occur in Live Intro when right-clicking on a drum rack chain.
Changes for Push:
Using the touch strip to change banks in drum racks now requires to pick up the current value, to avoid changing banks accidentally while playing.
Fixed incorrect intervals in the Locrian scale.
The velocity curve setting would reset to the default value when opening a new Live set.
Changing the pad sensitivity settings could be slow if a drum rack was in focus.
Updating the LCD display could be slow when switching between Drum and Note mode.
The Push LCD could remain blank and no mode would be selected after holding the 'Browse' mode button.
Fixed a bug where 'Browse' mode would be exited after swapping a Max for Live instrument.
Tracks created by dragging an instrument would sometimes not be automatically armed if Push is connected.
The "Arm Exclusive" preference would not be respected when Push was connected.
Fixed a bug where recording wouldn't work properly if the default clip launch mode was set to 'Toggle' mode.
Fixed a crash which could occur when using the 'Quantize' function.
Fixed a crash which could occur when using Push to delete a device whilst recording automation for this device with the mouse.
New video merely stating the obvious I guess

Try Reason: http://www.propellerheads.se/tryreason
Reason is Propellerhead Software's flagship music production platform; a virtual studio rack full of synths, drum machines, samplers, and effects like reverb, delay, distortion, and much more. Add that all together with unlimited audio recording, legendary audio slicing/stretching, a professional mixer modelled after a big-studio classic… and you've got a powerhouse of a program with one central focus: making your music better than ever.
Whatever your music needs, Reason has a rack for that.
Music in this video: Syndrome by Mikkas: http://www.mikkasmusic.com/
Appearances by:
Jakwob – http://twitter.com/jakwob
Felix Cartal – http://www.felixcartal.com
Lucky Date – http://luckydateofficial.com
The big mixer in Reason is where your songs really find their full potential – sonically speaking. The powerful EQ, channel dynamics, bus channels, parallel channels, spectrum EQ, and oh-so-lovely Master Bus Compressor are all designed with one thing in mind: making you sound great!
In this walkthrough of the big mixer, we take a look at the major sections of the mixer and what they mean for your mix.
This video features "Outside In" by Atom, mixed by Gary Bromham inside Reason 7. The track is available for download as a Reason demo song here:
http://www.propellerheads.se/demo-songs/
Reason's virtual rack is the heart and soul of Reason. Synths, drum machines, samplers, effects, and little gadgets that tweak and freak one another are the building blocks of your music.
In this walk-through, we check out the Reason rack in more detail and get you up to speed on the powerful tools in your toolbox.
This video features "Syndrome" by Mikkas and "Bobo by Schpilka:
http://www.mikkasmusic.com
http://www.schpilkas.com
Inspiration can be a tricky thing. You either feel it or you don't. So much of music making is about either capturing inspiration when it happens or making it happen through new sounds, new techniques, or new ways of processing sound.
In this video, we take a look at all the ways that Reason can inspire your music.
This video features "Be Like You" by Olivia Broadfield and "English" by Ali Payami:
http://www.soundcloud.com/oliviabroad…
https://www.facebook.com/ali.payami.f…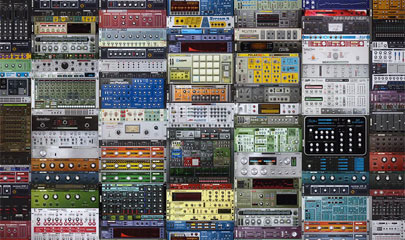 Today Propellerhead has released their latest incarnation of their popular DAW – Reason 7
Reason 7 brings tons of new improvements for the mixer, the rack and the sequencer. Integrate your instruments into Reason with MIDI out, audio slicing and audio quantize. Turn your recordings into REX loops. For mixing, we're introducing a spectrum analyzer with visual EQ, group and parallel channels and workflow improvements. To inspire, Reason 7 imports audio from your music library and web formats. The enhanced Factory Sound Bank comes fully loaded with tons of new loops and drum kits. The new Audiomatic Retro Transformer effect adds a futuristic-vintage sound to any tracks.
Reason Essentials 2 is a free upgrade for all owners of Reason Essentials, bringing audio slicing and quantizing to the sequencer. Create REX files from your recordings directly in Reason Essentials. Import audio files from your music library and the web with improved file format support. Workflow enhancements in the rack and sequencer make writing, producing and mixing music in Reason Essentials even faster, easier and more fun.
All details can be found here >>
More info – http://www.image-line.com/documents/f…
What's new? – http://goo.gl/Q9EwO
Music: Bass Antics by Seamless, the project is included with FL Studio 11
FL Studio 11 is a complete software music production environment, representing more than 14
years of innovative developments and our commitment to Lifetime Free Updates. Everything you
need in one package to compose, arrange, record, edit, mix and master professional quality music.
FL Studio 11 is the fastest way from your brain to your speakers.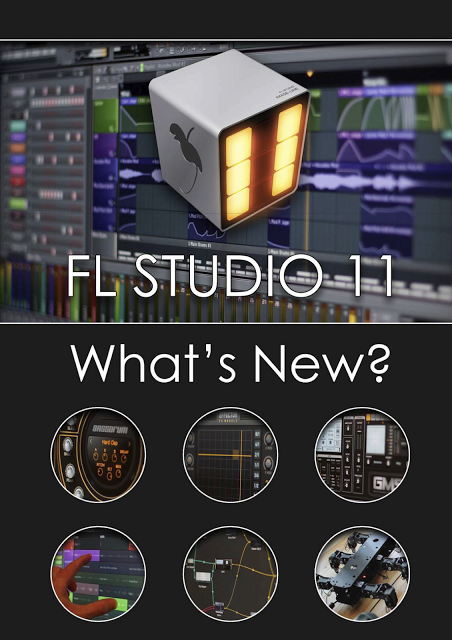 Notable New Features
Performance mode – Trigger Playlist Clips live using a mouse, touch screen, typing keyboard or MIDI controller. Supports APC20/40, Launchpad, Lemur, Block, Maschine/Mikro, padKONTROL, Traktor Kontrol (and more).
Multi-touch support – FL Studio and some plugins now respond to Multi-touch with Microsoft gesture functions supported.
Playlist – 199 Playlist tracks, increased from 99.
Linking includes MIDI input port – Links now remember the MIDI input port used to avoid conflict between controllers.
Playlist & Piano roll – Horizontal & vertical movement locking. Shift is horizontal lock & Ctrl is vertical lock when dragging items.
Piano roll – Glue notes, Mouse wheel velocity, Monophonic step entry mode & Chop chords tool.
Right-click data entry – Most controls now allow a Right-click option to type in values.
Plugin Picker – Right-click to open a plugin and its presets in the Browser. Start typing plugin names to highlight entries.
Mixer – Page Up/Down keyboard keys cycle through the current mixer track's plugin windows.
Options – Play truncated notes in clips restores notes overlapping slice points in Pattern Clips. Click and hold functions. GUI animation level now selectable from sober to entertaining.
Google Play Store – https://play.google.com/store/apps/de…
iTunes – https://itunes.apple.com/au/app/fl-st…
Info – http://www.image-line.com/documents/f…
FL Studio Mobile is now available for Android and iOS. Use it on any smart-phone or tablet running Android or iOS
A Google/Asus Nexus 7 was used in this video
FL Studio Mobile HD allows you to create and save complete multi-track music projects on your iPad, iPhone and iPod Touch. You can even load the FL Studio Mobile projects into the 'FL Studio Desktop PC' version* and take them to the next level.
If it's a beat on the step sequencer, a melody on the piano roll or a full song on the playlist, FL Studio Mobile has you covered. Never lose that idea again. Get it down and happening wherever you are.
FEATURES
• 133 high quality instruments, drum kits & sliced-loop beats
• In-app shop with 7 sample packs (250 instruments/kits), 2 of them are free
• All instruments have FL Studio desktop counterparts for FL Studio desktop import and extension
• Step sequencer for fast percussion programming and sliced-loop reworking
• Configurable virtual piano-keyboard
• Drum pads
• Audio tracks: audio recording (with monitoring), iPod library import, wav/mp3/aac import, AudioCopy & AudioPaste
• Wave editor: cut, trim, normalize, reverse, insert silence, fade in/out (3 curves)
• Record up to 24 channels simultaneously with CoreAudio (class compliant) hardware
• Background audio playback and recording
• Browser with preview button and logical sorting into Instruments, Synths, Drum kits & Loops
• Sampling: custom kits and instruments can be created from wav/mp3 files, AudioPaste, .zip and .instr files (created with FL Studio desktop)
• Pan, volume, release and attack time configurable per instrument
• Pitch bend via accelerometer
• Low-latency, iOS-optimized, high quality, battery-friendly audio engine
• Drum loops and sliced loops ready to start your project with a cool beat
• Effects include Limiter, Reverb, Delay, EQ, Amp simulator & Filter to enhance your mix.
• 99 track sequencer and intuitive editing options
• Per-track mute, solo, effect bus, pan and volume adjustment
• Edit at the level of tracks, bars or down to individual notes
• Piano roll editor for manual entry of note & chord sequence data or detailed editing of recorded performances
• Unlimited undo and redo for all editable screens
• Metronome with tempo & time-signature settings
• Intuitive positioning of screens with the slide gesture and resize with the pinch gesture
• Save and load your songs, export to WAV and AAC
• MIDI file import/export
• SoundCloud and Dropbox upload
• Email export, AudioCopy, iTunes file sharing and an integrated WiFi server
• Audiobus support (input & output)
• In-app user manual
• Retina Display graphics
• Compatible with: CoreMIDI (MIDI in and out), Virtual MIDI, Line 6 MIDI Mobilizer I & II, Akai SynthStation 25, iRig, iRig Mic, iRig MIDI, Yamaha i-MX1, Apogee Jam, Blue Mikey, Alesis IO Dock, iConnectMIDI, Line 6 Mobile Keys, Line 6 Mobile In, Tascam iU2 and many more.
Visit www.flstudiomobile.com for video tutorials, demos and access to the FL Studio Mobile community. For sales support email flstudiomobile@image-line.com.
In this Micro Tutorial we take a look at audio slice markers in Reason 7. Whether you're quantizing your audio tracks for flawless timing, adjusting individual notes to re-imagine your phrasing, or just looking to experiment into unknown realms Audio Slice Markers are a powerful tool. And the best part? Thanks to Reason's legendary time stretch, it sounds amazing.