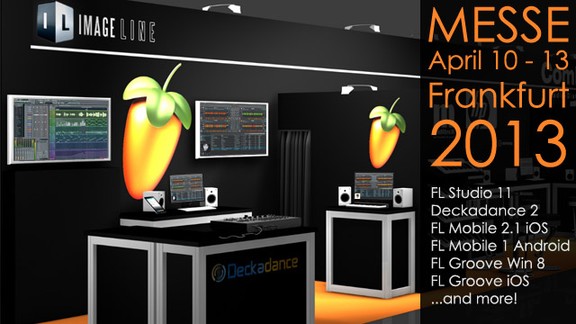 Image-Line has announced that it will showcase version 11 of its FL Studio music production software at the upcoming Musikmesse.
We are excited to announce that Image-Line will be at Musikmesse April 10-13, 2013. See us at Image-Line Booth E50, 5.1

Featured products include:

FL Studio 11
Deckadance 2
FL Studio Mobile 2.1 (iOS)
FL Studio Mobile 1.0 (Android)
FL Groove (Windows 8 and iPad)

Also meet nucleon from the FL Studio forums & Sacco, winner of the FL Studio Performance mode competition (demonstrating in the ComLine booth nextdoor).
Propellerhead has announced a new major version of its Reason music software. With over 90 third party Rack Extensions expanding Reason's rack of instruments and effects already available, Propellerhead has focused its attention on new creative and inspirational improvements for the mixer, the rack and the sequencer.
With Reason 7, users can integrate all their instruments into Reason with MIDI out, automatic audio slicing and audio quantize, and even convert their recordings into REX loops for further creative possibilities in the rack. For mixing, Propellerhead is introducing a spectrum analyzer with visual EQ controls; group and parallel mix channels; and many workflow improvements to help users sound better, easier. To inspire, Reason 7 makes it easier to import audio from users' music libraries and the web with support for mp3, aac, wma and more. The enhanced Factory Sound Bank comes fully loaded with tons of new loops and drum kits, while the new Audiomatic Retro Transformer effect unit adds a futuristic-vintage sound to any tracks, never more than a mouse-click away.
Reason users are invited to sign up for the limited public beta testing at the Propellerhead web site.
Pricing & Availability
Reason 7 and Reason Essentials 2 begin limited public beta testing today and will be available for purchase worldwide in Q2 of 2013 at the following suggested retail pricing:
Reason 7 €405 / $449.
Reason Essentials 2 €120 / $129.
Reason 7 Upgrade (from any previous Reason version) €129 / $129.
Reason Essentials 2 upgrade from previous versions free.
Balance (includes upgrade to Reason 7 for owners of previous versions of Reason) €429 / $449.
Propellerhead is also offering a grace period for purchasers of current versions of Reason, Reason Essentials and the Balance audio interface. Purchasing and registering a qualifying product today makes users eligible for a free upgrade to Reason 7. For details see: www.propellerheads.se/freeupgrade
Buffre Beat Repeater is an audio looping device that repeats and scrubs audio in sync with song tempo. Buffre is a performance effect, playable from a MIDI keyboard or control surface, and supports Reason control voltage routings for automated looping, stutter and glitch effects.
When you download a full license, please opt-in for special promotional offers by clicking the check box and REGISTER button.
Mixed and Arranged entirely inside Propellerhead's Reason 6.5 with sounds sampled in my kitchen!!
The ingredients were as follows
A glass bottle to blow air across the top (if its a bottle of alcohol – music automatically gets made)
Microwave (button sounds, door bang, start/stop)
Kitchen Timer
Cabinet drawers and doors
Sink tap, Sink hose spurting water
Refrigerator water dispenser (water falling and the mechanical switch you press your glass against)
Dishwasher switches and lock
2 different blenders
Water falling into a pre-heated pot for that sizzling sound
The crunch of the wrapper of a fiber bar
Almonds falling into a box
Groundnuts in a box
Pulses/Rice in a box
A bunch of empty containers, pots and pans
Running my fingers around the rims of glass
Rice cooker switch
..and…
…the missing ingredient I could not shoot – the 'insinkerator' going on and off.
So what's the recipe then? Mix it till it sounds good. And if it sounds good, it is good.
I had a lot of fun making this. I hope you had fun watching and listening!
More info on Reason: https://www.propellerheads.se/product…
Malström is a one-of-a-kind synth, begging to be explored. In this tutorial we'll learn the basics of this mean green machine by creating a synth pad sound from scratch. And once you've got a feel for what Malström can do, endless sound design possibilities are just around the corner!
A short video demonstrating a template I made for the Liine Lemur iOS App controlling Blamsoft's Viking synth for Reason 6.5. An IK iRig MIDI was used to hook up the iPad to the PC.
The template can be downloaded from the Liine website User Library;
http://liine.net/en/community/user-li…
Producers around the world talk about Cubase 7.
M-Phazes, Peter Frampton, Gabry Ponte, Oleg Chechik, Karim Sebastian Elias, Antoine Clamaran, Nick Blagona, Dong Dongdong, Stefano Ritteri, Buraka Som Sistema, Lotek, Allen Morgan.
Background video description:
This is my version of M83′s "Midnight City", recreated (a "ReCover" as I call it) completely in Propellerhead's Reason. All custom patches, all original note data (no web download of MIDI files).
Subtractor, the original Reason synth, still packs a punch! In this tutorial we'll learn the basics of this virtual analog classic by creating a synth bass from scratch. Regardless if you own Reason, Reason Essentials or if you're just trying out the demo, this should get you started creating your own sounds with Subtractor!
Just a quick video on how to crreate cool drum and bass beats with iOS apps. Drums: GlitchBreaks and DM1, Bass: Magellan (2 instances), FX – Animoog, DAW – Cubasis.