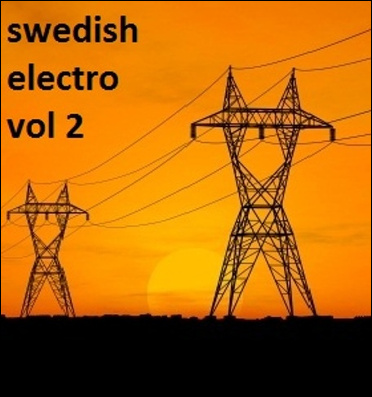 The electronic compilation "Swedish electro vol2" is out now and can be downloaded from Bandcamp for free. The compilation features bands from Sweden such as Cryo, Kite, Henric De La Cour, Steelberry Clones and Vogon Poetry.
Download it here for free or name your price >>
Listen to it here >>
Background video description:
Almost finished setting up my "electro rig" which features these classic, but inexpensive effect units from Electrix. One fun thing to do with the MoFX is turning the delay feedback to 100% and "sampling" a measure of a beat and manipulating that sample with the delay time. Be sure to listen with headphones if you've got them handy and hear the "ping pong" delay!
THE CAVE has updated their site with some new tracks; including electronica tracks from Berliner Maschinenfabrik, Bears in Nippon and The Modifiers, listen below:
The 3rd single from our upcoming 4th album.
Available digitally October 22 via Metropolis Records in North America and Europe.
Pre-order NOW! http://www.metropolis-mailorder.com/d…
Directed by Mitch Massie
Taken from the album "Calls From Space". Video directed by J. Tochtenhagen, edited by F. Sapart. Model: Sabine Tonn. (c) & (p) ECHOZONE MUSIC.
And a whole lot more updated weekly with fresh and experimental electronica acts. Here's how the y describe themselves:
"All songs/tunes/music at THE CAVE is the result of one small team of song writers operating under the same umbrella. The common theme is all about the love of electronic music done by hardware and software synthesizers."
Follow their channel here >>
https://soundcloud.com/t-h-e-c-a-v-e
Teaser video below:

THE CAVE – a small team of electro enthusiasts has created this electro music portal to share their sounds to all fans of ambient, electro, synth pop, electronica, techno music. All sounds and music produced with analog synthesizers, drum machines, and fused through modern day music production environments. This video provides a snapshot of some of the sounds you can find in THE CAVE.
Full Contact69 – MOVE YOUR ASS taken from the new album WOMAN MACHINE
METAMORPH – Electroacoustic and designed sound effects library
BUY NOW: http://twistedtools.com/shop/samplepa…
AUDIO DEMOS:
https://soundcloud.com/twistedtools/s…
METAMORPH is a vast collection of electroacoustic and designed sounds, developed by Italian sound artists BJM Mario Bajardi and Komplex (Iter-Research). METAMORPH takes heavily processed violins, pianos and acoustic instruments and morphs them into impacts, sci-fi atmospheres, user interface elements and beyond.
METAMORPH features over 2.1 gigabytes of 24bit/96khz audio, embedded with Soundminer ready metadata to easily facilitate the discovery of new sounds for your next music or game production. Also included in the package are sampler presets for most major formats. Native Instruments Reaktor owners may take advantage of the included MP16d sampler, which comes equipped with a custom Lemur Template by Antonio Blanca.
Whether you're a sound designer looking for alien textures or an electronic musician seeking out unusual timbres, METAMORPH features something for you.
METAMORPH is available at the Twisted Tools shop for just $69.
Main Features:
Over 2.1 Gigabytes of sound effects and designed sounds
24bit/96khz wavs
Soundminer enriched metadata
Maschine ready metadata
Sampler instrument presets for Maschine, Ableton Live 9, Battery, EXS24, Kontakt, Maschine and Reaktor
A brand new version of Twisted Tools' MP16 sampler, called the MP16d
Reaktor MP16d Features:
16 Voice Polyphonic Sampler
Pad style layout
Unique parameter and modulation settings for per voice
FM and Delay FX per Voice
Note repeat effect per voice
Two LFOs per voice
BPM Sync
Lemur OSC Template by Antonio Blanca
Pricing: $69
Availability: Now available exclusively at http://twistedtools.com/shop/samplepa…
About BJM Mario Bajardi and Komplex
BJM Mario Bajardi is an Italian electroacoustic composer and sound designer, who is currently a lecturer at the Academy Art, at the University of Palermo in Italy.
Komplex is Paolo Bigazzi Alderigi, multimedia artist and owner of Iter-Research music publishing. Paolo is a lecturer at SAE in Milan, Italy.
Video Audio Demo by Richard Devine
Sampling card RME Fireface 400 usb.
FORMAT: wav
41,000 hertz 16 bit samples
Number of samples: 68
From the You Are Electric EP — featuring retro-electro remixes of the Mountain King album track – 'You Are Electric', a b-side and a cover of New Order's 'Age of Consent'. Find out more at: http://www.spacemarch.com
Video Credits:
Created by Craig Simmons
Music Credits:
Written, Performed, Produced and Mixed by Craig Simmons (Space March)
Mastered by Robin Schmidt at 24-96 Mastering
More about Space March:
http://www.spacemarch.com
http://www.facebook.com/spacemarch