https://sellfy.com/p/HYhN/ 128 contempary and classic style drum and percussion sounds to load into your Elektron Analog Four, with the imminent +drive and 4000 available sound slots coming to the next A4 OS these will give you a great headstart when making drum sounds.
I designed all these sounds from scratch for the purpose of saving time, drum sounds need to be tuned very carefully to sound convincing, so as you can hear from this brief demo a large portion of this work has already been done for you.
The sounds themselves range from classic drum machine type sounds, to abstract and contempary, hand percussion, even a hang drum emulation and many more useable and useful sounds. Comes with full documentation.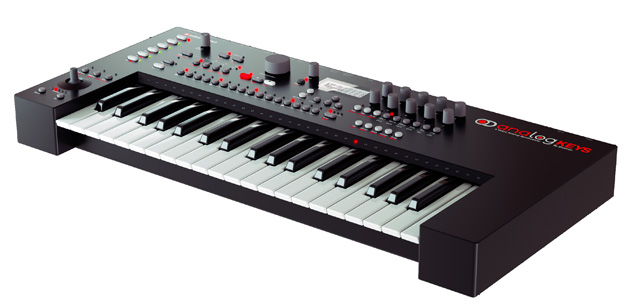 The Analog Keys is a four voice flagship analog synthesizer, conceived with the modern artist in mind. Fully analog signal path, digital controls, and unprecedented playability make it an instrument for the expressive musician.
Premium analog synthesizer
The Analog Keys is a four voice polyphonic analog synthesizer, capable of generating the finest basslines, chords, leads, and sounds imaginable. The warm and deep tone represents the pinnacle of analog synthesis and the acclaimed Elektron sequencer stands ready to arrange and warp the analog sounds in real-time. Complete the experience by treating the four voices with incredibly well-crafted master effects. A new world of sounds awaits.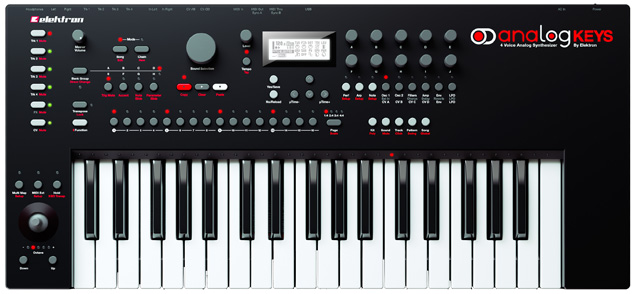 Performance optimized
The Analog Keys is tailor-made for the stage. The 37 semi-weighted keys of the keyboard give instant fingertip control of the analog tones. The special performance mode offers direct access to user-defined parameters, and the joystick, capable of controlling up to fifteen parameters, allows for extreme morphing of sounds. Improvising when playing live has never been this easy.
Heart of the rig
Compatibility with other instruments is well catered for. Simply press a button to transform the Analog Keys into a MIDI keyboard, ready to control external MIDI gear. Thanks to the dedicated CV sequencer and the CV/Gate and DIN sync outputs, analog instruments of both today and yesteryear can be played, sequenced, and controlled with precision. Use the multitude of control options to breathe new life in vintage and modern rigs alike.
Highlights
*100% analog signal path
*Four voices, each with 2 analog oscillators, 2 sub-oscillators, dual analog filters, analog overdrive per voice
*37 key semi-weighted keyboard with aftertouch
*+Drive storage hosting up to 4096 Sounds (+Drive Sound Library)
*Elektron sequencer with CV/Gate sequencing
*Parameter assignable joystick
*Extensive modulation possibilities
*Supervoid Reverb, Saturator Delay, Wideshift Chorus send FX
*Polyphonic, multitimbral, unison modes
*Dedicated MIDI controller mode
*1x headphones output, 2X main outputs, 4x stereo separate track outputs
*2x audio inputs
*MIDI IN/OUT/THRU with Din sync out
*2x dual CV/Gate outputs
*USB 2.0 port
The Analog Keys goes on sale December 5. Shipping starts Dec 9. List price: 1849$/1749?/1449£
Launch event from Berlin featuring the latest edition to the Elektron family – Analog Keys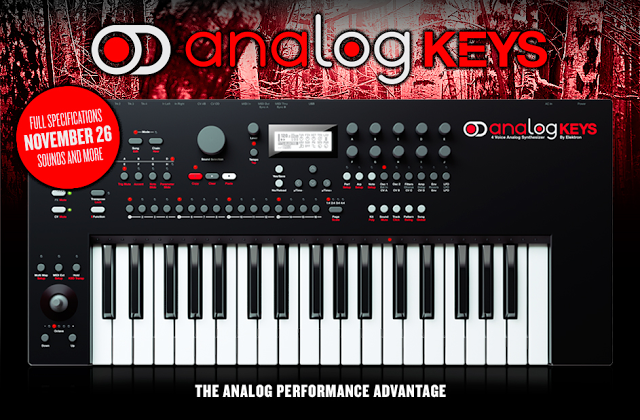 The 606 has been modded by Analogue Solutions.
Much punchier than my old one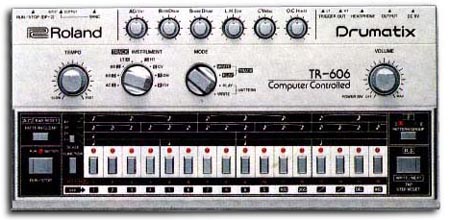 The 606 was the percussion side-kick to the TB-303. It even looks like the 303. It stores up to 32 patterns and 8 songs. The 606 allows switching between Pattern Play and Write mode while running – making the 606 the only drumcomputer in the X0X series that can be edited while performing and switching patterns. It is also possible to link up to 4 consecutive patterns in Pattern Play mode. There is only a mono audio output, however there are mods from Kenton Electronics and Analog Solutions that will add individual outputs for each drum tone.
The 606 has seven analog drum sounds which are simple, yet great! Kick, Snare, 2 toms, open hat, closed hat, cymbal, accent. The hi-hats are a very tinny electronic sound and its toms are great for soft tribal patterns.
Concept demo of assisted sound design on the Elektron Analog Four synthesizer.
Exploring sounds by outsourcing control to dedicated external software.
The app interactively sculpts new sounds by interpolating user sounds, combining them into kits and sending them to the analog synthesizer at screen refresh rate (60 kits per second) via MIDI SysEx.
All sounds are based on sounds a user has created and sent to the app, so there is no randomness, but human intervention with the app is a guarantee for very unexpected recombinations.
The Analog Four plays its own sequence, with the app being controlled via MIDI CC – in the case of this video, the faders react to knob tweaks and LFOs from a Machinedrum's MIDI sequencer, which is also synced to the Analog Four's sequencer. quite frankly this is a blast.
"My tonight grooves recorded on the Monomachine and Analog Four

Sorry for the poor video quality."
Background video description:
Autumn is on his way…
Wind and rain here on the North Netherlands coast … Its better to stay at home and make some music on the rhythm of the rain …
I try to make a special groovebeat with the powerful MD, best you can listen with a headphone for perfect stereo.
I play the Mopho (desktop) with the keys form the PEK and I make a sound on the great Radias.
I bought the Radias a few days ago, its a powerful dream-synth in newest condition and hardly used

Soon more with the Radias…
Enjoy and grtz
FREELANDERRIDE
In this session, all audio is routed through the Octatrack. Analog Four's output goes into Octatrack's input CD and Machinedrum's output goes into input AB. Also, Monomachine is being fed through the Machinedrum to add some Distortion and Sample Rate Reducer.
Octatrack is set to be the Master, sending MIDI clock to all other units. It also sends Program Change messages. By doing so, other units will follow the Pattern Changes made on the Octatrack. This makes it really handy when playing with multiple Elektron units.
Most of the beat is made up on the Machinedrum with some additional Loops from Octatrack. Monomachine is making trippy synth sounds and some glitchy hihat sequence towards to end. Analog Four takes care of all the Bass, Lead and other squelchy synth sounds!
Product description:
The Monomachine SFX-60+ MKII is the ultimate sound generator. Five different synthesis methods plus sequencing make it the mixed martial artist of synthesizers.
Each of the six Monomachine tracks is loaded with sound shaping devices. At your command is a tape style delay, a resonant multi mode filter, a sample rate reducer, a distortion effect, an arpeggiator and no less than three LFO's – per track. The sound palette is limitless.
Despite the depth of the Monomachine it is very easy to use. Every parameter is close at hand and no confusing menus are in your way. Everything is laid out in a logical and usable manner. This is particularly useful when you perform live and don't want to press the wrong buttons.
A special MIDI mode gives you control of six dedicated MIDI tracks. Use the versatile arpeggiators and all the other special sequencer features to take MIDI sequencing to the next level. The Monomachine is a given centre piece in any studio.
You can upload your own customized waveforms and use them in the Monomachine environment. This, plus the ability to treat sound incoming through the two external inputs using the special FX machines, makes the Monomachine a sound designer's dream come true.
The Monomachine SFX-60+ MKII comes equipped with a +Drive by default. With a +Drive there is no risk of running out of storage space. Over 16'000 patterns, 16'000 kits and 8'000 waveforms can be internally stored.
Man and machine have never been closer to each other.
Quick demo of the patches in the "Lead" category posted at elektron.se, the authors own opinions of the patches below:
"None of these sound very useful for my uses but I thought someone may like to hear them. For most patches I play a few keys and then adjust the mod wheel and pitch bend to see what effect – if any – has been programmed."