Get the SID Redux SoundPack from: http://www.elektron.se
The spirit of the Sidstation lives on – and it has found a comfortable home in the Analog Rytm. We have programmed and sampled our first-born machine and are proud to present the SID Redux Sound pack: a collection of gnarly, home computerish, and totally wonderful percussive sounds. This Sound pack will give your beats a lovely digital edge of the rusty kind.
Strom – a new iPad application that is designed to augment the Elektron Analog Rytm – using the iPad's large touchscreen to add new options for editing, performing and more.
Twitter: https://twitter.com/stromapp
Facebook: https://on.fb.me/1rcd1XG
Elektronauts discussion: http://www.elektronauts.com/topics/vi…
https://www.elektron.se
Strom is an advanced iPad App, providing unprecedented integration with the most powerful drum machine available, the Elektron Analog Rytm.
Strom makes uploading samples from iPad to Rytm easy.
Its quirky monophonic sampler can can also be used stand-alone.
Furthermore, Strom offers a kick-ass interface to enhance your live performance.
The App is designed to quickly and efficiently bend Rytm's vast sonic space, and to generate and mutate your beats.
Strom will be available at the App Store very soon.
Shock-HRz, captures a live performance, Tactical Shadow. 
Technical details below. 
Simone Ciacci a.k.a. "Storm 3003″:
Access Virus TI
Elektron Analog Four
Korg Kaoss Pad 3
Korg Kaossilator Pro
Gabriele Marini a.k.a. "ReD":
Akai Miniak
Yamaha RM1X
Korg Volca Bass
Francesco Salvatici a.k.a. "4TeK":
Korg Electribe MX
Korg Mini-KP
Korg Monotron
Korg Monotron Duo
A one hour live performance with Analog Rytm, Analog Four, Analog Keys and Octatrack.
This is my first attempt at performing live with the Elektron boxes for an audience. It was at a friends party inside a very nice smiths workshop (perfect industrial setting!). Almost everything that is played is new material that I prepared for this night. I will try to record some of the top tracks into a new EP soon.
All synths sounds played by Analog Four/Keys, all drums played by Analog Rytm (except for some layered loops here and there). The Octatrack does the mixing and acts as a loop-recorder for all the cross-fades and transitions.
Too little practice equals many mistakes, but its worth the fun when some of the mistakes turn out to be happy mistakes =)
Background video description:
Thought I put up a little retro 80's type sound then the usual stuff on these machines. Enjoy! Connect with me on Soundcloud:https://soundcloud.com/freqknob
No audio processing in daw what so ever, just straight record.
Octatrack: Drums
Monomachine: Game Sounds
Analog 4: Chords & game type sounds
Mopho x4: Arp
This is a complex network of 2 eurorack synth cases, a micro brute being clocked by the Elektron MACHINEDRUM.
The Machinedrum is supplying 2 clocks to the modular with the gnd-imp machine.
Elektron has released Analog Rytm OS 1.01, and update that introduces two new machines. BDFM (Bass drum FM) and SDFM (Snare drum FM) are based on linear FM synthesis and give the Analog Rytm with new sonic possibilities.
OS 1.01 introduces two new machines. BDFM (Bass drum FM) and SDFM (Snare drum FM) are based on linear FM synthesis and endow the Analog Rytm with even more sonic possibilities. Other improvements brought by OS 1.01 include more copy/paste options and several usability tweaks. For a full list of changes, see the documentation included with the upgrade zip-file.
Audio examples of the new FM machines in action can be found here: https://soundcloud.com/elektron/sets/…
Analog Rytm OS 1.01 is available for free download athttp://www.elektron.se
This is Felipe Frigerio aka "Barrote" in his home studio
Bronte play the following instruments:
DSI Mopho Synthesizer
DSI Evolver
Waldorf Blofeld Synth module
Elektron Octatrack
Roland Juno Gi
Korg Radias
coming soon in youtube!
M-Audio Venom (only to control other synts)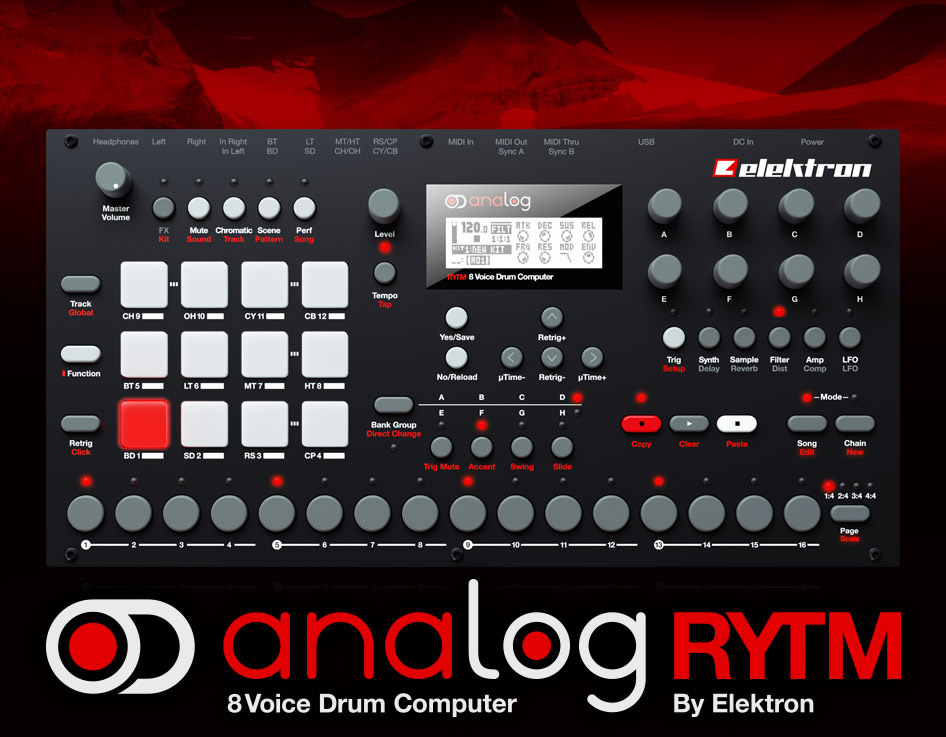 Elektron has announced that Analog Rytm, a hardware 8 voice analog drum machine with sample support, is now available for purchase.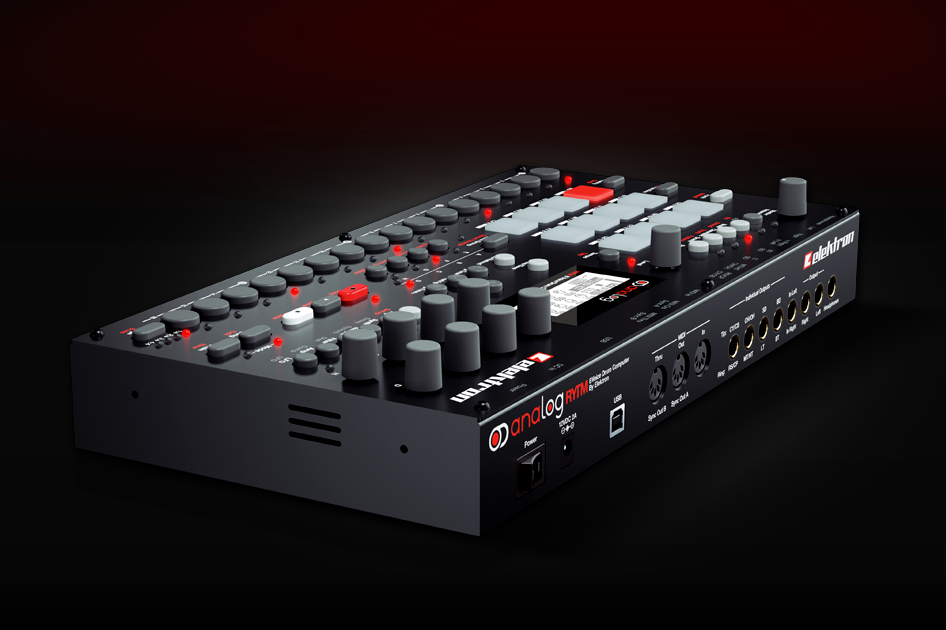 Key features:
8 drum voices, each with:

Specialized analog percussion sound generator.
sample playback (16-bit/48kHz/mono).
analog overdrive.
analog multi-mode filter.

12 velocity & pressure sensitive pads.
Analog stereo master compressor & distortion.
Reverb & Delay send FX.
Elektron step sequencer.
Chromatic, Performance, and Scene mode.
Live oriented beat control.
Individual voice outputs.
Drive storage for projects, patterns, kits, songs, sounds and samples.
Included in the box:

1 Power Supply Unit.
1 Power Supply cable of your selection (EU, US, UK, AUS).
1 Analog Rytm Quickstart Guide.
1 USB cable.
Pricing & Availability
Analog Rytm can be purchased in the Elektron Online Shop or from your favorite Elektron dealer. It costs $1549 / €1489 / £1249 / ¥174900. The demand is high and initial supplies are limited, so please note that it will be sold on a first come, first served basis – and that early orders might take a few days extra to process and ship.
Overbridge, the technology that erases the line between analog hardware and software plug-in instruments and makes it possible to seamlessly integrate the Analog Rytm in a DAW environment will be a part of a free OS update expected to be released Q4 2014.
More info: http://www.elektron.se/products/analo…
More sounds: https://soundcloud.com/elektron/sets/…
Synthesis and Samples are used in this demo. Wanted to focus on the Performance Mode during this composition. This mode allows you to assign parameters from any tracks to the pads and manipulate them with pressure!