First look at the new drum machine from Elektron. It is an eight voice analog drum machine with sample support. Distinguished by the power of analog drum sounds fused with samples. Perfected by the immediacy of drum pads coupled with Elektron sequencing.
8-voice analog drum machine with sample support
Analog filter & distortion per voice
12 velocity- and pressure-sensitive pads
Reverb & delay send effects
"World-class" Elektron step sequencer
Performance-oriented beat control
More info soon on http://www.elektron.se
Discuss at http://www.elektronauts.com
Dancers from performance Me – every body, volume 2:
http://www.3vaningen.se/me-every-body…
FIRE JAM
Live performance by Ciacci Simone a.k.a. "Storm 3003″
Select HD for a better experience!
Equipment for this video:
– Elektron Analog Four
– Korg Volca Beats
Check Out = "DARK JAM":
http://youtu.be/7QDQoxOXmwA
Elektron has released this sneak preview of what they are introducing at the 2014 NAMM Show. It's just a teaser – but the layout looks a bit like the MachineDrum with a pad grid added, and the styling follows the OctaTrack, AnalogFour look.
Analog Four OS 1.1. has finally arrived! This is a major OS upgrade, adding polyphony, resonance boost, MIDI multi map. Oh yeah, it also unlocks the pre-installed +Drive of all units. Head on over to http://elektron.se/support-and-downloads and upgrade today!
The Analog Four is a four voice polyphonic analog synthesizer. Analog oscillators and filters ensure the most organic sounds imaginable and the Elektron step sequencer caters for the innovative sound control. With sequencer features like parameter locks and variable length per track, intricate Analog Four compositions can be created quickly and efficiently. Add the completely new and incredibly well-crafted effects to the mix and experience the next chapter in analog sounds.
Elektron released OS 1.1 for Analog Four and Analog Keys adding polyphonic functions and increased strorage using +Drive. Here's my demonstration of some new (slightly altered) factory sounds.
CUCKOO sharing his first impressions of the Elektron Analog Keys synthesizer. He also records a quick jam session, using the presets of the Analog Keys.
The Analog Keys is available now for US $1849.
I just took the brand new Analog Keys for a spin, and I like it. More in depth videos to follow. Subscribe and stay up to date.

Fore more on Cuckoo – subscribe
For downloads or throwing in some support head over to Patreon: http://www.patreon.com/cuckoomusic
https://sellfy.com/p/HYhN/ 128 contempary and classic style drum and percussion sounds to load into your Elektron Analog Four, with the imminent +drive and 4000 available sound slots coming to the next A4 OS these will give you a great headstart when making drum sounds.
I designed all these sounds from scratch for the purpose of saving time, drum sounds need to be tuned very carefully to sound convincing, so as you can hear from this brief demo a large portion of this work has already been done for you.
The sounds themselves range from classic drum machine type sounds, to abstract and contempary, hand percussion, even a hang drum emulation and many more useable and useful sounds. Comes with full documentation.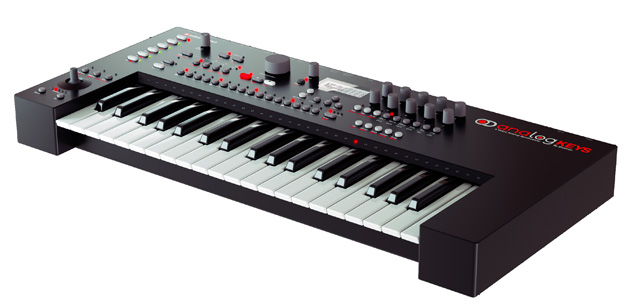 The Analog Keys is a four voice flagship analog synthesizer, conceived with the modern artist in mind. Fully analog signal path, digital controls, and unprecedented playability make it an instrument for the expressive musician.
Premium analog synthesizer
The Analog Keys is a four voice polyphonic analog synthesizer, capable of generating the finest basslines, chords, leads, and sounds imaginable. The warm and deep tone represents the pinnacle of analog synthesis and the acclaimed Elektron sequencer stands ready to arrange and warp the analog sounds in real-time. Complete the experience by treating the four voices with incredibly well-crafted master effects. A new world of sounds awaits.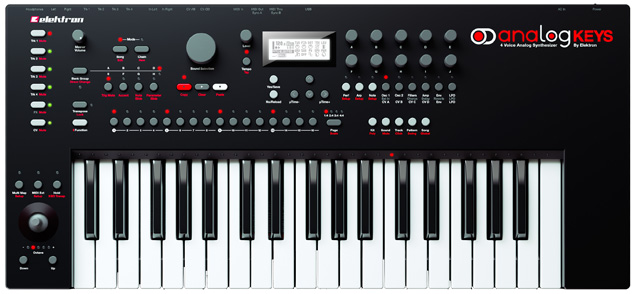 Performance optimized
The Analog Keys is tailor-made for the stage. The 37 semi-weighted keys of the keyboard give instant fingertip control of the analog tones. The special performance mode offers direct access to user-defined parameters, and the joystick, capable of controlling up to fifteen parameters, allows for extreme morphing of sounds. Improvising when playing live has never been this easy.
Heart of the rig
Compatibility with other instruments is well catered for. Simply press a button to transform the Analog Keys into a MIDI keyboard, ready to control external MIDI gear. Thanks to the dedicated CV sequencer and the CV/Gate and DIN sync outputs, analog instruments of both today and yesteryear can be played, sequenced, and controlled with precision. Use the multitude of control options to breathe new life in vintage and modern rigs alike.
Highlights
*100% analog signal path
*Four voices, each with 2 analog oscillators, 2 sub-oscillators, dual analog filters, analog overdrive per voice
*37 key semi-weighted keyboard with aftertouch
*+Drive storage hosting up to 4096 Sounds (+Drive Sound Library)
*Elektron sequencer with CV/Gate sequencing
*Parameter assignable joystick
*Extensive modulation possibilities
*Supervoid Reverb, Saturator Delay, Wideshift Chorus send FX
*Polyphonic, multitimbral, unison modes
*Dedicated MIDI controller mode
*1x headphones output, 2X main outputs, 4x stereo separate track outputs
*2x audio inputs
*MIDI IN/OUT/THRU with Din sync out
*2x dual CV/Gate outputs
*USB 2.0 port
The Analog Keys goes on sale December 5. Shipping starts Dec 9. List price: 1849$/1749?/1449£
Launch event from Berlin featuring the latest edition to the Elektron family – Analog Keys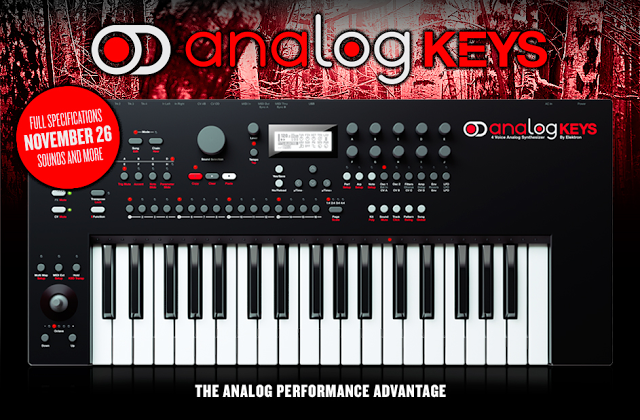 The 606 has been modded by Analogue Solutions.
Much punchier than my old one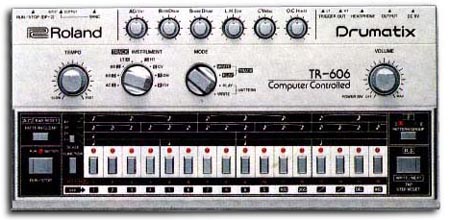 The 606 was the percussion side-kick to the TB-303. It even looks like the 303. It stores up to 32 patterns and 8 songs. The 606 allows switching between Pattern Play and Write mode while running – making the 606 the only drumcomputer in the X0X series that can be edited while performing and switching patterns. It is also possible to link up to 4 consecutive patterns in Pattern Play mode. There is only a mono audio output, however there are mods from Kenton Electronics and Analog Solutions that will add individual outputs for each drum tone.
The 606 has seven analog drum sounds which are simple, yet great! Kick, Snare, 2 toms, open hat, closed hat, cymbal, accent. The hi-hats are a very tinny electronic sound and its toms are great for soft tribal patterns.
Concept demo of assisted sound design on the Elektron Analog Four synthesizer.
Exploring sounds by outsourcing control to dedicated external software.
The app interactively sculpts new sounds by interpolating user sounds, combining them into kits and sending them to the analog synthesizer at screen refresh rate (60 kits per second) via MIDI SysEx.
All sounds are based on sounds a user has created and sent to the app, so there is no randomness, but human intervention with the app is a guarantee for very unexpected recombinations.
The Analog Four plays its own sequence, with the app being controlled via MIDI CC – in the case of this video, the faders react to knob tweaks and LFOs from a Machinedrum's MIDI sequencer, which is also synced to the Analog Four's sequencer. quite frankly this is a blast.