SimSynth Live captures the big multi-oscillator sound of a MiniMoog, and combines it with the warm, fat sound of Oberheim style SVF filters.
The result? Rich strings, wall to wall brass, and fat punchy basses. And we haven't forgotten techno sounds either. SimSynth Live uses a filter technique that gives the EMPH knob a sound you can crank.
3 oscillators, each with a dual (warm) mode effectively making 6 oscillators
Ring modulator
A dual SVF filter that programs like an old Oberheim SEM, (lets you mix lowpass, bandpass, and highpass)
Two discrete envelopes and an LFO.Stereo chorus effect, (in case 6 oscillators aren't warm enough)
Studio quality alias free rendering
FX Panel with EQ, Reverb, Phaser & Delay
FL Studio & VSTi versions included
Download the 10.5 Beta here – http://forum.image-line.com/viewtopic.php?f=100&t=91807
Thanks to Charles Deluxe for the 10.5 Demo Project
http://soundcloud.com/charlesdeluxe
Without really having the space to feature all the new videos that the guys behind FL Studio has launched on their Youtube channel – we at least tried to pick some of the best one for your enjoyment right here:
See here – http://www.image-line.com/documents/harmless.html
Get it here – http://www.image-line.com/documents/autogun.html
4294967296 (Four Billion Two Hundred Ninety Four Million Nine Hundred Sixty Seven Thousand Two Hundred Ninety Six) presets!
More here – http://www.image-line.com/documents/slicex.html
Performance by Electroconductor – http://www.electroconductor.com
More info here – http://www.image-line.com/documents/directwave.html
Get it here – http://www.image-line.com/documents/news.php?entry_id=1334029470
Notable changes to FL Studio 10.5 (beta)
Performance Mode - Trigger Clips using your mouse, touch screen, typing keyboard or MIDI controller.
New controllers supported - APC20/40, Launchpad, Block, MASCHINE / MASCHINE MIKRO, padKONTROL
Unique controller MIDI input port - Controllers can now be assigned unique input & output ports for feedback.
Linking includes MIDI input port - Links now use MIDI input ports to avoid conflict between controllers
New Content Library – The content library has received a complete overhaul based on user input.
Options > Project general settings > Play truncated notes in clips – Restores notes overlapping slice points in Pattern Clips.
Horizontal/Vertical movement locking – Shift (horizontal lock) & Ctrl (vertical lock) when moving items.
Piano roll click & hold functions – Glue notes, Mouse wheel velocity change, Mouse wheel tool select.
Piano roll - Brush tool: Monophonic step mode (hold shift for old behavior). Chop chords: Strum & Articulate tools.
Improved Tap Tempo & Fine control - Updated algorithm + nudge control for Performance Mode.
Instrument Channels - Ctrl+mouse wheel on Channel button to change the mixer track.
Stay open sub-menus – Right click to check several menu items without closing them.
Plugin Picker - Start typing plugin names to highlight entries.
Right-click data enter – Most controls now allow a Right-click option to type in values.
Charles Deluxe original and uncut video:
http://www.youtube.com/watch?v=dMpAq3ua-WI
Discuss here – http://forum.image-line.com/viewtopic.php?f=100&t=89582
FL Studio Performance Mode Alpha Testing
Download the project here – http://forum.image-line.com/viewtopic.php?p=646813#p646813
More info:
Discuss here – http://forum.image-line.com/viewtopic.php?f=100&t=83958
Thanks to nucleon for the performance.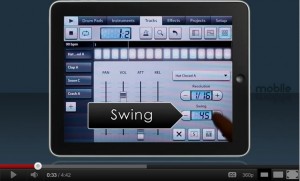 Here's a teaser from Image Line
This is a preview of a new feature for a future FL Studio release.
"It's very early days, this is the first iteration of the new mode. The system works by adding clips to the Playlist as you trigger them, in this way it's also a real-time arrangement process. CPU load is similar to the project as it would play normally.
Also added basic scripting to define extra pages on the launchpad, you're able to define actions for buttons, among transport ones, notes & controls.
Thanks to Nucleon / Electroconductor for the performance seen in this video."
http://www.electroconductor.com/
A video showing Animoog on the iPad running as a midi output device in fruity loops studio so that it can be sequenced
Just playing around with the iPad app Animoog, which I believe is still available for $0.99 at the iTunes app store. This is a huge bargain on a really really cool app.  I won't get into the specifics of the app, but if you want to know more about what Animoog is or how to use it, I recommend this YouTube video.

So, while playing around with the Animoog app, if you go into the setup menu there is a selection under 'Refresh MIDI input(s)' where  you can select 'Off' or 'Network Session 1′.  This intrigued me!  Apparently you can use MIDI over the 'Network'.  After some Googling I was still unclear on how to get this setup, so I thought I'd just tell everyone how I did it so you can get to making some cool tunes yourself.