Well it is going to be interesting to see when we have the first electronic instrument based on Siri, perhaps some augmented audio experience, vocoder effects, loop this section on track 5,  voice sampling or…
Stay tuned

Siri on iPhone 4S lets you use your voice to send messages, schedule meetings, place phone calls, and more. Ask Siri to do things just by talking the way you talk. Siri understands what you say, knows what you mean, and even talks back. Siri is so easy to use and does so much, you'll keep finding more and more ways to use it.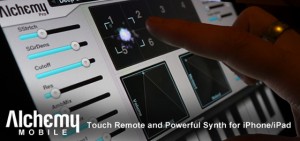 Mobile includes everything from evolving soundscapes and fat bases to lush pads and pulsing arpeggios, and is available for free from the iTunes App store. This is the iOS version of Camel Audio's award-winning Mac/PC Alchemy synth – the leading sample manipulation synthesizer which can be heard on thousands of records and films by world-class artists. With the Pro Upgrade, you can remotely control Alchemy or the free Alchemy Player on your desktop computer. This is the first iPhone App to offer a dedicated touch remote feature for a desktop synth! Easy one touch access to the remix pad and preset selection means you'll spend more time getting inspired and less time reaching for your mouse.
Alchemy Mobile Free features
Remix pad to morph between sound variations and create your own sound.
16 performance controls so you can easily tweak sounds to fit your music.
Most powerful iOS synthesis engine with VA, sampler, granular and additive resynthesis.
External MIDI keyboard support.
Loop player with 25 drum loops included.
Copy and paste support for easy integration with sequencers.
iPad native version included.
Built in keyboard with scalable keys.
One touch major and minor chords.
25 sounds with 25 more free when you register.
Add on sound libraries available as in-app purchases.
Alchemy Mobile Pro features
Remote control of Alchemy or free Alchemy Player on your desktop computer.
Free download of Mobile version (if available) of desktop sound libraries you own.
125 sounds.
50 loops.
Alchemy Mobile Free is now available for iPhone/iPad. The Alchemy Mobile Pro Upgrade is available for iPhone/iPad for $19.99 USD / 15.99 EUR / £13.99 GBP. The Pro Upgrade is available as in-app purchase from the free version.
MovBeats is a funny and a little crazy app which allows you to create video clips easily and quickly, catching them in the surrounding space.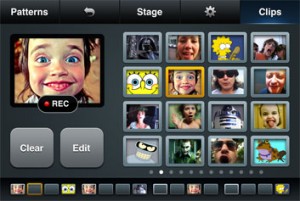 MovBeats app is an easy in use video sequencer for iPhone™.
Record short clips with the iPhone camera.
Put the clips on the sequencer line to create video beats.
Play with the patterns and record a movie.
Share created movie with your friends on your favorite social networks.
You can beat reality! Record your voice, your fridge, your neighbour's dog or let your iPhone or iPad speak and make rhythms out of the sounds immediately.
RealBeat concentrates on simplicity and fast results. No steep learning curve or cluttered screens! Get creative in an instant!
RealBeat is a sampler that enables you to record sounds and create rhythms out of them. It also features an easy way to let your device speak and use the sound as a source material for rhythms and loops.
website:
http://apps.piringer.net/realbeat
Can't afford proper drums? Well in that case this one might be for you:
Ever dreamt of becoming a drummer without having to purchase, carry and assemble a complete drum set? The solution is simple; gear up with some office supplies, a pair of headphones, your favourite Apple iOS device and unleash the power of your pocket-sized drum set.
You can now build your own virtual drum set from practically anything. Music applications where users tap the screen are things of the past. Welcome to the future!
More info:
TableDrum is an Augmented Audio application that allows you to sync the sound of any real object and trigger a real time response of high quality drum sounds.
You can now build your own drumset from practically anything. Drum applications where users tap the screen are things of the past. This is the future!
————————————————-
Take it to the streets, show your kitchen table who's the boss or simply let your stuff feel the rhythm.
With the TableDrum application the world is now your virtual drum set. You can sync the sound of basically any real object to your iPhone, iPad or iPod Touch and link it to high quality drum samples of your choice.
Included in the app is the Classic Rock kit with 8 high quality drum samples. By expanding your sound library with the Ethno & Jazz kit and Electro and Glitch kit you can get access to another 32 high quality sounds to play with.
Some things to get started
Gear up with a couple of pencils and some office supplies, each one with unique acoustic characteristics, to drum on!
Use headphones for best result.
To link a drum to a real physical object
1. Hold down a drum pad until it starts glowing.
2. Release and tap a real physical object several times (4-8) while the light fills the circle.
3. When the linking process is done, the rim of the pad will glow.
The app recognizes sound, so for the app to work at its best, the sounds you link should be different and distinguished. While you are playing, hit the object the same way as when you linked it.
To unlink a drum
1. Hold down the drum pad for one second. The rim stops glowing and is unlinked from the real physical object.
To change a drum sample
1. Press the menu button.
2. Slide through the different sample albums.
3. Click an album and then drag n' drop the sound icons you want to use onto each drum pad.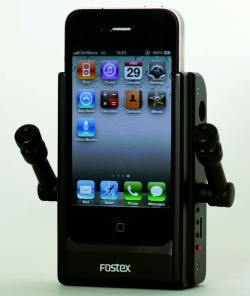 Your iPhone clearly looks like a tiny robot dressed up in this new audio interface. Fostex has announced a new audio interface for the iPhone 4, the AR-4i, designed to improve the quality of recordings made with the iPhone.
Features:
3 microphone inputs with plug-in power for vertical or horizontal use.
Input level control and EQ can be done using the dedicated App.
2 x cardioid plug-in microphones come as standard.
Third-party microphones can be used.
LED Level Meter for input level monitoring.
Microphone gain control.
Headphone jack for input monitoring.
2 x AAA batteries for more than 10 hours operation.
External power can be fed via USB.
Ergonomic design for secure holding.
Screw hole provided for optional camera gears such as tripod, grip etc.
Pricing and availability are to be announced.
via Fostex, Palm Sounds
Here is a cool teaser for an upcoming mixing app for iPhone:
Mix done 100% visually (without headphones), shows the usage of Auto-Sync and Auto-EQ features of Touch DJ Evolution. The app allows extremely easy, almost perfect instant mixing. The preparation phase for this mix was just loading the tracks an defining some cue points to mark entries and transitions. The tracks were loaded in alphabetical order (what is wrong in general, but good for demo purposes)
What happens in the video is simply navigating on cuepoints (by tapping them in the track waveform overview), engaging Auto-Sync at the right time, and ultimately moving the crossfader and loading another track.. App handles mantaining constant BPM of the mix through time-stretching the tracks, not pitch-shifting (although that setting is also possible, separate for each deck).
The application will hit AppStore soon, as a universal app for iPhone & iPad.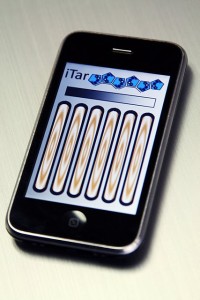 Ztar developer Starr Labs has introduced iTar, an upcoming controller app for iPhone and iPad:
We here at Starr Labs have been working on the iTar, a MIDI guitar/instrument application for the iPhone and iPad.
The more we labor over what we want the iTar to accomplish, the more we expand its scope of control, programmability, customization, and interactivity. Think pages of customizable control screen surfaces with dozens of controller and trigger types, arranged and implemented however you like.
That said, we invite any serious programmers/developers to join us in the iTar conversation.
Seriously, contact Harvey Starr harvey (at) starrlabs.com and be a part of the Starr Labs team that unveils the best MIDI guitar/instrument application onto the world, the iTar!
More info here: site.
The CYLON VOICE is voice transformer on your iPhone. When you talk to this App, it repeats your words soon in robot voice.
If you tap their face, it turns gold color and change their voice.
Download from this link:
http://bit.ly/lGFmvI
8Bit Studio – the only circuit bent 8bit SID synth for your iphone! Customize your patterns using the built in step sequencer or play live on the retractable keyboard then bend and distort the sound using the touch contacts!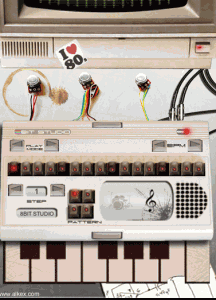 Features 128 steps of memory, 8 keyboard patches, 13 drum sounds, all sampled from the Atari Commodore SID Chip.
http://itunes.apple.com/us/app/8bit-studio/id442041384?mt=8#
Note from the makers:
!!! Email us your sticker artwork to see it appear in the next update !!!
contact@alkex.com