digital noise synth/lo-fi fx processor, based on realtek rts0072 ic and built into the bass guitar body
– oscillation mode
– clean signal bypass
– 3 sensors
– pitch knob
– 3 fx mode switcher
Tutorial on how to create basslines using NI's Massive
Shared via samplemagic
Great sounds in electronic music often do not stem from one killer source. Rather, they result from blending many small elements into what becomes a singular sound.
In this video, Brian demonstrates how Trifonic applies a "call and response" layering technique to create bass lines using multiple bass tracks.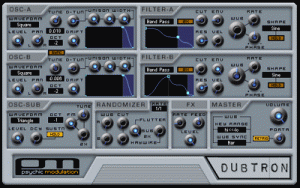 Dubtron is an Experimental Bass Synth designed for dubstep wobble bass, and more obscure bass sounds. Dubtron's two oscillator sections utilize a special Unison detune feature where each voice has it's own width control as well as drifting for a slow phasing effect. The filter's each have a 'Wub' generator, which is the main feature responsible for that wobble effect. Layer in a sub oscillator and you've got a serious bass machine. These features along with various randomizers and FM capabilities give an experimental edge to your basslines, allowing for Dubtron to be used not only for bass, but also for unexpected, even atmospheric sounds."
Features:
2 Unison Pulse Oscillators with multiple wave shapes
1 Sub Oscillator with FM capabilities
2 Filters with Graphical Envelopes
Wub section for each filter, produces the classic dubstep wobble
Randomizer for wub rate, filter cutoff and Sub FM
FX section ranging from flanger to bathtub style delay
Wub speed is set to key range and can be reversed
Wub can be retriggered by each bar to ensure beat matching
Here's what the author has to say about the tutorial:
READ ME =D
The recording is poor, you will not hear much bass at all in this, but the ideas are all there!

Back with another tutorial! This is a question I get a hell of a lot, and it regards those dirty, distorted basslines that you hear in Daniel Kandi and Suncatcher tracks. Watch to see how I create them in Sylenth1.

NOTE: The effects were done VERY quickly, and I would like to point a few things out:
1. With EQ, remember to use those ears, and only boost and cut to suit your track, take these settings as a rough guide ONLY.
2. The compression, to achieve the best result, lower the threshold about 5 to 6db below the output. Say your bass is at -12db, make the threshold about -18db or so. This will make the compressor act a lot harder and tighten the sound more.

http://www.mediafire.com/?3ql4zc8f8ca…
It's also worth recommending using a VST like MonoMate or Otium BassLaneFX to center the lower end.

Genobazz is a free monophonic bass synthesizer plugin, designed to be simple to use, for all your bass need, from simple bass to acid bassline. Check out the specs  below
Changes in Genobazz 1.2.1:
– Random on switch and screen parameters added
– Now undo changes on all parameters
– Reduced CPU on SV filter when "Reso" is modulated
– "Modul" knob default CC changed from 77 to 1 Mod wheel
– Bug in Cubase on specific configuration resolved
– GUI bigger clickable zone on the screen
– GUI left click for patch manager popup added
– GUI some visual improvements on the screen
– GUI some Hint texts changed
– Setup added Dutch and Japanese language
Here's a short demonstration of the new V2 Analogue Solutions TBX-303, a clone of the voice circuits of the classic Roland TB-303 Bassline Synthesizer.
The Analogue Solutions Europa MIDI step sequencer was used to program the TBX-303 riffs as well as change the live patterns in the video. All TBX tweaking was recorded live with only minimal delay added.
Features of the TBX-303:
Pure analogue voice circuitry
Accurate Roland TB303 circuitry clone
Rugged steel construction
MIDI In for software sequencer control
The Analogue Solutions TB-303 bassline synthesizer retails for £349, exc. tax & delivery.
via rezfilter
Bluezone Corporation release Austral Drum and Bass ( 18.95 € )
http://www.bluezone-corporation.com/catalogue/details/70/6/products/austral-drum-and-bass.html
Bluezone Corporation is proud to present Austral Drum and Bass, a hot new Drum and Bass sample pack for immediate download. This new sound library is packed with Drum & Bass loops, Basslines, Synth Loops, Drum Loops, Drum One-Shots, Sound FX and Atmospheric Sounds, with ambient touch and textured loops. Available in WAV, AIFF and REX2 formats.
Fresh out of the Bluezone Studios, Austral Drum and Bass is a new collection offering a wide range of genres. Loaded with everything from aggressive hits to ambient pads, this  Drum n Bass / Jungle Sample pack is perfect for any setup. With a mix of styles including Breaks, DNB and Ambient, Austral Drum and Bass opens up a world of new possibilities with its 252 loops and samples. Produced with numerous analog and digital synths, the sounds have been recorded and crafted to give them incredible depth and atmosphere. For original compositions as well as soundtracks, Austral Drum and Bass is the reference sound library youíll turn to again and again, for all types of music composition.
This ultimate new pack is great with a wide range of styles such as Breaks, Dubstep, music for video games, TV series, Soundtrack, Hardstyle, Experimental and more.
Austral Drum and Bass Contents:
ï Drum Loops
ï Synth Loops
ï Basslines
ï Key Loops
ï Sound Effects
ï Soundscapes / Atmospheres
ï Drum Hits / One-Shots
ï Synth Samples
Technical Specifications:
ï 266 MB Data / 563 Files
ï Formats : WAV / AIFF / REX2
ï Recorded at 160 bpm
ï Instant Download
ï Royalty-Free with no extra cost
ï Ready to use in commercial production
cl516 has released some really nice bass samples of the Moog Voager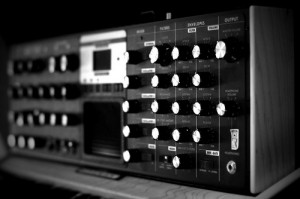 Free synth bass Saturday! Just add water! Ok maybe not water, but here are 8 synth bass grooves just waiting for you to add drums, melodies, other parts, etc. Give them a shot, you might find they'll fit into your mix nicely. Or build up something brand new around them! If you make something cool with it, share it with me if possible. No rights reserved on these samples. The number in the track title indicates the BPM.  PLEASE DOWNLOAD the WAV files to use them properly! The Soundcloud player might garbage-ize the sound.
Free Synth Bass Saturday 126 by Calvin Cardioid
Head over to cl516 blog and download!