Here's a short demonstration of the new V2 Analogue Solutions TBX-303, a clone of the voice circuits of the classic Roland TB-303 Bassline Synthesizer.
The Analogue Solutions Europa MIDI step sequencer was used to program the TBX-303 riffs as well as change the live patterns in the video. All TBX tweaking was recorded live with only minimal delay added.
Features of the TBX-303:
Pure analogue voice circuitry
Accurate Roland TB303 circuitry clone
Rugged steel construction
MIDI In for software sequencer control
The Analogue Solutions TB-303 bassline synthesizer retails for £349, exc. tax & delivery.
via rezfilter
Bluezone Corporation release Austral Drum and Bass ( 18.95 € )
http://www.bluezone-corporation.com/catalogue/details/70/6/products/austral-drum-and-bass.html
Bluezone Corporation is proud to present Austral Drum and Bass, a hot new Drum and Bass sample pack for immediate download. This new sound library is packed with Drum & Bass loops, Basslines, Synth Loops, Drum Loops, Drum One-Shots, Sound FX and Atmospheric Sounds, with ambient touch and textured loops. Available in WAV, AIFF and REX2 formats.
Fresh out of the Bluezone Studios, Austral Drum and Bass is a new collection offering a wide range of genres. Loaded with everything from aggressive hits to ambient pads, this  Drum n Bass / Jungle Sample pack is perfect for any setup. With a mix of styles including Breaks, DNB and Ambient, Austral Drum and Bass opens up a world of new possibilities with its 252 loops and samples. Produced with numerous analog and digital synths, the sounds have been recorded and crafted to give them incredible depth and atmosphere. For original compositions as well as soundtracks, Austral Drum and Bass is the reference sound library youíll turn to again and again, for all types of music composition.
This ultimate new pack is great with a wide range of styles such as Breaks, Dubstep, music for video games, TV series, Soundtrack, Hardstyle, Experimental and more.
Austral Drum and Bass Contents:
ï Drum Loops
ï Synth Loops
ï Basslines
ï Key Loops
ï Sound Effects
ï Soundscapes / Atmospheres
ï Drum Hits / One-Shots
ï Synth Samples
Technical Specifications:
ï 266 MB Data / 563 Files
ï Formats : WAV / AIFF / REX2
ï Recorded at 160 bpm
ï Instant Download
ï Royalty-Free with no extra cost
ï Ready to use in commercial production
cl516 has released some really nice bass samples of the Moog Voager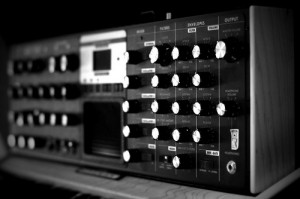 Free synth bass Saturday! Just add water! Ok maybe not water, but here are 8 synth bass grooves just waiting for you to add drums, melodies, other parts, etc. Give them a shot, you might find they'll fit into your mix nicely. Or build up something brand new around them! If you make something cool with it, share it with me if possible. No rights reserved on these samples. The number in the track title indicates the BPM.  PLEASE DOWNLOAD the WAV files to use them properly! The Soundcloud player might garbage-ize the sound.
Free Synth Bass Saturday 126 by Calvin Cardioid
Head over to cl516 blog and download!