A mini tutorial – How to obtain that classic "bouncy" octave bass in vogue in the 1980s.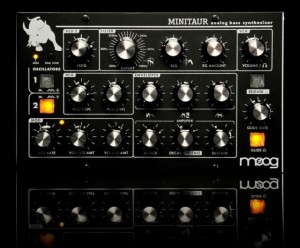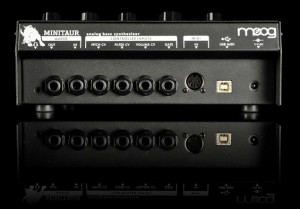 Winter NAMM appears to treat us with a nice analog surprise – a new synth called Minitaur from Moog. Here are the preliminary details:
100% analog audio signal path, based on Taurus I and Taurus III synthesizers.
2 Taurus VCOs with variable Glide amount
Sawtooth (original Taurus) or Square waveform selection for both VCOs
External Audio Input
Headphone out
2 Mixer VCAs for setting the level of the VCOs
1 VCF Moog/Taurus-style Ladder Filter w/ VC Resonance
1 VCA
Two Minimoog-style ADSR Envelope generators with the Decay and Release segments controlled by the Decay knob plus a Release On/Off switch
1 MIDI-syncable triangle wave LFO for modulating VCF/VCOs
DIN MIDI In and MIDI over USB out
As of right now these are unofficial photos of Moog Minitaur Analog Bassline Synthesizer! It is said to retail at around 599USD.
The Minitaur is a compact tabletop monophonic MIDI-and-CV-controllable analog bass synthesizer module, based on the design of the Taurus 3bass synthesizer. The front panel of the Minitaur is designed for maximum tweakability, with a knob-per-function design. Schwing!. This isn't a preset synth – but you can can create and manage patches via MIDI.
The Minitaur has several features added to the classic Taurus synth engine, including an external audio input.
More info will follow as soon as we get it

G-Sonique has announced the release of Ultrabass MX4/4, a bass synthesizer for every 4/4 dance music style bassline.
Based on Alien303 DNA, a synthesizer that became very popular worldwide for its nice stable bass energy and the possibility to create fast basslines without any unwanted clicks or artifacts, which is very often a negative feature when you are trying to create basslines with a basic virtual analog/digital synthesizers.

Comparing to classic analogue and virtual analog/digital synthesizers, the sound of ultrabass' digital oscillators (based on Alien303 technology) is extremely precise, linear and sharp like a Swiss knife which makes them ideal for electronic 4/4 musics fast basslines, without any analog artifacts like arbitrary de-tuning, phase, shape and amplitude effecting it's stability. But the sound of Ultrabass is fat and massive like real analogue thanks to it's analogue filters, bass saturation unit and other features.
Ultrabass MX4/4 features
Single / Dual oscillator(s) that can work in two selectable modes. With octave and semitone control as well as fine and an oscillator phase micro-control knob.
2 oscillators with 15 shapes (Analogue saw, Digital saw, Saw HB, Saw DB, Analogue ramp, Digital ramp, Digital square, Square, Pulse, Multipulse 1, Multipulse2, Multisaw1, Multisaw2, Vintage saw).
Two filter modules that can work in serial or parallel multi-mix mode:

Filter MODULE1 with 4 analogue sounding liquid low pass filters: G-Low pass, Low pass (classic), Vintage analog low pass, 303 low pass with cutoff, resonance, input volume and envelope amount knobs
Filter MODULE2 with 9 Analog sounding liquid filters with G-Filters, a series modeled after codes from DSP chips of hardware synthesizers and an analogue low pass with a creamy sound modeled after vintage hardware keyboards/synths: G-Low pass, G-Band pass, G-High pass, Low Pass, High Pass, Band Pass, Band Reject, Peaking, Analogue low pass, None, with cutoff, resonance and envelope amount knob together with a fast on/off switch.

Fast linear Amplitude envelopes (attack, decay, sustain, release) without any unwanted CLICKS and ARTIFACTS that are often present when you are trying to make fast 4/4 bass with classic synthesizers.
Fast linear Filter envelopes (attack, decay, sustain) without any unwanted CLICKS and ARTIFACTS that are often present when you are trying to make fast 4/4 bass with classic synthesizers.
Non-Linear Saturation Unit with "main saturation knob", Analog based amplifier section.
Bass boost / Analog saturation unit to add fat, heavy and massive sound to your bassline. With parameters like freq. and q (bandwidth) to set low frequency range that will be boosted, and soft enh., saturation and vol. of saturation parameters to set amount and color of saturation/bass boosting.
Preset manager with more than 76 professional presets in categories bass, deep, psytrance basses.
Ultrabass MX4/4 for Windows (VST) is available to purchase for the introductory price of 18.90 EUR (regular 26.90 EUR).
More information:Ultrabass MX4/4
Enjoy

"Just a short jam with ableton live controlling by FB383 analog TB303 clone. ableton is controlled using TouchOSC for iPad.
www.Voltage-Controlled.com"

Another monophonic analog TB-303 clone! The FB 383 is a re-packaged version of the MB33 with a special front-panel design as part of an exclusive deal with Turnkey music shop UK. Just like the MB33, the FB 383 offers all the same basic sounds and controls as the original TB-303 in a 1-unit rack module. It has just 8 basic knobs for the same basic 303-like control: tune, filter cutoff, resonance, envmod, accent and decay. Unlike the 303 however, the oscillator can be varied from sawtooth to square from a knob on the front! Also featured is an external audio input to the filter for processing other elements.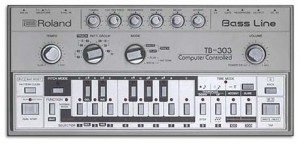 TB303 is a monophonic analog bass synthesizer married to a pattern-based step sequencer released in 1982. It features a single analog oscillator with two waveforms (ramp or square) and has a simple but excellent VCF filter with resonance, cut-off, and envelope controls. There are also knobs to adjust tuning, envelope decay, tempo and accent amount.
Our extremely productive friend AfroDJMac is at it again with more beef to your Live rack:
Serious bass sounds and much more. As part of the series of free weekly Ableton Live Rack Downloads, AfroDJMac brings you a synth designed to get those ferocious bass sounds. This rack makes use of Ableton's Analog synth and the results go beyond just maddening bass. Follow along in the video for details…
Free Download @ bit.ly/freesynth28
Sometimes you just need a thick heavy bass sound.  Over the last few months, I've gotten a few requests for some heavy bass sounds.   While working on one of my tracks called "Part of Me,"  I programmed a bass sound that I liked quite a bit, and for this installment of my Free Weekly Ableton Live Rack series,  I have modified that particular bass sound.
I really appreciate Ableton's Analog synth for its deep sound sculpting potential and really nice filter section.  It's a synth that seems to get deeper and deeper every time I load it up.  This Ableton Live Instrument Rack was created with the idea of thick bass sounds in mind.  I used both oscillators, one a saw wave the other a square wave tuned an octave lower.  There's a slight detuning to thicken up the sound and a bunch of effects stringed together, most notably, The Ableton Amp plug in.  Luckily and to my surprise, this rack winds up being more than just a bass sound.  Follow along in the video below as I take you through the rack and show how it can be sculpted into heavy bass sounds, pleasing chords/ pads, and soaring leads.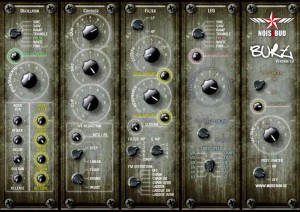 Noisebud needed a bass synth that delivered more grit and dirt and didn't need hours of twiddling before getting there. They based the sound engine on waveshaping through distortion, bit crush and resonance since their VST fx chains on bass channels almost always contain that sort of plug-ins. The result is an angry old fart named Burt. He can get so angry that his audio buffers overflow and get silent – you have to restart your DAW to cool him down but don't worry, Burt will start to scream again.
Burt is available for Windows as a VST instrument plug-in. It will be released publicly and free on the first of November, 2011.
Visit: Noisebud
In this Cubase tutorial Danny J Lewis (Defected, Enzyme Black) gives you a quick demo of the classic acid bass sound using the Monologue synth and step designer in Cubase 6.
For more information:
http://www.pointblankonline.net/cubase-course.php
*Note: Turn on your subs and turn it up for full awesome bass goodness! Or listen w/ headphones.*
Just got my Gravity Well by Circuit Abbey today. I had to shoot a video. Holy crap this module is awesome! Some real Reznor type shit! Lots of Swarmatron style sounds. all things modular are running into the Gravity Well. You can get so much out of it by just tweaking the level/bias pots! Wogglebug stepped output provides some great clicking which interupts/interacts w/ the bassline running through the Well. Rest of the drums are from the ESX-1 SD.
http://www.youtube.com/watch?v=UhMyH4Vk-Ig
A video explaining how to create a cool phatty bass in Live with my Bass One VST in a few mins, hope you enjoy it!
Download the VST on: http://www.thecolorspace.net/
SubBoomBass its features part 1.
The main section, play section and oscillators.
SubBoomBass has been carefully crafted to provide you with the tools to create fresh new bass lines. It includes unique tuned drum percussion samples which are great for Hip Hop and RnB basses but can also be used to add rhythm flavour to your tracks. Also check out the innovative 'Wave-sequence' feature which will open up brand new sonic possibilities for your music.
Other features included are two effects slots which can be modulated using midi from any of the synthesizer parts. SubBoomBass also features a great 'Easy Edit' page and the unique 'Quick Browser' system that will allow you to find the sounds you need quickly and easily.