The new APP! How does it compare to the original machine? I have both, so I'll tell you in DETAIL
The new TNR-i is, as with its parent the Tenori-on, based on a 16 x 16 grid of buttons which are used to sequence and trigger sounds; the horizontal direction relates to time, the vertical pitch. Most other features of the original, such as its interchangeable 16 song patterns and different composition modes, also make it to the TNR-i, although this new incarnation has its own set of benefits. Users can link with up to four other people via a network for simultaneous composition, while those who already own the Tenori-on can also connect via this feature.
King Tet plays Tenori-On as a midi-controller using the Roland SonicCell desktop synthesizer. Recorded with Zoom Q3HD. The innovative Yamaha Tenori-On has captured the imagination of creative musicians and performers bringing new dimensions and thought processes to music construction. The recent announcement from Yamaha of the iPad variant demonstrates the excitement that continues to surround this instrument.
Visit http://facebook.com/neonriot
http://www.neon-riot.com
Yamaha has released a simulation of the Tenori-On on the iPad. works on the iPhone, too. The iOS version of the world-renowned TENORI-ON brings you a completely new musical interface.  Even if you don't know much about music, you can create music intuitively as if you were arranging sounds in space. The music that you see on the 16 × 16 grid of buttons is the music that is performed.
On the 16 × 16 grid of buttons, basically, the horizontal direction is time, and the vertical direction is pitch. By laying sounds on these buttons, you can combine rhythms and melodies to produce music. A button will glow when its sound is produced. The movements of the glowing lights produce a visual performance. 16€ isn't cheap but cheaper than the hardware was/is. It has all modes and functions of the original. it can sync to other TNRs via the Game Center (from Apple). the data on the Hardware SD Cards can be load to the App as well. not said: if it loads a sample stack of 48 sounds as the original and sending MIDI signals isn't clear, but for that price I'd assume it has to… Since Yamaha offer a MIDI connection kit it is very very likely it sends MIDI (iOS 4.3). since the built in sounds are quite strange I just like to check for it's sample upload capability.
There are six different types of performance modes that you can select for each layer. You can make elaborate music by combining different modes. In score mode, the most fundamental of the modes, you can arrange sounds horizontally (temporally) and vertically (by pitch). In the exciting random mode, the sounds that you arrange are not just played in order—the melody and rhythm constantly change as twists are added. In draw mode, you can perform music by tracing your finger across the buttons as if drawing a picture. In bounce mode, the glowing lights are like bouncing balls that produce sound when they fall. In push mode, you can continuously change the sound as you perform. In solo mode, which is fun for solo performances, you can easily adjust the speed of repetition and the pitch.
Kudzu Creative Group has released Koushion, a MIDI controller for the iPad, that they say is 'more versatile than the Tenori On'.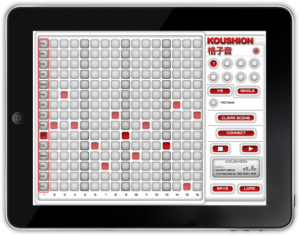 Features:
16-step sequencer with adjustable timing. Each step can be as large as a whole note and as small as 1/32 note.
8 selectable scenes/banks that can be played individually, simultaneously, or in automatic succession.
Each scene is assignable to any MIDI channel so you can control up to 8 MIDI instruments at once.
Improvising or playing along with a band? Dial a key and the notes will change to match the new key!
Syncs to any MIDI clock source available to your computer.
Works with all major (and not-so-major) MIDI-capable production software on your Mac or PC.
Perfect for adding some spice to a live set when paired with Ableton Live.
Koushion is $9.99 in the App Store. Details & demo below.
Apart from the vocal performance I think it is pretty nice to watch the Tenori-on in action

Fushimi-Inari Shrine in the evening played TENORI-ON.
Fushimi Inari is an important Shinto shrine in southern Kyoto. It is famous for its thousands of vermilion torii gates, which straddle a network of trails behind its main buildings. The trails lead into the wooded forest of the sacred Mount Inari, which stands at 233 meters and belongs to the shrine grounds.
Fushimi Inari is the most important of several thousands of shrines dedicated to Inari, the Shinto god of rice. Foxes are thought to be Inari's messengers, resulting in many fox statues across the shrine grounds. Fushimi Inari Shrine has ancient origins, predating the capital's move to Kyoto in 794.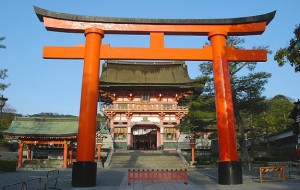 While the primary reason most foreign visitors come to Fushimi Inari Shrine is to explore the mountain trails, the shrine buildings themselves are also attractive and worth a visit. At the shrine's entrance stands the Romon Gate, which was donated in 1589 by the famous leader Toyotomi Hideyoshi. Behind stands the shrine's main building (Honden) and various auxiliary buildings.
At the very back of the shrine's main grounds is the entrance to the torii gate covered hiking trail, which starts with two dense, parallel rows of gates called Senbon Torii ("thousands of torii gates"). The torii gates along the entire trail are donations by individuals and companies, and you will find the donator's name and the date of the donation inscribed on the back of each gate. The cost starts around 400,000 yen for a small sized gate and increases to over one million yen for a large gate.
XBase888 + Revorution + TENORI-ON + mopho + Stylophone
RUBYORLA PLAYS TENORI-ON
Merry Christmas, Mr Lawrence (Ryuichi Sakamoto)
only TENORI-ON (x1) SOUND
Visual Patterns become music! Never was this more evident than to a player of the amazing Tenori on. Notice the wave shape of notes! Bringing to mind the masterpiece of Hokusai, "the great wave over hanagawa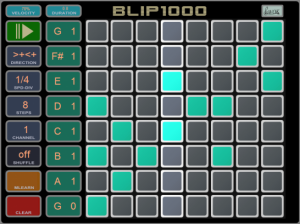 WOK has introduced Blip1000, a free matrix step sequencer instrument for Windows.
Blip1000 is inspired by matrix synths for the iPad and hardware like the Bliptronic 5000, which were derived from software like ToneMatrix, which was inspired by devices like the monome and the Tenori On and so forth
Here's what the developer has to say about Blip1000:
Got a windows touchscreen computer and miss these cool apps like on the iPad?

Now you can generate MIDI sequences with a touch of your finger. Also great for controllers like Novations launchpad (together with Automap).

Blip1000 is a MIDI sequencer VST plugin. It plays mono- or polyphonic sequences depending on the selected notes and the enabled trigger buttons. Host sync with different speeds, swing, several play direction modes and MIDI controller learn – try it for free and start making music now!
Features:
Clear and easy interface.
Number of steps selectable (up to 8).
Note per line selectable from 3 octaves with display.
Several play modes (forward-backward, random etc.).
Syncs to host – clock divider adjustable.
Sequence transpose by MIDI input
MIDI ouput channel selectable.
Automatable in the DAW.
Sequences can be saved as VST plugin presets.
Random play.
MIDI-ouput; any plugin or synthesizer can be used as sound source.
Low on CPU.
Note: Blip1000 is nagware.