Fushimi-Inari Shrine in the evening played TENORI-ON.
Fushimi Inari is an important Shinto shrine in southern Kyoto. It is famous for its thousands of vermilion torii gates, which straddle a network of trails behind its main buildings. The trails lead into the wooded forest of the sacred Mount Inari, which stands at 233 meters and belongs to the shrine grounds.
Fushimi Inari is the most important of several thousands of shrines dedicated to Inari, the Shinto god of rice. Foxes are thought to be Inari's messengers, resulting in many fox statues across the shrine grounds. Fushimi Inari Shrine has ancient origins, predating the capital's move to Kyoto in 794.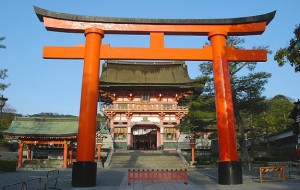 While the primary reason most foreign visitors come to Fushimi Inari Shrine is to explore the mountain trails, the shrine buildings themselves are also attractive and worth a visit. At the shrine's entrance stands the Romon Gate, which was donated in 1589 by the famous leader Toyotomi Hideyoshi. Behind stands the shrine's main building (Honden) and various auxiliary buildings.
At the very back of the shrine's main grounds is the entrance to the torii gate covered hiking trail, which starts with two dense, parallel rows of gates called Senbon Torii ("thousands of torii gates"). The torii gates along the entire trail are donations by individuals and companies, and you will find the donator's name and the date of the donation inscribed on the back of each gate. The cost starts around 400,000 yen for a small sized gate and increases to over one million yen for a large gate.
XBase888 + Revorution + TENORI-ON + mopho + Stylophone
RUBYORLA PLAYS TENORI-ON
Merry Christmas, Mr Lawrence (Ryuichi Sakamoto)
only TENORI-ON (x1) SOUND
Visual Patterns become music! Never was this more evident than to a player of the amazing Tenori on. Notice the wave shape of notes! Bringing to mind the masterpiece of Hokusai, "the great wave over hanagawa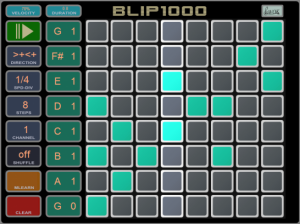 WOK has introduced Blip1000, a free matrix step sequencer instrument for Windows.
Blip1000 is inspired by matrix synths for the iPad and hardware like the Bliptronic 5000, which were derived from software like ToneMatrix, which was inspired by devices like the monome and the Tenori On and so forth
Here's what the developer has to say about Blip1000:
Got a windows touchscreen computer and miss these cool apps like on the iPad?

Now you can generate MIDI sequences with a touch of your finger. Also great for controllers like Novations launchpad (together with Automap).

Blip1000 is a MIDI sequencer VST plugin. It plays mono- or polyphonic sequences depending on the selected notes and the enabled trigger buttons. Host sync with different speeds, swing, several play direction modes and MIDI controller learn – try it for free and start making music now!
Features:
Clear and easy interface.
Number of steps selectable (up to 8).
Note per line selectable from 3 octaves with display.
Several play modes (forward-backward, random etc.).
Syncs to host – clock divider adjustable.
Sequence transpose by MIDI input
MIDI ouput channel selectable.
Automatable in the DAW.
Sequences can be saved as VST plugin presets.
Random play.
MIDI-ouput; any plugin or synthesizer can be used as sound source.
Low on CPU.
Note: Blip1000 is nagware.
James gives an overview of SYNTHWEKRS modules followed by the Yamaha Tenori-On in part two.
Tenori is driving 303. Tenori-On (Midi Sequence) – - Futureretro Orb (Convert Cv/Gate) – - TB-303 Mod (Cv/Gate In)
http://www.youtube.com/watch?v=Nnbk8zTezOs
Nice and relaxing music

FM music has started some video posts where selected people shares their love for different synths
Morgan Page gives FM the lowdown on why he loves the Prophet '08 so much.
Morgan Page takes you through why he loves the Moog Voyager.
Kieran Hebden talks about his love of the Yamaha Tenori-On and how it was used in his new album
Aurora Sound Studio HD is described as a "pattern based sequencer".
We take that to mean that the developers were inspired by the Yamaha Tenori On. While this has been done before, Aurora Sound Studio HD is going beyond most previous Tenori On wannabe's by including a mixer, audio effects, synth patch editing and a song mode for sequencing patterns.
Aurora Sound Studio HD is officially "coming soon".
I just can´t stop playing around with this

The ToneMatrix is part of Andre Michelle & Co's (HobNox) AudioTool project