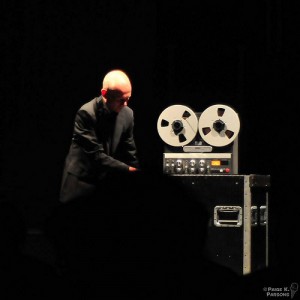 On line magazine MusicRadar has released an short interview with Vince Clarke, read it below:
Everyone reading this will know the name Vince Clarke, be it through his Depeche days, Yazoo years, The Assembly age or the ever ongoing Erasure era.
He is almost entirely responsible for a web of genres, still very much alive and well in 2011. Erasure havesold over 25 million records, and continue to be a household name 26 years after their formation.For the latest album, Clarke was working out of a synth paradise in Maine, New England and alongside Frankmusik in LA. Future Music spoke to Vince about changes in studio technology and the Erasure live show.
We love your Analogue Monologues at vinceclarkemusic.com. Was there ever a time you thought of taking all your kit on the road?
"Well, we used to but it was a nightmare. About six or seven years ago, I decided I would digitise the multi-tracks and record them into Logic to use live. We recorded individual tracks and I'd make my own stems from Logic."
Is that what you're using today?
"Yeah, Logic is running everything in real-time, all at the right tempos. For some stuff I've re-recorded the parts, just because I didn't really like the original and there was timing discrepancies because it was the early days of sequencing. So I've corrected all that too. For Yazoo, because it was so early, I cut up every single sixteenth of a bar, of every sound, of every track and moved it back into time."
Do you use Logic in the studio too?
"Yeah I use it in the studio – we're making a new album at the moment and we demo everything in soft synths and then I convert all of the sounds to analogue with my synths."
So what's on the record will be 100% analogue?
"Well 50%. I'm working with Frankmusik at the moment, he's a digital guy. Most of the drums are his samples and whether they're digital or analogue I've no idea, but they sound great. I'm more interested in the music. I was using soft synths for a long time and was thinking they sounded pretty good but now that I've got my studio and can do an A-B comparison, it's an incredible difference."
Which soft synths are you into?
"I like all the soft synths that emulate old stuff, the Moogs, modular synths, [u-he] ACE is great but it's still not as good. It's the classic argument with CDs versus vinyl and I have a very good record player and if I listen to Dark Side of the Moon on vinyl and listen to it on CD, the vinyl is another level. It's the same with analogue versus digital. Having said that, digital is so useful for writing and remixing. It's immediate and it stays in tune. I use some of the Logic synths too, the ones that come built in. But at the end, for the fi nal recording, I'll use my analogue synths and it's the same on the new album."
How did you end up working with Frankmusik on the new record?
"Well we were talking to a lot of people really, but he was just really enthusiastic and is a bit of a fan. We got on quite well, and I'm a fan of his work too. He's so fast. It's really nice to work with someone who's young and that enthusiastic. Those are the best types of producers to work with – not the people that know everything, but the people that really love it. That's an inspiration for me."
Electropop act Zynic will release its debut album "Fire Walk With Me" at the end of the month. On the 29th to be precise.
The album will be released as a limited edition of 500 copies through German label Conzoom Records. This edition will feature 4 exclusive bonustracks, remixed by famous artists like Assemblage 23, Iris, People Theatre and Parralox.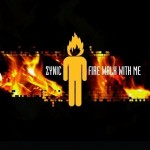 Zynic wants to carry the spirit of the 80′s into tomorrow's sound. Classic acts like Yazoo, Japan, Depeche Mode, Kraftwerk and OMD were always a big influence on Zynics way of creating his own tunes. And so there is one special highlight on the cd edition of "Fire Walk With Me". It is a cover version of the classic Depeche Mode hit "Any Second Now". According to the label, Zynic has covered the song very emotional and with a cool electronic bassline – so it might be one of the best Depeche Mode cover versions that were ever done so far.
http://www.youtube.com/watch?v=MN4HrmXQuMY
Snoop Dogg (Feat. T-Pain) – Boom
Can we enjoy it?
The new Depeche Mode remix album will be released early April 2011.
For those who didn't know yet; remix duties have been executed by Alan Wilder (Recoil and ex-Depeche Mode – "In chains"), Vince Clarke (Yazoo, Erasure, ex-Depeche Mode – "Behind the wheel"), Duran Duran's Nick Rhodes, New Order's Bernard Sumner, Mark Ronson and Andrew Wyatt of Miike Snow. Other unconfirmed names which have popped up include Aphex Twin, The Yeah Yeah Yeahs!, Brandon Flowers of The Killers and Arcade Fire.
More news will follow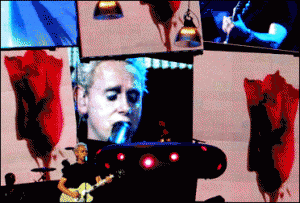 Really nice cover of an old Yaz classic
Based on the live BBC recording – Sequenced using a BBC Master computer with UMI-3s sequencer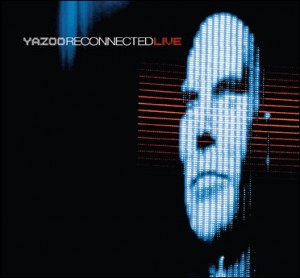 It's been a long time coming (almost 30 years!) but the Yazoo track "Get Set" is finally getting an official release as it features as an exclusive bonus track on pre-orders for the iTunes release of "Reconnected Live". The previously unreleased and much sought after "Get Set", was originally recorded in 1983 and used as the theme to the BBC Children's TV show "Get Set For Summer". Order it right here.
Recorded live in Summer 2008 it features classic tracks from Yazoo's albums "Upstairs At Eric's" and "You And Me Both", including "Only You", "Don't Go", "Situation" or tracks such as "Nobody's Diary" which are performed live for the first time ever.
Teaser below:
Yazoo – Reconnected Live (sampler) by MuteRecords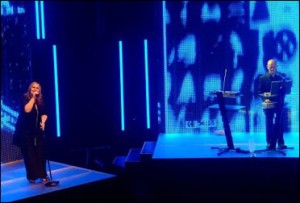 Alison Moyet has drowned all hope to see both her and Vince Clarcke back in the studio anytime soon. Moyet, who is working on an electronic project, got a question from a fan who asked whether Clarke would be working with her on the new material.
She said this: "I think the notion for me to work with Vince was a good one. We intended while touring to see what we might come up with but the reality of a tour that is brief and unlikely to be repeated meant the focus stayed on the job in hand. Added to which, Vince had acquired some new animation software that occupied his spare time and I made the most of seeing places I had not explored on earlier outings. The fact that we live in different continents and he was soon to be writing for the next Erasure album meant that the opportunity escaped us and normal lives resumed. It was a nice idea but the moment passed. We have not talked about finding time for it since."
A short reminder of how Yazoo's 2008 reunion came about, incorporating vintage Yazoo videos, interview footage with Alison Moyet and comment from Mute Records' Daniel Miller and journalist Paul Morley.
Yazoo's 'Reconnected Live' album will be released as a 2-CD set on September 27th (UK) and September 28th (US) in standard and deluxe editions.
www.yazooinfo.com

A brand new Yazoo video trailer has been released including a short reminder of how Yazoo's 2008 reunion came about – incorporating vintage Yazoo videos, Yazoo interview footage with Alison Moyet and comments from Mute Records' Daniel Miller and journalist Paul Morley.
Yazoo's "Reconnected Live" album will be released as a 2-CD set on September 27th (UK) and September 28th (US) in standard and deluxe editions.

We reported already on a scheduled Yazoo live album, but it has now also been confirmed officially. To be released on 27th September 2010 is the Yazoo double live CD "Reconnected live". The live album will also be released on LCD and download. Recorded live in Summer 2008 it features classic tracks from Yazoo's albums "Upstairs At Eric's" and "You And Me Both", including "Only You", "Don't Go", "Situation" or tracks such as "Nobody's Diary" which are performed live for the first time ever.
Page is currently celebrating 30 years as performing artsist on the Swedish synthpop stage and are currently planning summer gigs after the release of their first new album in 10 years. Stereoklang got an one on one interview with the synth pioneer Eddie Bengtsson, who's electronic music really kick started the Swedish synth-pop scene in the 80's, active in Page, Sista Mannen På Jorden (Last man on earth) and This Fish Needs a Bike. Page really became the Swedish answer to Yazoo/Erasure, OMD, and Depeche Mode, and made ground for popular acts like Elegant Machinery, S.P.O.C.K and many others. In this interview we have invaded Eddie's home studio to take a closer look at the synthesizers and music production gear he uses and what it really takes to make a great synth-pop song.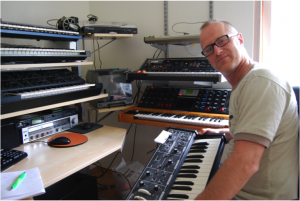 Neatly mounted in a corner of a 10sq/m room, sharing the space with Star Trek memorabilia and a huge vinyl record collection, several of the classic hardware synthesizers are hooked up and ready to bleep. Although Eddie tells me he have had to sell of several synthesizers from a logistical point of view I enjoy finding vintage gear like the Moog Rouge, a Korg DW 6000 and the personal favorite of Eddie's the Yamaha CS15 (used on every album), coupled with recently acquired gems like the Moog Little Phatty, the Moog Voyager and then some modern virtual analogs like microKORG and Yamaha CX1x.
What is used use for what
The CX1 is used as the mother keyboard and the DW 6000 mainly for strings. "Sound 11 is a personal favorite" Eddie says☺. You can for example find it also on all S.P.O.C.K songs. If Eddie on the other hand only were to take one synthesizer with him to a deserted island it would be the CS15. In fact Eddie tells me that due to the flexible routing and filters; he's able clone the bass sounds of all other synthesizers with it, if you treat it nicely. Perhaps the only drawback is the useless noise generator, which is too weak, although a weakness that many synthesizers has as he puts it.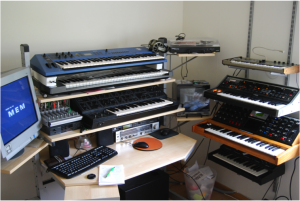 Neatly tucked under racks of synthesizers a well hidden Roland S760 sampler can be found. Curious about the fact that this particular device hasn't been replaced by software versions already, Eddie admits that years of collecting disketts has made him somewhat lazy, somewhere among all those hundreds of disketts there is always that one with the right sound. But I wouldn't be surprised if that device will be left out from future productions in favor of software alternatives.
The lazy side of Eddie shines through on several occasions during the interview and for the last two records other people have contributed in replacing sounds with updated versions. However, the new Page album actually came as a turning point for him and a lot of hard work has gotten into it, resulting in more focus on sound search and music production then before.
Moving on to the next rack of synthesizers Eddie tells me that the microKORG is actually a very capable machine used primarily for strings and pads. The Rouge on the other hand is the real stage machine and a trade mark for Page in live sets. It's compact and easy to bring, cool looking and splendid for single oscillator sounds. (Indecently the Rouge uses the same circuitry as the Taurus II Bass Pedals). (Listen to this song, all sounds by the Rouge by Hannes Rasmus. http://www.vintagesynth.com/audio/moogtheroguedemo.mp3 ) Other old gems like the Roland SH02 and Moog Prodigy have been replaced with new bass and sequencer gear; the Moog Little Phatty, as you can easily spot on the new Page album.
Why all the Moogs?
Easy answer would be that everyone is talking about them, prestigious and expensive stuff that is. And although proud to have them, some drawbacks can be found also here; the sound is a bit chilly and there is no noise generator to be found at all, as with the Prophet 8, it takes forever to heat up and sometimes the oscillators are not really in sync. The Voyager is really a beast and lit up it looks really impressive. Currently it's mainly used to discover cool sounds in the studio it might end up on the stage some day. "But why on earth did they implement this totally useless performance pad on it, when turning the knobs is the way to do it and it is not even multi-touch, which might have given it some extra advantages". I asked what's next and Eddie kind of suggests that a DSI Mopho might end up on the rack within short.
Where do you start making a song?
"Never, or very seldom, I have an idea or the song in my head. When I feel like making new songs I always start off with a bass, then adding drums, melody and finally the vocals. I really need to get the beat going first." >>>>>
Read the rest of the article here >>