Page is currently celebrating 30 years as performing artsist on the Swedish synthpop stage and are currently planning summer gigs after the release of their first new album in 10 years. Stereoklang got an one on one interview with the synth pioneer Eddie Bengtsson, who's electronic music really kick started the Swedish synth-pop scene in the 80's, active in Page, Sista Mannen På Jorden (Last man on earth) and This Fish Needs a Bike. Page really became the Swedish answer to Yazoo/Erasure, OMD, and Depeche Mode, and made ground for popular acts like Elegant Machinery, S.P.O.C.K and many others. In this interview we have invaded Eddie's home studio to take a closer look at the synthesizers and music production gear he uses and what it really takes to make a great synth-pop song.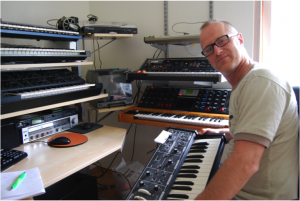 Neatly mounted in a corner of a 10sq/m room, sharing the space with Star Trek memorabilia and a huge vinyl record collection, several of the classic hardware synthesizers are hooked up and ready to bleep. Although Eddie tells me he have had to sell of several synthesizers from a logistical point of view I enjoy finding vintage gear like the Moog Rouge, a Korg DW 6000 and the personal favorite of Eddie's the Yamaha CS15 (used on every album), coupled with recently acquired gems like the Moog Little Phatty, the Moog Voyager and then some modern virtual analogs like microKORG and Yamaha CX1x.
What is used use for what
The CX1 is used as the mother keyboard and the DW 6000 mainly for strings. "Sound 11 is a personal favorite" Eddie says☺. You can for example find it also on all S.P.O.C.K songs. If Eddie on the other hand only were to take one synthesizer with him to a deserted island it would be the CS15. In fact Eddie tells me that due to the flexible routing and filters; he's able clone the bass sounds of all other synthesizers with it, if you treat it nicely. Perhaps the only drawback is the useless noise generator, which is too weak, although a weakness that many synthesizers has as he puts it.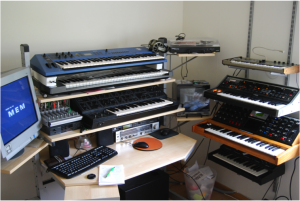 Neatly tucked under racks of synthesizers a well hidden Roland S760 sampler can be found. Curious about the fact that this particular device hasn't been replaced by software versions already, Eddie admits that years of collecting disketts has made him somewhat lazy, somewhere among all those hundreds of disketts there is always that one with the right sound. But I wouldn't be surprised if that device will be left out from future productions in favor of software alternatives.
The lazy side of Eddie shines through on several occasions during the interview and for the last two records other people have contributed in replacing sounds with updated versions. However, the new Page album actually came as a turning point for him and a lot of hard work has gotten into it, resulting in more focus on sound search and music production then before.
Moving on to the next rack of synthesizers Eddie tells me that the microKORG is actually a very capable machine used primarily for strings and pads. The Rouge on the other hand is the real stage machine and a trade mark for Page in live sets. It's compact and easy to bring, cool looking and splendid for single oscillator sounds. (Indecently the Rouge uses the same circuitry as the Taurus II Bass Pedals). (Listen to this song, all sounds by the Rouge by Hannes Rasmus. http://www.vintagesynth.com/audio/moogtheroguedemo.mp3 ) Other old gems like the Roland SH02 and Moog Prodigy have been replaced with new bass and sequencer gear; the Moog Little Phatty, as you can easily spot on the new Page album.
Why all the Moogs?
Easy answer would be that everyone is talking about them, prestigious and expensive stuff that is. And although proud to have them, some drawbacks can be found also here; the sound is a bit chilly and there is no noise generator to be found at all, as with the Prophet 8, it takes forever to heat up and sometimes the oscillators are not really in sync. The Voyager is really a beast and lit up it looks really impressive. Currently it's mainly used to discover cool sounds in the studio it might end up on the stage some day. "But why on earth did they implement this totally useless performance pad on it, when turning the knobs is the way to do it and it is not even multi-touch, which might have given it some extra advantages". I asked what's next and Eddie kind of suggests that a DSI Mopho might end up on the rack within short.
Where do you start making a song?
"Never, or very seldom, I have an idea or the song in my head. When I feel like making new songs I always start off with a bass, then adding drums, melody and finally the vocals. I really need to get the beat going first." >>>>>
Read the rest of the article here >>
Vince Clarke is a man synonymous with synth pop and a legend in the history of electronic music. He's famous for founding three of the most popular and lasting musical acts in history: Depeche Mode, Yazoo and Erasure. But his distinct sonic output depends upon another feat: he has spent the last 30 years amassing one of the world's most impressive collections of rare, 'holy grail' analogue synthesizers.
In 2004, Clarke left England for the unsynthesized woods of Maine, where he constructed a temple for these monolithic machines he calls 'The Cabin,". and began branching out into (gasp!) software synths too. Recently Motherboard made a pilgrimage to Clarke's purpose-built digital/analogue studio to meet the musical titan, hear the story of his musical journey, learn how to make the perfect pop song, and get a little demonstration of one of his signature moves: building a drum pattern from a wall of modular synths. To Clarke, music is still magic even now, an alchemy in which he gets to make "something from nothing.
[youtube=http://www.youtube.com/watch?v=cOaWHqhvB_o]
Yes its true – they are back on stage – after what -20 years or so!! As you can see from the live performance video above, they have a contemporary light show and Vince Clarke is laptop based and running Logic and various soft-synths.
Native Instruments recently posted an interview with Vince Clarke on their site here
Well enjoy and make sure to find out more here >> http://www.yazooinfo.com/.
Nice interview in Release Magazine >>
This summer a dream will come through for many synthpop fans out there as the classic UK band Yazoo return to the stage after 25 years of silence. Vince Clarke and Alison Moyet will be on the road from May 27 to July 17 on their "Reconnected" tour; playing in Denmark, Germany, Ireland, UK, Spain and finally also the US. Release got the opportunity to ask Vince Clarke some questions about the comeback.
 [youtube=http://www.youtube.com/watch?v=R_kzhvYZtQc]
Alison Moyet and Vince Clarke will perform live together as Yazoo for the first time in 25 years. The seminal electro duo will play a five venue tour called Yazoo Reconnected in June 2008. As well as their classic hits of Only You and Don't Go, Yazoo will perform tracks from the album You and Me Both for the first time. They will perform together for five gigs:
June 4 Glasgow, 7 Manchester, 12 Wolverhanpton, 15 Brighton and 18 London.
Exclusive ticket pre-sale available on January 25 at alisonmoyet.com.
– It's been really good going back to these songs after such a long while. Many of them have never been played live. I'm looking forward to performing them with Alison for all the fans who've enjoyed our music through the years but never had a chance to see Yazoo in concert, Clarke says.
Last night this blog reached, at least in my mind, an amazing 10.000 level – meaning that this blog, since its start last spring, now has had more than 10.000 unique visitors.
Thanks for your great support and let us continue to inspire the electro community with good stuff during this year.
Shout!!
[youtube=http://www.youtube.com/watch?v=j84mKxCp6vQ]
Have a great weekend!!
Synth music has a tendency to stick in the sub-cultures of the music scene, but once i a while you find some indications that things might ne changing, although I am still scepticle that it will ever be so. Remember the old synth pioneers Devo, well these guys arguably has done some work to put synth music on the map and recently saw this add where IT-giants Dell actually uses Devo for one of their commercials – although you have to watch the video for some time before you actually understands what the video is all about, LOL
DEVO wrote this song called "Watch Us Work It" and recorded it in Los Angeles, CA, and produced by Sweden's famous Teddy Bears. DELL heard it because Paul Malmstrom and Linus Karlsson at the Mother agency in NYC played it for them as a possibility for a song for their TV campaign featuring a newly developed, high-end laptop computer. DELL liked it, and now you can of course enjoy it here too. I do not claim to give you some brand, hot news directly out of the press, the video is about 6 months old, but still…
Enjoy!
[youtube=http://www.youtube.com/watch?v=xhtgw-tOj-o]
Want to know more about what is going on with Devo >> 
At least rumours has it that Vince Clarc and Alison Moyet will go on tour next year. And perhaps I will have to chew my last entry about not watching performances by old 80's bands. Yazoo would definately be worth seeing live – much rather them than the utterly boring Erasure band.
Most likely their will also be a re-issue of their old stuff – why anyone would want to buy them, since readers of this blog most likely have everything by Yazoo already, maybe one can hope for some unreleased tracks…
[youtube=http://www.youtube.com/watch?v=nhQWt8GVQfM]