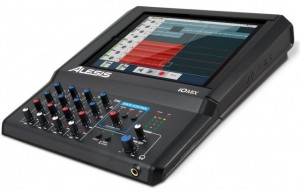 Alesis has introduced the iO Mix4-Channel Mixer/Recorder for iPad.
The Alesis iO Mix lets you mix and record four channels of audio directly into GarageBand or other compatible Core Audio apps, turning the iPad into a multitouch portable studio.
Features:
The world's first mixer/multi-channel interface for iPad
Mix and record up to four channels, or a stereo mix into your iPad
Works with mics, instruments, speakers, headphones, video monitors and projectors
Four combo XLR-1/4? input channels, each with trim, channel gain, pan, and low & high EQ
Switchable 48V phantom power for use with studio condenser microphones
Guitar-direct (DI) switch for guitar recording without an amp
Balanced, stereo 1/4? outputs and 1/4? headphone output with separate volume controls
Direct Monitor switch for latency-free input monitoring while recording
Switchable limiter for clip-free recordings
Hinged door completely encloses and secures your iPad
Core Audio-compliant: works with virtually any app in the App Store
Video output for connection to TVs and projectors: perfect for presentations, meetings and VJs
Mountable to a mic stand using the Alesis Module Mount (sold separately)
Complete routing and signal-management controls
Power supply also charges your iPad
iO Mix allows you to connect microphones, instruments, speakers, headphones and more to your iPad.
While it looks like an interesting option for people wanting to record straight to an iPad, others may miss support for MIDI and digital video connections.
Pricing and availability are TBA.

Serge modular controlled from an iPAD running TouchOSC.
Wholetone scale with 4 x sliders controlling FM pitch / FM amount / filter cutoff / envelope scaling.
www.ianboddy.com
About Serge: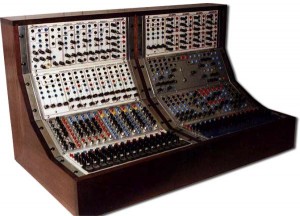 The Serge synthesizers are the creation of French electronic/synth designer Serge Tcherepnin. They are analog modular systems that began production in 1974, and continue to be produced to this day. The Serge concept was that a powerful, musical and great sounding analog modular system could, unlike the Buchlas, Moogs and ARPs of the time, be smaller, more compact and most importantly: cost less, making them far more accessible to musicians looking to jump into the bold new world of electronic music and sound design.
Although Serge was French, the modular systems that bore his name were orignally designed and produced in Los Angeles, CA. Initially designed in 1974 (in Serge's home), mass production of the systems began in 1975 and continued until 1986. There was a rough period between 1986 to 1993 where modules were still produced to special order (slowly), but full production resumed again in 1993 after Serge's circuit designs were sold to Rex Probe (an early collaborator) who went on to found Sound Transform Systems, who continue to produce many of the original Serge modules, plus a few new one's of their own design.
Influences of the Buchla can be seen in Serge systems, such as touch sensitive keyboards & sequencers, random voltage generators, function generators, and matrix mixers. Yet the Serge has many unique designs of its own such as the Wave Multiplier module and the use of banana plugs in lieu of traditional patch cords. Its filters are unqiue sounding but it may be the Wave Multiplier module that truly sets a Serge apart as it is a totally unique synthesizer section that sits between the Oscillator and Filter sections and allowed for external audio or control voltage signals to be used to modulate the timbre of the oscillator's tones.
Originally, Serge systems were custom built to order. Like any modular system a buyer would pick and choose individual modules they want and assemble them into a cabinet. However, to reduce the price tag and make them more accessible to musicians not interested in building a modular synth from scratch, Sound Transform Systems sells Serge systems in pre-configured systems: Shop Panels and the M-Class.
Alesis introduced the DM Dock – a new iPad dock that turns an iPad into a electronic drum module. Around the back, the DM Dock lets you plug in standard drum pads, patch in MIDI cables and connect to stereo outputs.
Here are the details.
Features:
The only drum module for iPad and iPad 2
Works with virtually any app including GarageBand
13 individual 1/4″ TRS trigger inputs for connecting drum and cymbal pads and other triggers
Works with dual-zone drum and cymbal pads, continuous hi-hats, three-zone rides, and multiple chokeable cymbals
Hinged door completely encloses and secures your iPad
Mounts to any stand or rack using the Alesis Module Mount (sold separately)
1/4″ Headphone jack with volume control
1/8″ Mix Input for mixing in external audio sources
Balanced 1/4″ stereo main outputs for connecting to an amp or PA
MIDI input and output for connecting to external MIDI hardware
USB MIDI port for use with MIDI software applications or your Mac or PC
Powers and charges iPad using universal wall power supply
Assignable footswitch input for program changes, start/stop sequences or metronome
Includes:
DM Dock
iPad 2 Adapter
Quickstart Guide
Safety & Warranty Manual
Power Supply
Cable Snake
Pricing for the Alesis DM Dock expected to be about $249 and it should ship in Q2 2012.
The AmpDock harnesses the massive processing power of iPad, allowing you to unleash your ultimate guitar tone. Building upon the design and technology of the widely acclaimed Alesis iO Dock, the AmpDock is the world's first device for guitarists that enables tonal shaping through iPad's processor. The AmpDock fully encloses your iPad or iPad 2 in a rugged and portable device made especially for guitarists and bassists. Whether you're in the studio or on the stage, the AmpDock helps you create "the sound in your head" with real controls and professional inputs and outputs that work with virtually any app, as well as your amp and pedal setup.
The AmpDock houses your iPad or iPad 2 in a durable enclosure that features a locking door to fully integrate your iPad and protect it on all sides. The AmpDock's professional inputs and outputs include a 1/4″ high-impedance guitar input and an XLR-1/4″ combo input for connecting a microphone, a second guitar or another instrument. The AmpDock also includes 1/4″ outputs with Guitar/Mic and Ground Lift switches, so you can connect to your guitar amp or go straight into a PA. For use with software MIDI applications on your Mac or PC, the AmpDock also includes a USB MIDI port. A headphone output with volume control is also onboard, so you can practice and experiment with your apps at any time, day or night.
The AmpDock also comes with a rugged pedalboard controller, which enables you to control volume and other continuous controls, bypass, program changes, and other parameters. You can use the AmpDock with or without its pedalboard controller, and MIDI connections enable you to use the AmpDock with other pedal controllers and MIDI hardware.

I am personally not very keen on keytars – I think they are quite a silly hybrid between the two and this one is not even a proper synth merely a controller, but for those of you who enjoy these, here's a brand new one from Alesis featured at the ongoing WNAMM show:
Alesis Vortex, the first USB/MIDI keytar controller.
The Vortex offers an extensive array of touch-sensitive keys and velocity-sensitive pads on a pearlescent white body, and octave and pitch controls on its neck.
The Vortex includes features something that they say has never been found on any keytar before: both traditional MIDI and USB MIDI. This should let you use the Vortex with any MIDI hardware or software instruments on Mac, PC, and iPad. The Vortex also comes mapped for popular software synths and DAWs.
The Vortex also features a MIDI-assignable accelerometer – so you can control virtually any parameter by moving the Vortex's neck: volume swells, amazing pitch bends, vibratos, filter cutoffs and more.
Features:
The first USB keytar controller—works with all of your software instruments & synths on Mac, PC, & iOS devices
USB and traditional MIDI jacks for use with virtually any synth, sound module, or other MIDI hardware or software
Embedded, MIDI-assignable accelerometer for performance parameter control by tilting the neck
Thumb-controlled volume slider, sustain button and pitch-bend wheel on neck
Finger-controlled MIDI-assignable touchstrip, sustain, and octave-control buttons on neck
37 velocity-sensitive keys with aftertouch for compact, yet complete melodic range
Eight velocity-sensitive drum pads/sample triggers enable you to create beats or trigger clips
Large transport & patch-select controls for instant access
Includes strap; standard guitar strap pegs are compatible with virtually any strap
Bus powered when USB-connected to Mac or PC; battery compartment for use with MIDI modules and iOS devices
Availability and pricing for the Alesis Vortex Keytar USB MIDI Controller are to be announced.
And here are the background details:
Miditribe
unboxing/ install/ first playkorg
tested with :
http://www.alesis.com/iodock
alesis iodock midi out with ipad running StepPolyArp
http://laurentcolson.com/steppolyarp.html
http://www.alesis.com/micron
alesis Micron midi out
!!please note you should turn off the unit before installing
the miditribe interface
please refer to the install VIDEO
http://youtu.be/9yISozPVz4g
the monotribe retains all of it's original functionality
drums = ch 10
synth = ch 1
responds to midi tempo sync /stop/start
Many thanks to Gabriel Rodrigues of Amazing Machines
for the fast delivery it was shipped from brazil and received in under 8 days
http://www.youtube.com/AmazingMachines
http://www.amazingmachines.com.br/
Alesis has announced the availability of two new electronic drumsets: the DM10 X Kit , a professional, six-piece electronic drumset, and the compact and affordable DM6 Session Kit . Alesis' DM10 X is the flagship of two new digital drumset offerings. The comprehensive DM10 X (MSRP: $1,999.00) is centered around the DM10 module and the all-new XRack, offering an expansive six-drum, four-cymbal configuration with sizes and spacing designed to feel natural to acoustic and electronic drummers.
The DM10 X provides a 12-inch snare, two 10-inch toms, two 12-inch floor toms, a 12-inch hi-hat, a 16-inch three-zone ride cymbal and two 14-inch crash cymbals. The DM10 X Kit's chrome-plated XRack is rugged and features an ultra-solid four-post design and new Alesis quick-release clamps that secure each pad in place and allow drummers to quickly rearrange their setup without tools, and without having to take the rack apart.
Alesis' more basic DM6 Session Kit (MSRP: $599.00) includes the DM6 drum module with more than 100 sounds, a new ProRack II drum rack, five drum pads, three cymbal pads, hi-hat and bass drum pedals, plus drumsticks and a drum key.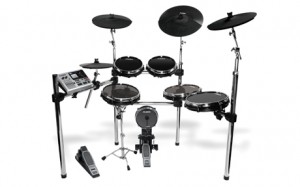 The DM6 Session Kit's compact rack and quiet rubber pads give drummers a versatile instrument that takes up minimal space and is quiet enough to play at any time. The ProRack II comes preassembled in the box for a fast, easy set up. In addition, Alesis announced that the SamplePad multi-pad instrument, which allows drummers to easily load their own sounds, will be available in Q1 of 2012 for MSRP $199.
Here's a detailed description of what is going on:
I'd rather play it with DOTS than use a keyboard like the rest! To do this was easy, if you have a USB MIDI device like this Alesis IO Dock – I plugged the MIDI OUT dongle on my Tenori-On W to a standard MIDI cable, then to the MIDI IN on the IO Dock. Start up Animoog, and press "SETUP" on the top bar. Press "Refresh MIDI Input(s)" if necessary. Then I selected the option "dock" from the list below. Then I pressed the "X/Y PAD" word on the top bar to go back to playing mode. The Animoog "listened" to the MIDI notes from Layer 1 of my Tenori-On, as if it was any keyboard! I then used layer 2, etc. to add drums and such, while my right hand operated the AniMoog's amazing touch pad and other controls. Enjoy these 3 jams! Which get more complex as the video goes on. Subscribe, comment, and send me your apps etc. for review!
GRID BUGS theme from the original arcade game from the early 80's played through the Alesis Andromeda.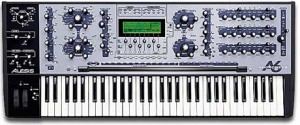 The Andromeda A6 is a true analog synthesizer using two analog oscillators per voice, sub-oscillators, hard and soft sync and more! It features 16-voice polyphony. With the Andromeda, you'll find a huge range of tonal possibilities: searing leads, warm pads, fat bass lines, extreme sound effects and more. And of course there are plenty of knobs (72) and buttons (144), even an assignable ribbon controller for addictive hands-on real-time control! The large high-resolution LCD display is excellent and shows you actual rather than relative values of parameters. Andromeda will integrate seamlessly into any studio with its total MIDI control and sync, individual voice outputs, stereo outputs and several audio inputs.
Andromeda is completely analog – no emulation! It features two analog filters per voice that sound great! They are a multimode 2-pole and a 4-pole lowpass. External audio can be routed through these filters too (three 1/4″ jacks)! As for modulation, Andromeda has three LFOs, each with six waveforms and they can be synced to MIDI clock. And there are three 7-stage envelopes with very creative and flexible functions. Also onboard is an extensive mod matrix for enormous freedom in configuring Andromeda's sounds!
No analog synth would be complete without a set of classic effects and features. Andromeda also offers Portamento with nine slopes and legato functions. A built-in arpeggiator and analog-style sequencer are available, with MIDI sync! There are also some high quality digital effects such as reverbs, chorus, echo, distortion and more! Andromeda comes with 256 breathtaking preset patches plus 128 user. A PCMCIA-format memory card slot allows for additional programs and mixes. Andromeda is pure analog bliss, with all the features, stability and widgets of modern digital synths.
About the product (Alesis info):
The iO Dock (patent pending) is the first device that enables anyone with an iPad or iPad 2 to create, produce, and perform music with virtually any pro audio gear or instruments. The iO Dock is a universal docking station specifically designed for the iPad and iPad 2, and it gives musicians, recording engineers, and music producers the connectivity they need to create and perform with iPad. Connect all your pro audio gear to virtually any app in the App Store with the iO Dock.

FLEXIBLE FUNCTIONALITY
Songwriters, music producers and performers of all kinds will find that the iO Dock connects the iPad's powerful processor, touch-screen interface and extensive library of apps to their collection of microphones, instruments, professional speaker and PA systems, MIDI controllers, sound modules, video projectors and much more.
With the iO Dock and an iPad, musicians and producers can record, perform, craft and create music in virtually any situation or location. Built to accommodate all current app-development standards including Core MIDI, the iO Dock is a universal device that bridges your choice of music-creation apps, instruments, and devices.
COMPLETE CONNECTIVITY
The iO Dock provides microphone and instrument users with two combination XLR and 1/4-inch inputs, each with its own gain control and switchable phantom power for condenser microphones. Guitarists and bassists will appreciate the iO Dock's guitar-direct switch, enabling them to play, perform and record right into amplifier- and effects-modeling apps. Bands can connect outputs from their mixer and easily record their performances and rehearsals or use the iO Dock as a metronome or loop-playback device. Producers can use the iO Dock's MIDI jacks to sequence external keyboards, samplers, drum machines and synthesizers, or perform using the iO Dock as the sound module and their favorite MIDI-compliant keyboard, drum pad or other controller. An assignable 1/4-inch footswitch input enables remote control of any app-defined function such as stop/start or record. Users can also connect the iO Dock to their Mac or PC using the USB port to send MIDI back and forth for creative, new applications of the iPad and computer used in tandem.
Users can connect the iO Dock's stereo pair of 1/4-inch main outputs to studio monitors for critical listening, or to PA systems for use in performance settings. They can monitor on headphones, and independently control the levels of the two outputs, each on its own knob. Recording musicians will appreciate the iO Dock's direct-monitor switch, which enables them to toggle between the incoming and playback signal on their headphones. Rounding out the iO Dock's output section is a composite video connector, enabling users to employ the iO Dock as a source for video projection behind bands on stage, or for connection to most televisions and computer monitors.
RUGGED RELIABILITY
The iO Dock was built for the real world. Whether you're keeping it in the safety of the studio or taking it out for recording or performance use in the club or on tour, the iO Dock will not only deliver the connectivity you need for audio applications, but it also serves as a rugged, protective case for the iPad. The iO Dock completely houses the iPad on the bottom and three side surfaces. It also encases the iPad's screen in a protective bezel on three of its four edges, further shielding the mobile computing device from the potential for damage in punishing environments.
The applications of the iPad for music creation, production, and performance are limited only by your creativity. As an imaginative, cutting-edge music maker, the iO Dock empowers you to seamlessly connect the world of pro audio gear and instruments to the iPad and the massive collection of apps.