A quick look at the Alesis Andromeda A6.
Filter CV modulation (by a Moog Multi-Pedal) and subtle timbral explorations over a rhythm track made from Moog synths (Voyager, Little Phatty and Slim Phatty).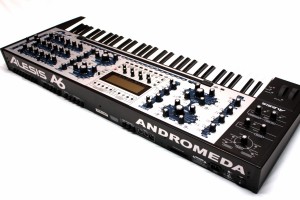 The Andromeda A6 is a true analog synthesizer using two analog oscillators per voice, sub-oscillators, hard and soft sync and more! It features 16-voice polyphony. With the Andromeda, you'll find a huge range of tonal possibilities: searing leads, warm pads, fat bass lines, extreme sound effects and more. And of course there are plenty of knobs (72) and buttons (144), even an assignable ribbon controller for addictive hands-on real-time control! The large high-resolution LCD display is excellent and shows you actual rather than relative values of parameters. Andromeda will integrate seamlessly into any studio with its total MIDI control and sync, individual voice outputs, stereo outputs and several audio inputs.
Andromeda is completely analog – no emulation! It features two analog filters per voice that sound great! They are a multimode 2-pole and a 4-pole lowpass. External audio can be routed through these filters too (three 1/4″ jacks)! As for modulation, Andromeda has three LFOs, each with six waveforms and they can be synced to MIDI clock. And there are three 7-stage envelopes with very creative and flexible functions. Also onboard is an extensive mod matrix for enormous freedom in configuring Andromeda's sounds!
No analog synth would be complete without a set of classic effects and features. Andromeda also offers Portamento with nine slopes and legato functions. A built-in arpeggiator and analog-style sequencer are available, with MIDI sync! There are also some high quality digital effects such as reverbs, chorus, echo, distortion and more! Andromeda comes with 256 breathtaking preset patches plus 128 user. A PCMCIA-format memory card slot allows for additional programs and mixes. Andromeda is pure analog bliss, with all the features, stability and widgets of modern digital synths.
WerkBench is available for the iPad in the app store: http://bit.ly/L6jhd9
Here we are using WerkBench to make a groove using sounds from a late-1970′s analog drum synth known as the Synare 3.
The Star Instruments Synare is most famous for its use on disco records as a simple 'tom-tom' sound (the first sound I play in this video). Despite its cheesy historical use, the Synare actually a beastly little analog synth with two oscillators (with noise and LFO modes respectively), a self oscilating low-pass filter, and envelopes for filter and volume. I only scratch the surface in this video.
WerkBench is a tool for crafting rhythmic loops from any source material in real-time. WerkBench is great for grabbing sounds on the fly from analog synths that lack patch memory (like the Synare, Monotron, or any modular rig).
About the Synare:
http://en.wikipedia.org/wiki/Synare
New video by 'gstormelectro' exploring filters on the Alesis Andromeda, details below:
http://gstormelectronica.blogspot.com/
This continuing tutorial series will focus on editing patches on the Alesis Andromeda. In this video I will examine the FILTERS and POST-FILTER MIX modules in more detail. I will continue topics for Filter FM and Filter Feedback and show how to finalize their configurations. I will introduce the ribbon controller as a mod source, and show how to tweak some more sounds along the way.
CONTENTS
0:05 Introduction
0:33 FILTER2 INPUT Configuration
1:30 FILTER2 Self-Oscillation
2:49 FILTER Parameters and FILTERFM
4:20 POST-FILTER MIX module and FILTER FEEDBACK
5:49 RIBBON CONTROLLER
6:26 Patch: Ripper
12:39 Closing
'gstormelectro' continues to provide us with good tutorials on the Alesis Andromeda, in this one he checks out the oscillators:
http://gstormelectronica.blogspot.com/
In this video I will examine the OSCILLATOR and PRE-FILTER MIX sound modules in more detail. I will introduce and explain topics for Oscillator FM, Filter FM, SYNC, Ring Modulation and Filter Feedback. And I will also show how to program a couple of basic patches along the way.
CONTENTS
0:10 Introduction
0:35 Tune Page
1:32 Wave Page
2:39 ENV1 Page
3:13 Patch: Classic Or Deviant Sync
4:56 OSC2FM Page
7:57 NZEXT Page
8:48 Modulations + Control Routes
9:49 Patch: Mod-Wheel PWM
11:23 Pre-Filter Mix: Ring Mod + Filter Feedback
12:14 Closing
Join me for my next video which will cover the Filters in more depth, including examples of Filter FM and Filter Feedback. Thanks for watching!
A song made entirely on a multi tracked Alesis Andromeda A6 analog synthesizer.
The song is called Andromeda and is taken from the Firechild album Beyond The Sun.
The album contains 12 songs made on different real analog synthesizers. Each track is only allowed to use one specific synthesizer. Other synthesizers on the album includes , Roland Jupiter 8 , Oberheim Xpander , Waldorf Pulse , Minimoog Voyager , Matrix 1000 , Oberheim SEM Pro , Prophet 08 etc.
Firechild is also known as the swedish artist Evan , but now under the Firechild alias he is going back to his roots, back to the Synthesizer music from the 70s and 80s and artists like Vangelis , Jean-Michel Jarre , Kitaro and Kraftwerk.
For this short improvised demo, the author has used internal programs and mixes from preset and Hollow Sun banks.
Here are the details:
8 tracks recorded in audio live in Presonus Studio One Artist v 1.6.5:
- mix "DANGER" (rythmics)
- Pea PG Vox (relatively close to the "human choir" of the Roland VP330 with no strings)
- imported sample : PolyMoog Vox Humana for bass and lead parts
- mix "high pass heaven"
- mix "trancin" with arpeggiator
- ambiance + chorus
- Sounds Fx 1 and 2
This is a comparison of Dave Smith's Poly Evolver keyboard ($2,700) and Alesis' Micron ($399). The Synths sound remarkably similar. The DSI has a brassy character while the Micron is more subdued and plastic but these differences are very subtle. You will notice immediately that the Poly Evolver lacks low end and cannot re-trigger its envelopes like the digital Alesis. The differences were more apparent to me while watching this video. Overall the sounds are practically identical which was pretty surprising to me.
Alesis IOMIX – a new four channel audio dock interface Capable of recording up to four channels of audio into your iPad simultaneously – assuming that you can find the software for it.
Sara Yule takes us through.

More Information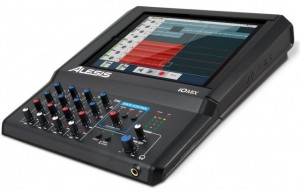 Alesis has introduced the iO Mix4-Channel Mixer/Recorder for iPad.
The Alesis iO Mix lets you mix and record four channels of audio directly into GarageBand or other compatible Core Audio apps, turning the iPad into a multitouch portable studio.
Features:
The world's first mixer/multi-channel interface for iPad
Mix and record up to four channels, or a stereo mix into your iPad
Works with mics, instruments, speakers, headphones, video monitors and projectors
Four combo XLR-1/4? input channels, each with trim, channel gain, pan, and low & high EQ
Switchable 48V phantom power for use with studio condenser microphones
Guitar-direct (DI) switch for guitar recording without an amp
Balanced, stereo 1/4? outputs and 1/4? headphone output with separate volume controls
Direct Monitor switch for latency-free input monitoring while recording
Switchable limiter for clip-free recordings
Hinged door completely encloses and secures your iPad
Core Audio-compliant: works with virtually any app in the App Store
Video output for connection to TVs and projectors: perfect for presentations, meetings and VJs
Mountable to a mic stand using the Alesis Module Mount (sold separately)
Complete routing and signal-management controls
Power supply also charges your iPad
iO Mix allows you to connect microphones, instruments, speakers, headphones and more to your iPad.
While it looks like an interesting option for people wanting to record straight to an iPad, others may miss support for MIDI and digital video connections.
Pricing and availability are TBA.

Serge modular controlled from an iPAD running TouchOSC.
Wholetone scale with 4 x sliders controlling FM pitch / FM amount / filter cutoff / envelope scaling.
www.ianboddy.com
About Serge: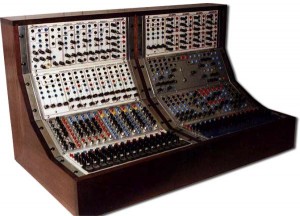 The Serge synthesizers are the creation of French electronic/synth designer Serge Tcherepnin. They are analog modular systems that began production in 1974, and continue to be produced to this day. The Serge concept was that a powerful, musical and great sounding analog modular system could, unlike the Buchlas, Moogs and ARPs of the time, be smaller, more compact and most importantly: cost less, making them far more accessible to musicians looking to jump into the bold new world of electronic music and sound design.
Although Serge was French, the modular systems that bore his name were orignally designed and produced in Los Angeles, CA. Initially designed in 1974 (in Serge's home), mass production of the systems began in 1975 and continued until 1986. There was a rough period between 1986 to 1993 where modules were still produced to special order (slowly), but full production resumed again in 1993 after Serge's circuit designs were sold to Rex Probe (an early collaborator) who went on to found Sound Transform Systems, who continue to produce many of the original Serge modules, plus a few new one's of their own design.
Influences of the Buchla can be seen in Serge systems, such as touch sensitive keyboards & sequencers, random voltage generators, function generators, and matrix mixers. Yet the Serge has many unique designs of its own such as the Wave Multiplier module and the use of banana plugs in lieu of traditional patch cords. Its filters are unqiue sounding but it may be the Wave Multiplier module that truly sets a Serge apart as it is a totally unique synthesizer section that sits between the Oscillator and Filter sections and allowed for external audio or control voltage signals to be used to modulate the timbre of the oscillator's tones.
Originally, Serge systems were custom built to order. Like any modular system a buyer would pick and choose individual modules they want and assemble them into a cabinet. However, to reduce the price tag and make them more accessible to musicians not interested in building a modular synth from scratch, Sound Transform Systems sells Serge systems in pre-configured systems: Shop Panels and the M-Class.