Testing the second prototype of the Two Thousand Six Hundred, an ARP 2600 clone. This is a DIY kit to be released in September.
Read more at www.thehumancomparator.net
Welcome to the site of the Two Thousand Six Hundred project, or TTSH for short. The TTSH is the attempt to replicate an old classic semi-modular synthesizer. It will be available as a kit containing PCBs and front panel (Nothing is pre-built). The goal is to release it this fall, September preliminary.

I've put up an interest list, and you can find it here. If you don't want to miss this opportunity, make sure you're on it. As it'll be where the information goes once this is live. From now on this will be the main portal for communicating changes in the project. But if you'd still like to know more and follow the evolution of the project, you can read this thread over at Muffwiggler. The project is currently in prototyping stage, where one prototype has been received and built. Errors on the prototype has been fixed, and the second prototype board is being laid out at this moment.
Here's the Medic Modules EKG 8-step sequencer paired with 3 classic synthesizers: the RSF Kobol, the SCI Pro One, and the ARP 2600.
The EKG is a very unique step sequencer with some unusual features.
Each step also has a unique Function control. Each step can be turned off, skipped, repeated or set as a reset point.
Modes; Off (rest), x1, x2, x3, x4, Skip, Reverse, Rest
http://www.medicmodules.com (the modules)
http://www.soundofscience.org (the music)
The (ultra) rare ARP 2600 Blue Meanie/Blue Marvin is under control of S&H module: EGs are fired from S&H Clock; VCO1, VCO 2 and VCF are S&H modulated. Audio signal goes straight into 2600's spring reverb. A copy of the VCA out signal (dry) is hard switched left/right with Electronic Switch. A great synthesizer, pretty different in sound from the standard 2600 B/W and B/O.
The three square waves from (ultra rare) ARP 2600 Blue Meanie. Keyboard has a long log portamento curve. As usual, (spring) reverb from synthesizer, no external effects.
Featuring Hammond XK3-c, Leslie 3300, Moog Voyager, Arp 2600, D6 Clavinet, Mellotron Mk. VI
Short, first take improv with Arp2600, Moog Voyager and Mellotron Mk. VI. Recorded in Ableton Live 9. Film edited in Sony Vegas Movie Studio 11.
Random fooling around with Future Retro Mobius, ARP2600, Mellotron Mk. VI, Moog Voyager. Emphasis on some less familiar Mellotron sounds. Audio recorded in Ableton Live 9. Film editing in Sony Vegas Movie Studio 11.
We certainly agree with Kip Kubin on this one:
I'll admit some some envy of those at NAMM making amazing drones and sequences on the Buchla Music Easel. so I decided to do my best with the Arp2600 and my Make Noise Rene. I'll also admit the the Rene is so good at what it does I barely touched it and out came some of the best music I've heard from my Arp.
Nice tutorial from Kip Kubin, details below:
I was trying to stretch my use of voltage inverters to create more interesting and varied timbres in a sequence using Ring Mod as the sound source.
I also wanted to use the Rene as a playable instrument and allow the grace notes to be random. I'm still wrapping my head around the RENE but it's already has opened me up to new ways of using sequencers in my work.
Here's Tom, one half of Sound of Science (soundofscience.org) unpacking some of the tools of the trade — all of which made their transatlantic journey without incident!
Synths for Studio A!
Gotta watch those peanuts…
ARP 2600
EML 200
EML 101
Studio Electronics MidiMii
Studio Electronics has released these photos of the first production Boomstar synthesizer – a Boomstar 4075. Earlier this year, Studio Electronics announced a new line of four Boomstar synthesizers, each with a different style of filter:
4075-classic Arp 2600
5089-classic Moog 24db ladder
SEM-classic Oberheim 12db
303-classic Roland TB.
The Boomstar synths are priced at $799.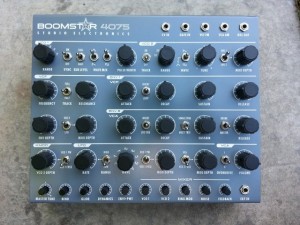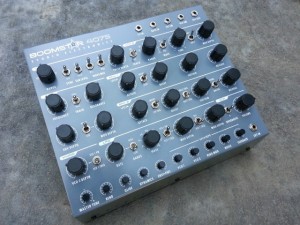 Official Description:
Back to the raw power and purity of non-programmable* discrete analog––where STUDIO ELECTRONICS started in 1985. The snap and punch of hardware envelopes drive the BOOMSTAR's brilliant voltage controlled circuits with unparalleled sonic integrity and versatility. BOOMSTAR is the ultimate desktop analog synthesizer for those who remember and desire still, the electronic Analog sound that changed the world and for seekers who have yet to discover that magic and delight… in their time.
This new blazing brainchild of STUDIO ELECTRONICS represents the design collective ethos of circuit and software "Saseong" Tim Caswell, tactile layout and lead feature specialist Greg St. Regis, graphic and sound consultant Marc St. Regis, art design wizard of vector truth, John Greczula, cool-headed concept leader Geoff Farr and our relentless and wise feature and functionality consultant, Drew Neumann.
Four Models/Filter types: 4075-classic Arp 2600, 5089-classic Moog 24db ladder, SEM-classic Oberheim 12db, 303-classic Roland TB.
This All-American-Made music machine's discrete voltage controlled analogoscillators, hand matched transistors in its filters and amplifiers and STUDIO ELECTRONICS' typically expressive programming feature realizes its name: Earth Grounding Subs to Deep Field Shimmers… BOOMSTAR!