Featuring Hammond XK3-c, Leslie 3300, Moog Voyager, Arp 2600, D6 Clavinet, Mellotron Mk. VI
Short, first take improv with Arp2600, Moog Voyager and Mellotron Mk. VI. Recorded in Ableton Live 9. Film edited in Sony Vegas Movie Studio 11.
Random fooling around with Future Retro Mobius, ARP2600, Mellotron Mk. VI, Moog Voyager. Emphasis on some less familiar Mellotron sounds. Audio recorded in Ableton Live 9. Film editing in Sony Vegas Movie Studio 11.
We certainly agree with Kip Kubin on this one:
I'll admit some some envy of those at NAMM making amazing drones and sequences on the Buchla Music Easel. so I decided to do my best with the Arp2600 and my Make Noise Rene. I'll also admit the the Rene is so good at what it does I barely touched it and out came some of the best music I've heard from my Arp.
Nice tutorial from Kip Kubin, details below:
I was trying to stretch my use of voltage inverters to create more interesting and varied timbres in a sequence using Ring Mod as the sound source.
I also wanted to use the Rene as a playable instrument and allow the grace notes to be random. I'm still wrapping my head around the RENE but it's already has opened me up to new ways of using sequencers in my work.
Here's Tom, one half of Sound of Science (soundofscience.org) unpacking some of the tools of the trade — all of which made their transatlantic journey without incident!
Synths for Studio A!
Gotta watch those peanuts…
ARP 2600
EML 200
EML 101
Studio Electronics MidiMii
Studio Electronics has released these photos of the first production Boomstar synthesizer – a Boomstar 4075. Earlier this year, Studio Electronics announced a new line of four Boomstar synthesizers, each with a different style of filter:
4075-classic Arp 2600
5089-classic Moog 24db ladder
SEM-classic Oberheim 12db
303-classic Roland TB.
The Boomstar synths are priced at $799.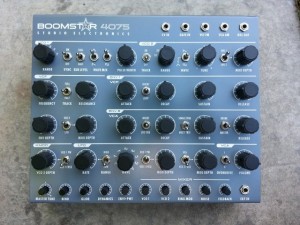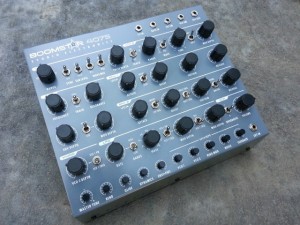 Official Description:
Back to the raw power and purity of non-programmable* discrete analog––where STUDIO ELECTRONICS started in 1985. The snap and punch of hardware envelopes drive the BOOMSTAR's brilliant voltage controlled circuits with unparalleled sonic integrity and versatility. BOOMSTAR is the ultimate desktop analog synthesizer for those who remember and desire still, the electronic Analog sound that changed the world and for seekers who have yet to discover that magic and delight… in their time.
This new blazing brainchild of STUDIO ELECTRONICS represents the design collective ethos of circuit and software "Saseong" Tim Caswell, tactile layout and lead feature specialist Greg St. Regis, graphic and sound consultant Marc St. Regis, art design wizard of vector truth, John Greczula, cool-headed concept leader Geoff Farr and our relentless and wise feature and functionality consultant, Drew Neumann.
Four Models/Filter types: 4075-classic Arp 2600, 5089-classic Moog 24db ladder, SEM-classic Oberheim 12db, 303-classic Roland TB.
This All-American-Made music machine's discrete voltage controlled analogoscillators, hand matched transistors in its filters and amplifiers and STUDIO ELECTRONICS' typically expressive programming feature realizes its name: Earth Grounding Subs to Deep Field Shimmers… BOOMSTAR!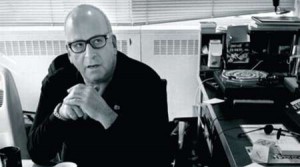 DM ARP 2600 Drums is a free Live Pack consisting of 8 Ableton Drum Racks and 150 original analog percussion sounds sampled from Daniel Miller's own ARP 2600 modular synthesizer. Extensive controls for real-time sound tweaking and bonus sequence clips are included.
Beginning with his now-classic "Warm Leatherette/T.V.O.D." single (as The Normal), Daniel Miller and the Mute label have been at the cutting-edge of electronic music for almost 35 years. Singular artists such as DAF, Fad Gadget, Depeche Mode, and Erasure began their careers at Mute and pioneers such as Can and Cabaret Voltaire enjoy their canonical status in no small part thanks to Daniel Miller's expert curatorship of their archives.
Ever the inquisitive experimentalist, Daniel Miller continues to produce with a finely honed ear, merging the best of analog synthesis with new music technology that provides the creative immediacy he demands. Made in collaboration with the Flatpack sound design team, DM ARP 2600 Drums delivers a large selection of drum and percussion patches created with Daniel Miller's own ARP 2600 modular analog synthesizer. Carefully sampled and programmed, this free Live Pack delivers Drum Rack Instruments with Daniel Miller's characteristic touch.
DM ARP 2600 Drums includes Macro controls to quickly and intuitively alter the overall sound of each kit as well as individual characteristics of the kick and snare sounds. Further customization of individual sounds as well as of effects and presets can be accessed via the Drum Rack's Chain and Device buttons. A detailed walk-through of all the customization options can be accessed via Help View in Live's main menu.
Nice experiment

Hooked up my mono synths with my Encore Expressionist and recorded a little video to show of the sound. I had the Acidlab Miami triggering the ARP Sequencer which was sequencing the filter cutoff (making that rhythmic sound in the background). The glidey/squelchy bass is the minimoog model D and the 4 voice poly is made up of the 2 ARP 2600's and 2 voices from the Macbeth M5 – osc 1 and 3 through filter 1 and oscillator 2 through filter 2. It makes for a rather unsurprisingly fat sound and the expressionist makes it really easy to set everything up (I just need some more long 1/4 cables)! The Acidlab Miami was the drum accompaniment. Anyways, hopefully I can record more soon.
http://youtu.be/2cWN9Pl02ww
Alright, got a quick demo of the Minimogue free vst synth, one of the best as far as emulating the original Moog synthesizer.
"Let me know if you have any questions or would like to see more demos, thanks and enjoy!!"
Based on the most popular analog monosynth of all time! This amazing softsynth sounds very close to the original Minimoog, yet has tons of additional features not present on the original Mini (as well as the Minimoog Voyager!), including 5-note polyphony, an Arpeggiator and 16-note Step Sequencer, dedicated Release knobs for the two Contour Generators (envelopes), Tuning of Osc 1, Fine Tuning sliders for Osc2 and Osc3, Aftertouch control, adjustable filter Velocity curve, 3 independent Overdrive sliders (one per oscillator), Global Overdrive with hi and lowpass cutoff, Oscillator Sync, Chorus, an independent LFO that includes oscillator drift and stereo panning, and a fully programmable Digital Delay! Like the original Mini, you can turn Osc3 into an LFO with dedicated modulation for the Osc Pitch and the Filter. There is no dedicated Noise Generator as on the original Mini, but pink and white noise are selectable on Osc 3. All controls are mapped to MIDI CC#'s, and you can override the default settings by using the MIDI Learn feature. Use as a simple stand-alone synth (.exe file included), or copy the DLL into your favorite DAW or sequencer's plugin folder.
By the way you can also find an emulation of the ARP 2600 on the same page: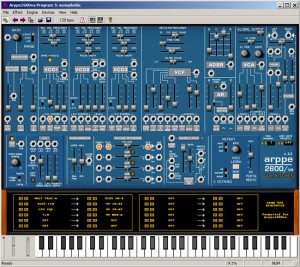 Based on ARP's legendary semi-modular analog monosynth! This amazing softsynth sounds very close to the original ARP 2600. Like the original, it's a monosynth (no polyphony). But, also like the original, it has a multitude of Frequency Modulation options which enable it to create some truly awesome sound effects. PWM, Sample & Hold, virtual Spring Reverb, Ring Modulation, and a dedicated Noise Generator are all there! Also, there are some things even the original Arp 2600 didn't have, like Oscillator Sync and Filter Color (to adjust between LowPass and HiPass filter types). Most important of all, beginning with version 2.0 the Arppe2600va is now completely patchable via a cleverly designed Mod Matrix! You can have up to 12 patch routings with a very user-friendly (and visible!) drop-down menu interface, instead of messy virtual patch cables cluttering up the screen. All controls are mapped to MIDI CC#'s, and you can override the default settings by using the MIDI Learn feature. Use as a simple stand-alone synth (.exe file included), or copy the DLL into your favorite DAW or sequencer's plugin folder.