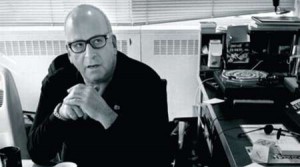 DM ARP 2600 Drums is a free Live Pack consisting of 8 Ableton Drum Racks and 150 original analog percussion sounds sampled from Daniel Miller's own ARP 2600 modular synthesizer. Extensive controls for real-time sound tweaking and bonus sequence clips are included.
Beginning with his now-classic "Warm Leatherette/T.V.O.D." single (as The Normal), Daniel Miller and the Mute label have been at the cutting-edge of electronic music for almost 35 years. Singular artists such as DAF, Fad Gadget, Depeche Mode, and Erasure began their careers at Mute and pioneers such as Can and Cabaret Voltaire enjoy their canonical status in no small part thanks to Daniel Miller's expert curatorship of their archives.

Ever the inquisitive experimentalist, Daniel Miller continues to produce with a finely honed ear, merging the best of analog synthesis with new music technology that provides the creative immediacy he demands. Made in collaboration with the Flatpack sound design team, DM ARP 2600 Drums delivers a large selection of drum and percussion patches created with Daniel Miller's own ARP 2600 modular analog synthesizer. Carefully sampled and programmed, this free Live Pack delivers Drum Rack Instruments with Daniel Miller's characteristic touch.
DM ARP 2600 Drums includes Macro controls to quickly and intuitively alter the overall sound of each kit as well as individual characteristics of the kick and snare sounds. Further customization of individual sounds as well as of effects and presets can be accessed via the Drum Rack's Chain and Device buttons. A detailed walk-through of all the customization options can be accessed via Help View in Live's main menu.
Nice experiment

Hooked up my mono synths with my Encore Expressionist and recorded a little video to show of the sound. I had the Acidlab Miami triggering the ARP Sequencer which was sequencing the filter cutoff (making that rhythmic sound in the background). The glidey/squelchy bass is the minimoog model D and the 4 voice poly is made up of the 2 ARP 2600's and 2 voices from the Macbeth M5 – osc 1 and 3 through filter 1 and oscillator 2 through filter 2. It makes for a rather unsurprisingly fat sound and the expressionist makes it really easy to set everything up (I just need some more long 1/4 cables)! The Acidlab Miami was the drum accompaniment. Anyways, hopefully I can record more soon.
http://youtu.be/2cWN9Pl02ww
Alright, got a quick demo of the Minimogue free vst synth, one of the best as far as emulating the original Moog synthesizer.
"Let me know if you have any questions or would like to see more demos, thanks and enjoy!!"
Based on the most popular analog monosynth of all time! This amazing softsynth sounds very close to the original Minimoog, yet has tons of additional features not present on the original Mini (as well as the Minimoog Voyager!), including 5-note polyphony, an Arpeggiator and 16-note Step Sequencer, dedicated Release knobs for the two Contour Generators (envelopes), Tuning of Osc 1, Fine Tuning sliders for Osc2 and Osc3, Aftertouch control, adjustable filter Velocity curve, 3 independent Overdrive sliders (one per oscillator), Global Overdrive with hi and lowpass cutoff, Oscillator Sync, Chorus, an independent LFO that includes oscillator drift and stereo panning, and a fully programmable Digital Delay! Like the original Mini, you can turn Osc3 into an LFO with dedicated modulation for the Osc Pitch and the Filter. There is no dedicated Noise Generator as on the original Mini, but pink and white noise are selectable on Osc 3. All controls are mapped to MIDI CC#'s, and you can override the default settings by using the MIDI Learn feature. Use as a simple stand-alone synth (.exe file included), or copy the DLL into your favorite DAW or sequencer's plugin folder.
By the way you can also find an emulation of the ARP 2600 on the same page: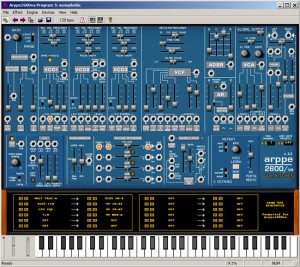 Based on ARP's legendary semi-modular analog monosynth! This amazing softsynth sounds very close to the original ARP 2600. Like the original, it's a monosynth (no polyphony). But, also like the original, it has a multitude of Frequency Modulation options which enable it to create some truly awesome sound effects. PWM, Sample & Hold, virtual Spring Reverb, Ring Modulation, and a dedicated Noise Generator are all there! Also, there are some things even the original Arp 2600 didn't have, like Oscillator Sync and Filter Color (to adjust between LowPass and HiPass filter types). Most important of all, beginning with version 2.0 the Arppe2600va is now completely patchable via a cleverly designed Mod Matrix! You can have up to 12 patch routings with a very user-friendly (and visible!) drop-down menu interface, instead of messy virtual patch cables cluttering up the screen. All controls are mapped to MIDI CC#'s, and you can override the default settings by using the MIDI Learn feature. Use as a simple stand-alone synth (.exe file included), or copy the DLL into your favorite DAW or sequencer's plugin folder.
Here's some background information:
When I touch the big knob under the screen I'm changing the filter type or tweaking filter parameters for the CS80 filter. I picked up a fully loaded 4 month old Code 8 this week, with 8 Arp 2600 and 8 CS80 filters! I was up late last night playing it for hours….Sounds a bit like an Oberheim OBX. When you turn on all the waveforms it will saturate a bit, so it's not super clean like everyone says.
Filter demo here
http://soundcloud.com/coolcolj/studio-electronics-code-8
And CS80 filter demo
http://soundcloud.com/coolcolj/code8-cs80-filter
Arp2600 filter demo
http://soundcloud.com/coolcolj/studio-electronics-code-8-1
Lots of goodies in this one…you know what I mean when you watch it

Filmed and Directed by Amy Hobby.
Edited by Tony Zajkowski.
Over 20 different NYC female keyboardists playing vintage keyboards at Joe McGinty's Carousel Studio in Brooklyn, NY.
Available on iTunes!
http://itunes.apple.com/us/album/tubular-bells/id398862997
Featuring:
Kaia Wong (Mixel Pixel)
Kelly Rae Kerwin (Private Income)
Natasha Bartolf
Joanna Choy (Spray Paint Star)
Amy Merril (Mia Riddle)
Greta Gertler (The Universal Thump)
Supercute!
Anna Copa Cabanna
Rolyn Hu (True Primes)
Sondra Sun-Odeon (Silver Summit)
Michi Turner (Crash Diet Crew)
Katia Floreska (The Tall Pines)
Natalie Weiss (Unicornicopia, Camp Wanatachi)
Wendy Ip
Alice Cohen
Yvette Perez
Kelly Vaughn-Kauffman (Winstron Troy)
Yvette Perez (H*E*R)
Hula Hoop Harlot Melissa-Anne
Alix Brown (Golden Triangle)
Leah Cary (Girl Crisis)
Caitlin Jemison (Queen Of Sibyls)
Instruments featured:
Hammond M3 Organ
Fender Rhodes
Oberheim Xpander
Dave Smith Instruments Poly Evolver Keyboard
Steinway Upright Grand Piano
RMI Keyboard Computer
Jenco Celeste
Baldwin Electric Harpsichord
Bebot
Magical Musical Thing
Thingamagoop
Hohner Clavinet D6
Casio CZ-101
Wurlitzer Electric Piano
Conn Electric Band
ARP 2600
ARP Omni
Suzuki Omnichord
Yamaha CS-01
Yamaha TX802
Vox Continental
Fender Starmaster
Farfisa Combo Compact
Buzzing Bee
Optigan
Stylophone
Toy Piano
360 Systems Digital Keyboard
Hammond Synthesizer
Gibson Clavioline
Moog Little Phatty
MiniMoog
Mellotron
Mass-Rowe Vibrachime
Shakelling
ARP2600
Synth collection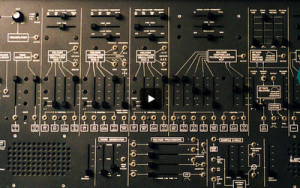 Featuring the ARP2600
The Analogue Monologues is a new series of mini video documentaries. In each webisode Vince talks about one his analogue synths and explains where the on/off switch is. This series proves, once and for all, that he really doesn't know much about anything (a must see!).

Sign-up to the Vince Clarke mailing list if you want to receive news of the next Analogue Monologues webisode…
Vince Clarke has uploaded a new episode of his "Analogue Monologues" series of mini-docs featuring some of his favorite gear. This one takes a look at the mighty Arp 2600.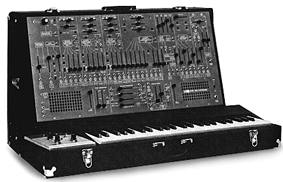 Arturia Analog Laboratory is a new software synth that offers 3500 "legendary classic synthesizer sounds', along with the ability to edit each of them in depth.
Main Features:
3500 synthesizer sounds selected from the Arturia Classic Synths (minimoog-V, Moog modular V, CS-80V, Prophet-V, ARP2600 V and Jupiter-8V).
Full screen preset editing (for owners of Arturia Classic Analog recreations only): Analog Laboratory allows opening any other Arturia Classic Synth plugin for in depth patch edition in a separate window. It is also possible to assign any of the 4 key parameters of the Laboratory to one knob of choice inside the favourite software synthesizer.
Scene mode: It allows to:

Combine 2 synthesizer sounds over a MIDI keyboard in either split, layer or multi configuration.
Assign melodic phrases based on advanced arpeggiation thanks to the library of 200 melodies organized by genres.
Trigger Drum loops from the pads thanks to a library of 350 Rex files.

Organize Presets view by Name, Instrument, Type, CPU usage, Favorites, or User Preset.
Fast filter the presets to meet requirements: by Instrument, Type and Characteristics
Midi Learn Controllers: 1 clickable encoder, 10 encoders, 8 sliders, 11 switches, 1 modulation wheel, 1 pitch bend wheel.
Arturia Analog Laboratory is expected to be released November 25th. MSRP: $299/Eur269
Analog Player includes no less than 1,000 classic Arturia synthesizer sounds made from the company's flagship software synthesizers (Minimoog V, Prophet V, ARP 2600 V, Jupiter 8V, and many others) that re-create the sounds and the look of classic hardware synthesizers. According to the maker, Analog Player's straightforward editing functions give access to the most essential parameters, making sound design both easy and fun. In addition, its smart preset manager helps you find the sounds you want quickly, without having to waste time scrolling through endless menus.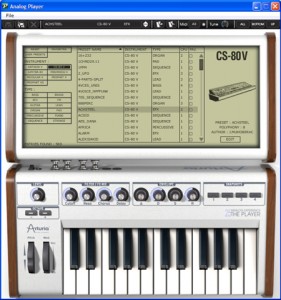 The new release is fully compatible with major plugin formats (VST, Audio Units, and RTAS) and hosts on Mac OS X and Windows XP / Vista / 7. Analog Player not only integrates into all the major hosts and sequencers, but it can also be used in standalone mode and be controlled by a remote external MIDI keyboard with keys, knobs and faders, allowing you to make changes via a simple twist of a knob.
Artura Analog Player's main features:
1,000 synthesizer sounds selected from the Arturia Classic Synths (Minimoog V, Moog Modular V, CS-80V, ARP 2600 V, Prophet V, Prophet VS, and Jupiter-8V)
Smart preset manager allows you to fast filter the presets to your requirements, by instrument and by type (Bass, Pads, Leads, and so forth)
Organize Presets view by Name, Instrument, Type, CPU usage, Favorites, or User Presets
Straightforward editing with the most essential parameters for personalizing presets: Cutoff and Resonance, Chorus and Delay mix, ADSR envelope
Full compatibility with major formats and hosts on Mac OS X and Windows XP / Vista / 7 (VST, Audio Units, and RTAS)
4 Snapshots buttons let you store up to 4 snapshots for sound comparisons, variations, and more
Integrated as a plugin within your sequencer or plays as a standalone software synthesizer
Optimize your screen space — choose to view the Preset Manager only, the Keyboard only, or both at the same time
Set to Control with your external MIDI keyboard
Save and recall presets
VST 2.4 / Cubase 5 ready
Analog Player is now available as a downloadable product for $99 (MSRP) from the Arturia online store. For more details, please visit arturia.com.