An example of the Arturia MiniBrute controlling the modular by way of the arpeggiator's control voltages. Modules by The Harvestman. All audio is from the modular. Signal chain is Piston Honda – Kuzminorgel – Bionic Lester – Double Andore – Tyme Sefari – Polivoks VCF – Evin 209 – Stilton Adapter direct to Mackie Onyx 820i.
More info: http://bit.ly/10vIReH
In the second part of this two-part video tutorial, Dubspot instructor and course designer Matt Shadetek shows how to control an arpeggiator in Logic's Environment using the iPad as a second monitor.
In this video we'll continue using the iPad as a touchscreen controller and look at how to apply this. If you missed part one of this tutorial please check it out first, it explains how to set up the Air Display app which will allow wireless connection of your iPad to your Mac or PC.
In this example we're going to use Logic's Environment to set up an arpeggiator with large buttons that toggle between different resolutions or arpeggiator rates. We'll learn how to map MIDI control change data to the arpeggiator in the Environment and how to create large visual controls to send that data. We'll take a look at using the button object in the Environment to send MIDI control change data, a technique which could be applied to many different workflows. The goal of the video, beyond the specific application, is to get you thinking creatively about ways to manipulate MIDI data in Logic's Environment to create unique musical tools and customize your own setup. – Matt Shadetek
The Arpeggionome Pro is a professional MIDI controller designed specifically for iPad. With the Arpeggionome Pro, you design and perform intricate patterns of musical notes at incredible speeds and with precise control.
Introductory Sale: 25% Off! Offer valid until January 15th!
http://itunes.com/apps/arpeggionomepro
Download Audio: http://soundcloud.com/alexandernaut
Background description:
Dreamy and relaxing instrumental ambient space music performed & improvised live on Access Virus B synthesizer.
Created using 2 oscillators, delay, filter/envelope/LFO adjustments, resonance, and a simple repeating arpeggiator pattern.
All sounds you hear were played live and manipulated in real-time, no external processing. Excerpt taken from a longer session.
=====
For more:
http://synth4ever.bandcamp.com — download tracks or buy album
http://www.facebook.com/synth4ever.music
http://www.soundcloud.com/synth4ever
http://www.youtube.com/synth4ever
In this video, Arturia Sound Design Manager, Mike Hosker, shows you how to sync Spark with MiniBrute to create locked arpeggiated and LFO patterns with your beats.
u-he has released a video of an alpha version of the upcoming arpeggiator for its Diva virtual analog synthesizer.
The oscillators, filters and envelopes closely model components found in some of the great monophonic and polyphonic synthesizers of yesteryear. Modules can be mixed and matched so you can build hybrids, but what sets DIVA apart is the sheer authenticity of the analogue sound. This comes at the cost of quite a high CPU-hit, but we think it was worth it: Diva is the first native software synth that applies methods from industrial circuit simulators (e.g. PSpice) in realtime. The behaviour of zero-delay-feedback filters when pushed to the limit clearly demonstrates the advantages of this groundbreaking approach.
Luftrum 9 is a soundbank for DIVA set to release in start November. The soundbank contains cinematic pads, gentle arpeggios and synth emulations inspired by Tangerine Dream, Vangelis, Royksopp, Kraftwerk, Jean Michel Jarre, William Orbit etc. but also a few soundscapes, sound effects and strings found their way to the soundbank. 2/3 of the soundbank are pads and arpeggios – so it's pad arp haven. Since DIVA doesn't contain an arpeggiator yet, all arpeggios in the YouTube audio demo were made with the Kirnu Arpeggiator – which is free to download.
Background description and details below:
Just got my Novation Supernova 2 so am learning the ropes! What a wonderful synthesizer..
In this video I'm just experimenting with a preset arp patch, some delay and reverb effects, resonance and filters.
Hope you enjoy the jam.
For more demos and music, subscribe to my channel: http://www.youtube.com/synth4ever
Facebook: http://www.facebook.com/synth4ever.music
A quick tutorial on creating a simple Trance-type arpeggio sound with the Roland Juno-60.
Among the first in Roland's amazing Juno family! Six analog voices of polyphony and patch memory storage!! The Juno-60 sounds great, however, like the Juno-6 it lacks MIDI control. The Juno-60 includes 56 patches of memory storage. The Juno-60 is still popular due in part to opinions that it sounds better (punchier) than the Juno-106. The Juno-6 and 60 are very rich sounding synthesizers and are great analog machines as long as you can withstand the absence of MIDI control. The JSQ-60 sequencer is an external sequencer controller for the Juno-60 and is usually worth acquiring.
Music iPad App – first look at some of the features of the Yamaha Synth Drum Pad.
"My first impressions are that this is one mother of an app. The sonic possibilities are great, although I'm a little in awe of it."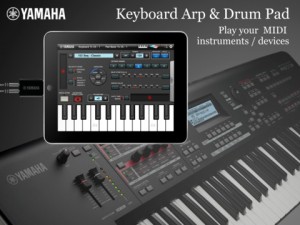 Overview
Keyboard Arp & Drum Pad is a Core MIDI application that transmits notes to external MIDI instruments and includes a keyboard, arpeggiator and assignable drum pads. You can play the built-in keyboard, trigger arps and play various patterns of instruments like drum, keyboard, or guitar. Also the drum pads let you play drum phrases or assign the multiple notes on one pad and play chords. You can set the Keyboard Arp and Drum Pad to different channels so you can play drum beats and pad chords along with the sequence phrases run by the arpeggiator.
*Yamaha MOTIF XF offers you WiFi connectivity which enables wireless control.
*If you use the Yamaha i-MX1 iPhone/iPad MIDI Interface, you can connect to any MIDI instrument.
Features
Keyboard Arpeggiator
– You can choose from 342 arps including many different instrument categories.
– Each arp phrase can be modified in real time for swing, beat stretch, octave range and variation
Drum Pad
– Each of the 16 Drum Pads can have up to 5 notes with assignable velocities, so you can play chords or layered percussion with one pad.
– You can even split the pads in half and assign different notes or velocities to the left side and right sides of the pad.
– A learn mode makes it easy to program the pads directly from the MOTIF XF.
– 64 user templates
Tap Tempo
– A Tap Tempo feature allows you to quickly set the Tempo of the arps
Ribbon Controller
– A Ribbon Controller let's you control Velocity, Pitch and 2 Assignable Parameters
*For the detailed information please refer to the following url.
http://4wrd.it/YAMAHASYNTH
*In order to have the WiFi connection, you need to get an OS updater for MOTIF XF from http://4wrd.it/YAMAHASYNTH and buy a compatible Wi-Fi USB adapter.