A quick tutorial on creating a simple Trance-type arpeggio sound with the Roland Juno-60.
Among the first in Roland's amazing Juno family! Six analog voices of polyphony and patch memory storage!! The Juno-60 sounds great, however, like the Juno-6 it lacks MIDI control. The Juno-60 includes 56 patches of memory storage. The Juno-60 is still popular due in part to opinions that it sounds better (punchier) than the Juno-106. The Juno-6 and 60 are very rich sounding synthesizers and are great analog machines as long as you can withstand the absence of MIDI control. The JSQ-60 sequencer is an external sequencer controller for the Juno-60 and is usually worth acquiring.
Music iPad App – first look at some of the features of the Yamaha Synth Drum Pad.
"My first impressions are that this is one mother of an app. The sonic possibilities are great, although I'm a little in awe of it."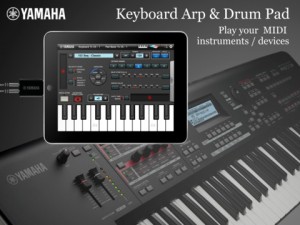 Overview
Keyboard Arp & Drum Pad is a Core MIDI application that transmits notes to external MIDI instruments and includes a keyboard, arpeggiator and assignable drum pads. You can play the built-in keyboard, trigger arps and play various patterns of instruments like drum, keyboard, or guitar. Also the drum pads let you play drum phrases or assign the multiple notes on one pad and play chords. You can set the Keyboard Arp and Drum Pad to different channels so you can play drum beats and pad chords along with the sequence phrases run by the arpeggiator.
*Yamaha MOTIF XF offers you WiFi connectivity which enables wireless control.
*If you use the Yamaha i-MX1 iPhone/iPad MIDI Interface, you can connect to any MIDI instrument.
Features
Keyboard Arpeggiator
– You can choose from 342 arps including many different instrument categories.
– Each arp phrase can be modified in real time for swing, beat stretch, octave range and variation
Drum Pad
– Each of the 16 Drum Pads can have up to 5 notes with assignable velocities, so you can play chords or layered percussion with one pad.
– You can even split the pads in half and assign different notes or velocities to the left side and right sides of the pad.
– A learn mode makes it easy to program the pads directly from the MOTIF XF.
– 64 user templates
Tap Tempo
– A Tap Tempo feature allows you to quickly set the Tempo of the arps
Ribbon Controller
– A Ribbon Controller let's you control Velocity, Pitch and 2 Assignable Parameters
*For the detailed information please refer to the following url.
http://4wrd.it/YAMAHASYNTH
*In order to have the WiFi connection, you need to get an OS updater for MOTIF XF from http://4wrd.it/YAMAHASYNTH and buy a compatible Wi-Fi USB adapter.
The Minitaur (left channel) is controlled by the Little Phatty's arpeggio. The Shruthi-1 (right channel) is being sequenced by the MIDIpal and sending clock to both the Little Phatty and Shruthi-1.
Create your sounds with colors
Dazibao is a powerful music synthesizer, able to create the most complex tone evolutions but with a fast and easy to use new kind of users interface. This tutorial explains how to use the Arpeggio Sequencer.
Dazibao is sold on the website of Herve Noury for a very friendly price :
www.hervenoury.com
Apart from the stupid synthetic voice in the beginning of this video, the demo is pretty cool

In this demo, you will see that while playing an arpeggiator in FL studio, the parameters of the Xpander can be changed on the expander itself, with the keyboard controller, or directly on the touch screen. Whatever the input mode is, everything is synchronized.
Xplorer is more that an simple editor, it can acts as a real time controller too.
Enjoy the demo !
More info, technical specification, buy link: http://xplorer-editor.com
Arturia MiniBrute Arpeggiator as CV/Gate controller for two Doepfer A-110 VCOs; the VCOs goes in a dual Pittsburg VCA under MFB Envelope control; then in a Tiptop Delay AND back into MiniBrute Ext Audio Input. The Steiner Filter works in Notch mode, with a slow LFO modulation.
"Demo of Arpeggionome, an amazing app for generating arpeggios. Lots of customisation. Lack of midi the only downside, which I hope the developers will be including in a future release."

Tek'it Audio has announced the release of Arp-EG Classic, a MIDI arpeggiator plug-in. Using Arp-EG classic all the VST instruments you like and even your hardware synths (using your DAW MIDI out) can now play arpeggio sequence.
Use the six playback modes and the four octave range, speed up or slow down your arpeggio sync on the beat of your DAW. Control the groove using the shuffle and gate function, control the expression with the transpose function, give to each note his one velocity, play polyphonic chord or notes sequence. Assign all the parameters to your MIDI controller easily and randomly generate your arp with a single click.
A demo version of "Arp-EG classic" is available to download. The full version is available to purchase as a VST plug-in for Windows for €12 / $16.
More info – http://bit.ly/Ark8bk
In this video tutorial, Dubspot Electronic Music Production and Sound Design instructor Evan Sutton demonstrates arpeggiation and morphing function of Native Instruments' FM8, and uses them to build TB-303 style acid/techno bassline.
__/__/__/__/__/__/__/__/__/__/__/__/__/__/
We'll start with a classic FM pair, which consists of two oscillators, each loaded with sine waves. Once a usable tone has been created, movement is introduced by adjusting the modulator's amplitude envelope. The arpeggiator in FM8 is designed to take incoming notes and build a new sequence according to the settings in the Pattern Editor. It blurs the line between step sequencer and arpeggiator, as it has a step matrix, with many flexible features. The last step is to create some variations on the sound. FM8's morphing capabilities allow for four different patches to be transitioned between (morphed). Remember that not all parameters in FM8 can be morphed. All FM8 library patches have four morph variations built in. Once the sound is complete, it's time to jam. We'll add MIDI control for the morph box in the host DAW, and fire away. – Dubspot Instructor Evan Sutton
"I'm starting a new series of "Quick Tips" videos – short tutorials in which I'll describe several techniques (new and old) used in the synthesizer world. This is the first video, the "1980s Limahl-style" synth arpeggio."
How to obtain the classic "aggressive" 303 acid rave popular in the early 1990s.
Instruments used:
Roland TB-303 bassline
BYOC E.S.V. fuzz (germanium version)
Boss DD-3 digital delay
Roland TR-909 drum machine