January 21, 2011 · Posted in
Uncategorized
·
Comments Off

on Win the "White Maschine" from Native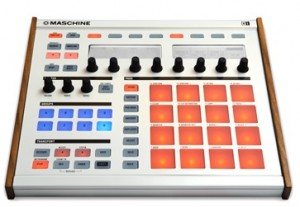 Native Instruments has announced that they are giving away a custom white Maschine to fans of the Facebook page:
To celebrate winning the coveted Good Design Award,
we're giving away this unique custom-made white Maschine.
Become a fan of this page (click "Like") to automatically take part in the raffle.
White Maschine Contest Terms & Conditions:
This prize draw is organized entirely by Native Instruments and is in no way associated with Facebook. Facebook is not sponsoring or supporting this promotion. Recipient for all information provided by participants is Native instruments, not Facebook.
Participants must be 18 years of age. Employees of Native Instruments and residents of India, Sweden, Norway and Belgium are not eligible to participate.
Contact data supplied by participants will be used exclusively for notifying winners. Native Instruments will not retain this data for later use.
The prize is not redeemable for a cash equivalent.
Entries must be received by midnight on January 31st, 2011.
Any recourse to courts of law in contesting the results of the draw is prohibited.
These terms and conditions are subject to German law.
November 11, 2010 · Posted in
Uncategorized
·
Comments Off

on Side-Line Music Awards 2010: get your favourite band nominated
Make sure to cast your vote

The time has come to start compiling the best of 2010! In this first round we'll shortlist the nominations for each section. Our staff will then collect the votes of the 5 most chosen releases, bands etc to launch the final voting on December 6th. Readers have exactly 5 days left now to enter their nominations.
Visit our Side-Line Music Awards 2010 page to cast your vote!
Nominations will be made in the following categories:
Best band
Best album
Best single
Best label
Best concert
Best print magazine
Best online magazine
Best e-shop
September 29, 2010 · Posted in
Uncategorized
·
Comments Off

on WIN A FREE DJ COURSE AT POINT BLANK MUSIC COLLEGE
Ever fancied yourself as a superstar DJ, knowing your tunes, looking cool behind the decks and living the party lifestyle? Well here's the chance to live your dream…
No.1 Music Production and DJ College Point Blank is offering a FREE place on its acclaimed online DJing and performance course to one lucky winner. Read about the course here:
http://www.pointblankonline.net/dj-and-live-performance—ableton.php
Entrants simply need to answer the following question: Point Blank have been voted "Best DJ & Music Production School" by DJ Magazine for how many years running?
Hint: you can find the answer here: www.pointblanklondon.com
Answers should be sent to: anthony@pointblanklondon.com
Pioneering and award-winning Music College Point Blank has built up a thriving online music production school over the last three years featuring well-respected music producers as tutors and celebrated artists as guests and course developers such as Louie Vega (Masters At Work), Mark Ronson and Basement Jaxx. Point Blank's connections to industry are just one of the facets which make them of special interest to those people out there who would like to be music producers, either professionally or as a hobby.
The course subjects are up to date stylistically and include Dubstep, Trance, Electro and Deep and Soulful House. Once enrolled, students get access to a new lesson consisting of approx 30 web pages each week. Text, audio and video tutorials show the learner how to make music using the latest software and technology. Students also take part in live weekly webchats with their tutor and fellow students throughout their course.
Direct Video Response™
Point Blank students also benefit from a unique innovation. In response to a weekly assignment uploaded by the students every weekend during the course, tutor responds with a personalised step-by-step video guide to changes and amendments that will help you to improve your music. It's like having a professional music producer looking over your shoulder in the studio and it's a feature that has proved hugely popular with students from all over the world:
"I can say without a doubt that this is the best class I have ever taken in music production! The direct video feedback from a professional producer is priceless. For anyone debating whether or not to take these courses I say that the amount of knowledge and instruction given plus the downloadable files and professional feedback given are priceless. These classes are PERFECT for the aspiring music producer!" – Micaiah Masterson – USA
After the course has officially ended, the students maintain access to their course materials for a year and can take part in a lively Forum from the sane website so they can continue their learning experience and keep in touch.
Point Blank is an Approved Training Centre for Steinberg, Apple and Native Instruments and has been voted "Best Music Production School" for six years running by DJ Mag.
Full details are available via the Point Blank website www.pointblankonline.net or by calling a Course Advisor on +44 (0) 20 7729 4884.
Courses are monthly and 3 monthly so there is a chance to get onboard every month.
Course Fees: £325-645
A full online course brochure can be found here: www.pointblankonline.net
September 22, 2010 · Posted in
Uncategorized
·
Comments Off

on The Deadmau5 remix challenge has started
Calling all DJs and producers! Beatport is raising the stakes with our next remix contest. Deadmau5 is looking for the ultimate jack of all trades to remix his unreleased hit "SOFI Needs A Ladder." His favorite remix will not only be included on mau5trap's official "SOFI Needs A Ladder" release, but the winning remixer will also be booked for an opening slot for the mau5 himself at one of his sought-out live appearances.
The opportunity
Starting September 21st, 2010, Beatport users are able to download the remix parts of Deadmau5 "SOFI Needs A Ladder," remix it, and upload their finished track to Beatportal for the voting round.
July 13, 2010 · Posted in
Uncategorized
·
Comments Off

on Prodigy named the best dance act of all times – here's the complete listing
The Prodigy, above, have been named the most influential dance act of all time, according to a GlobalGathering survey of UK club goers released today.
Do we really agree on this

The Top 10 most influential dance acts are:
The Prodigy (29%)
Daft Punk (13%)
Faithless (11%)
New Order (9%)
Orbital (7%)
Kraftwerk (5%)
Paul Oakenfold (4%)
Carl Cox (4%)
Fatboy Slim (3%)
Chemical Brothers (2%)
Over 2000 festival and club goers took part in the survey, which was commissioned by the UK dance festival GlobalGathering to mark ten years of the festival. Music fans were asked to vote for the dance act they considered the most influential from a shortlist compiled by the Global team.
About GlobalGathering's Top 10 Dance Music Acts Of All Time
Here's what the festival has to say about their top 10 acts:
The Prodigy continue to both push musical boundaries and garner critical acclaim. From the band's debut single; Charly whose chart success hooked thousands of new converts to dance music to their recent critically acclaimed album 'Invaders Must Die' the band continue to be acclaimed as pioneers of dance music. Blending hardcore rock with drum & bass and techno, the Prodigy have created a truly unique sound which has often been emulated but rarely bettered. Commonly cited as one of the first dance acts to successfully crossover into the live arena, the band remain a festival favourite throughout the UK and Europe.
French duo Daft Punk, 2006 headliners at the dance festival, came second in the survey with 13% of the vote. Bursting on to the scene in 1995 with their debut album 'Homework' the duo have been widely credited with helping to break dance music in the USA and the band's blend of chart bound yet credible techno-disco continues to both grow in influence and transcend musical genres having been sampled extensively by hip hop stars including Kanye West, Busta Rhymes and Missy Elliot.
Faithless, famous for timeless club hits such as "Insomnia", "God Is a DJ" and "We Come 1" took third place in the poll. With over 10 Million global record sales, Faithless continue to be one of dance music's biggest live draws and the band performed to over 7 million people on their most recent tour proving they are one of the most successful and influential dance groups of all time.
New Order who came fourth in the poll, currently hold the title for 'best selling 12-inch single of all time' for the 80's hit 'Blue Monday'. The single release proved to be a defining moment in dance music history appealing to both dance music and indie fans alike. New Order embraced electronica throughout the 80's and 90's and also spawned the infamous Hacienda nightclub which was a focal point for the Manchester scene of the late 1980's.
The hugely influential electronica duo Orbital came 5th in the poll. The Hartnoll brothers, who have recently re-formed after their split in 2004, will be celebrating 20 years of festival-rousing anthems and cinematic sounds this year. One of the most influential acts in dance music history, Orbital accompany their music with expansive audio-visuals, and their trademark torch-glasses. Orbital were fixed firm at the top of the bill for the festival in 2009.
Kraftwerk who are widely considered the inventors of Electronic music came in at 6th in the survey. The German band who still tour sporadically have been making music since the 70?s and went on to become a huge influence on the first wave of Detroit house and hip hop producers.
Ranking in at seventh in the survey is trance DJ, producer and artist Paul Oakenfold, famous for his legendary Ibiza sets and remix work for the likes of The Happy Mondays, U2 and Madonna, Paul was the biggest DJ in the world throughout the 90's and continues to play to packed dancefloors throughout the world. Fellow UK DJ and producer, Carl Cox ranks at number 8 in the poll, One of the most influential DJs in dance music history, Carl Cox has had a successful career that's spanned almost 30 years, taking him from acid house veteran to the champion of techno.
Also featuring in the top ten is Norman cook aka Fatboy Slim. Credited with originating the 'Big beat' sound, Cook received a prestigious Ivor Novello Award for 'Outstanding Contribution to British music' placing him amongst some of the greatest British music acts of all time.
Pioneers of the big beat electronic dance genre, The Chemical Brothers, complete the top 10. The world's favourite psychedelic acid-beat duo have always combined moments of egotistic indulgence and mind-numbing formula with visionary brilliance. This duo were one of the first electronic acts to move from clubs to arena.
June 23, 2010 · Posted in
Uncategorized
·
Comments Off

on Explore the KORG Summer Mystery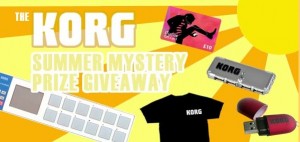 Korg has announced its Twitter Summer Mystery Contest.
Korg is offering you the chance to win mystery gifts from Korg throughout June and July.
All you have to do to be in with a chance of winning is follow Korg on Twitter, and when you see the tweet that says "win mystery prize", follow the link and fill in a few details.
Details are available at the Korg site.
Pricing and Availability
June 1, 2010 · Posted in
Uncategorized
·
Comments Off

on Name that song…
…and win among other things, the Himalaya: Antiquity is a suite of premium 'retro'-style presets for DCAM: Synth Squad. The scope of Antiquity's chunky, vintage sounds is breathtaking, and its musical character will keep you playing for hours.
Fat, lush OB-style brass sounds and classic analogue leads and basses
Deep, evolving pads, shimmering bells, funky arps, powerful keyboard and polysynth sounds
Startlingly realistic selection of electric piano and keyboard sounds
Raw Cypher presets and Fusor versions containing FX treatments and additional modulation
To celebrate the release of DCAM: Synth Squad v1.03 and the Himalaya: Antiquity preset pack, we're running a competition with some fantastic prizes on offer!
To enter, first you need to watch the Synth Squad Recreations video, which contains rather cheeky versions of some classic synth-based songs produced entirely with DCAM: Synth Squad and Himalaya: Antiquity preset pack. All you have to do is name all 8 songs in the video!
The prizes up for grabs are as follows:

2 x First Prize: Win copies of DCAM: Synth Squad, Himalaya: Antiquity, BFD Eco and GURU
3 x Runners Up: Win copies of DCAM: Synth Squad and Himalaya: Antiquity

The rules are pretty simple:

you may enter the competition only once
you must have an FXpansion user account (free to set up!) and be logged in
the competition starts from May 31st 2010 and ends on July 1st 2010
no purchase is necessary
winners will be drawn at random from all correct entries
August 17, 2009 · Posted in
Electronic Music
·
Comments Off

on New fat competition with Nine Volt Audio
New products are viewable at

http://www.ninevoltaudio.com
Win Nine Volt Audio Titles!

We've teamed up with our UK-based distributor Time+Space to put together two contests to win multiple Nine Volt Audio titles.

Click HERE for more info and to enter.
MusicRadar has made a lsiting of the 100 greatest drum beats of all time and even if I did not have the time to go through all 10 pages of them I am dissapointed to see that only one decent entry placed itself amon the top 20. On place 16 one will find New Order's Blue Monday, shame on you. Perhaps one should do one of its own showing the true power of electronic drum beats

"With a little help from drumming legends Chad Smith, Peter Erskine, Joey Jordison and Thomas Lang, our friends at Rhythm magazine have nodded approvingly along to every drum beat in existence to bring us the top 100.
From 1930's Gene Krupa to Pharrell Williams via John Bonham's old-school skin bashing to an Oberheim DMX drum machine – no stone, however heavy, has been left unturned…"
Got funk? Got bass? For a chance to win astonishing prizes, enter the Propellerhead 2008 Bassline Battle. Fire up Reason and put together the funkiest, illest, baddest bassline and drum beat combination possible.
The Bassline Battle is just about that – creating the grooviest, dirtiest and downright funkiest 8 bars of bass and drums possible. If your creation makes it through the public and grand jury rating, you may be the lucky winner of an outstanding Grand Prize from Focusrite, KRK and Novation.
The Grand Prize consists of:
Focusrite Saffire Pro 40
Brand new FireWire audio interface featuring 8 of Focusrite's legendary mic pre-amps.
Novation Remote 25SL Compact
Advanced MIDI controller featuring a 25 key keyboard, a huge LCD display as well as loads of knobs, faders, buttons and pads that will effortlessly hook up to your Reason rack using Novation's automap feature.
KRK Rokit 5 G2 (x2) and KRK S10
The Rokit series of monitors have long been a favorite in project studios all over the world, and with the self-powered G2 version offered here, you'll get instant great sounding monitoring for your Reason rack. Add to that the KRK S10 sub-woofer and you have a fantastic full-range system that will let your hear your productions in great detail.
The Bassline Battle opens today, October 15th, and you have until November 24th to submit your bassline masterpieces. Learn all the details about the contest, the Grand Prize and follow-up prizes by going to the Bassline Battle page.