A quick tour of all the modular stuff you will find in the realms of Doepfer
Nice and bleepy with loads of modules and flashing lights
Background video description:
Yesterday was E-day, always inspiring, you met people who are also involved in E-music which genarate new ideas.
This one pops up, just a combinated single 8 step and 4 step row off the Doepfer Dark Time. The 4 step row controls the Moog LP bass and the 8 step the Waldorf micro Q and at 2:36 the Roland Juno 106.
Additional sounds/solo's came from the Korg DS 8/Lamda, Realistic Concertmate MG-1 and the Kawai K1r.
Used delay's for the Moog two from the Yamaha E1005 and the Ibanez DM1000, for Waldorf the Alesis Midiverb (3 triplets) and the Ibanez DM1000.
For the Juno I use the Electrix. Mo-fx.
Halfway there are some variations in tone / octave settings (Berlin School style).
I hope your enjoy, and feel free to leave a comment/question
Use a good audio device to listen to it.
greetings Hans
"Skoulaman"
Background video description:
Hello ! My name is Frederic Gerchambeau. I have made this movie and this music. The music has been made using a Doepfer analog modular system. Enjoy !
I am a (proud !) member of the french association PWM (Patch Work Music) :
http://patch-work-music.blogspot.com/
Doepfer A-111 Oscillator's frequency is FMed from audio out of Roland TR-808. A second A-111 is acting as Modulator for first A-111/Carrier. Both Carrier and Modulator signals are enveloped and triggered from AC Trig Out of TR-808. On stereo out, there's the handy EHX Cathedral Reverse Reverb.
Feedback connected Metasonix R-54 is controlled by MakeNoise Renè sequencer; there's a short spoken phrase played by Phonogene and scrambled/mangled with Echophon. Two Doepfer A-111 Oscillators are used as Kick & Snare thru the wild Furio Rupeni's tube Amp/Distortion unit.
A closer look at the output and offset options on the Doepfer A167 Comparator.This is Part Two of Two. Includes Oscillocope views of waveforms using the Dave Jones Design O'Tool. Sound and Video by Raul Pena.
The first test of the Magic Ceramic Theremin lamp. It is developed as a peculiar piece for the opening of the Exibition of several ceramists in Gallery Artibrak. from november until 28th of December 2011.
A theremin is normally stepless, but in this case an A-156 is used as a quantizer..
Small explanation for those who are not familiar:
In this magic piece of ceramic two antenna's are integrated. One antenna for the volume and one for the pitch. The instrument does not have to be touched. The volume can be controlled by your left hand (when approaching it the volume increases), the pitch can be controlled by your right hand (when approaching it, the pitch of the sound goes up). By approaching the antenna's you are influencing the potential difference. Just like the antenna of your transistor radio which functions well or not when approaching it.
The Magic Ceramic is based on the original Theremin invented by Léon Theremin in 1919. That electronic instrument is stepless variable and very expressive. It sounds like an opera voice or violin.
This ceramic version of the instrument has a much more variety than it's original. You can make the sound stepless or let it be quantized, so that you hear a real tonescale/musical scale. The sinus-tone of the Magic Ceramic is quantized (chopped in pieces), and in the way it is presented now only the Minor notes are heard. (like the black keys on a piano) In this way the steps between the notes are bigger and easier to distinguish. Other possibilities are just Major notes or the complete tonescale, quantized or not. There is also a small sampler added, so when you reach the highest note a spoken voice can be heard.
more info here:
http://www.creativegallery.nl/index.php?option=com_content&view=article&a…
A quick comparison between Doepfer Dark Energy Mk I (CEM-based, just lopass w. lin fm) and Mk II (state variable filter, discrete circuit, etc.). Both machines under the same CV/Gate control from Dark Time step sequencer (courtesy of a bunch of multiples…). Mk I is panned more on Left audio channel; Mk II is more on Right audio channel. When they plays together, its a real GAS!!!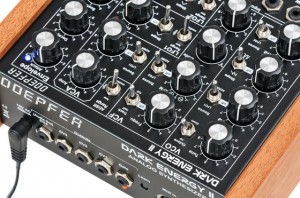 Doepfer has announced availability of its new Dark Energy II, a redesigned version of the monophonic analogue synthesizer with USB/MIDI interface and CV connectivity.
So why the need to redesign something so successful so soon? Simple. Needs must. And who better to explain this than company CEO Dieter Doepfer himself: "As the Dark Energy had to be discontinued, because an important electronic component (CEM3394) is no longer available, we decided to do a redesign. The new Dark Energy II looks like the Dark Energy at first glance, but the basic sound of the Dark Energy II is clearly different because of the new circuits for the VCO, VCF, and VCA."
Given the absence of that rich-sounding, analogue 'synthesizer-voice-on-a-chip' (CEM3394) from Curtis Electromusic Specialities successor OnChip, how does the Dark Energy II sound? Still rich, still analogue — with 20 to 30 minutes tuning time needed for the VCO's temperature-controlled pure analogue circuitry, but different… mainly because of the completely different filter type.
Notable differences in specification between the two — together with a number of functional additions to the Dark Energy II — are as follows: firstly, the Dark Energy II features a sawtooth-based VCO core (compared to the Dark Energy's triangle-based one), which, as implied, outputs a sawtooth waveform, with a waveform Shape switch for selecting sawtooth, off, or clipped/inverted sawtooth; meanwhile, that all-important, sounding-defining VCF is centred around a 12dB multimode filter with lowpass, notch, highpass, and bandpass, together with an all-new filter Mode control for continuous transition from lowpass via notch and highpass around to bandpass (as opposed the 24dB lowpass variety with linear frequency modulation (LFM) control found on the Dark Energy); the VCF's exponential frequency modulation (XFM) control also has a polarization function, whereby the modulation source (LFO2 or ADSR) selected by the Source switch can affect the filter frequency with a positive or negative behaviour (by rotating rightwards or leftwards, respectively); finally, the VCA has an exponential scale (unlike the Dark Energy's combined linear/exponential scale).
Benefitting those with a modicum of electronics know-how, the Dark Energy II offers much more internal expansion possibilities than its 'Mk I' predecessor courtesy of pin header terminals for the following functions: rectangle and sawtooth VCO outputs, linear FM input for VCO, hard sync input for VCO, lowpass/bandpass/highpass VCF output, rectangle and triangle outputs for each LFO, and optional reset/direction features for each LFO — all conspiring to make this already flexible synthesizer even more flexible!
The upshot of those differences is that sounds created on a Dark Energy II of course cannot be replicated on a Dark Energy (and vise versa) — though there is nothing to stop the two distinctive synthesizers from being daisy-chained together to produce an even wider palette of sounds. Indeed, several units can be polyphonically or monophonically cascaded (via internal MIDI out/MIDI in connections) to create an 'über-synth' of sorts!
Dark Energy II is available to purchase online within Germany directly from Doepfer for 428 EUR incl. VAT, or from an authorised dealer. An optional Glide control option is also available for self-installation for 10 EUR incl. VAT.
Mutable Instruments latest analog DIY synth Anushri. Tweaking the digital drum sounds with a Doepfer Pocket Control sending Midi CC.