And here's an accompanying cryptic message

You never tell me
That you love me
When you're sober
You never hold me
When the weakend is over
Second demo of the Akai Synth Station focusing on Hip Hop / Electro / Dubstep Mash-up
"More MPC features for your iPhone or iPad! I will walk you through making a beat that combines features of Hip Hop, Electro and DubStep."
SynthStation transforms iPad, iPhone or iPod touch into a portable music production studio for mobile music creation. SynthStation gives you three powerful synthesizers for creating and modifying sonic textures used for melodies, chords, and bass lines. Built around Akai Professional's history in synthesis and drawing on the newest MINIAK synth, SynthStation sounds great and offers wide-ranging sonic flexibility with its virtual analog synthesis.
From the moment you start SynthStation, you'll know your way around. It is jam-packed with tools to help you create music with the convenience of your touch screen and each section works the way you work. With SynthStation, you can create and save sequences and complete songs. The app contains three different three-oscillator synths and a range of drum kits you can sequence and mix right in the SynthStation. For creating melodic and accompaniment parts, the SynthStation contains an arpeggiator with preset patterns, built-in effects and filters, and an XY touch control interface for expressive control of key parameters.
Three virtual-analog synthesizers, each with three oscillators
Over 50 drum kits
Create melodic and accompaniment parts using the sequencer and arpeggiator
Effects engine with Chorus, Delay, Flanger and Delay
Assignable XY MOD with touch XY pad control to set motion
Compatible with SynthStation25 hardware
Unlimited creativity with effects and real-time controls
LinPlug – well known for outstanding software synthesizers like Albino, MorpOx and Octopus – have released their 1st FX plug in: relectro
If you're looking for a new kind of beat/sound mangler you really should check out the manual or the description on their site. It sounds completely different than one would imagine. If you like hardcore, noise, glitch, power electronics, idm… this is a neat tool too kick the crap outa your ol' drum loops!
There's a demo (Mac and Windows): http://www.linplug.com/Instruments/relectro/relectro.htm
Loads of "scary" monsters in this video

Love Magick
We being so romantically tragic
We'll conjure the darkest love magic
We being so romantically tragic
We'll conjure the darkest love magic
Leave it to us to be so deeply romantic
Leaders of the dark, masters of the darkest
Leave it to us to be so deeply romantic
Leaders of the dark, masters of the darkest
Now I'm losing myself in this deviltry
Looking for answers in chaos and quantum logic
Being so romantically tragic
This is the darkest love magic
This is the darkest, the darkest love magic
Masters of the darkest, deepest passions
Playing out our roles and writing our own captions
Being so romantically tragic
This is the darkest love magic
This is the darkest, the darkest love magic
Lo-love, love-love, love magic
Lo-love, love-love, is so tragic!
Lo-love, love-love, love magic
Lo-love, love-love, is so tragic!
Now I'm losing myself in this deviltry
Looking for answers in chaos and quantum logic
Being so romantically tragic
This is the darkest love magic
This is the darkest, the darkest love magic
DOWNLOAD THE MP3: http://tinyurl.com/love-magick
Mini-documentary about Rhythm Droid. Directed and produced by Devin Curry of Grand Atrium. Explore what makes Rhythm Droid tick as he works in the studio and offers some of his perspectives on electronic music production.
Photography by: www.chroniquesautomatiques.com
Fusing Detroit techno sentimentalism with electro synths and funk basslines Rhythm Droid manages to pump out 1 hour plus live house, electro, and tech-funk sets without any laptop or prerecorded material. Having released on Rennie Foster's Dirty Works label along with remixing French duo Housse De Racket, he also has forthcoming releases on London's Eye Industries (Siriusmo, Russ Chimes, Alan Braxe, The Twelves).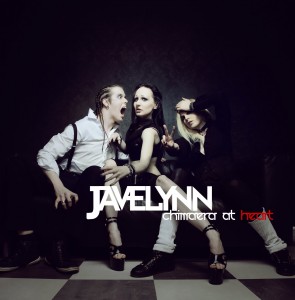 The former Ashbury Heights singer Yasmin "Yaz" Uhlin has together with Johan Andersson and the former livekeyboardisten Elle (who is now a regular member of the band) formed Javelynn.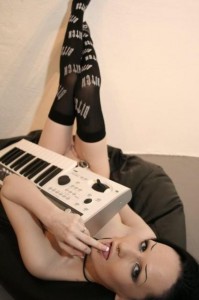 Javelynn are signed to the German Out Of Line label, where they later this fall will be releasing their debut album "Chimaera At Heart". Over ten tracks the trio delivers a cocktail of girl power, pop, disco, new wave, punk and electro clash – all rooted in the electronic realm. Yasmin "Yaz" Uhlin participated in the Ashbury Heights first two releases – the debut album "Three Cheers For The Newlydeads from 2007 and EP'n" Morningstar in a Black Car "which was released the following year.
Besides the first single release "Beat You" Javelynn has also participated with the song "Wannabe" (which is taken from the forthcoming album), the seventh volume of the record label Out Of Line's collection series "Awake the Machines," which was released earlier this year.
"Chimaera At Heart" is released October 28 via Out Of Line.
Tracklist
Wannabe
Die Young
Morphine
Infinity
La Fin Absolue Du Monde
Oh Dear
This Song Is Not About You
Skip A Heartbeat
Beat You
Crisis
…and here is the complete line up: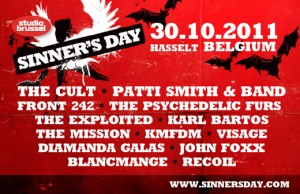 On Sunday 30 October 2011 Hasselt (BE) will host the best of new wave, EBM, electro, synthpop, post punk, darkwave and industrial. For this 3rd edition the festival will work with 2 stages in the main hall of the Ethias Arena so that visitors no longer need to choose between 2 different halls.
Here's a round-up of the bands playing:
FRONT 242 (BE) – Undeniable the biggest electronic band that Belgium ever was able to export before, during and after (and not thanks to) the New Beat era. Signed nowadays with the Belgian electro label Alfa Matrix they are set for a few more surprises in the next months. The influential Belgian band will celebrate its 30th birthday at Sinner's Day. Happy birthday guys!
THE CULT (UK) – The band became cult itself by melting Led Zeppelin's hard rock with The Doors' mystique and The Cure's dark new wave. If there's one The Cult song that you all know, it's the anthem and million seller "She Sells Sanctuary" which was recorded for the band's second album "Love" (1985). This will be a unique opportunity to see the band live.
THE PSYCHEDELIC FURS (UK) – The Psychedelic Furs were top of the bill in the Club during Sinner's Day 2010. It was their first concert in Belgium since 25 years. They are back now for the main stage bringing a mix between punk and pop.
THE EXPLOITED (UK) – Punk and New Wave, the pair has gone together for years. Since 1980 The Exploited has been the image 'par excellence' of the punk movement with "Punk's Not Dead" being their first legendary album. 11 guitar players, 10 bass players and 8 drummers, we'll see singer Wattie Buchan showing that the band has still enough guts after 31 odd years.
JOHN FOXX AND THE MATHS (UK) – John Foxx was the original singer of Ultravox and was the very first British artist to actually make a complete synthesizer album. Foxx was also the guy who penned "Underpass". Enough said? Well, he also was responsible of Gareth Jones joining up with Mute records.
RECOIL (UK) – Recoil is the project of Alan Wilder, the former musical director, sound sculptor, producer, magician (…) of Depeche Mode. Wilder was also one of the first musicians to work with samples. Live he creates a universe of sounds which you hoped you'd have heard before. Expect the necessary Depeche Mode hints during the live show. This is one of the last shows Recoil will probably bring for a very long time, so make sure to be there.
BLANCMANGE (UK) – Contemporaries of Depeche Mode, Soft Cell, The The and more (they were all featured on the Some Bizarre CD compilation with rare to find tracks or versions), Blancmange brings catchy synthpop presented by their first big worldhit "Living On The Ceiling". In the rest of Europe they scored massively with the brilliant track "Don't Tell Me".
DIAMANDA GALAS (USA) – We thought we had missed our last chance to see her live at work, but behold, there's always Sinner's Day to make us happy. The American diva with Greek roots has an amazing voice, period. Her 3,5 octaves cut through you like a knife. From vocal terror to endearing blues and back. We couldn't have described it better. For the connaisseurs, she also sang vocals on various Recoil tracks. A must see if you are more an eclectic music fan.
KMFDM (GER) – Teutonic sounds will come from KMFDM, better know as Kein Mehrheid Fuer Die Mitleid (or as 'Kill Mother Fucking Depeche Mode'). The band was founded by Sascha Konietzko in 1984. Konietzko literally lives and breathes industrial.
THE MISSION (UK) – Here's another Side-Line favorite (really Wayne!). The band singlehanded helped give gothic a face (Andrew Elderitch being too numb) and got massive MTV airtime with "Deliverance" or yet the beautiful "Butterfly on a wheel". On Sinner's Day they will celebrates their 25th anniversary. The gig will be the only concert in Belgium this year.
KARL BARTOS (GER) – Kraftwerk is half dead, long live Karl Bartos. Expect bleeps and beeps that lay in the line of what he used to do with Kraftwerk. We are very much looking forward to see this Einzelgaenger at work.
VISAGE (UK) – Visage is the brainchild of the remarkable Steve Strange, who not only graced the tabloids for the brilliant tunes he crafted but also for his very chaotic life style. His major hit "Fade To Grey" is still being played worldwide. Let's see what he can deliver us live in 2011.
PATTI SMITH (USA) – This American lady is labeled as 'the ultimate queen of new wave'. Debby Harry was better looking so is said – well tastes differ – but Smith surely was more vigorous. Her most famous songs are "Gloria", "Because The Night", "Dancing Barefoot" and "People Have The Power".
Doors open at 12AM, and the first show will start at 1PM. The last band will end at around 1AM, followed by after party. Tickets are only 58 euro in presale, so head for www.sinnersday.com to get hold of yours!
"Der Kalte Krieg" is the name of Welle:Erdball new album featuring covers of songs during the Cold War era. We wanted to know more of what has happened with the band since the DVD Zeitsturm was released and really understand what this Homo Futura project is all about. Honey and Freuline Plastique took some time to chat with us and transmit the latest buzz from the Funkhausstudio.
Why did you start Homo Futura and what is it that you can do there that you cannot do in Welle:Erdball?
In the begining it was "Das Präparat" that started as an official Welle:Erdball side project. However, when we split up there were still some shows to do, so we did them anyway with a different set up (F.Nstein & Plastique). This worked out really fine and was a lot of fun. So we decided to keep going and it was really fun to create a new band, new image, new stage show etc.
Official video of "homo~futura – Links-Rechts"
The Zeitmaschine played an important role in the DVD you released last year. Do you see yourself as time travellers when it comes to your music and the band image?
We're traveling through time constantly – just take a look at your watch! Apart from that, music is definately a good way to travel through time with your mind.
You once said (some 10 years ago) that Welle:Erdball had a long way to go before reaching the goal of Welle:Erdball – The goal was to sound like Welle:Erdball. Have you reached that goal now and how is it shown in your music and visuals?
I think we are really close with the new album "Der Kalte Krieg". But we haven't really reached our goal yet. It might sound hard to believe, but since the start of Welle: Erdball, all the concepts and partly the names of the broadcasts and songs were already set. And we still have to accomplish a couple of things on this list.
So it won't be over for a long time.
Could we expect a radio show by Welle:Erdball including only Gainsbourg song? We feel that the work of Serge matches the Welle concept very well. We're sure he would approve of you bringing his work to a younger generation.
Probably not. We're not a "cover band" although we appreciate Gainsbourg's work a lot.
But actually the upcoming release "Der Kalte Krieg" will contain only cover versions of favorite songs from different artists about the cold war and others.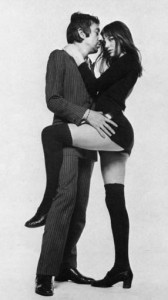 Serge Gainsbourg was a French singer-songwriter, actor and director. Gainsbourg's extremely varied musical style and individuality make him difficult to categorize. His legacy has been firmly established, and he is often regarded as one of the world's most influential popular musicians.
You have a lot of political and social ambitions with your songs, ranging from the criticism of gaming consoles to the man-machine integration. What areas are your main concerns today and why, and would you agree on the theories of a technological Singularity that has been put forward by e.g Kurzweil?
It is hard to comment on this. Since the opinion of Welle: Erdball not always is the personal opinion. I find it important that you first have an opinion at all and that there is a message in the music and in the lyrics. Not: "Come on, let's have a party tonight!"

. And we see it as our duty to have a social commitment but we are no judges, who tell the audience what to think.It is only important that you form your own opinion or that there is a chance to do so."
What is it that you like about the 50′s sound?
Well we're using 50s asthetics since the beginning and we're all big fans of this aera. The sound of the 50s and the subculture behind it was one of the first "punk" movements in music history.
Probably the most charming way of going against the mainstream.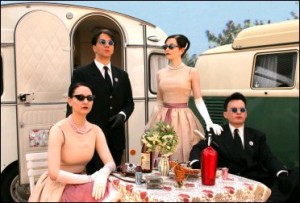 You describe yourself as hard working, keeping you self busy 28 hours a day. Is that just the German spirit and work morale showing or do you have an artistic fire burning inside?
I don't know if it is the German mentality, maybe a little…But under any circumstances is it the Welle: Erdball-mentality.
Read the full interview here >>
After last year's international breakthrough, with the already classic YouTube video for the song "Pong", which to date has close to 3 million views, the German electro/EBM band Eisenfunk is now ready to present their fourth album "Penta Funk ", the sequel to last year's" 8-bit ". Electro-industrial-Eisenfunk trio, consisting of Michael Mayer, Arthur Stauder and Toni Schulz picked up by record label Danse Macabre in 2009, which released the band's second album "Schmerzfrequenz".
The debut in 2007 through the self-titled album "Eisenfunk", released by the record company Biohazzard Records, who also made the releases, including Inline.Sex.Terror and British V2A.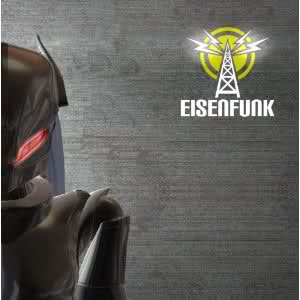 Track list:
Introludiom
Pentafunk
Pestilenz
Prehistorical
Neandertal
Traditional
Taiko
Jericho
Vampire Hunt
Eiszeit
Funk´n Base
Uncle Sam Needs You
Camperglück
Jinglefunk
Pentafunk (Pentafuck RMX)
Pentafunk (RMX by Bodyharvest)
"Penta Funk" released September 6 through Danse Macabre Records.
Here is a batch of electronic videos that we have come across recently, enjoy
http://youtu.be/p_XFUMXKeIQ
http://youtu.be/eoOIMoX5TVQ
Leave your thoughts if you like or dislike it