Ghost & Writer – "Man On A Wire"
From the album "Shipwrecks"
Released by Dependent in 2011
Video clip by llamorte
Ghost & Writer – "Shipwrecks"
It feels like an eternity since Jimmyjoe Snark III, at that time still using the moniker of The Weathermen , exploded onto the EBM and New Beat scene with the track "Poison". Singer Frank Spinath, on the other hand, is known for his comparatively more recent projects Seabound and Edge of Dawn, both huge hits in among electro fans. Spinath managed to persuade Jimmyjoe to collaborate, and the result of their efforts is finally here. Together they constitute "Ghost & Writer", whereas they do not really give away, who´s the Ghost and who´s the Writer.
From the promo video clips, it's clear that the duo share a weakness for black-and-white films, whose aesthetic matches up perfectly with the stories of Ghost & Writer. In their own words: "our songs are like short films. Like the characters in a film noir, the protagonists in our songs are often fighting a losing battle because they romanticize too deeply that which they cannot have, and so they collapse. Or they are fleeing from that which they actually desire.
Musically the album is characterized by a certain effortlessness, like old movie theaters or carousels. It resonants with both a playfulness as well as with a deep romantic desire."
Snark and Spinath give conventional songwriting the cold shoulder and turn instead to brazenly modern structures as well as beloved yet nearly forgotten retro-elements, or as they put it: "Mean little stories blown up to cinematic proportions. Stranded and battered electronic memorials of better days. And yet, so fresh it almost hurts."
Seldom has the combination of old and new born such creative fruit as on Ghost & Writer's debut LP "Shipwrecks". Breaking further new ground, the 8-track album also includes 8 re-workings of the songs by other artists — serving as its own remix album. Artists such as File Not Found, Edge Of Dawn, Diskonnekted, Iris and Acretongue have given the tracks their personal touch. In particular, the mix by electroclashers File Not Found looks likely to have good chances in the clubs.
The highly professional recording was mastered by none other than Front 242′s Daniel B., bringing out the fresh, new, and unconventional accents of an album sure to stand out in 2011′s otherwise rather sedentary electro landscape.
More information and order: www.dependent.de
Check out our massive genre based play lists on Spotify:
8-bit/Chip Tune/C64
Electronica, Click & Cuts and Glitch
Berlin School and Ambient electronic music
IDM, Leftfield and Breakcore
Electro Funk and Skweee
Minimal Techno
Several days of electronic music per genre!
http://youtu.be/yOoB0YSVuKw
VCMG' second release from 'Ssss'
VCMG release one of 2012′s most anticipated musical collaborations with the album 'Ssss', out on 12 March 2012.
It marks the long awaited reunion of electronic pioneers Vince Clarke (Erasure/ Yazoo/ Depeche Mode) and Martin L. Gore (Depeche Mode)
Ssss Tracklisting:
Lowly
Zaat
Spock
Windup Robot
Bendy Bass
Single Blip
Skip This Track
Aftermaths
Recycle
Flux
New modular video from KlirrFaktor – check it out
Maybe my last modular patch (and track) in 2011 trying out my new Electro-Harmonix "Metal-Muff" with my modular system.
So I got something like "ElectroPunk".
I hpe you enjoy the sound!
Starring:
Beatz: MFB Schlagzwerg + ART Pro Channel
Percussion + Noise: DIY "Zapp", MakeNoise Wiard Wogglebug + Doepfer A-117 + Metasonix R-52
Guitar Sounds: WMD Gamma WaveSource & Bubblesound VCOb + Electro-Harmonix "Metal-Muff" & Ibanez SM7 Smash Box
Drones/Pads: Livewire Dalek Modulator + Doepfer A-106 Xtreme Filter + FOW "The Sound Of Shadows". Doepfer Dark Energy + T.C. D-Two
Lead: MakeNoise René + The Harvestmann Hertz Donut + WMD Geiger Counter + MOTM E580 Resampling Mini Delay
Bass: Din Sync OSC303 + Malekko Wiard Borg Filter, Pittsburgh Generator + 4ms Noise Swash
When a young Benoit Heitz saw a friend's computer running Reason he had an epiphany: "His computer isn't better than my parent's computer. That means I could be making music." He started out not knowing the first thing about drums or music in general. Three years later he was touring the world as an international DJ. Surkin had us over to check out his wild yet danceable cut-up sample work.
Benoit Heitz (born 1985), known by his stage name Surkin, is a French electro DJ and producer. He gained attention with his releases on the French Institubes music label as well as a remix for Teki Latex released on Virgin. In 2011 he launched the record label Marble along with Para One and Bobmo.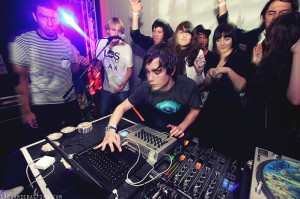 Heitz was born in southern France, and is now located in Paris.
Music video by Goldfrapp performing Yellow Halo. (P) 2011 The copyright in this audiovisual recording is owned by Mute Records Ltd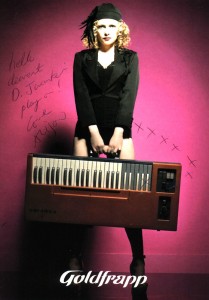 This is a video demo of the Electro Bass MIDI loop pack by Audiovapor.
250 original, exclusive 16-step MIDI loops for electro, techno and house available for instant download for only $9.
In this video I use energyXT as my host sequencer but because these are MIDI loops they will work in all major DAWs (FL Studio, Logic, Sonar, Live, Reason, Cubase, etc.) My synthesizer in this demo is DUNE from Synapse Audio but any synth will work.
To download this MIDI pack go to my website: http://www.audiovapor.com/midi-sequences.html
Wide variety of keys and scales
All loops are exclusive to this product
Works in all DAWs that can import MIDI
Instant download after payment received
No filler! Each file has been carefully programmed by hand
Royalty-free to use in your own commercial or private compositions
Details: MONOTRIBE sync'd to and filtering TENORI ON! Using the panning controls, I have sent a click track to the "sync in" of the MonoTribe, and "chiptune" style blips are sent to the "audio in", and filtered in strange and interesting ways! Note the irregular beat structures used on both machines creating interlocking polyrhythms
"Moment of Fade", the second video from Miss FD's most recent studio album "Love Never Dies", continues the artist's journey through a world of riddles without solutions.
This lush gothic tale was filmed by Adam Alvarez (who also directed the video for FD's playful Halloween treat "Love Magick") on various locations in Miami, Florida. The contrasting images of light and darkness capture the emotional heart of both the song and the album, as FD roams a lonely domain in search of the key to a happier reality that remains out of reach.
DOWNLOAD THE MP3: http://tinyurl.com/moment-of-fade
(c) Quantum Release Records 2011
Artist: Miss FD
www.MissFD.com
Directed by Adam Alvarez
www.adamalvarez.info
Production Assistants:
Jason Bowman
Matt Johnson
From the album Love Never Dies.
Lyrics posted on www.MissFD.com/lyrics.php