Scape One has released an new album called A Mind of Time with groovy electro beats available on Sound Cloud and Bandcamp.
Legendary Canadian pioneering new wave/synthpop band Rational Youth will be releasing a series of new remix EPs on their original own 'YUL' label. Rational Youth existed from 1981-1986, reunited for a synth-pop festival in Sweden in 1997 and were officially revived by founding member Tracy Howe in 1998. The first MCD is "Dancing on the Berlin Wall" which will be released on August 1st. The title comes from their 1982 album "Cold war night life" of which "Dancing…" was one of the stand-out tracks.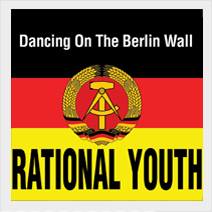 This EP features brand new recordings of the classic song (never before issued as a single), sung in English and in German, in 'Pure' and 'Euro Dance' versions – whatever that means. Also included is an 80′s style New Wave extended dance mix. Added to that you'll get the original version to round out the 6 track package.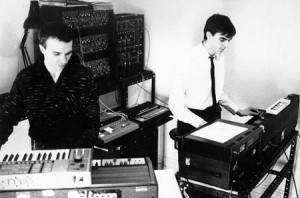 The EP was produced by Tracy Howe and Bill Vorn, the original 1981 duo and mixed & mastered by Montreal producer, Jean Pierre Isaac.
Tracks:
Dancing on the Berlin Wall [Pure Extended Mix] 6:58
Dancing on the Berlin Wall [Jeep Euro Remix] 4:00
Dancing on the Berlin Wall [Pure Edit] 3:43
Wir tanzen auf der Berliner Mauer [Jeep German Euro Remix] 4:00
Wir tanzen auf der Berliner Mauer [Pure German Edit] 3:43
Dancing on the Berlin Wall [1982 Original Mix] 4:35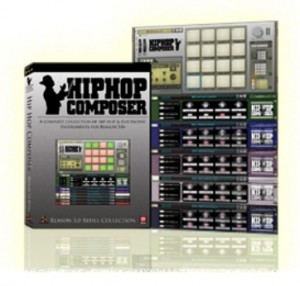 Goodness Gracious Productions and Quicktrackz Entertainment is a new team based out of the US delivering their first Reason Refill focusing on Hip Hop and electronic music artists, check it out
Here's what they have to say about it:
Goodness Gracious Productions and Quicktrackz Entertainment announce the release of Hip Hop Composer v1.0 – The Refill Collection.  Containing an arsenal of custom created new sounds for any Propellerhead Reason 5 User, the unmatched quality and sonic presence in this Refill sets this sound library in a class of its own.  Select recordings picked from over 5000+ hours of studio sessions with some of the hottest names in the business along with the high quality multi-sampling of select instruments have led to the creation of this unique sound library.  Perfectly
matched for today's modern Hip Hop, Electronic and Dance producers Hip Hop Composer is its own virtual workstation of sounds.
* Two Reason 5 Refills – A total of 3.7GB
* Complete with Drums, Leads, Basses, Keys, Pads, Strings, Brass, Bells and Arpeggio Instruments.
* Featuring over 1,000 playable instruments patches in Kong, Combinator, NNXT, Malstrom, Subtractor, Thor and Redrum formats.
* Over 700 One-Shot Drum and Percussion samples.
Right out of the box Hip Hop Composer instruments have been layered and crafted for a thicker radio ready feel over other sound libraries that may need a lot of mixing of tweaking for a sound to fit into your production.  If you're looking to step-up your tracks and are in need some of the hottest sounds, less hassle and an all-in-one sound library solution for Reason 5, then Hip Hop Composer is for you! Look out for it at your favorite Music Retailer or visit www.HipHopComposer.com to order, download or for more information.
* Audio Demo's available at: www.HipHopComposer.com
* Price:  $199.99 MSRP
* Available Now at www.HipHopComposer.com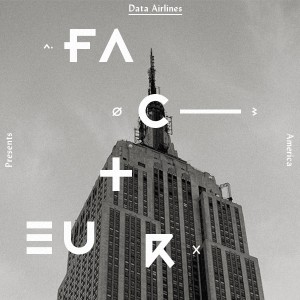 Facteur, – a Marseilles-based electronic music producer who has been with Data Airlines since almost the beginning, has been touring and collaborating with Dubmood a lot over the years and has recently been very active with rock group Nasser, dubbed a French Soulwax- is back with a new opus.
A calmer and more minimalistic approach to the facteur-music we are used to, he takes us on a voyage through hinterland America in an orgies in simple rhythms and analogue synth-porn and Dubmood joins in on the two last tracks with a fitting Commodore 64 on Jacksonville and a complete Atari ST remix of Palm Desert wich flirts with late 80s cracktro music. Cover-art by Erik Jonsson at Elapse.se.
This clip is electric dub track that uses four analog oscillators. Roland SBX-80 is used for master of this system.
【使用機材・Machines】
Roland : SBX-80 (シンクボックス Syncbox)
Roland : TR-707 (ドラムマシン Drummachine)
Roland : TR-606×2 (ドラムマシン Drummachine)
Roland : SH-101 (アナログモノシンセ Monosynth)
RolandDG : CMU-810 (アナログモノシンセ Monosynth)
FUTURERETRO : REVOLUTION (アナログモノシンセ Monosynth)
YAMAHA : ED-10 (アナログ音源ドラムパッド AnalogDrumPad)
audio-technica : AT-DS30 (サンプラー&サイレンマシン sampler n' sirenmachine)
CASIO : SK-1 (カシオトーン casiotone)
Pioneer : CDJ-1000 (CDJ)
TechnoSaurus : Cyclodon(アナログシーケンサー analogsequencer)
There's a really good interview with AUX 88 over at Swedish Radio, and yes, it's in English. Sadly the questions are bearly audible. The AUX 88 guys sais in the end in a surprised manor "good questions!"
The web page is in Swedish but just click on the link beside the picture. This page will probably be changes within some days so act fast.
Also checkout the demo AUX 88 made at NAMM 2008 when Reason 4 was released.

Check out the new single from Dabehavior called Silent dawn.
Daybehavior – Silent Dawn (Single Edit) by Stereoklang Produktion
Silent Dawn, taken from our forthcoming third album Follow that Car! which will be released later this summer.
Silent Dawn is a suggestive, dreamy pop song, slow but yet with a catchy chorus. It's representative for our specific sound.
Read more about the band here: www.daybehavior.com
Stereoklang also has an interview with the band that you can find right here >>

In this video:
New single from electronic/ambient act Bears in Nippon – Okinawa
Featuring vocoders, Moog synths, ARP, Jupiter8, Reason DAW, AKai and samplers.
Movie: Produced by BiN. We pay tribute to all these great animators who have contributed with material
Taken from the forthcoming album – Sapporo Love
Tribute to the terrible things that happened in Japan
ARTIST: BEARS in NIPPON
Song: Fukushima, 2011-05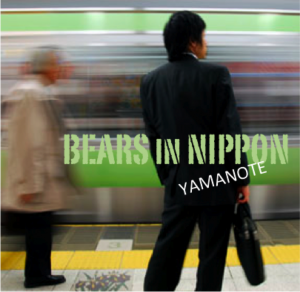 BEARS in NIPPON – Yamanote by Stereoklang Produktion
Second single we have received from this ambient electro act, enjoy