This video has a little bit of everything… lol It features a quick look behind the scenes at the Moog Factory in Asheville, NC. We have a little history of the Theremin, and a peek of one being made in the factory… all the while PRIMUS jamming in the Moog Sound Lab. There is even a rare little jam with Les Claypool on electric drums and Jay Lane playing "Who's got the funk" on Les's acoustic bass! As I said… this video has everything!

The great folks at Moog Music were AMAZING! Asheville was AMAZING! Primus was AMAZING! Les Claypool is ALWAYS AMAZING (he even took a minute to pose for a picture goo.gl/pSisp )!
Thanks everyone… What an overall AMAZING time!

"Pictures of Sound: One Thousand Years of Educed Audio: 980-1980″ is a book/CD set produced by Patrick Feaster
http://www.dust-digital.com/feaster/
This video is derived from a slideshow that was presented by Patrick Feaster at the 2011 ARSC Conference: http://www.arsc-audio.org/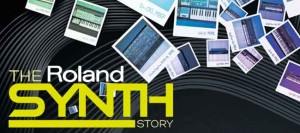 Roland has come a long way since its inception in 1972. Its synths, drum machines and effects have been used on some of the most famous records ever and have helped artists push sonic boundaries, creating new sounds and even radical new musical genres.  Taking part over three dates in November, the Roland Synth Story tour will explore this rich history through a roster of artists and experts. Roland says that it's an exciting opportunity for visitors to learn more about the company's synths, speak to three musical icons and even get their hands on some classic Roland vintage gear.
The panel of experts, including Richard Barbieri (Porcupine Tree and Japan), Graham Massey (808 State) and Jody Wisternoff (Way Out West) will all talk about their experiences creating electronic music as well as discussing their favourite Roland synths. They'll also be on hand to answer questions and chat to visitors after the event. All three guests are intrinsically linked to the history of the synthesizer. Richard Barbieri's first ever synth was the Roland System 700, and he's never looked back. His band, Japan, notched up numerous hits in the '80s and they became a cornerstone of the influential synth-pop movement.
Graham Massey infamously named his band '808 State' after the famous Roland TR-808 drum machine, which – along with the TB-303 – was an essential component to the way the band produced their music.
Jody Wisternoff uses a stable of Roland synths, including the Juno-106 and the legendary Jupiter-8, to make progressive house and breaks as one half of Way Out West. Their music didn't just hit the charts, it also found its way into TV shows and video games.
Guests will also have the chance to get their hands on some rare and ultra-covetable Roland gear, including the following: Jupiter-8, Juno-60, Jupiter-6, Jupiter-4, Juno-106, JX-8P, D-50, JD-800, JV-1080, JP-8000 and XV-5080.
Dates and Venues
26 Nov. – The Roland Music Academy, Walsall College, Walsall
28 Nov. – The Roland Music Academy, Ealing, Hammersmith & West London College
29 Nov. – Huddersfield University, Huddersfield
Pricing and Availability:
Free but spaces are limited and demand is high (two tickets per person)
More information:
Additional videos for this title: http://j.mp/SZauJ3
The Foundation Of Synthesis 104: Control Voltage by The Bob Moog Foundation
Video 1 of 22 for The Foundation Of Synthesis 104: Control Voltage
Marc Dotylead educator for The Bob Moog Foundationis back with a series of tutorials in this course on Voltage Control.
But what is Voltage Control and how do you use it in the world of hardware synths? Well, here's the story: In the early days of sound synthesis, if you wanted your sounds to change or evolve in any way whatsoever, you had to do it manually. Need the pitch to go up? Grab the the oscillator knob and turn it! Want the volume to change? Again, grab the volume knob! What about sequencing a series of notes? Well, before voltage control, you had to record every pitch onto magnetic tape and cut them all together in the order and rhythm that you wanted. It was hard work to create electronic music way back when!
Voltage control forever changed all that! And in this course Marc Doty shows how different hardware synth designers harness the power of VCs to transform and supercharge electronic music composition. Taken one step further you'll see how Voltage Control was the mother of MIDI… and we all know how powerful MIDI is!
Bob Moog was an early pioneer and inventor of voltage-controlled analog synthesizers. He revolutionized the music industry and his ideas, inventions and musical instruments have dominated the sound of music for more than 30 years. Aside from being an innovator, Dr. Bob was an outspoken advocate of education. The Bob Moog Foundation, created by his daughter, Michelle Moog-Kousa, continues his legacy with Dr. Bob's SoundSchool, the preservation of his inventions and the development of the Moogseumthe only museum of its kind dedicated to the advancement of sonic education. We hope you will help support the BMF's efforts by watching these courses with the knowledge that a large portion of the proceeds go to support their awesome efforts!
So sit back, hit the play button, and proceed on your journey into the Foundation of Synthesis with Marc Doty, and the Bob Moog Foundation. Be sure to watch all 6 of the BMF's courses on filters, modulation, oscillators, sound design and more!
More info on this title: http://j.mp/SZauJ3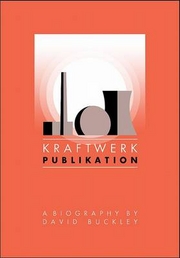 Omnibus Press presents a new and major biography of the first-ever all-electronic pop group, Kraftwerk, one of the most influential bands in popular music history. David Buckley examines the cult enigma that is Kraftwerk! The inner workings of this most secretive of bands are revealed through interviews with friends and close associates. The story of their incredible impact on modern music is traced up to the present day using interviews with a host of musicians, from original electro pioneers such as Gary Numan and the Human League to contemporary acts still in awe of the original Man Machines.
3.5 'Tomorrow Belongs To Those Who Can Hear It Coming'

It wasn't just young would-be musicians who were listening either. The old guard were listening too. In 1975, modern music's most important icon, David Bowie, was listening hard to Kraftwerk. Receiving an endorsement from Bowie, at the time the most innovative and critically lauded rock star on the planet, was a big deal. It's hard now to imagine how influential David Bowie was in the seventies and early eighties. Far and away the most sought after interviewee by the UK music press, his every move was scrutinised, his every word picked over by an adoring audience.

Not that 1975 was personally a good year for Bowie. Commercially, he had never been more popular. 'Fame', an unlikely collaboration with John Lennon, became his first US number one, and a re-released 'Space Oddity' from 1969 would top the UK charts later that autumn. But physically and emotionally, Bowie was a man of shellac, ready to shatter into pieces, addicted to cocaine and obsessed with the occult. However, amongst the nonsequiturs and ridiculous assertions in his interviews, Bowie was, once again, picking up on a massive shift within modern music. He felt that rock, as a statement, was over. His music of the time, dubbed by its creator 'plastic soul', was his first attempt to break free from rock cliché. His second attempt, more fully realised, and much more artistically successful, would be just around the corner. 'Rock 'n' roll certainly hasn't fulfilled its original promise,' he told Anthony O'Grady in August of that year. 'The original aim of rock 'n' roll when it first came out was to establish an alternative media speak voice for people who had neither the power nor advantage to infiltrate any other media or carry any weight, and cornily enough, people really needed rock 'n' roll. And what we said was that we were only using rock 'n' roll to express our vehement arguments against the conditions we find ourselves in, and we promise that we will do something to change the world from how it was. We will use rock 'n' roll as a springboard.' Bowie continues: 'But it's just become one more whirling deity, right? Going round that never-decreasing circle. And rock 'n' roll is dead … It's a toothless old woman. It's really embarrassing.'
This 3-minute preview is the perfect bite-sized length to de-evolve the uninitiated. Produced in cooperation with DEVO, this authorized feature-length documentary has been in development for 3 years. Although the band has been notoriously secretive for nearly 4 decades, they granted us unprecedented full-access to their personal inner-workings and daily lives while on the road, backstage, and at home. Featuring new interviews with contemporaries (Iggy Pop), and fans (Dave Grohl, Tony Hawk), the official film reveals the truth about this important and misunderstood band. From their mysterious origins during the 1970 Kent State shootings to their latest album and tours, this film tells the funny and fascinating story of de-evolution.
Produced in cooperation with DEVO, this feature-length documentary has been in development for 3 years. Although the band has been notoriously secretive for nearly 4 decades, they have granted us unprecedented full-access to their personal inner-workings and daily lives while on the road, backstage, and at home. The film is now in post-production, and we need your help to meet our September 2012 goal for Sundance and other festivals.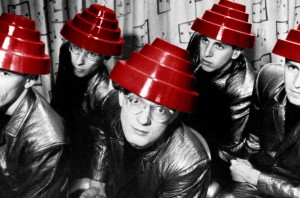 The ARE WE NOT MEN? film delves into the brains — and the souls — behind the concept, music, and spectacle of Devo. Sculpting its music, lyrics and visuals are two men whose personalities seem different but whose worldviews are the same: introspective Mark Mothersbaugh and outspoken Gerald Casale. It is Mark and Jerry's cataclysmic, sometimes contentious, collaboration that birthed what we know as Devo. Rounding out the group are two more members whose position cements the group as a literal band of brothers — Bob Mothersbaugh and Bob Casale. Yes, behind the curtain of this art-school façade are two fascinating and sometimes fractious families, led by Akron, Ohio's twisted version of Lennon & McCartney — with all the genius and precariousness that would imply. It is the stories of these men — together and apart — that drive the engine that is ARE WE NOT MEN?
This is your chance to be a part of the definitive Devo documentary:
 • WHY KICKSTARTER? We're in the process of making the film, but need your help to complete it. That's why we're reaching out to all DEVO fans to lend a hand. In return for your support, we've created some really cool rewards that we think reflects your help in breathing life into this film.
 • STATUS - 95% shot and currently editing. Estimated release date Spring 2013. Help us get this film edited, mixed, and to the festivals!
More info here about the film and how you can contribute >>
Here's Wired's own words about the I Dream of Wires documentary:
I Dream of Wires, an upcoming documentary about modular synthesizers, celebrates analog hardware in all its wild, messy glory. More than 100 prominent musicians, including Trent Reznor, cEvin Key, Gary Numan, Carl Craig and Morton Subotnick are in the process of being interviewed for the ambitious feature-length film, which is set to be finished in the fall.

Colorful masses of patch cables, rows of knobs and faders, and electronic sounds abound in the exclusive clip above, shot this month at the legendary MUTEK Festival in Montreal. In addition to interviews with several musicians, including Keith Fullerton Whitman, Container and Clark, the 15-minute clip shows intriguing glimpses of the synths in action, in a massive multimedia dome housing 157 speakers called the Satosphere.

The "dedicated and obsessive subculture" of modular synth fanatics across the world formed the inspiration for I Dream of Wires, said director Robert Fantinatto in an email exchange with Wired. "Years ago, I made a small documentary film about the urban-exploration subculture called Echoes of Forgotten Places…. I felt that this whole world of modular synths could make an interesting little film."

The project soon grew massively in size and ambition. Fantinatto joined forces with Jason Amm, better known as the electronic musician Solvent. With Amm as producer of the film, Fantinatto was able to reach a large number of well-known musicians.

"The trip to see Trent Reznor was probably the most nerve-wracking," said Fantinatto. "He lives way up on the top of a mountain in Beverly Hills and it [was] quite intimidating leading up to the interview, but Trent was supercool and had us all at ease very quickly."

But the most jaw-dropping array of modular synth gear that Fantinatto and Amm uncovered didn't belong to Reznor or any of the other stars they profiled. The best collection, hands down, belonged to a clinical psychologist in Los Angeles.

"He had the most extensive collection of gear I've ever seen," said Fantinatto. "A huge studio with every modular synth ever made, literally every single one ever!"

Fantinatto said he met many modular synth collectors who have "devoted a significant chunk of their lives [to] buying, building and collecting these machines that sometimes take over their homes and their lives."

"The mystery behind what motivates this irrational obsession is at the heart of the film," Fantinatto said. "In the end, it is a longing for something authentic — something that has been lost in a virtualized world."
Created in 1963, Tod Dockstader's Water Music appears on Starkland's first CD (Quatermass ST-201). Sound sources include: water, toy gong-rattles, finger bells, sheet metal, test generators, water glasses, Coke bottle, metal garbage can, a nail.
Wired Magazine has started a new series on their online website called "Legends of Electronic Music", well worth checking out, here's how they describe it:
Wired's new series Legends of Electronic Music explores the history of electronic music through in-depth interviews with some of the field's pioneers. The series kicks off with a rare interview with trailblazing American electronic composer Tod Dockstader.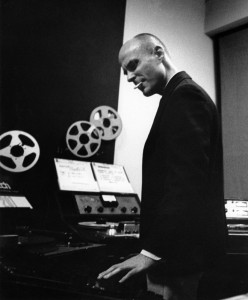 In the 1940s, before magnetic tape was widely available in the United States, electronic music pioneer Tod Dockstader made low-fi recordings on steel wire.
"I loved the idea of the wire singing," Dockstader said in a recent interview with Wired. As a high school student in the '40s, he used the end of a lit cigarette to make splices in the thin wire, in a painstaking and risky process.
"You had to tie the wire, which was very fine, in a perfect square knot," he explained. He would hold the wire up to his nose, with the cigarette perched in his mouth. A single wrong move and the edit could be destroyed.
"I became very adept at editing," he said. "I really liked editing; I understood it. To me, it was really basic stuff. You could make decisions — take things out, put things in. I liked that you were building something."
Born in 1932, Dockstader was part of the first wave of electronic musicians, who, before the advent of synthesizers in the early 1960s, worked with whatever hardware they could find: reel-to-reel tape machines, sine wave generators and a wild array of homemade circuits and military surplus gear. In the process, they created a universe of electronic music that still sounds unique and prescient today.
The wire recorder Dockstader used to create electronic music was a piece of used military equipment. "A lot of this [electronic music] happened because, after the war, a lot of the stuff was available," Dockstader said. "Normally a person, a civilian … wouldn't be able to get that tube, this device or that device. That fascinated me."
In the late 1950s, Dockstader worked as a sound engineer at Gotham Recording Studios in New York. At night, he worked on his own music, which eventually led to a series of impressive albums of electronic music, including Apocalypse (1961), Quatermass (1963) and Omniphony (1966).
"I was always working at night — deep night," Dockstader said. "And I'd be very careful. If they found me in a studio — just me — I would have lost my job."
The remarkable story of pioneering BBC Radiophonic Workshop music composer Delia Derbyshire. Starring Sophie Thompson.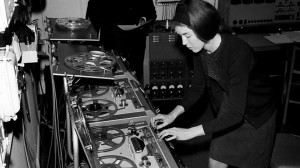 In the 1960s, Delia Derbyshire was one of the pioneering electronic musicians of the iconic BBC Radiophonic Workshop. She's best known for her absolutely exquisite 1963 electronic version of Ron Grainer's Doctor Who theme, which you can hear at left. Her masterful musical experimentation continued with electronic scores for the Royal Shakespeare Company, the films Work Is A Four-Letter Word, The Legend of Hell House, and, just before her 2001 death, a project with Spacemen 3′s Peter "Sonic Boom" Kember. BBC Radio 4 produced a dramatization of her life story, starring Sophie Thompson, with music by another Radiophonic Workshop veteran, Elizabeth Parker.
From "Doctor Who – The Beginning Collection (1963)" Disc 1
The original full-length theme music, with original 1963 title sequence visual elements.
Composed by Ron Grainer, realized by Delia Derbyshire of the BBC Radiophonic Workshop.