in OGAKI LIGHT HOUSE
After Make: Ogaki Meeting
www.iamas.ac.jp/ogakilighthouse/
Craftwife + Kaseo
www.craftwife.com/kaseo
Traveling in the Japanese high-speed train Shinkansen from Shinosaka to Tokyo.
The video sequence was shot by OLYMPUS EP-1(PEN).
Music: VanShe "So High"
Nice video by daihei shibata
"a girl in Tokyo play the iPhone/iPodtouch APP(Digital Bass Line DB-303).the security guard in the station building was angry after this…."
I nearly forgot some friday fun:

It's a small teaser from DVD "Big in Japan: Live in Tokyo 2010". European release will be out on 26th of November.
After having recorded one studioalbum, 2 Live-DVDs and albums with Lisa Gerrard, Klaus Schulze decided to go back 'pure Schulze' again. He and his crew flew to Tokyo to play his very first solo concert since 2003. The concerts in Tokyo in March 2010 were played on Klaus' legendary equipment re-built by the Japanese crew exactly the same way as you can see it at his European concerts.
The concert itself was also the first time that Schulze rebuilt and remodeled his classic "Crystal Lake" (originally 1977 on "Mirage"), renamed here as "The Crystal Returns". Yo can also see/hear Schulze play electric guitar on the track "Sequencers are beautiful".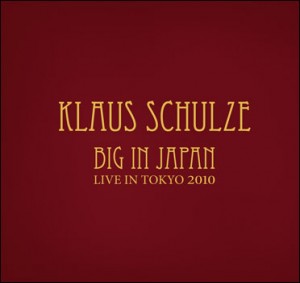 New Korg video directly from the heart of Japan
Dynamic Phrase Synthesizer / loop recorder KAOSSILATOR PRO to showcase the whole picture, movie popular series is back!
Have a high potential KAOSSILATOR PRO. Still pursuing the possibility that the Secret! Second.
Keen on exclusive video games then here's a treat for you. Slightly off topic, but I am inclined to believe there are good retro tunes on them as well, if you have the money that is

Some Japanese videogame collectors won't settle for perfect copies of titles they played in their youth. For a handful of devotees, it's all about getting their hands on the rarest retrogames in the world, some of which were manufactured in batches of just a few hundred.
In Tokyo's Akihabara electronics district, a retrogame's relative scarcity drives pricing. "When only a handful of games are made, they can charge what they want for it". Such retrogames used to be spread all over Akihabara, but these days the rarest ones have funneled into three specialty stores: Mandarake, Trader and Super Potato.
Here are the 10 most expensive game cartridges in all of Akihabara, photographed in the three retrogame superstores. If you bought them all, it would cost you roughly $15,250.
Via WN
Try for yourself to see what is going on

Human Boot Project is a Japanese underground music unit, described as "a genre-breaker, fusing Jazz with Rock and Drum and Bass".
Their music video for Xan is a time-lapse video that captures the production of the track in Apple Logic Pro.
Really cool I must say!
Live performance of dual electronic unit Zn'shñ (Franck Smith & Elvire Bastendorff) @ Flying Teapot, Tokyo, Japan. (Recorded September 9th, 2010)
Zn'shñ's electronic setup:
– Biscuit (by Oto Machines)
– 2x Sleepdrone 5 (by King Capitol)
– Glamour Box (by King Capitol)
– Kaossilator Pro (by Korg)
– Restyler (by Sherman/Rodec)
– Space Echo (Boss RE-20)
http://www.odiolorgnette.com
http://znshn.blogspot.com
Discographic works by Zn'shñ:
* Zn'shñ, "Butoh sweets" (July 2010)
* Zn'shñ, "II" (September 2009)
* Zn'shñ, "++" (April 2009)
Operating as a dual noise-manufacturing unit, specialized in electronics, Zn'shñ is designed for soundtrack production, live performances and audiovisual works. Created by Elvire Bastendorff & Franck Smith.
………………………………….
Zn'shñ, "Franck Smith", "Elvire Bastendorff", double electronic music, Sleepdrone, Odiolorgnette, Glamour Box, Kaossilator Pro, Korg, Sherman, Rodec, Restyler, Biscuit, Oto Machines, 8-bit, Analog Filters, king capitol, space echo, noise manufacturing"
"'Pleasure Construct' by Nullsleep, performed September 4 at Koenji High as part of the Blip Festival Tokyo concert event.
Nullsleep is the alias of Jeremiah Johnson, an electronic musician whose style could best be described as post-cyberpunk: a combination of distorted synthpop, electro, and industrial produced with repurposed low-bit electronics. His approach embraces the politics of appropriation, leveraged limitations, destructive process and data corruption. The result is a wall of digital noise driven by a heavy beat, expanding and collapsing in a series of glitches and drones emanating from cheap plastic devices. In 1999 Nullsleep cofounded 8bitpeoples, a collective of artists interested in the audio-visual aesthetics of early home computers and video game consoles. He has since released a number of recordings through 8bitpeoples, Astralwerks, Aniplex and others. Based in New York City, Nullsleep has performed over 150 shows throughout North America, Europe and Asia, including successful world tours in 2006 and 2009.
Composers of Independent Games Play Blip Festival Tokyo:
indiegames.com/​blog/​2010/​09/​indie_game_composers_play_blip.html"