The first 1500 copies of the John Foxx and The Maths release "Interplay" will be housed in a special limited edition deluxe digi-pack. This will include the full lyrics, together with a thorough breakdown of all of analogue synthesizer equipment which was used to create the album. This digi-pack will open out into a mathematical sign, and will feature a number of colour images and graphics, all of which have been designed by graphic artist Jonathan Barnbrook (including David Bowie's 2002 album "Heathen" which featured the debut for his 'Priori' typeface).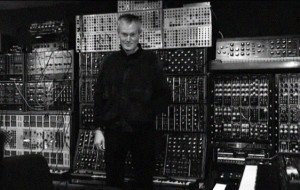 John Foxx and The Maths is the name given to the work written and produced by John Foxx and Benge. Their first collaboration was the digital single "Destination"/"September Town"). These songs were the first taste of the album they recorded at Play Studios in Shoreditch, London. The album would first be released in 2010.
Then here's your chance

Gary Numan and John Foxx have announced a new remix contest – the Back to the Phuture Remix Competition:
To celebrate the upcoming Back to the Phuture Live shows at Manchester Academy April 1st & The Troxy, London April 2nd we bring you the first ever Gary Numan and John Foxx Remix Competition.
Remix Scanner by Gary Numan or Shatterproof by John Foxx & The Math.
Win:
A pair of VIP passes to the London or Manchester show
A signed copy of Gary Numan's "Jagged Edge"
A signed copy of John Foxx & The Maths "Interplay"
Your remix played over the P.A. at both shows
Entries judged by Gary Numan, John Foxx and Mark Jones
To enter:
Visit the competition site on SoundCloud
Download the stems for "Scanner" or "Shatterproof"
Use the stems to create your remix
Upload your remix to the Gary Numan or John Foxx remix group
Deadline for entries – 18/03/11
You can download the stems at the Back to the Phuture page on SoundCloud.
FULL TRACKS:
1. Motor – Death Rave (Skrufff remix)
2. Gary Numan- Scanner (Full Track)
3. Recoil – Want (Architect Steppa)
4. John Foxx – Flightpath Tegel
5. John Foxx and The Maths – Shatterproof (Medicine Edit)
JOHN FOXX & THE MATHS STEMS:
1. John Foxx and The Maths – Shatterproof (Medicine Edit)
2. John Foxx and The Maths – Shatterproof – ARP odyssey bass
3. John Foxx and The Maths – Shatterproof – Drums
4. John Foxx and The Maths – Shatterproof – Moog modular
5. John Foxx and The Maths – Shatterproof – Synths
6. John Foxx and The Maths – Shatterproof
GARY NUMAN STEMS:
1. Gary Numan- Scanner (Full Track)
2. Gary Numan- Scanner – Bitcrush
3. Gary Numan- Scanner – FlexiPad2
4. Gary Numan- Scanner – FlexiPad
5. Gary Numan- Scanner – Chorus Vocal
6. Gary Numan- Scanner – Verse Vocal
7. Gary Numan- Scanner – Growl
8. Gary Numan- Scanner – Halo Pad
9. Gary Numan- Scanner – Jerusalem Keys
10. Gary Numan- Scanner – Pads
11. Gary Numan- Scanner – Piano
Friends of Foxx will like this

a 3′ 30 edit of the opening track from the forthcoming album, Interplay – out on March 21
You can pre-order the album now and receive one track, Evergreen, as a download – http://www.townsend-records.co.uk/art…
John Foxx performs with Gary Numan and Motor at the Troxy London on 2 April.
www.johnfoxxandthemaths.com
Here's a video coming from Future Music featuring John Foxx with loads of gear, so time for synth spotting I guess
Be sure to watch through the beginning for the gear tour. Tons of synth spotting. He gives a good comparison of the ARP Odyssey and Minimoog. The Yamaha CS1X gets a mention too! It's fun digital PCM synth not to be confused with the AN1X virtual analog. Icy strings.
French composer, performer and music producer Jean Michel Jarre was in London recently where he was presented with "The MOJO Lifetime Achievement Award" by non other than John Foxx. Jean Michel Jarre: "What happened was an absolute surprise for me. Such a brilliant audience was attending the event, Jimmy Page, members of Depeche mode, Radiohead, Sigur Ros, Devo, Florence and the Machine, Anthony and the Johnsons, Blur, Stone Roses, Jarvis Cocker, Roger Daltrey, Emilou Harris, Mark Almond from Softcell either receiving or giving an award. At the end of the ceremony, John Foxx from Ultravox presented the award to me. I have been so moved by what Phil Alexander, the chief editor of Mojo magazine and John said about my music and my concerts. How new, different and influential it has been until now. What an honor coming from such brilliant artists and in London!"
Jean Michel Jarre received the MOJO Lifetime Achievement award, presented by  John Foxx.
After the award, Jarre had a special message for his fans:
Dear Friends,
First of all, I would like to pay tribute to all my fans around the world who are supporting my work constantly.
It has been one of the most encouraging elements of my life, and particularly this past year, for all the reasons you know.
The feedback, I receive from you all, night after night, in each city I am playing at the moment, is just great and gives me the energy to go on.
I want you to know that I share this Mojo Award with you all, around the world, because in a sense I feel that you deserve it also…
Love,
Jean Michel Jarre
The MOJO awards is an English music awards ceremony, started in 2004 by MOJO magazine.
Out now is "D.N.A", a new double disc set (CD & DVD) which features unique collaborations between John Foxx and some of his favourite film-makers, with all of the short movies on the DVD being made especially for this project. The CD features the music from some of the films, plus tracks that Foxx had recorded as 'possibilities' for soundtracks.
The final track on the disc, "Over the Mirage" is a new collaboration between John Foxx, Harold Budd and Ruben Garcia, while both parts ("2″ & "7") of "A Secret Life" and "Violet Bloom" were recorded with Steve D'Agostino.
Ex-Japan percussionist Steve Jansen also features on the "A Secret Life" instrumentals. The artwork for the project has been designed by Jonathan Barnbook, who has previously worked with Damien Hirst and David Bowie.
Gary Numan discusses John Foxx's music, in particular the impact that early Ultravox! had on his own work. The interview was filmed at Benge's studio in Shoreditch where Foxx is currently recording a new album. Gary is really one cool guy!

John Foxx will perform a unique analogue synthesizer show to mark his 30th anniversary as a solo artist. He and a one-off group of special guests will assemble on stage for the first time with the machines used on his 1980 debut solo album, Metamatic – the Moogs, ARPs and drum machines that created the sound of the future – to perform material from Metamatic and a selection of early Ultravox music. Also former Ultravox guitarist Robin Simon has been confirmed as special guest to perform on a selection of material including songs from the band's pioneering 1978 album, Systems of Romance.
The set will also include brand new material created in collaboration with Paul Daley from Leftfield, along with new songs by John Foxx & The Maths – an all-analogue synthesizer project with London-based artist Benge.
Equipment list:
Synthesizers and Sequencers:
ARP Odyssey x 2
ARP Sequencers x 2
Crumar Multiman
EDP Wasp
Korg MonoPoly
Korg 700
Logan String Machine
Moog Mini x 2
Moog Modular plus Sequencers
Moog Opus 3
Roland Modular System 100m x 10 Modules
Roland SH2
Roland SH-101
Roland Juno 60
Sequential Circuits Multitrack
Drum machines:
Amdek Percussion Synthesiser
Boss Dr Rhythm
Linn Drum
Klone Drum
Roland CR78
Roland TR808
John Foxx Underpass – Mark Reeder's Dark Long & Sinister Remix.
http://www.youtube.com/watch?v=h3-oPzE0jic&feature=player_embedded
John Foxx is playing a one-off analogue synthesizer show at the Roundhouse London on 5 June. Guests include Dubterror and Gary Numan/Ade Fenton DJ set.
via SHOCKELECTRIK
Buy Tickets http://www.roundhouse.org.uk/whats-on/productions/john-foxx-4616.
To order Album go http://www.townsend-records.co.uk/product.php?pType=1&pId=6768416
Listen samples go http://www.myspace.com/foxxmetamatic
Mark Reeder site http://www.myspace.com/markreedermfsflesh
From the album Metatronic, a 30 year celebration of John Foxx's Metamatic. John Foxx's Classic Underpass gets a bit of a sinister beef up by fellow pedestrian Mark Reeder.