This is an overview of the Electrix Tweaker mapping for Traktor's Remix Decks. NI just released Traktor Pro 2.6.2 which enables the remix decks to be mapped to any MIDI controller. The mapping is available at http://www.electrixpro.com/downloads
The Remix Deck mapping was designed to allow the user to directly access Remix Decks C/D. The Tweaker's layout assists in more easily controlling the remix decks, with its 32 button grid giving direct access to the 16 sample cells on each deck. The Tweaker's grid section also provides direct access to sample settings like Punch, Monitor, FX, and Keylock functions.
Additionally, the Tweaker?s pads allow the user to Mute sample slots, switch Trigger Type, as well as Play Mode (e.g. Loop or One-Shot). The mapping also allows the user to switch back and forth between Mixer Mode and Deck Mode. In Mixer Mode the knobs and faders act as EQs and Channel Faders. In Deck Mode, the knobs and faders are used to control the pitch, loops, sample pages, and more. This allows users to quickly switch between the mixer functions and deck functions.
The Remix Deck mapping can be used in a variety of situations. Two sample use cases include:
1 x Tweaker (Decks A/B), 1 x Tweaker (Decks C/D)
For users who want to make full use of Traktor?s Track Decks and Remix Decks, a two-Tweaker setup is the perfect fit. Performers can utilize the Tweaker?s native Track Deck mapping for Decks A/B and the newly released Remix Deck mapping for Decks C/D. Utilizing two Tweakers in this setup allows the user to perform entirely in Traktor?s internal mixing mode and thus take full advantage of Traktor?s FX, looping, and sampling features.
1 x MIDI Controller (Decks A/B), 1 x Tweaker (Remix Decks B/C)
For users looking for additional MIDI control over the remix decks, the Tweaker is the perfect addition to an existing digital DJ setup.Plug the Tweaker into an extra USB port and load the Remix Deck mapping. This effectively allows the user to continue using Decks A/B as usual, while expanding the user's ability to remix on the fly by adding samples via the Decks C/D (Remix Decks).
These two videos, by Rishabh Rajan, takes a look at remixing in Ableton Live.
An overview of my Ableton Complextro remix session for the song 'Fries in Cream' by Froya.
Check out the remix here: http://www.youtube.com/watch?v=4RW8_p…
Check out the original tune by Froya here: http://froyamusic.com
This is my remix of the tune 'Fries in Cream' by Froya. Hope you like it! Download the mp3 from here: https://soundcloud.com/froya/fries-cream
BitWiz Audio Synth / Gestrument / Audiobus / Anytune Pro+ – Music Practice Perfected. / Genome MIDI Sequencer / DrumsLive — touch and MIDI multisample drums / DrumJam / ThumbJam / LiveFX • DJ Effects Kit / Brian Molko – Placebo – Battle for the Sun
Moby shared his remix of iamamiwhoami's y.
Here's what Moby has to say about it:
i first heard iamamiwhoami at a restaurant in london a few years ago. after hearing them i emailed my manager, eric, and asked 'have you heard of this band iamamiwhoami?' and he wrote back, 'yes, we manage them'.
when they asked me to do a remix for them i happily said 'yes', as i'm a fan of theirs. and when i heard the song they wanted me to remix i realized that i didn't want to deconstruct it and change it, but rather just add melodic and structural elements to it, to enhance what they'd already done.
Enjoy
Remix of Gary Numans Down in the park by Stephen Donohue using only Synth magics ZOM ZOM Polymoog emulation for Kontakt.
ZOM ZOM available at www.synthmagic.co.uk
http://www.beatport.com/release/metro…
Metroland is a synth-pop band from Belgium making music, heavily inspired by bands like Kraftwerk, Komputer, OMD, Orbital, Marsheaux and many others. Their 2012 debut album "Mind The Gap" (GAP001) was hailed worldwide due to its original vintage electronic sound, mixed with up tempo sequences and paced bass sounds. Metroland came in touch with OMD singer Andy McCluskey in April 2012 when he fell in love with the Düsseldorfer influences from Metroland. The chance a band like OMD making a song about Metroland, coincidentally the name of the Belgian band, simply had to result in a mix-treatment by Metroland in their very particular style. Yet, with very much respect for the original OMD version.
This Metroland video, which is an unofficial OMD video, accompanies the full length version of the remix represents a journey through the typical 19th century English landscape around greater London up until London as we know it today. The viewer can discover numerous historical artefacts linked to the original Metro-land incorporating the OMD artwork for their latest album "English Electric. All of this is gently dipped in a sauce of psychedelic and joyful moving images, mingled with synthetic vintage electronics.
"We both hate those darn f*cked up club mixes where you can barely recognize something of the original. We started all from scratch. So, every sequence and bass line, melody was played a-new (we did not have a MIDI file), and we searched for new sounds. In the end, it became a more orchestral mix spiced up with the typical bass sounds from METROLAND, along with our famous layered sequences."
Metroland information
https://www.facebook.com/metrolandmusic
www.metrolandmusic.com
Background video description:
Skrillex was the most requested artist so your wish is my command. Bangarang was a challenging song with respect to timing and now I have a new respect for Dubstep. For all the haters out there the audio in this video is 100% in sync with the original song. If you don't believe me then test it out for yourself.
Vocals were performed with the DECTalk Express. The same speech synthesizer used by Stephen Hawking back in the eighties. The main vocals are the Betty and Rita presets overlapped. Kit and Dan vocal presets were also used.
Back in 2009 I used an 8 inch floppy drive in my Bohemian Rhapsody video but this time I wanted to update it with Sammy1am's Arduino version. I find 3.5 inch floppy drives only sound good when playing short duraton notes with a fast tempo.
DECTalk – vocals
HP Scanjet 3C – lead
Yamaha CX-5 computer – guitar
Floppy and CDROM – lead bass solo
Modified Toy Laser Guns
Robot Bass, Snare and Cymbal
All That's Mine (10 LB Mix)
Original material © 2013 Depeche Mode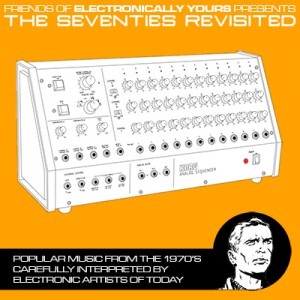 Right before Christmas a new and extremely rare electronic music album has hit the shelves.
It is a secret group on Facebook called Electronically Yours that has released an album featuring classic 70′s songs and remixed to fit an electronic audience of the 21st century. And it is not an anonymous bunch of musicians on this album – among the secret members you will find Joakim Montelius (Covenant) under his alter ego Tectonic Knights, Eddie Bengtsson with PAGE, Diskodiktator, computer and Steelberry Clones, to name but a few. To provide you with the right feeling of the album we give you Joakim's post on the official Covenant Facebook page below, and if you are in Sweden on December 15th you can see Electronically Yours live on stage at ElectriXmas
Message from Joakim from Covenant:
So. X-mas is saved. See, I'm a member of a secret society called Electronically Yours. We are a bunch of (mostly) Swedish geeks and electronic music aficionados. Some are famous, some are merely notorious. A few of us are both. A while back the Chairman of this obscure virtual tribe had an idea. A whim, actually, but through the means of great secrecy, clever masterminding, as well as gullible people willing to accept an unknown, non-negotiable missio

n from which there was no way to back out, the whim has now turned into the fulfilment of a rather daring project.

The idea was to turn a bunch of great '70s hits by artists as diverse as Sweet, Slade, Hot Chocolate, Tom Jones, Curtis Mayfield and Deep Purple into modern, electronic interpretations. The results baffled us all. So we decided to make an album out of it and release it as a non-profit project and all proceeds will be given away to the Swedish charity "Musikhjälpen".

And that's why X-mas is saved: you get a great album (and I do not say that just because I'm on it as my alter ego Tectonic Knights, it really is an amazing collection of songs) PLUS a very large part of the money you pay for it goes to help people in dire need of it. That's what I call a win-win arrangement.

You can hear snippets of the tracks and also a link to the webshop where you can pick up one of the remaining copies of the strictly limited CDs here:
Audio demo from the new album below:
Track listing:
MrDoonut – "If You Want Me To Stay"
Diskodiktator – "You Could've Been A Lady"
alphaKenny-1 – "Silver Machine"
Independent State – "Strange Kind Of Woman"
Counterfeit – "He's Gonna Step On You Again"
Arachnophobias – "16 Tons"
compute – "Goodbye"
DJ Man-Machine – "Do You Wanna Dance"
Den där killen – "Heart Of Gold"
Clark Gable – "Action"
Dvala – "Metal Guru"
Steelberry Clones – "Superfly"
Page – "Coz I Luv You"
Tectonic Knights – "She's A Lady"
Angaudlinn – "If You Want Me To Stay"
Based on Yamaha's innovative sonote technology, sonote beat re:edit lets you create remixes of your beats in next to no time. Extracting characteristic beat slices from an audio loop and swapping them with similar sounds from other audio files, sonote beat re:edit helps you to change the character of your grooves in the most creative and fun way.
More details
www.steinberg.net/sonote
Key features:
xchange the sounds of your beat with sounds of your own music.
Create your own sonote database out of your favorite drum sounds and tracks
Seamless import and export of audio material from and to Cubase
MIDI support to control nearly all parameters via external devices
Out-of-the-box factory library included
Available as download for Windows and Mac OS X Intel