All That's Mine (10 LB Mix)
Original material © 2013 Depeche Mode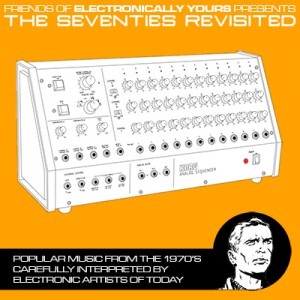 Right before Christmas a new and extremely rare electronic music album has hit the shelves.
It is a secret group on Facebook called Electronically Yours that has released an album featuring classic 70's songs and remixed to fit an electronic audience of the 21st century. And it is not an anonymous bunch of musicians on this album – among the secret members you will find Joakim Montelius (Covenant) under his alter ego Tectonic Knights, Eddie Bengtsson with PAGE, Diskodiktator, computer and Steelberry Clones, to name but a few. To provide you with the right feeling of the album we give you Joakim's post on the official Covenant Facebook page below, and if you are in Sweden on December 15th you can see Electronically Yours live on stage at ElectriXmas
Message from Joakim from Covenant:
So. X-mas is saved. See, I'm a member of a secret society called Electronically Yours. We are a bunch of (mostly) Swedish geeks and electronic music aficionados. Some are famous, some are merely notorious. A few of us are both. A while back the Chairman of this obscure virtual tribe had an idea. A whim, actually, but through the means of great secrecy, clever masterminding, as well as gullible people willing to accept an unknown, non-negotiable missio

n from which there was no way to back out, the whim has now turned into the fulfilment of a rather daring project.

The idea was to turn a bunch of great '70s hits by artists as diverse as Sweet, Slade, Hot Chocolate, Tom Jones, Curtis Mayfield and Deep Purple into modern, electronic interpretations. The results baffled us all. So we decided to make an album out of it and release it as a non-profit project and all proceeds will be given away to the Swedish charity "Musikhjälpen".

And that's why X-mas is saved: you get a great album (and I do not say that just because I'm on it as my alter ego Tectonic Knights, it really is an amazing collection of songs) PLUS a very large part of the money you pay for it goes to help people in dire need of it. That's what I call a win-win arrangement.

You can hear snippets of the tracks and also a link to the webshop where you can pick up one of the remaining copies of the strictly limited CDs here:
Audio demo from the new album below:
Track listing:
MrDoonut – "If You Want Me To Stay"
Diskodiktator – "You Could've Been A Lady"
alphaKenny-1 – "Silver Machine"
Independent State – "Strange Kind Of Woman"
Counterfeit – "He's Gonna Step On You Again"
Arachnophobias – "16 Tons"
compute – "Goodbye"
DJ Man-Machine – "Do You Wanna Dance"
Den där killen – "Heart Of Gold"
Clark Gable – "Action"
Dvala – "Metal Guru"
Steelberry Clones – "Superfly"
Page – "Coz I Luv You"
Tectonic Knights – "She's A Lady"
Angaudlinn – "If You Want Me To Stay"
Based on Yamaha's innovative sonote technology, sonote beat re:edit lets you create remixes of your beats in next to no time. Extracting characteristic beat slices from an audio loop and swapping them with similar sounds from other audio files, sonote beat re:edit helps you to change the character of your grooves in the most creative and fun way.
More details
www.steinberg.net/sonote
Key features:
xchange the sounds of your beat with sounds of your own music.
Create your own sonote database out of your favorite drum sounds and tracks
Seamless import and export of audio material from and to Cubase
MIDI support to control nearly all parameters via external devices
Out-of-the-box factory library included
Available as download for Windows and Mac OS X Intel
Bangarang by Skrillex, remixed on Noisepad. Noisepad, a powerful soundboard, sequencer and live-set DJ app, available for iPad & iPhone. Load your own samples or use the in-app shop, create beats, apply real-time effects, be creative!
Soundbanks: Each bank holds 12 samples Load unlimited samples: Organize, create, (re)name, add and remove soundbanks
Sequencer: The onboard sequencer allows you to program up to 12 patterns on-the-fly, each with their own duration (1 – 99 bars).
Rhythm: Set BPM manually. Tap button for BPM: Set amount of swing (0% 100%)
Import / Export: Export individual patterns (.wav) Share samples/patterns between apps with AudioCopy/Paste
Sample settings: Noisepad offers a number of settings which determine how samples are played. Cut, hold, volume , mute, solo.
Effects panel: Real-time effects such as pitch, delay, cut-off, phase, reverb and bit-crush will bring your noise to life.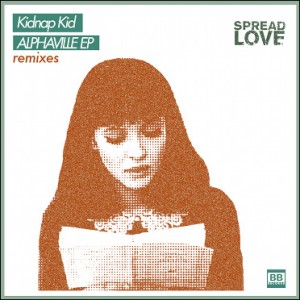 Vince Clarke (Erasure, Yazoo, Depeche Mode, …) has remixed "Lazarus Taxon" for the Sheffield/London based act Kidnap Kid. You can hear the Vince Clarke remix (and download it for free). Released via Black Butter Records Kidnap Kid finds himself alongside the top names in the newly emerging UK 'Future Bass' scene. Kidnap Kid (aka Matt Relton) was originally picked up by Sheffield imprint Squelch and Clap before signing to Black Butter Records.
After touring Europe as a DJ, releasing his debut "Alphaville" EP on Black Butter, and compiling a run of official remixes for Emeli Sande, The Other Tribe, Jonas Rathman and The Milk, Kidnap Kid is now moving forward, pushed by the public support of such acts/artists as Pet Shop Boys and Vince Clarke.
Stockholm-based pop artist El Perro Del Mar's forthcoming album Pale Fire is due on November 12 via Memphis Industries. Ahead of that, Saint Etienne have remixed album cut 'Walk On By'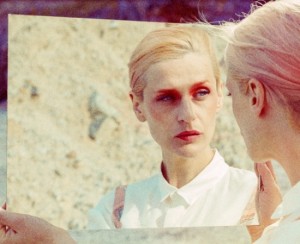 This is not any official remixes but it sure sounds nice. Out now on the download streets is a dubstep remix of the 80s classic "Don't Go" in a remix by Dominatrix aka Andy Motke.
We asked Vince Clarke what he thought of it, here was his answer: "Uber cool!"
It's not the first time that Motke has been remixing electropop acts. He also had a take on Bigod 20 vs Front 242.
Via SL
Background description:
HP Scanjet 3C as the vocals. It lags a bit due to the fast paced vocals. In order for the stepper motor to play a note it has to be moving and with that large carriage it takes a few milli seconds before it can play a note. It doesn't sound like a lot of time but stretch that over a 4 minute song and voila…out of sync. Programming does help to compensate but it is not perfect.
Amiga 600 Bass on left audio output and Guitar on right audio output
Each audio channel was feed into an oscilloscope
2 Harddrives as the drums and cymbal
Xylophone as the Xylophone (duh)
Both the Harddrive and Xylophone are controlled by one PIC16F84A mircocontroller
Mike Tompkins has 'a little fun with a projector and Ableton Live, performing an a capella Skrillex Cinema & Santigold Disparate Youth remix.
DOWNLOAD THIS SONG FOR FREE! – http://miketompkins.bandcamp.com
Vince Clarke and Martin Gore's VCMG project has really hijacked the dancefloors with the album SSSS, plus remixes from the likes of Regis, Byetone and Matthew Jonson – now Mute have just announced a third remixes EP from the album via Twitter. This one's set to feature 'Aftermaths', with a remix by Clarke himself, alongside another veteran name: Warp's mighty LFO. The package is rounded out by a remix by Alva Noto, one half of Diamond Version and co-head of the Raster Noton label alongside Byetone. It's set for release on August 20th through Mute.
That's all we've been told so far – no music for you to listen to yet