Mike Tompkins has 'a little fun with a projector and Ableton Live, performing an a capella Skrillex Cinema & Santigold Disparate Youth remix.
DOWNLOAD THIS SONG FOR FREE! – http://miketompkins.bandcamp.com
Vince Clarke and Martin Gore's VCMG project has really hijacked the dancefloors with the album SSSS, plus remixes from the likes of Regis, Byetone and Matthew Jonson – now Mute have just announced a third remixes EP from the album via Twitter. This one's set to feature 'Aftermaths', with a remix by Clarke himself, alongside another veteran name: Warp's mighty LFO. The package is rounded out by a remix by Alva Noto, one half of Diamond Version and co-head of the Raster Noton label alongside Byetone. It's set for release on August 20th through Mute.
That's all we've been told so far – no music for you to listen to yet
A short film presented by Paper Son that follows a day in the life with the Musaico app.
APP ON SALE NOW UNTIL 7/5!!!
Musaico is an iPad and iPhone App for Recording and Remixing Music. Designed and optimized for the Apple iPad and iPhone, Musaico is a natural interface for the rapid-fire creative process. Record, loop, layer, and remix sounds in real time. Create entire songs from scratch, with just a few swipes and taps.
Universal for iPhone/iPod Touch and iPad: http://itunes.apple.com/us/app/musaico/id488665074?ls=1&mt=8
iPhone/iPod Touch only: http://itunes.apple.com/us/app/musaico-mini/id535387946?mt=8
Native gives a tour of their recently released Remix Set:
Remix Sets are the way to organize your remix content. This tutorial will show you how to get, store and use audio content for your Remix Sets. See how to capture audio on the fly from your DJ set, assign colors on the F1 controller to your samples, and how to export and import a Remix Set.
Demo of the 'Remix pads' coming in version 1.1.0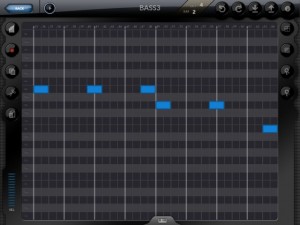 White Noise Software has announced an update to Genome MIDI Sequencer, its software sequencer for the iPad. Here's what's new in Genome MIDI Sequencer 1.1.0:
Fixes for playhead visual positioning issues
'Create' option for Grooves (create a groove template from a pattern, such as recorded MIDI notes).
Remix Pads
File management – Delete, email, Open in… (for opening files in other apps including Dropbox)
Improvements to Zooming – Zooming in and out should work a little better now in general. When zoomed out, the view now smoothly zooms in instead of abruptly zooming
New zoom mode. In additioned to the standard 'fixed' zoom (where X and Y scale is locked together), there's an 'advanced' mode that lets you zoom X and Y are independently zoomable.
OMAC App Fast switch – This allows you to quickly switch between compatible apps (not every app supports this yet) via a menu in Genome. The button for this is on the sequencer page.
Important Change: Genome's virtual port is no longer 'on' by default. You have to enable it via the config menu. The reason for this is that this is a frequent point of confusion for users. Having a virtual port can lead to issues where apps get connected twice (resulting in doubled tempos and other weird cases). It's only necessary for Genome to have a virtual MIDI port when other apps don't have one of their own. Only a few apps _don't_ have virtual ports (such as Animoog), but for the majority of apps you won't need it on.
Bugfixes and stability improvements
Not in 1.1.0 but being worked on:
MIDI Learn (for binding controllers to Patterns and Song steps) – I had wanted to get this in 1.1.0, but there are important bug fixes that need to get out now. This will be one of the first things I implement for the next update.
At the Musikmesse 2012, Pioneer is introducing the RMX-1000 Remix Station, a three-in-one system made up of editing software, a hardware controller and VST and AU plug-ins. The RMX-1000 is designed to deliver the possibilities of studio effects and beatboxes, with the added physicality of pro-DJ equipment. Pioneer's remixbox editing software lets you customize the RMX-1000 hardware to your own performance style and load it up with your own banks of samples. The RMX-1000 VST and AU plug-ins lets you use the Remix Station with your current digital audio workstation software.
The RMX-1000 is expected be available in May 2012 for 699 Euro, including VAT.
Pioneer is setting a new benchmark in pro-DJ equipment, with the awe-inspiring RMX-1000 remix station. Taking a totally new direction to effectors and samplers, the RMX-1000 is a three-in-one system comprising editing software, innovative performance hardware and VST and AU plug-ins.
For more detail visit, http://pioneerdj.com
Features:
Customizable remix station unit

The RMX-1000 can be used with mixers, CDJs and laptops in the booth, or with a PC in the studio for recording and producing.
The control parameters can be completely modified using the remixbox software included.
The hardware offers three ways to access settings. Default activates Pioneer's intuitive factory settings. And User settings can be stored on the unit, or on an SD card to be taken along to the booth – DJs simply plug their SD card in to get immediate access to their personalised controls.
Pioneer plans to make settings from internationally renowned DJs such as Chuckie, Kissy Sell Out, Kutski, James Zabiela, Doorly and Laidback Luke available for DJs to download.
The unit's controls are divided into four categories:
Scene FX

The Scene FX wheel allows DJs to build up and break down tracks by combining ten types of effects.
Use the top section to build up, adding effects like Noise, Echo and Spiral Up and the bottom section to break down, cutting sounds with effects like Crush Echo, Spiral Down and Reverb Down.
Twist the central knob to move from Wet to Dry to add pitch and intensity to the effect that's in play.
Plus, two sub-parameter dials allow DJs to manipulate the Time and Resonance parameters for even more character.

Isolator FX

Inherited from Pioneer's high-end DJM-1000 mixer, the RMX-1000′s isolators allow DJs to change the main audio input's rhythm and timbre using hi-, mid- and low-frequency bands.
Plus, three effects are loaded into the dials for more flexibility: Cut/Add, Trans/Roll and Gate/Drive.

X-Pad – with Pitch control

DJs can instantly get involved with the unit's drum samples by tapping the individual sample buttons (Kick, Snare, Clap and Hi-Hat), or by using the X-Pad to roll (repeat) the samples at different speeds.
DJs can record their own beats and patterns on the fly by switching on Overdub, then use Roll and Mute to manipulate each sample in a variety of impressive combinations.
The Quantize button snaps each tap of the sample pads to the nearest beat, so DJs always sound on time.
DJs can add up to 16 samples across the four sample banks, which they can trigger and manipulate during live performance.
DJs can edit the sample banks through remixbox and even alter them during play.
The RMX-1000′s Pitch knob alters the pitch to add even more character to each repeated beat.

Release FX

The Release FX allows DJs to exit complex effect combinations and return to the original track.
Three modes with three customisable speeds – Spin Back, Echo and Break ­­­– allow DJs to choose exactly how they want to return to normal play.
For even more flexibility, DJs don't have to exit totally from the engaged effect; they can come partially out and go back in by manipulating the highly sensitive Release switch. Or they can cut the original track out completely so just the engaged effects are heard.

Fully customizable with specially designed remixboxsoftware

Designed by Pioneer exclusively for the RMX-1000, the remixbox software allows DJs to prepare sets – while the hardware leaves plenty of room for spontaneity.
And DJs can use the software to modify the unit's features and change its parameters. By hovering their mouse over the remixbox's virtual RMX-1000, DJs can edit features, change parameters or adjust effects on the hardware itself.

First DJ-dedicated controller for Virtual Studio Technology/Audio Units

As the first VST/AU controller dedicated to the DJ industry, the RMX-1000 brings the operability of hardware into the recording studio.
By just plugging the unit into a laptop, DJs and producers can use the RMX-1000′s dedicated controls to manipulate the VST/AU's features.
There's no need to fiddle around with the mouse and keyboard: just hit a button, twist a dial, or turn a knob – the RMX-1000 literally puts every effect right at producers' fingertips.

Other features

High-quality sound design reduces noise for clear and pristine sound.
The Quantize function can be applied at any stage during play or production for real-time music analysis and automatic synchronisation of the beat.
Auto BPM function automatically measures and follows the tempo of the music.
USB-MIDI connection means the RMX-1000 can be used as a MIDI controller.
Compact and sleek design makes the RMX-1000 highly portable – and it looks good as part of any DJ set-up.
Kirby Ferguson has released a new episode of his series, Everything Is A Remix. Our system of law doesn't acknowledge the derivative nature of creativity. Instead, ideas are regarded as property, as unique and original lots with distinct boundaries. But ideas aren't so tidy. They're layered, they're interwoven, they're tangled. And when the system conflicts with the reality… the system starts to fail.
If you've enjoyed this series, please support my next project, This is Not a Conspiracy Theory, on KickStarter.
kickstarter.com/projects/kirby/this-is-not-a-conspiracy-theory
Buy music from this episode here:
everythingisaremix.info/p4_soundtrack/
Music: My God Damn Territory vs. Page
Song: Sexan
Remix by Eddie Bengtsson
Video: Kjahart
Http: // www.mygoddamnterritory.com
John '00' Fleming sits in for a Computer Music Producer Masterclass session. This entire series discusses the process of remixing Jean Michel Jarre's famouse "Oxygene" track. Part one, John discusses how he worked with his partner sharing files due to long distance, how he prefers to design his own pad sounds versus flipping through pre-sets and the benefits there-of.
Follow John 00 Fleming and JOOF Recordings:
http://www.john00fleming.com/
http://www.facebook.com/pages/John-00-Fleming/102660305926?ref=ts
http://twitter.com/John00fleming
http://soundcloud.com/john00fleming