At the Musikmesse 2012, Pioneer is introducing the RMX-1000 Remix Station, a three-in-one system made up of editing software, a hardware controller and VST and AU plug-ins. The RMX-1000 is designed to deliver the possibilities of studio effects and beatboxes, with the added physicality of pro-DJ equipment. Pioneer's remixbox editing software lets you customize the RMX-1000 hardware to your own performance style and load it up with your own banks of samples. The RMX-1000 VST and AU plug-ins lets you use the Remix Station with your current digital audio workstation software.
The RMX-1000 is expected be available in May 2012 for 699 Euro, including VAT.
Pioneer is setting a new benchmark in pro-DJ equipment, with the awe-inspiring RMX-1000 remix station. Taking a totally new direction to effectors and samplers, the RMX-1000 is a three-in-one system comprising editing software, innovative performance hardware and VST and AU plug-ins.
For more detail visit, http://pioneerdj.com
Features:
Customizable remix station unit

The RMX-1000 can be used with mixers, CDJs and laptops in the booth, or with a PC in the studio for recording and producing.
The control parameters can be completely modified using the remixbox software included.
The hardware offers three ways to access settings. Default activates Pioneer's intuitive factory settings. And User settings can be stored on the unit, or on an SD card to be taken along to the booth – DJs simply plug their SD card in to get immediate access to their personalised controls.
Pioneer plans to make settings from internationally renowned DJs such as Chuckie, Kissy Sell Out, Kutski, James Zabiela, Doorly and Laidback Luke available for DJs to download.
The unit's controls are divided into four categories:
Scene FX

The Scene FX wheel allows DJs to build up and break down tracks by combining ten types of effects.
Use the top section to build up, adding effects like Noise, Echo and Spiral Up and the bottom section to break down, cutting sounds with effects like Crush Echo, Spiral Down and Reverb Down.
Twist the central knob to move from Wet to Dry to add pitch and intensity to the effect that's in play.
Plus, two sub-parameter dials allow DJs to manipulate the Time and Resonance parameters for even more character.

Isolator FX

Inherited from Pioneer's high-end DJM-1000 mixer, the RMX-1000′s isolators allow DJs to change the main audio input's rhythm and timbre using hi-, mid- and low-frequency bands.
Plus, three effects are loaded into the dials for more flexibility: Cut/Add, Trans/Roll and Gate/Drive.

X-Pad – with Pitch control

DJs can instantly get involved with the unit's drum samples by tapping the individual sample buttons (Kick, Snare, Clap and Hi-Hat), or by using the X-Pad to roll (repeat) the samples at different speeds.
DJs can record their own beats and patterns on the fly by switching on Overdub, then use Roll and Mute to manipulate each sample in a variety of impressive combinations.
The Quantize button snaps each tap of the sample pads to the nearest beat, so DJs always sound on time.
DJs can add up to 16 samples across the four sample banks, which they can trigger and manipulate during live performance.
DJs can edit the sample banks through remixbox and even alter them during play.
The RMX-1000′s Pitch knob alters the pitch to add even more character to each repeated beat.

Release FX

The Release FX allows DJs to exit complex effect combinations and return to the original track.
Three modes with three customisable speeds – Spin Back, Echo and Break ­­­– allow DJs to choose exactly how they want to return to normal play.
For even more flexibility, DJs don't have to exit totally from the engaged effect; they can come partially out and go back in by manipulating the highly sensitive Release switch. Or they can cut the original track out completely so just the engaged effects are heard.

Fully customizable with specially designed remixboxsoftware

Designed by Pioneer exclusively for the RMX-1000, the remixbox software allows DJs to prepare sets – while the hardware leaves plenty of room for spontaneity.
And DJs can use the software to modify the unit's features and change its parameters. By hovering their mouse over the remixbox's virtual RMX-1000, DJs can edit features, change parameters or adjust effects on the hardware itself.

First DJ-dedicated controller for Virtual Studio Technology/Audio Units

As the first VST/AU controller dedicated to the DJ industry, the RMX-1000 brings the operability of hardware into the recording studio.
By just plugging the unit into a laptop, DJs and producers can use the RMX-1000′s dedicated controls to manipulate the VST/AU's features.
There's no need to fiddle around with the mouse and keyboard: just hit a button, twist a dial, or turn a knob – the RMX-1000 literally puts every effect right at producers' fingertips.

Other features

High-quality sound design reduces noise for clear and pristine sound.
The Quantize function can be applied at any stage during play or production for real-time music analysis and automatic synchronisation of the beat.
Auto BPM function automatically measures and follows the tempo of the music.
USB-MIDI connection means the RMX-1000 can be used as a MIDI controller.
Compact and sleek design makes the RMX-1000 highly portable – and it looks good as part of any DJ set-up.
Kirby Ferguson has released a new episode of his series, Everything Is A Remix. Our system of law doesn't acknowledge the derivative nature of creativity. Instead, ideas are regarded as property, as unique and original lots with distinct boundaries. But ideas aren't so tidy. They're layered, they're interwoven, they're tangled. And when the system conflicts with the reality… the system starts to fail.
If you've enjoyed this series, please support my next project, This is Not a Conspiracy Theory, on KickStarter.
kickstarter.com/projects/kirby/this-is-not-a-conspiracy-theory
Buy music from this episode here:
everythingisaremix.info/p4_soundtrack/
Music: My God Damn Territory vs. Page
Song: Sexan
Remix by Eddie Bengtsson
Video: Kjahart
Http: // www.mygoddamnterritory.com
John '00′ Fleming sits in for a Computer Music Producer Masterclass session. This entire series discusses the process of remixing Jean Michel Jarre's famouse "Oxygene" track. Part one, John discusses how he worked with his partner sharing files due to long distance, how he prefers to design his own pad sounds versus flipping through pre-sets and the benefits there-of.
Follow John 00 Fleming and JOOF Recordings:
http://www.john00fleming.com/
http://www.facebook.com/pages/John-00-Fleming/102660305926?ref=ts
http://twitter.com/John00fleming
http://soundcloud.com/john00fleming
Freebird ( Apoptygma Berzerk 12″ Extended Disco Remix ) by Goteki from their remix EP 'Disco Muerte One', available for free at http://goteki.bandcamp.com.
The track is a cover of the classic rock anthem by Lynryrd Skynyrd.
©2011 Tregenza / Sugarglider Music / Distributed under restricted creative commons. For more info visit goteki.bandcamp.com
Check out this nice remix by none other than Apoptygama Berzerk
Lost in Desire – I Am You (Apoptygma Berzerk Remix)
From the album "Reborn from the Ashes)
Directed by: Joanna Babicka, Bernie Pfeiffer
Photography: Christian Promintzer
Editing: Bernie Pfeiffer
See http://bassling.blogspot.com/search/label/park%20remix%20… for detail on this project to remix parks within Leeton for the centenary of the town.
"Here's the result of my visit to the park that's at the heart of Leeton and the setting for many town events, like the upcoming Light Up Leeton concert for Christmas. I've stuck to the playground here though. "
Daft Punk – Aerodynamic performed by Carlo Castellano
Website: http://carlocastellano.cc
Facebook page: http://facebook.com/carlocastellano.cc
Mirror: http://vimeo.com/15997889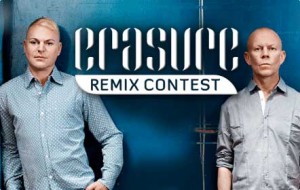 The monthly Beatport remix contests are a chance for producers out there to show their skills. This time Erasure and their song 'I lose myself' is ready to be remixed.
Here's all the details from the Beatport website:
Ready to get lost in the music? Beatport is proud to announce Erasure's "I Lose Myself" remix contest, featuring the pumping electro-disco single from the band's new album for MUTE, "Tomorrow's World."
If you a resident of US, EU, Switzerland, Iceland, or Norway, this is your chance to collaborate with two of synth-pop's veritable icons, Andy Bell and Vince Clarke (himself a founder of Depeche Mode and Yazoo), along with the pop producer Frankmusik; and the parts to the single lend themselves to a vast array of remix possibilities, from filthy dubstep to stadium-grade electro house.
The winning remix will rack up over $5000 in prizes including a TRAKTOR Scratch Pro 2, TRAKTOR S2, Novation Launchpad, Ableton Live 8, Elektron Octatrack, iZotope Stutter Edit, Sounds To Sample Elements Library and $200 in Beatport credits. The MUTE label team will narrow down their selections to 10 finalists; those 10, along with Beatportal's top 10 community-voted remixes, will then move on to the final round, with Erasure themselves selecting the grand-prize winner.
The submissions process begins on October 25, and the window for entries closes on Monday, November 11 10.00PM MST. Download the remix parts to get started.
More information: