You might start by thinking of NOD-E as the sequencer that you get when the nodes in Spiral reach escape velocity and break out of orbit.
Additional info may be found here >>
RN9090 is a 16 step TR style sequencer with 12 rows (looks like it can display 1 octave or 12 instruments) 12×16 matrix. made for the 909 clone DIY project (drums) hence the name.
A short demo of my Arduino based MIDI sequencer the RN-9090.
A demo of this synth sequencer called ZMors made by Sven Braun..A clever little app that lets you control and loop your own sounds or use the built in presets.
zMors is a 4 Layer iPad synthesizer with build in sequencer
– Audio engine use 32Bit float per sample
– Vector based oscillators with touch edit
– Audiobus support
– Midi, Clock, MTC input
– 8 Oscillators
– 4 AMP envelopes
– 4 LFOs with FM,AM,Filter and oscillator mix
– LFO beat or key sync
– 4 Filters (HP,BP,LP)
– Reverb and delay sends
– Sequencer unit
Just a quick little demo to show the Mother of ALL Sequencers controlling four virtual instruments in Abelton Live 8. The plugins where: Arturia MiniV, Artutia ModularV, 2 instances of Alchemy and drum Impulse
While sequencers are machines to control synthesizers, Octopus stands out for a broad user base as a musical instrument. The merit lies in the directness, intuitiveness and creativity that gets unleashed by interacting with Octopus.
User experience and musical creation are the centerpieces of the Octopus design: a no-compromise machine built from metal, wood, and modern real-time software technology. The thorougly structured user interface, its stunning looks, the materials and our care going into hand-assembling every unit make each Octopus a unique piece to stand the test of time.
Octopus' tactile and visual feedback is a physical experience so typical for traditional musical instruments. Music is being felt, heard and played with Octopus. And the numbers behind it all.. no display? Well, do you really care? Yes, computers love them. We love light, color, and most of all music!
The family of Octopi has three members which differ in the enclosure they come in: Octopus New Classic for the piano lacquered wood look, comes with white painted panels and a red-green-yellow LED matrix. Octopus Lion Head carries on the nature wood look legacy that our original (and now discontinued) model has set, and which many users still long for. And finally Octopus The Shell– thisone you will never have to leave again! Built in an industrial strength road case, it features black anodized panels, and sparkles with red-green-yellow LEDs.
New TBS-X16 analog sequencer prototype
16 step analog C.V.sequencer
Splits into 2 fully independent 8 step C.V. sequencers.
Also a 16 step gate squencer with 16 individual gates and a 16 step bus.
Poly is a unique generative sequencer for iPad which harnesses the power of poly-rhythms to create intricate and exciting patterns.
Different coloured nodes are added to a circular area. The closer a node is to middle, the faster it repeats. Each node has its own sample, FX settings and keyboard. There are five available colours and up to 12 nodes maximum.
Poly comes with over 40 preset sounds, including a selection of awesome 808 samples.
Other features include:
– Audiobus integration
– Audio Copy and Paste (via In App Purchase)
– MIDI sync and Virtual MIDI out (via In App Purchase)
– Saving and Loading of Patterns
– Recording of performances
– SoundCloud upload and Dropbox upload and download (via the same In App Purchase as ACP)
MORE INFO HERE http://ipadloops.com/poly-generative-…
Demo of the 8 Step Program Analog Expression/CV Sequencer
The 8 Step Program plugs into the expression pedal or CV input of other effects pedals and synthesizers delivering rhythmic sequencer control. It can turn an ordinary auto-wah into a step filter, a tremolo into a syncopated pulse effect and a pitch-shifter into an arpeggiator. Here JJ shows what it can do with the Stereo Talking Machine Vocal Formant Filter and the Ring Thing Single Sideband Modulator.
Dan-D plays around with Effectrix on his latest track!
Effectrix is an advanced effects sequencer, or perhaps I should say was since it appears you are not able to purchase it anymore if you go to Sugar Bytes homepage…
Sugar Bytes describes Effectrix as "as a musical instrument with lots of possibilities for different expressions of existing material. Sounds of any kind can be transformed to exciting beat structures and soundscapes."
Effectrix lets you do advanced looping –  loops can also be scratched, stretched, reversed or modulated in loopsize and pitch.
MODULAR SYNTH MC-4 LINN LM-2 ULTSOUND DS-4
The Roland MC-4 MicroComposer was an early microprocessor-based music sequencer released by the Roland Corporation. It could be programmed using the ten key numeric keyboard or a synthesizer keyboard using the keyboards control voltage and gate outputs. It was released in 1981 with a list price of US$3,295 (¥430,000 JPY) and was the successor to the MC-8, which in 1977 was the first microprocessor-based digital sequencer.
This sequencer was released before the advent of MIDI, and viewed by some composers to have more accurate timing. The MC-4 has an output patchbay to the right of the control panel, allowing you to patch the MC-4 to a synthesizer using 3.5mm patch cords. There are four channels of outputs containing CV-1, CV-2, Gate and MPX (multiplex) to control four separate synthesizers.To the left of the output patchbay there are two switches and a control knob. The control knob alters the tempo of the sequencer. The first switch is for cycle mode (which allows the programmed sequence to repeat continuously until the sequencer is stopped), the second switch is for sync control. The MC-4 can be synced to other Roland equipment such as a drum machine or another MC-4 MicroComposer (offering eight separate channels of sequencing).
Try out of the custom built 303 Energy which is a sequencer synthesizer based on two Doepfer A-111-5 (Dark Energy) and Acidlab Autobot. It has two theremins to control the filters.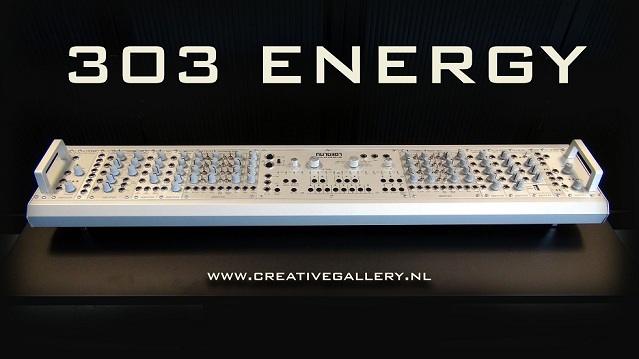 On the left side of the sequencer and first synth there is a theremin controller (A-178) to control the MS-20 filter (A-106-1 extreme) and the Wasp Filter (A-124) On the right side of the sequencer and second synth voice there is also a theremin controller (A-178) to control the 303 filter (A-103) By approaching the antenna's with your hands you can control the filters. Next to the two theremin controllers there is also an A-198 Ribbon control board to connect a ribbon controller. To invert the control signals (for instance VCA up in stead of down) there is a voltage inverter (A-175) next to the right Theremin controller. For now it gets its power through a XLR connector on the left side (+12V, GND, -12V) from a 1200mA external powersupply.
More info on: http://www.creativegallery.nl/index.p…