New TBS-X16 analog sequencer prototype
16 step analog C.V.sequencer
Splits into 2 fully independent 8 step C.V. sequencers.
Also a 16 step gate squencer with 16 individual gates and a 16 step bus.
Poly is a unique generative sequencer for iPad which harnesses the power of poly-rhythms to create intricate and exciting patterns.
Different coloured nodes are added to a circular area. The closer a node is to middle, the faster it repeats. Each node has its own sample, FX settings and keyboard. There are five available colours and up to 12 nodes maximum.
Poly comes with over 40 preset sounds, including a selection of awesome 808 samples.
Other features include:
– Audiobus integration
– Audio Copy and Paste (via In App Purchase)
– MIDI sync and Virtual MIDI out (via In App Purchase)
– Saving and Loading of Patterns
– Recording of performances
– SoundCloud upload and Dropbox upload and download (via the same In App Purchase as ACP)
MORE INFO HERE http://ipadloops.com/poly-generative-…
Demo of the 8 Step Program Analog Expression/CV Sequencer
The 8 Step Program plugs into the expression pedal or CV input of other effects pedals and synthesizers delivering rhythmic sequencer control. It can turn an ordinary auto-wah into a step filter, a tremolo into a syncopated pulse effect and a pitch-shifter into an arpeggiator. Here JJ shows what it can do with the Stereo Talking Machine Vocal Formant Filter and the Ring Thing Single Sideband Modulator.
Dan-D plays around with Effectrix on his latest track!
Effectrix is an advanced effects sequencer, or perhaps I should say was since it appears you are not able to purchase it anymore if you go to Sugar Bytes homepage…
Sugar Bytes describes Effectrix as "as a musical instrument with lots of possibilities for different expressions of existing material. Sounds of any kind can be transformed to exciting beat structures and soundscapes."
Effectrix lets you do advanced looping –  loops can also be scratched, stretched, reversed or modulated in loopsize and pitch.
MODULAR SYNTH MC-4 LINN LM-2 ULTSOUND DS-4
The Roland MC-4 MicroComposer was an early microprocessor-based music sequencer released by the Roland Corporation. It could be programmed using the ten key numeric keyboard or a synthesizer keyboard using the keyboards control voltage and gate outputs. It was released in 1981 with a list price of US$3,295 (¥430,000 JPY) and was the successor to the MC-8, which in 1977 was the first microprocessor-based digital sequencer.
This sequencer was released before the advent of MIDI, and viewed by some composers to have more accurate timing. The MC-4 has an output patchbay to the right of the control panel, allowing you to patch the MC-4 to a synthesizer using 3.5mm patch cords. There are four channels of outputs containing CV-1, CV-2, Gate and MPX (multiplex) to control four separate synthesizers.To the left of the output patchbay there are two switches and a control knob. The control knob alters the tempo of the sequencer. The first switch is for cycle mode (which allows the programmed sequence to repeat continuously until the sequencer is stopped), the second switch is for sync control. The MC-4 can be synced to other Roland equipment such as a drum machine or another MC-4 MicroComposer (offering eight separate channels of sequencing).
Try out of the custom built 303 Energy which is a sequencer synthesizer based on two Doepfer A-111-5 (Dark Energy) and Acidlab Autobot. It has two theremins to control the filters.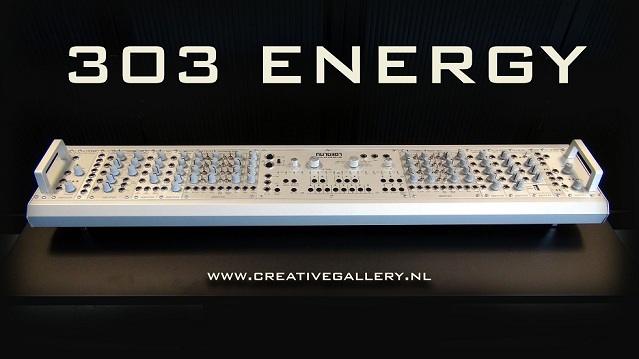 On the left side of the sequencer and first synth there is a theremin controller (A-178) to control the MS-20 filter (A-106-1 extreme) and the Wasp Filter (A-124) On the right side of the sequencer and second synth voice there is also a theremin controller (A-178) to control the 303 filter (A-103) By approaching the antenna's with your hands you can control the filters. Next to the two theremin controllers there is also an A-198 Ribbon control board to connect a ribbon controller. To invert the control signals (for instance VCA up in stead of down) there is a voltage inverter (A-175) next to the right Theremin controller. For now it gets its power through a XLR connector on the left side (+12V, GND, -12V) from a 1200mA external powersupply.
More info on: http://www.creativegallery.nl/index.p…
Demo of MikroWave 1.5.0 running on a Asus Nexus 7 tablet (though it will run fine on mobile phones as well). As of this version, the audio engine has been overhauled to run in a native layer for high performance audio with low latency (the delay between an action and hearing the result).
Devices running Android 4.2 (Jelly Bean) should benefit greatly with an extra increase in performance, while the application runs from Android 2.3.3 (Gingerbread) upwards.
You can try it for free (NO ads, NO time limits) on Google Play:
https://play.google.com/store/apps/de…
Featuring new tape echo sequencer and FX section.
For full version of NI's Kontakt 4.2.4 or 5.1.0 or later
www.tronsonic.com
This is a quick demo of Yet Another Touchscreen Music App.
"I'm trying to come up with a global live performance / songwriting app for the touch interface, and this is my seventh attempt. Definitely getting closer. Still have to add the sound-sculpting interface; this is just a quick demo of the step sequencer scene switching."
This demonstration video will help you get started. It will show you how to create a very simple loop, then it will use that loop to create the intro for a simple song.
NOTE: There is a small mistake at 1:47; where the captions mention 'notes', they should instead reference 'beats'. This will be fixed soon!
For more help, visit syntheogen.com.
Syntheogen is a music sequencer and synthesizer for Android phones and tablets, developed from the ground-up to run smoothly on mobile devices and designed to be accessible to all users, even beginners. Syntheogen produces techno, drum & bass, and other electronic styles; it can also produce backing tracks with hip hop or synthpop sounds.
The current version is a beta release; it has been tested internally, but this is its first exposure to the public, so you might find a few bugs. A finished, 'stable' release will be available soon!