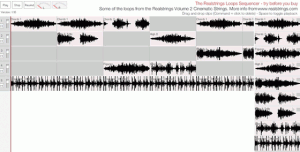 Loopmasters has introduced the Realstrings Online Loops Sequencer, a web-based sequencer by Chris Savage, offering a new way to demo loops from Realstrings sample packs. The sequencer allows you to play with some of the loops before you decide to buy, so you get a better idea of whether your music would benefit from these packs than you might get from the usual audio demos.
We are always looking at new ways to showcase loops packs; here's an innovative tool from string loops producer Pete Whitfield at realstrings.com – an online loops sequencer.

For loops packs that are construction kits, what better way to try before you buy? Sequence and layer the loops to see how they work in an interactive, musical context.
An iPad version is coming soon, plus some more functionality, based on user feedback.
More information: LoopBlog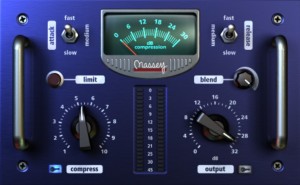 The CT5 is a revision of their popular CT4 compressor. The sonic characteristics that made the CT4 such a versatile and easy-to-use compressor remain intact.  'The core sound remains 99% the same; I'm tweaking one of the internal filters for the better and improving the dynamic range of the compression circuit,' says Steven Massey.
The new model improves on a good thing by adding a more aggressive, higher ratio compression curve option, a wet-dry signal blending control, and sidechain input capability.  Further, Steven explains, 'The highest compression setting on the CT4 is equivalent to about 8 on the CT5, even without the limit option enabled.  Thus, more compression is available to the user, which is, of course, better.'
Many of these new features were implemented due to customer requests.  'We encourage feedback, not just from the beta testers, but from everyday users,' says the newest guy at Massey Plugins, Kevin Weber. 'I truly enjoy checking in on our web forum and seeing what folks have to say. Sure there are some unrealistic requests, but some spot on ones as well. We take those ideas to heart, even the crazy ones.

High-Resolution AAX EQ Plug-in For Pro Tools
Developed by the creator of the parametric EQ, George Massenburg,Avid says that the new Massenburg DesignWorks (MDW) Hi-Res Parametric EQ Plug-In for AAX continues to define the state-of-the-art in digital equalization. Here's all the details in their own words…
Designed for Pro Tools|HD systems, version 5 offers new AAX DSP and AAX Native support, giving operators the flexibility to use the EQ across the entire Pro Tools product line, including Pro Tools|HDX systems. With its nearly unmeasurable low distortion, unprecedented clarity, unmatched smoothness, consistent EQ parameter representation, and superb high-frequency response (especially near Nyquist frequency at 44.1/48k), MDW Hi-Res Parametric EQ is designed for optimal definition in the mixing environment.
MDW Hi-Res Parametric EQ operates in double precision 64-bit floating point processing to take advantage of the maximum capability of the ProTools system. This new generation plug-in emulates the constant shape reciprocal filter curves of Massenburg's legendary GML 8200 equalizer — the industry-standard reference. The plug-in offers a choice of three or five bands of equalization (both versions support the ultra-wide 10 Hz to 41 kHz frequency range) to target certain frequencies, or conserve DSP resources when only three bands of EQ are needed.
Professional Features
MDW Hi-Res Parametric EQ offers a number of features to help achieve better mixes. It allows viewing the frequency grid in 6, 12, or 24 dB resolution for more accurate representation of the equalizer settings. It also offers various filter types and a wide selection of Q and frequency values.
IsoPeak lets the operator quickly isolate and sweep through the frequency spectrum to find a targeted frequency quickly, a benefit of parametric equalization. One can also toggle between two EQ band settings using A/B snapshots, copy one setting to the other, and invert the phase of a track. And when used with Avid control surfaces, the EQ organizes the bands into ergonomic groups on the channel strips.
High-Resolution Filtering
MDW Hi-Res Parametric EQ 5.0 assures true high-resolution operation. The plug-in delivers double-precision 64-bit processing for vanishingly low distortion for optimal clarity and transparency (think natural-sounding). It also provides high-resolution 96 kHz sample-rate processing for audio recorded at 48 kHz or 96 kHz, and 192 kHz sample-rate processing for 92 kHz audio, allowing for maximum resolution, increased headroom, and fewer artifacts, including lower noise typical of generic equalizers. And with variable Qs (adjustable bandwidths) from 25.6 (1/18 of an octave) to 0.1 (6-2/3 octaves), MDW Hi-Res Parametric EQ 5 delivers unmatched precision and maintains predictable filter curves.
Excellent DSP Efficiency
MDW Hi-Res Parametric EQ 5 allows the operator to select five bands of EQ for enhanced efficiency on Pro Tools|HDX systems or three-band mode for even greater instance counts. On Pro Tools|HDX, the five-band version delivers seven, eight and three instances for 48 kHz, 96 kHz and 192 kHz, respectively, while the three-band version delivers instance counts of ten, eleven and five for sessions of 48 kHx, 96 kHz and 192 kHz, respectively.
Wide frequency selection, from 10 Hz to 41 kHz, with variable Q and choice of three- or five-band EQ
Double-precision 64-bit processing for unprecedented clarity
Emulates GML 8200 constant shape reciprocal filter curves – the industry-standard reference
IsoPeak(r) functionality quickly solos a target frequency quickly and precisely
A/B snapshots allow settings comparisons
Supports both AAX and AAX Native plug-in formats
System Requirements
AAX and AAX DSP versions require Pro Tools version 10.2 or later. AAX DSP plug-in requires Pro Tools|HDX.
Pricing and Availability:
See Avid website.
More information:
Quickly sketching a groove on MikroWave, the sequenced synthesizer for Android devices. The video shows how a bubbly bass line can be created and what modifiers are available to the synthesizer and drummachine.
You can get it on Google Play : https://play.google.com/store/apps/details?id=nl.igorski.mikrowave
You can also test drive the FREE version (fully functional with the omission of saving and exporting of songs/audio). You can find it under "more apps from this developer" on Google Play.
A piece sequenced and performed entirely on the Korg Radias and recorded live into Logic Pro 9. Added some Echo using the Delay designer. All other effects are on the Korg Radias – Stereo Phaser on both Bass and Pads. Drums and Bass Line Sequenced on the Radias, Arpeggiator also used on Arp Saws.
"Fashioned on one of my idols Jean Michele Jarre, just in case you were wondering. Bass Sequence and sound programmed by me, all other sounds are from the presets, with a tweak here and there."
Buchla one take improv using 3x patch layers.
The 112 Touch Controlled Voltage Source is being used to both transpose the 5-note mini sequence, as well as the delay feedback amount. So you'll notice differnt levels of synced delay feedback as I play different keys – many of which are tuned to unison pitches . . . and not in perfect tune – this allows for creepy, slight doppler shift note repeats.
MikroWave, the sequenced synthesizer for Android developed by igorski.nl, being put through its paces. This video shows the generic sequencer navigation / use, introduction to the synthesizer and a lot of crude auditive side effects when used by a monkey.
You can find the application on Google Play here:
https://play.google.com/store/apps/details?id=nl.igorski.mikrowave
or visit its development website:
http://www.igorski.nl/mikrowave
Description of the app:
Ever fancied a sequenced synthesizer that fits in your pocket ? So did we.
MikroWave is a deceptively simple audio synthesizer ideally suited for quickly sketching out your musical ideas when on the move. Patterns can be created in the sixteen step sequencer, with no limit to the amount of bars your composition requires. Apart from the basic waveforms there is also a secondary oscillator which can be routed to different targets for harmonically enriching your initial sounds. You can shape the basic palette from friendly cheesy 80s trumpets via stuttering robots to totally unlistene-able sonic mayhem. If anything, you can sure annoy people on the bus.
For further improvisation there is a multi-touch keyboard allowing you to play along with the sequencer for quickly testing new ideas. When you're pressed for time, you can save a song in progress and return to it later for finishing your idea, or plainly reliving your initial enthusiasm when creating that bubbly, acid bassline over that funky beat you had a brilliant destination for.
Apart from working from your mobile device, your songs can be exported in WAV format, uploaded to SoundCloud for direct sharing, or you can export your songs as MIDI data so you can continue work on your desktop computer / other hardware devices.
MikroWave is actively being updated, so keep your eyes peeled for notifications to be sure you're getting all the latest features. You may also aid development by leaving suggestions and sharing your ideas on the website.
Just to be clear: MikroWave doesn't rely on samples for sound generation, but actually synthesizes sound. For best performance your device should have a dual core CPU, though the newer generation of Gingerbread and Ice Cream Sandwich-ready devices should have no problems running the application.
When in doubt, MikroWave is also available as a FREE version, note that saving of songs is disabled in this version.
PixiTracker 1BIT is a simple and fun tool to quickly create musical sketches, chip tunes and experiments with TRUE 1-BIT SOUND (like on old microcomputers).
No musical knowledge required!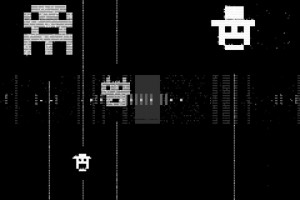 [ Key features ]
• true 1-bit sound: only 1 and 0 in the final mix;
• pattern based sequencer (tracker);
• max number of tracks: 12; max number of steps: 64;
• MIDI keyboard support;
• several packs with unique sounds;
• mic/line-in sound recording;
• Wi-Fi export/import;
• export to WAV;
• audio copy/paste;
• iTunes File Sharing;
• warm pixel interface!
Nice to see R2D2 coming to real use here (I do have exactly the same droid figure at home, now I know what to do with it)
Stepped tone generator + 5 step sequencer housed in a Star Wars R2D2 bubble bath container.
http://cgi.ebay.co.uk/ws/eBayISAPI.dll?ViewItem&item=280935731203&ssP…
http://asmo23.wordpress.com/2012/08/04/atari-d2-punk-synth/
EMS Synthi 100 sequenced by a Teenage Engineering Op-1
@ Otic Sound – http://www.oticsound.com/
Vancouver, British Columbia, Canada
via Kenton (USB-MIDI) to Kenton Pro-Solo (MIDI-CV)
Here's a teaser for the upcoming release of the updated Noisepad Sequencer, check it out, details can be found below:
SOON AVAILABLE ON THE APPSTORE : Noisepad with build-in sequencer. Now you can make your own patterns with the Noisepad sequencer.
New features:
- Save up to 12 patterns
- Variable pattern length (bars)
- BPM
- Tap
- Swing
- Metronome
- Organize your samples (drag and drop on your pads)
- Hold button.
Check out our website for the latest updates http://www.noise-pad.com
Background information:
Testing out midi-touch with the G2 and DP2.
The Ensoniq is cool. I edited the patch with my old G4 laptop and sound-diver. Its getting sequenced (reverb mix) parameter changes from Ableton Live. This results in some clicks here and there, but i don't mind. I patched the stereo delay after the reverb so the clicks bounce around the stereo field too.