MODULAR SYNTH MC-4 LINN LM-2 ULTSOUND DS-4
The Roland MC-4 MicroComposer was an early microprocessor-based music sequencer released by the Roland Corporation. It could be programmed using the ten key numeric keyboard or a synthesizer keyboard using the keyboards control voltage and gate outputs. It was released in 1981 with a list price of US$3,295 (¥430,000 JPY) and was the successor to the MC-8, which in 1977 was the first microprocessor-based digital sequencer.
This sequencer was released before the advent of MIDI, and viewed by some composers to have more accurate timing. The MC-4 has an output patchbay to the right of the control panel, allowing you to patch the MC-4 to a synthesizer using 3.5mm patch cords. There are four channels of outputs containing CV-1, CV-2, Gate and MPX (multiplex) to control four separate synthesizers.To the left of the output patchbay there are two switches and a control knob. The control knob alters the tempo of the sequencer. The first switch is for cycle mode (which allows the programmed sequence to repeat continuously until the sequencer is stopped), the second switch is for sync control. The MC-4 can be synced to other Roland equipment such as a drum machine or another MC-4 MicroComposer (offering eight separate channels of sequencing).
Try out of the custom built 303 Energy which is a sequencer synthesizer based on two Doepfer A-111-5 (Dark Energy) and Acidlab Autobot. It has two theremins to control the filters.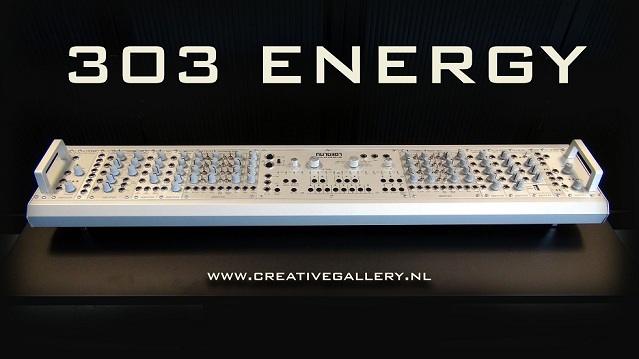 On the left side of the sequencer and first synth there is a theremin controller (A-178) to control the MS-20 filter (A-106-1 extreme) and the Wasp Filter (A-124) On the right side of the sequencer and second synth voice there is also a theremin controller (A-178) to control the 303 filter (A-103) By approaching the antenna's with your hands you can control the filters. Next to the two theremin controllers there is also an A-198 Ribbon control board to connect a ribbon controller. To invert the control signals (for instance VCA up in stead of down) there is a voltage inverter (A-175) next to the right Theremin controller. For now it gets its power through a XLR connector on the left side (+12V, GND, -12V) from a 1200mA external powersupply.
More info on: http://www.creativegallery.nl/index.p…
Demo of MikroWave 1.5.0 running on a Asus Nexus 7 tablet (though it will run fine on mobile phones as well). As of this version, the audio engine has been overhauled to run in a native layer for high performance audio with low latency (the delay between an action and hearing the result).
Devices running Android 4.2 (Jelly Bean) should benefit greatly with an extra increase in performance, while the application runs from Android 2.3.3 (Gingerbread) upwards.
You can try it for free (NO ads, NO time limits) on Google Play:
https://play.google.com/store/apps/de…
Featuring new tape echo sequencer and FX section.
For full version of NI's Kontakt 4.2.4 or 5.1.0 or later
www.tronsonic.com
This is a quick demo of Yet Another Touchscreen Music App.
"I'm trying to come up with a global live performance / songwriting app for the touch interface, and this is my seventh attempt. Definitely getting closer. Still have to add the sound-sculpting interface; this is just a quick demo of the step sequencer scene switching."
This demonstration video will help you get started. It will show you how to create a very simple loop, then it will use that loop to create the intro for a simple song.
NOTE: There is a small mistake at 1:47; where the captions mention 'notes', they should instead reference 'beats'. This will be fixed soon!
For more help, visit syntheogen.com.
Syntheogen is a music sequencer and synthesizer for Android phones and tablets, developed from the ground-up to run smoothly on mobile devices and designed to be accessible to all users, even beginners. Syntheogen produces techno, drum & bass, and other electronic styles; it can also produce backing tracks with hip hop or synthpop sounds.
The current version is a beta release; it has been tested internally, but this is its first exposure to the public, so you might find a few bugs. A finished, 'stable' release will be available soon!
Understanding the iPolysix Step Sequencer.
We go over Step Switches,Step Zones,Gate Sliders,the 6 Sequence Modes and More!
The heart of the iPolysix.
This turntable based, free-time sequencer uses laser reflections to detect the distance of pegs as they pass by a camera and in turn trigger samples.
Programmed in Max/Msp, the PS3Eye camera calculates the distance of objects based on where the red dot reflection of the laser is on the y-axis of its lens. Up to 8 steps can be tracked reliably across the y-axis, with timing left completely free to the user to place pegs adhering to the visual grid or not.
Jamming with the Roland MSQ-700, a simple but effective hardware sequencer from 1984. A (Crumar) Bit 99 offers the synth sounds, and a Roland TR-505 provides the beat.
In the days before DAWs, hardware sequencers were often used to build the structure of synth-based songs of the '80s.
Here is a tutorial on how to get started with mSequencer (MIDI Pattern Sequencer). In this video I use mSequencer to control all 8 channels of Korg's iPolySix via virtual midi. This video doesn't even begin to touch what a great app this is. If there is interest in it, I will definitely be making more videos on some of the more advanced procedures you can use as well as a lot of other options I couldn't get to in this video.
I highly recommend using an external midi controller with this app to build your sequences.
Conclusion: This is an excellent app for anyone wanting to program midi sequences and send them to apps via virtual midi. It gives you a larger range of control then any other sequencer app I have ever used. This app does not support Audiobus but it definitely should. Well worth it's price.
Grab this app on the AppStore: https://itunes.apple.com/ca/app/midi-…
And be sure to visit http://www.iosmars.com for more great demos, reviews, and tutorial videos.