Jamming with the Roland MSQ-700, a simple but effective hardware sequencer from 1984. A (Crumar) Bit 99 offers the synth sounds, and a Roland TR-505 provides the beat.
In the days before DAWs, hardware sequencers were often used to build the structure of synth-based songs of the '80s.
Here is a tutorial on how to get started with mSequencer (MIDI Pattern Sequencer). In this video I use mSequencer to control all 8 channels of Korg's iPolySix via virtual midi. This video doesn't even begin to touch what a great app this is. If there is interest in it, I will definitely be making more videos on some of the more advanced procedures you can use as well as a lot of other options I couldn't get to in this video.
I highly recommend using an external midi controller with this app to build your sequences.
Conclusion: This is an excellent app for anyone wanting to program midi sequences and send them to apps via virtual midi. It gives you a larger range of control then any other sequencer app I have ever used. This app does not support Audiobus but it definitely should. Well worth it's price.
Grab this app on the AppStore: https://itunes.apple.com/ca/app/midi-…
And be sure to visit http://www.iosmars.com for more great demos, reviews, and tutorial videos.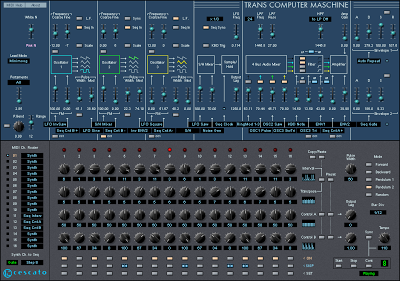 Cescato Musiktechnologie has released version 1.30 of Trans Computer
Maschine plug-in for Windows, a freeware Semi-modular Vintage Lead
Synthesizer + Pattern Sequencer modeled after two legendary mono
synths and a custom analog sequencer from Germany.
New features include:
- Added 'Envelopes' gate input indicators.
- Added 'Filter Cutoff Link' switch for band-pass use.
- Added 'Filter' modulation indicators.
- Added 'inverted Seq Cnt' modulation sources.
- Added labels to Sequencer 'Skip' buttons.
- Added middle position 'Preset' for Sequencer interval row.
- Added 'MIDI Ch. Router'. input indicators.
- Added mixer 'Oscillators Waveform' selection from GUI images.
- Improved Sequencer transport section featuring status display.
http://www.freewebs.com/wallyaudio/index.htm
Two DIY expander modules for the RLS from Music Thing Modular. Pulses produces seven pulse outputs, related to the master clock and controlled by the main module. Voltages (with the faders) is an eight step sequencer where multiple steps can be active at once, creating very unpredictable patterns.
Patch details:
One pulse output is pulsing the white noise from the RLS module through a QMMG low pass gate, creating the kick drum sound at the start.
The two outputs (normal and inverted) from the voltages module are going into a A156 quantizer, then into two sizes of a DPO oscillator. Each time the note changes, the sine wave outputs are gated through the QMMG.
One more output from the pulse module is triggering the FM bus on the DPO, causing the bleeps and bloops.
A bit of experimentation with the CZ101 using Genome to access 4 voices in mono.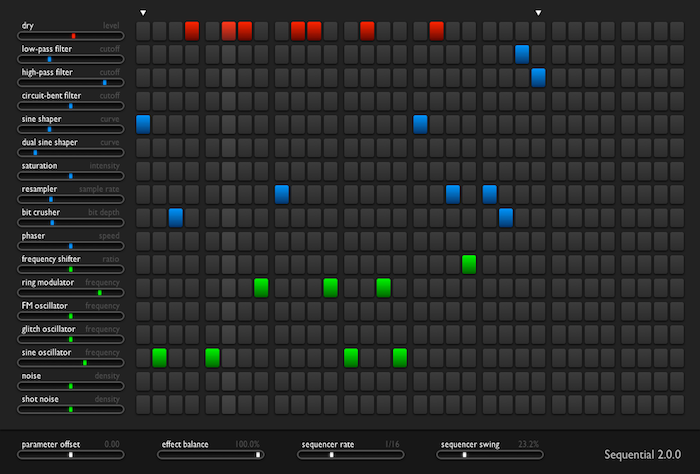 Sinevibes today announced version 2.0 of Sequential, its multi-effect sequencer for OS X.
Sequential features a wide variety of algorithms designed to filter, distort and even synthesise sound. You can 'add subtle spice or completely warp everything'.
Here's what's new in Sequential 2.0:
Completely new user interface.
Effect dry/wet balance control.
Faster and smoother effect switching algorithm.
Two new effects: phaser and frequency shifter.
Fixed ring modulator effect losing quality after some time.
Fixed synchronisation issue when host transport location is a negative number.
Added required Audio Unit format changes for OS X 10.7 and 10.8.
Removed support for Power PC processors and OS X 10.5.
New preset patches.
Sequential works with Logic, GarageBand, Live, MainStage, Maschine, Studio One, ReNoise, Reaper, Bidule and other software that supports Audio Unit effect plugins. It comes in 32/64 bit format for Intel Macs running OS X 10.6 or later, and supports Retina screen resolution.
Sequential 2.0 is available for OS X for US $39.
The P3 Sequencer is an 8 track, hardware MIDI sequencer, with a user interface comprised of knobs, keys and LEDs. A sixteen character by two line PLED display provides confirmation of pattern data and access to advanced features and configuration options.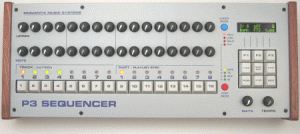 P3 allows real-time control of track mutes and simple pattern or pattern chain selection across multiple tracks, plus analogue-style editing of patterns. Each of its 384 patterns has independent values for note, velocity, tie, gate, length, gate delay, and a combination of up to four MIDI controllers, extra notes, or 'auxiliary events', per step.
P3′s unique auxiliary events allow the creation of dynamically self-modifying patterns. They can grab values from other tracks, randomise steps, alter track and global settings, and much more. There are three modulation 'accumulators' per track, that can be used as LFOs, perform arpeggiation effects or enable complex pattern progressions.
Furthermore, you can assign front panel knobs to modify or mask these events in real-time, allowing you to create interactive patterns that change predictably as you adjust the knobs – varying in complexity, controlling levels of randomness, even 'morphing' from one pattern to another.
A Force-to-scale option provides preset and user-defined scales to keep everything in key (but defeat-able per pattern step if required), and a configurable 'change mode' allows patterns with different lengths and/or time-bases to free-run, or be synced to a global bar.

Two Q960 Step Sequencers are controlled from the same clock source (courtesy of Q962 Sequential Switch…); row A drives oscillator pitch, row B drives MF-104M Delay Time for wild analog delay effects. Audio straight from camera (sorry…), Mario Bianco is playing the Feedback Amount.
This is a preview of the new trigger sequencer eurorack module from Delptronics which debuted at NAMM 2013.
It is a very compact 8 HP wide. There are 8 trigger outputs and each pattern consists of 8 steps per output. It has 8 pattern memories, which can be played back in any order and combined into chains of up to 100 steps. The revolutionary pattern editing interface enables you to create any pattern with just two knobs.
For more information, or to be notified when the new module is for sale, go to http://delptronics.com