May 19, 2012 · Posted in
Uncategorized
·
Comments Off

on Acoustica has announced the release of Mixcraft 6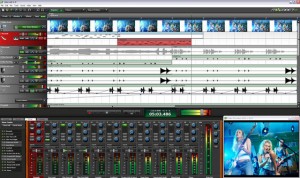 Acoustica has announced the release of Mixcraft 6, the latest version of the powerful music production and multi-track recording workstation that comes packed with thousands of music loops and dozens of audio effects and virtual instruments.
Mixcraft enables you to record audio, arrange loops, remix tracks, compose with MIDI and virtual instruments, add effects, score and edit video, and mix and master your tracks to create polished, professional compositions.

Mixcraft is your music production dream come true, instantly turning your computer into a fully-stocked professional recording studio.
New in Mixcraft 6
New interface & artwork.
Over 6,000 loops in version 6.
Major improvements to MIDI editing, piano roll.
Submix tracks for grouping tracks together.
Multiple lanes for tracks (including multiple MIDI channels).
Improvements to loop library including loop importing & search.
Loop recording mode with multiple takes.
Video transitions, automation, text & titles, still image importing.
Built-in guitar tuner on every audio track.
New virtual instruments (ComboV & ComboF organs, Acoustica Studio Drums).
Improved quantize and other new MIDI Editing tools.
Reverse audio clip feature.
Drum maps in the piano roll interface.
Control surface support for transport & plug-in controls.
Support for VSTs with multiple outputs.
ReWire support.
Output busses.
Route MIDI track data to audio plug-ins.
Live automation recording.
Option to mix down all individual tracks for exporting project to another DAW.
Insert/Remove time from project.
Ability to draw selection in the time-line (to select data in all tracks).
Improved time signature support.
Effect chain presets.
Phase reverse option on audio clips.
Faders & meters now logarithmic when in dB mode, MX6 now defaults to dB mode.
New project folder helps to keep your recordings organized.
Backup file created every time a project is saved.
Auto-rewind to playback start preference added (on by default).
Ability to arm MIDI tracks for a specific MIDI device.
Mixcraft for Windows is available to purchase for $74.95 USD.
Introducing Studio One – The Future of Music Production is Here. a groundbreaking music creation and production application for Mac OS X and Windows XP/Vista that makes audio recording, MIDI sequencing, and audio mastering ridiculously simple right out of the box, yet provides a wealth of professional features.
Fresh code, innovative drag-and-drop MIDI mapping and plug-in management, auto-configuration with PreSonus hardware, insanely good audio, unlimited tracks and plug-ins per track, and a powerful, inventive Start page that literally puts the whole project right in your hands are just a few of the compelling features that make Studio One the next generation in audio software. Far from just another music-production program, Studio One changes the rules of the game, giving you a complete solution from raw tracks to finished master, while supporting the latest standards and technologies.
Studio One is based on a cutting-edge audio engine that delivers unparalleled sound and automatically switches between 32-bit and 64-bit floating-point processing on the fly (even with a 32-bit OS), ensuring the highest quality audio at all times. It is compatible with any ASIO-, Windows Audio-, or CoreAudio-compliant audio interface, including, of course, the entire line of PreSonus interfaces.
[youtube=http://www.youtube.com/watch?v=nIxV-BsqdyY]
Features:
Elegant single-window work environment
Powerful drag-and-drop functionality
Unlimited audio tracks, MIDI tracks, virtual instruments, buses, and FX channels
Content browser with convenient sort options and preview player
Integrated mastering solution with automatic mix updating, waveform editing, effects, Red Book CD burning, and digital release
Automatic delay compensation
Advanced automation
64-bit processing (even on 32-bit machines)
Easy-to-use sidechain routing
Awe-inspiring 64-bit effects suite
Stunning virtual instruments
User-friendly sampler
Most intuitive MIDI-mapping system available
Real-time audio timestretching and resampling
AU, VST2, VST3, and ReWire support
K System metering
Gigabytes of inspiring content
Compatible with any ASIO-, Windows Audio-,or Core Audio-compliant audio interface
November 14, 2008 · Posted in
Electronic Music
·
Comments Off

on Best soft synths out there…
Although a year old I still think this is a great way of making soft synth reviews, big credit to CM magazine and I hope they will make a follow up soon – since a lot has happened even though its only been a year.
"We countdown the best virtual synthesizers in the world, as voted for by Computer Music readers and forum users. Episode 1 features positions 10 to 5."
Episode 1:

[youtube=http://www.youtube.com/watch?v=_UNn2AxxaEY]
Episode 2:
[youtube=http://www.youtube.com/watch?v=epyjrwSRA9E]
have a great weekend
Cheers
October 31, 2008 · Posted in
Electronic Music
·
Comments Off

on More info on the new Powercore 6000
By combining TC Electronic's System 6000 algorithms with its PowerCore platform users now get the ultimate studio tool for their DAWs. PowerCore 6000 will be available at the end of October 2008 for $3495 MSRP.
PowerCore 6000 features eight FreeScale DSP engines, the same DSPs used in System 6000, and it has an SRAM memory design that supports high performance reverbs and delays. This enables users to run famous and heralded reverbs and delay-algorithms from System 6000 with popular DAWs like Logic Pro, as well as with any other VST- and Audio Units-compatible host.
With the inclusion of the System 6000 plug-ins, PowerCore 6000 is one of the most powerful mixing and mastering solutions for DAWs available today. PowerCore 6000 includes 7 pristine plug-in algorithms, which are ported 1:1 from System 6000: VSS3 Stereo Source Reverb, Nonlin2, DVR 2 Digital Vintage Reverb MD3 Stereo Mastering, Brickwall Limiter, UnWrap stereo to 5.1 conversion and TapFactory.
Powercore 6000 includes three of TC Electronic's best reverbs. Starting off with the VSS3 Stereo Source Reverb, a genuine and original reverb directly ported from the System 6000. NonLin2, an effects reverb which differs from the traditional natural sounding TC reverbs. NonLin2 is capable of generating compact vocal ambience; percussive and dramatic drum sounds, reverse reverbs and completely new "twisted" effects. Completing the reverb section of PowerCore 6000 is DVR 2 Digital Vintage Reverb. Careful attention was put into preserving the qualities of the original EMT250 processor, including sweet modulation, spectral balance, spaciousness and saturation. Not only is DVR2 the most precise EMT250 emulation up to now, it also emulates its predecessor in the way parameters interact for different settings.
PowerCore 6000: System 6000 plug-ins for your DAW
With our most powerful PowerCore yet, PowerCore 6000 makes the same award-winning System 6000 algorithms used by high-end mastering studios and Oscar-winning sound designers available for your DAW. PowerCore 6000 includes world-renowned classic reverb, vintage emulations and source-based reverb and you have full access to MD3 multiband dynamics for no-compromise mastering, precision brickwall limiting and unsurpassed stereo to 5.1 conversion.
April 18, 2008 · Posted in
Electronic Music
·
Comments Off

on Fill up your studio with VSTs and more from Maschinenmusik
Maschinenmusik has been around for some time but if you haven´t come across them before, than you need to do so now and perhaps get a boost in your creativity and btw Maschinenmusik also hosts a couple of artists in the electro/EBM space that can be worth checking out. Honestly I have not tried all their stuff myself, but if someone has please make sure to post any comments you may have.
A couple of snapshots of what you can find:
Orion Platinum
Orion Platinum is the most advanced Software Studio software avaliable today. Everything you ever need for professional music production and then some…
Audiomulch
Audiomulch is a modular audiosoftware with extraordinary effects and great parameter automation , great for live performances.
VST FX and VST instruments
for the adventurous musician. Here you find some VST FX and VST instruments made by MASCHINENMUSIK for free download.