So is it time to fully get rid of your stationery studio and move over to the iPad, at least Auria may be a big first step in that direction
Auria is a 48 track digital audio workstation designed exclusively for the iPad. Built from the ground up to be used in professional studio and live tracking applications, Auria includes the necessary tools for recording, mixing, and editing any project. Auria introduces innovative features such as AAF import/export for moving sessions between popular DAWs (like Pro Tools and Nuendo), 64-bit double precision architecture, and up to 24 tracks of simultaneous recording using compatible USB audio interfaces.
WaveMachine Labs has teamed with PSPaudioware to offer a powerful vintage-inspired channel strip on every channel, plus a mastering processor on the master and subgroup channels. Auria also features a first among mobile apps – in-app purchase of VST plugins; Auria includes several bundled plugins (convolution reverb, stereo chorus and delay, classicVerb and a pitch processor). Plug-ins by PSPAudioware, Overloud Audio Tools, Fabfilter and more will be available through in-app purchase. WaveMachine Labs is pioneering the effort to develop the VST standard on iOS, allowing manufacturers to easily port their existing plugins to the iPad.
"I Only Wanted to be Alone" courtesy of James McCartney
This sound installation depicts the possible problems of the flow of information. It tries to reflect the human misaudition, the lapse of information and the social problems which derive from these. The design is clear and it has a transparent structure. Using analog technology and ignoring complicated ones are all used to strenghten the expressiveness of installation.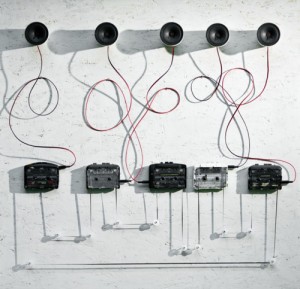 After turning on the wlakman the tape starts to move. Each walkman plays the sound, which is on the tape, in a different point. However, the sound is the same the constants are chaotic. The reading points are not the same distance from each other. Some walkmans are louder while others are quieter so the consonants are not homogeneous. If you bend closer to the walkmans you can easily notice where they are in the course of replay.
'Making of' a new sound library of springs – check here for more info:
hissandaroar.com/sd010-springs
And here's the pitch: This video demonstrates how to use Transform to make massive layered sound effects like the ones heard in the original Transform trailer.
TRANSFORM is an extensive collection of field recordings, sound effects and designed sounds developed by sound designer Jean-Edouard Miclot (a.k.a. JEDSOUND). Bundled with sample mappings for many popular formats, TRANSFORM's painstakingly recorded and processed sounds will find their home in the arsenals of sound designers, editors and music producers alike.
AVAILABLE NOW @ http://twistedtools.com/
Audio Demo made by Richard Devine using sounds from the sample pack.
Motiongraphics and Editing by axiom-crux.net
FEATURES:
Over 1.64 gigabytes of field recordings, sound effects and designed sounds
24bit/96khz WAV audio embedded with Soundminer enriched metadata
46 sampler instruments for a variety of popular *formats
*Ableton Simpler/Sampler, Battery 3, EXS24 MKII, Kontakt 3, Maschine and Reaktor 5
A brand new version of Twisted Tools' MP16, called MP16c
Kore and Maschine templates for MP16c
TouchOSC MIDI and OSC template for MP16c
Kyma Instrument
Bonus kit by Richard Devine
Additional content by Twisted Tools and Jedsound
http://youtu.be/1uVCYL8zVBk
Experimental French composer Pierre Henry, one of the pioneers of musique concrète, is the subject of this documentary that traces his development of a new sound that shocked the music world. During the 1950s, the radical innovator and his colleague Pierre Schaeffer created a unique form of music based on electronically modified environmental noises.
Director: Eric Darmon
As early as the Apocalypse Now movie in 1979 when Francis Ford Coppola and sound designer Walter Murch pioneered a quadraphonic sound system for the film tour, Coppola has made sound and audio technology an important part of filmmaking, including building a dedicated mixing facility, American Zoetrope. In 2010, under the direction of Coppola, Zoetrope was turned into one of the first post-production facilities to install a Meyer Sound EXP cinema loudspeaker system on its rerecording stage and has since upgraded the other rooms to EXP. Tetro and Twixt are two of his movies that were mixed on an EXP system.
In this video, Coppola chats about the evolving role of sound in his storytelling and his sound facility in Napa.
Learn about American Zoetrope: http://www.zoetrope.com/
Learn about Meyer Sound EXP: http://www.meyersound.com/products/exp/
http://www.meyersound.com/news/2010/zoetrope_studio/
Making of second ambience library for HISSandaROAR, recorded with three stereo mics:
Sanken CSS5
Sennhesier MKH70 x 2
DPA 4060 x 2
hissandaroar.com/ambience-libraries
If you've ever had to sync waves to picture then you will appreciate the need for a collection of cleanly recorded waves of various scales; from gentle idyllic waterlaps to more turbulent surf. Each location in this new library was recorded to six tracks, capturing a narrow & coherent stereo image with a Sanken CSS5 microphone, a dynamic & exciting pointillistic image using a pair of Sennheiser MKH70s, and a more diffuse, brighter image using a pair of omni-directional DPA 6040 microphones.
Each ambience in the library contains a minimum of three minutes duration for each of the three sets of stereo mics, in all fourteen beach locations, along with a photo to clearly identify the setting, and GPS coordinates incase you'd like to visit on Google Earth. This library aims to provide sound editors with the ability to easily choose which location and recording/s best match the perspective and point of view of your footage. Alternatively if you need a micro-nap, hit play & transport yourself to a pristine Pacific beach, far far away….
Showing the new Loop Recorder and SoundCloud export added in Addictive Synth Version 1.2
Dynamic wavetable synthesizer
• Six dynamic wavetable oscillators per voice, up to 48 total.
• Continous morphing between two oscillator sets.
• Realtime editing of up to 128 partials (overtones).
• Realtime editing of filter structure to create arbitrary body resonances.
• Extensive modulation possibilities using up to 4 LFOs and 4 Envelopes.
• Control matrix allows real time control of five parameters using the X/Y touch pad, the modulation wheel and the tilt sensors of the iPad.
• Monophonic or polyphonic with 8 voices.
• 128 factory presets, unlimited user presets can be shared.
• Up to three effects concurrently usable selected from: equalizer, phaser, flanger, chorus and stereo/cross delay.
Background information:
I made a recording of a Shō (japanese Mouth Organ) playing several chords.I processed the file using Absynth's granular engine and envelopes.

Sho and U

In the 8th century, a variety of Chinese sheng were introduced to the Japanese court. Some of these instruments, called u by the Japanese, are still preserved in the Shoso-In Imperial Treasure House in the ancient capital of Nara. The present day Japanese free-reed mouth organ, or sho, evolved from these instruments. Sho are traditionally used to produce a chordal texture in Gagaku, the music of the Japanese court.
The present day sho is much thinner than the sheng, although its design is similar, with the pipes arranged in a circular fashion extending from the top of a wooden wind chamber. It usually plays at least an octave higher in general, to the sheng. The sho is an extremely expensive instrument to purchase, as the pipes are usually constructed from blackened hundred year old (or more) bamboo that has been part of a thatched roof, directly above the kitchen in a traditional Japanese house. These houses are rare now, and as such, so are the pipes to make a sho.
Many contemporary composers, both in Japan and in the West, are writing for the sho, and sho virtuosi like Miyumi Miyata and Ko Ishikawa are performing these works internationally, on both the sho and modern reconstructions of the u.
Here's a new app that sounds/looks pretty interesting:
Sonified translates what your video camera sees into sound in real time. Record onto QuickTime movies. The sonifying video camera for the iPhone and iPad.
Hear what your video camera sees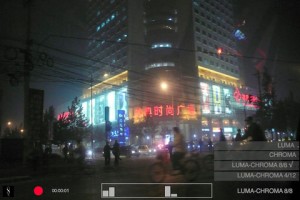 Sonified takes real time visual information from your iPhone/iPad video camera and uses it to mix 16 stereo tracks of CD quality music in real time, translating what your video camera sees into sound. A real time instrument, Sonified uses your iPhone/iPad's video camera to translate qualities of light and color into music, a process called "sonification". Using Sonified allows the iPhone and iPad user to connect vision and sound in new ways, creating video and soundtrack at the same time. Record Sonified QuickTime movies with CD quality audio and share with friends and other Sonified users.
Specifications:
Real time mixing of audio based off of brightness and or color values.
16 different ways to combine sounds and visual response.
4 Sonified "instruments", each with its own unique way of mixing sound based off of visual information: mixing sound based off of brightness, based off of color, based off of both brightness and color simultaneously, or based off of brightness and color proportioned towards color.
A total of 64 stereo tracks of sound in four separate Sonified "scenes" all in 44.1 kHz 16-bit CD quality audio.
Extremely responsive, with close to zero-latency between what your camera sees and what you hear.
Record video and CD quality sound simultaneously onto QuickTime movies and save on your iPhone or iPad.
Intuitive, with an easy to use interface.
Designed for use with headphones.