Background information:
I made a recording of a Shō (japanese Mouth Organ) playing several chords.I processed the file using Absynth's granular engine and envelopes.

Sho and U

In the 8th century, a variety of Chinese sheng were introduced to the Japanese court. Some of these instruments, called u by the Japanese, are still preserved in the Shoso-In Imperial Treasure House in the ancient capital of Nara. The present day Japanese free-reed mouth organ, or sho, evolved from these instruments. Sho are traditionally used to produce a chordal texture in Gagaku, the music of the Japanese court.
The present day sho is much thinner than the sheng, although its design is similar, with the pipes arranged in a circular fashion extending from the top of a wooden wind chamber. It usually plays at least an octave higher in general, to the sheng. The sho is an extremely expensive instrument to purchase, as the pipes are usually constructed from blackened hundred year old (or more) bamboo that has been part of a thatched roof, directly above the kitchen in a traditional Japanese house. These houses are rare now, and as such, so are the pipes to make a sho.
Many contemporary composers, both in Japan and in the West, are writing for the sho, and sho virtuosi like Miyumi Miyata and Ko Ishikawa are performing these works internationally, on both the sho and modern reconstructions of the u.
Here's a new app that sounds/looks pretty interesting:
Sonified translates what your video camera sees into sound in real time. Record onto QuickTime movies. The sonifying video camera for the iPhone and iPad.
Hear what your video camera sees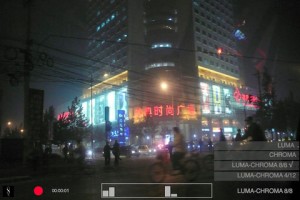 Sonified takes real time visual information from your iPhone/iPad video camera and uses it to mix 16 stereo tracks of CD quality music in real time, translating what your video camera sees into sound. A real time instrument, Sonified uses your iPhone/iPad's video camera to translate qualities of light and color into music, a process called "sonification". Using Sonified allows the iPhone and iPad user to connect vision and sound in new ways, creating video and soundtrack at the same time. Record Sonified QuickTime movies with CD quality audio and share with friends and other Sonified users.
Specifications:
Real time mixing of audio based off of brightness and or color values.
16 different ways to combine sounds and visual response.
4 Sonified "instruments", each with its own unique way of mixing sound based off of visual information: mixing sound based off of brightness, based off of color, based off of both brightness and color simultaneously, or based off of brightness and color proportioned towards color.
A total of 64 stereo tracks of sound in four separate Sonified "scenes" all in 44.1 kHz 16-bit CD quality audio.
Extremely responsive, with close to zero-latency between what your camera sees and what you hear.
Record video and CD quality sound simultaneously onto QuickTime movies and save on your iPhone or iPad.
Intuitive, with an easy to use interface.
Designed for use with headphones.
Tim Prebble has uploaded this video featuring the making of a new sound library, recorded entirely with contact mics….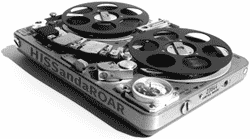 HISS and a ROAR release royalty-free sound effects & sound design libraries created by award winning film sound designer Tim Prebble and while there is nothing new about the idea of selling sound effects online, these libraries take a different philosophical approach by providing comprehensive thematic collections of high resolution source material, with the sole purpose of helping sound designers achieve their most creative work by access to diverse & highly malleable sounds.
Here's a short video by synth.nl with Rob Papen in the studio talking synths and more:
A while ago Rob Papen visited my Apollo studio. Together with his crew he was filming some footage for his upcoming book and DVD about sound design on synthesizers. While they were filming in my studio I filmed them with my own camera. So this short movie is sort of a 'making of'. More info about the DVD will follow on http://www.robpapen.com. I made all the 3D animations in this movie with Cinema 4D.
Background info: Everyday Looper allows you to record 4 musical phrases – 6 on an iPad – and loop them right away. You can then mix and merge them on the fly. Your Adventures Into Sound begin here – Live Looping on any iOS device! Perhaps the easiest introduction into this DIY music style which is taking the world by storm.
New In Version 1.5
STEREO TRACKS
• Pan your tracks. Compatible devices : iPhone 3GS, iPod Touch 3G, iPad and newer.
MIDI CONTROLLERS
• Record, Play/Pause and Stop can be triggered by a MIDI controller through Core MIDI.
2 INPUT CHANNELS
• Record channel 1 or 2, both simultaneously or as a stereo source. Require an audio device that provides 2 input channels such as the Alesis iO Dock.
"Can ANYONE guess what the Mystery Object is, near the end of the video? "
Who says robot boxing won't happen in 2020?! "Real Steel" plays out this fantasy as robots have replaced humans in boxing in this Shawn Levy film ("Night at the Museum" franchise and "Date Night").
Charlie Kenton (Hugh Jackman) loses a chance to become a boxing champion when robots take over, and he becomes a small-time promoter. When he has difficulty making a living, he reluctantly teams up with his son Max (Dakota Goyo) to build a robot that can contend for the championship.
The stunning visual effects behind the robots can only be brought to life by believable sound. The team responsible for this difficult task include Craig Henighan (sound designer, sound re-recording mixer, supervising sound editor), Skip Longfellow (first assistant sound editor), Warren Hendriks (sound designer), Rob Nokes (sound effects field recordist), and Dan O'Connell (foley artist).
Grab your boxing gloves and step into the ring!
The Gear Fiend Presents: TR-909 Bass Drum Recorded Through 13 Distortion Units
1) Dunlop Fuzz Face
2) Electro-Harmonix Metal Muff with Top Boost
3) Maxon OD-9
4) Boss OS-2
5) Boss DS-1
6) Boss DS-2
7) Pro Co RAT
8) Tech 21 VT Bass
9) MXR Bass D.I. +
10) Electro-Harmonix English Muff'n
11) Moog Moogerfooger Lowpass Filter
12) Electro-Harmonix Bass Big Muff Pi
13) Elektron SidStation
SAMPLE PACK NOW AVAILABLE HERE:
http://thegearfiend.com/
This is one of a series of podcasts exploring the ways sound and sound effects can be used to help bring stories to life.
Meet Ben Burtt, Sound Designer for films like Star Wars, Raiders of the Lost Ark and WALL-E. Learn how he comes up with sounds that complement the amazing things seen on the silver screen – from laser blasts to whirring, buzzing lightsabers. Find out the story behind some of his signature effects and how he first got interested in sound design.
Finland based composer and sound designer Ari Pulkkinen seems to be one of the most listened to composers in the world right now with over 250 million people who have heard his original Angry Birds theme. Pulkkine's catchy theme was also recently performed by the London Philharmonic Orchestra which was part of a music festival in the city.
Angry Birds has been praised for its successful combination of addictive gameplay, comical style, and low price. Its popularity led to versions of Angry Birds being created for personal computers and gaming consoles, a market for merchandise featuring its characters and even long-term plans for a feature film or television series. With a combined 350 million downloads across all platforms and including both regular and special editions, the game has been called "one of the most mainstream games out right now", "one of the great runaway hits of 2010", and "the largest mobile app success the world has seen so far".
Ari has also worked on other very popular games such as Trine (PS3/PC), Dead Nation (PS3), and Outland (PS3/360). The games have received rave reviews and praise for their soundtracks and sound design.
Ari Pulkkinen
aripulkkinen.com
ANGRY BIRDS
rovio.com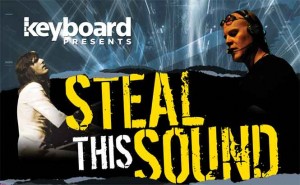 Hal Leonard Books has published Steal This Sound by Mitchell Sigman. Presented by Keyboard Magazine, the book is a collection of Sigman's columns of the same name from Keyboard, detailing the greatest synth sounds from the greatest records, and how they can be achieved with modern gear.
Presented in chronological order as they appeared in the magazine from inception to the present, Steal This Sound includes more than sixty articles describing prominent synth sounds from Prince's "When Doves Cry" and Nine Inch Nails "Closer" to MGMT's "Time to Pretend" and Radiohead's "Everything in It's Right Place".
Hal Leonard Books PR officer had this to say, "Steal This Sound is packed with invaluable tips and insights into re-creating these great synth sounds and provides a unique view into how synth technology has evolved over the years. Sigman explains how these sounds were created originally on synths by Moog, ARP, Sequential Circuits, Roland, and Korg, and gives step-by-step instructions to re-create the sounds using widely available modern plug-ins and software instruments from a host of manufacturers. Steal This Sound is a great read for music enthusiasts and an invaluable resource for keyboardists and programmers."
About the Author:
Mitchell Sigman is a Los-Angeles based keyboardist, guitarist, and producer. His band Celebutante plays the LA area and has numerous TV track placements in shows such as The Jersey Shore, The Bold and the Beautiful, Burn Notice, Monk, and more. Sigman also won a BMI award in 2008 for his work on the Berlin track "Scream", which is used as the theme song for the Lifetime drama Angela's Eyes. Sigman has been a writer for Keyboard Magazine since 2004.
Pricing and Availability:
$19.99
More information: