Minimoog Voager
Moog Little Phatty
DSI Prophet 08
DSI Evolver
Novation Bass Station 2
Roland Alpha Juno 2
Lexicon MX 300
TC Electronic M 300
EHX Small Stone
Digitech Digidelay
KMel Robotics presents a team of flying robots that have taken up new instruments to play some fresh songs. The hexrotors create music in ways never seen before, like playing a custom single string guitar hooked up to an electric guitar amp. Drums are hit using a deconstructed piano action. And there are bells. Lots of bells.
Many thanks to Lockheed Martin and Intel Corporation for their support.
See this show and more live at the USA Science & Engineering Festival on April 26 & 27 in Washington, D.C.
http://www.usasciencefestival.org/
Lockheed Martin in the founding and presenting sponsor of the festival.
KMel Robotics (www.kmelrobotics.com)
Video Produced and Directed by Kurtis Sensenig (www.kurtisfilms.com)
Music Arrangement and Sound Design by Dan Paul (www.danpaulmusic.com)
Background vidoe description:
This is something i always wanted to do, but never had the chance to. It happended 15 minutes ago, unexpected. I had to record this, even if is totally inaccurate!

Hope you enjoy listening to this as i did playing it!
In 1973, film producer Arthur P. Jacobs optioned the film rights to Dune but died before a film could be developed. The option was then taken over two years later by director Alejandro Jodorowsky, who proceeded to approach, among others, Peter Gabriel, the prog rock groups Pink Floyd and Magma for some of the music, artists H. R. Giger and Jean Giraud for set and character design, Dan O'Bannon for special effects, and Salvador Dalí, Orson Welles, Gloria Swanson and others for the cast.
Frank Herbert traveled to Europe in 1976 to find that $2 million of the $9.5 million budget had already been spent in pre-production, and that Jodorowsky's script would result in a 14-hour movie ("It was the size of a phonebook", Herbert later recalled). Jodorowsky took creative liberties with the source material, but Herbert said that he and Jodorowsky had an amicable relationship. The project ultimately stalled for financial reasons. The film rights lapsed until 1982, when they were purchased by Italian filmmaker Dino DeLaurentiis, who eventually released the 1984 film Dune, directed by David Lynch.
More "Space Exploration"

Retro electronic Sci-Fi improv………
All sounds straight out of the instrument- no external processing.
The little volume jumps are caused by the 266 QRV affecting a one of the 227 channel inputs.
Kebu live at the Assembly Computer Festival at Hartwall Arena, Helsinki, 2.8.2013. Real-time computer graphics by VJ Julius Tuomisto and his Z Vector software. Many many thanks to the amazing crew at Assembly for not only arranging the concert but also filming and broadcasting the show (the whole show was streamed online in realtime)!
The song was performed using only analog synthesizers, either played live or sequenced. The performance was recorded directly from the mixer to a stereo track and later mixed together with the ambience from the arena. A few mistakes have been cut out and replaced with the audio from a rehearsal take.
Equipment used in this song: Roland JX8P, Juno 60, Alpha Juno 1&2, TR-808; Moog Source, Korg Polysix, Poly 61; Jomox AirBase99, Touched-by-sound DRM1, Oberheim Matrix 1000, Yamaha RS7000 (only for MIDI sequencing), Behringer DDX3216, Lexicon MPX500, as well as a midi patchbay and additional preamps for my mixer.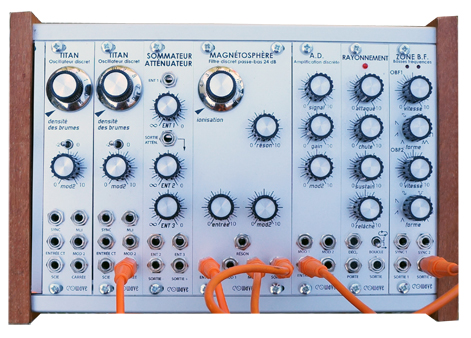 Eowave crew is proud to announce the release of the Spatiolab Capsule TITAN, also available in individual modules. Because Titan has a thick atmosphere able to carry sound waves, the moon is a noisy place…
For a long time, we've imagined the music of the space to be a sweet song of gods, crystalline magical sounds. And we thought that the space was a silent place, cold and empty. Since 2004, the Cassini-Huygens mission has recorded some sounds of the space, different from everything we'd imagined before, shock of particles launched in the space at a prodigious speed, a deep chaos, unexpected, which the ESA/NASA has sometimes called « alien sounds »… The Cassini-Huygens mission started the exploration of Titan in 2007.
Since 2000, Eowave designs instruments for electronic music. The Titan Capsule is a fascinating and immersive experimentation mixing space mysteries and music. It will make you explore sound dimensions that are still unknown.

Titan has a very thick atmosphere able to carry sound waves. With the Capsule TITAN, we'll get onboard to explore how the sound goes across Titan orange thick atmosphere. In a way, the Capsule Titan is a simulation station able to reproduce the journey of the sound waves crossing Titan's atmosphere and offer the possibility to modulate parameters like the thickness of the haze, the ionisation of the magnetosphere, Titan's magnetic glow, or low frequency zones.
Price : 699 euros incl VAT / 549 euros (without case, no MIDI interface, no patch cables, no PSU).
Solarstone has released a new remix based on the End Titles to Blade Runner, details below:
Pre-order here: http://bit.ly/blade_runner_pure_mix
Subscribe to Black Hole Recordings TV: http://bit.ly/SubscribeToYoutube
Spotify: http://bit.ly/BlackHoleSpotify
Facebook: https://www.facebook.com/blackholerec…
Twitter: http://twitter.com/BlackHoleRec
Drawing from one of Vangelis' most renowned soundtracks, Solarstone has rebooted the theme from the audio auteur's hallowed 'Blade Runner' soundtrack. He has brought trance purity to the beautifully sinister tones of its title theme. Utilizing it as a last tune of the night ID-weapon for many a month, the track (now christened 'Love Theme from Blade Runner') has been given the official seal of approval. The trance master is now set to release his love letter to 'Blade Runner'.
"The doomy night-black drama of Vangelis' echoing piano chimes have rarely sounded better" — DJ Mag (Sept 2013)
Losing none of its ominous awe-inspiring atmosfear, through Solarstone's 'Love Theme From Blade Runner' Vangelis' now exerts a hypnotic thrall over the club floor. Using the classic strains of 'End Titles', Richard fires the Original's balanced nexus of dystopian melancholia and towering elevation through the Pure prism.
Developing a pounding sonic underlay, built from pistoning drums, dramatic orchestral cymbal crashes and undulating bass swells, he sets the stage for its big dramatic soundscapes. Retrofitting Vangelis' analogue synthesizers & FX with purified trance mechanics and unrelenting tension, he filters its darkly timeless melodic chimes into the mix's system. Brilliantly drawn out over nine fissionable, charged minutes he points Vangelis' 30-year-old classic at the very heart of the club floor.
BRUNO ENDER LEE – "Galactic Moog 2" – performed live August 24. 2013
MiniMoog Voyager Old School (bass), Moog Little Phatty Stage II (arpeggios), Moog Etherwave Theremin, Arturia MoogModular V (fx-sequence)
composed, arranged & produced by Bruno Ender Lee; 2013 Velvet Voyage Productions
WIthout the little beings from outer space, we would only have buttons.
A first try with the ribbon controller and the modular synth. The "Alien Zip" module is designed after the first Coagula dot org model. I'm using a MIDI out from it to a vst of a Novachord patch. The other sound is from the CV and Gate out to the modular synth. The fun part is setting the amount of pitch shift for each voice. They are different so as I slide around the ribbon the notes spread apart different distances from each other. A very spooky effect. The ribbon pitch bend amount in the vst is setup by using Midi CC#20 in Kontakt 5 as a modulator. The output of the high and low regions of the ribbon controller are pitch value 0 – 127 as per Midi spec.
The scale is controlled on the modular by a Q125 Signal Processor. There is no way to control the amount of pitch bend on the modular. It is a simple voltage amount generated by the Arduino and ribbon. These differences make it challenging to get harmonies from both voices because the modular's response is very sensitive and wide and the vst requires a lot of movement along the ribbon to get a small shift in pitch. The module itself uses the Arduino Uno R3 board and the software allows the user to set up the area of the ribbon controller to be used. This makes it flexible as an instrument but hard to get the scales exactly congruent to each other after a reset for calibration. I set it up so when you touch the ribbon the pitches are in tune but when you move, they spread at different rates. All the background sounds and sequences are from the modular clocked by the Q960 sequential controller. The drum part is added later after determining the beats per minute and soft syncing to the track in Cubase. I used Addictive Drums for this.