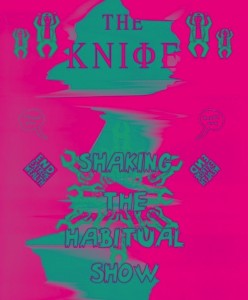 Swedish synthpop maestros The Knife have today announced a 14-date European tour in support of their forthcoming fifth album Shaking The Habitual, out on April 8 via Brille. Their sole UK date will be at London's Roundhouse on May 8 – pre-sale tickets will be available to mailing list subscribers on Wednesday, January 16, at 9am; subscribe here.
In the meantime, take a look at last month's teaser trailer for the album below:
Music can be so meaningless.
We had to find lust.
We asked our friends and lovers to help us.
http://theknife.net
The duo of Olof Dreijer and Karin Dreijer Andersson, more known has the Swedish Electronica act The Knife have announced on their website that they are working on a new album.
The album, that still doesn't have any title, is scheduled for release in 2012 and will be the bands first studio album since "Silent Shout" from 2006.
It will be released through their own label Rabid Records.
A spectacularly gorgeous song about my favourite obsession demands an equally spectacularly gorgeous visual accompaniment.
The lyrics are loosely based on the poem "Clouds" by Percy Bysshe Shelley.
The female guest vocalist is Karin Dreijer Andersson, aka The Knife, aka Fever Ray.
Swedish electro-pop duo The Knife have announced plans to release a studio version of the opera Tomorrow, in a Year, in collaboration with bands Mt. Sims and Planningtorock, on March 1. Tomorrow, In A Year, commissioned by performance group Hotel Pro Forma, is based on the work of Charles Darwin's On the Origin of Species.
"At first it was very difficult, as we really didn't know anything about opera. We'd never been to one," says Olof Dreijer of The Knife. "But after some studying, and just getting used to opera's essence of pretentious and dramatic gestures, I found that there is a lot to learn and play with. In fact, our ignorance gave us a positive respectless approach to making opera."
The Knife had originally composed the music on their own for the opera itself, but decided to pull in Mt. Sims and Planningtorock to capture the huge width of the Darwin and evolution theme. The opera has performances slated until February 1 in Stockholm, Sweden. Subscribers to The Knife's mailing list will receive a free download of the track "Colouring of Pigeons" from the upcoming album.
Hi all
Time to sum up the past ten years and list the 20 best / most important electronic, electro, EBM and synth albums that has been released. This is of course a tricky quest and will most likely create some debate. Numerous of good albums has been released and I have certainly not listened to all of them, but still someone needs to make a statement :-). The albums are listed in order of importance, but may not be absolute, in the sense that – if they are rated as number 6, they could easily be argued to have place number 7 instead etc, but still…
Number 1:
Kraftwerk – Tour de france soundtrack
Number 2:
The Knife – Silent Shout
Number 3:
Goldfrapp – Black Cherry
Number 4:
Covenant – Skyshaper
Number 5:
Colder – Again
Number 7:
Daft Punk – Discovery
Number 8:
Felix! – Kittenz and thee glitz
Number 9:
Welle: Erdball – Die wunderwelt der technik
Number 10:
Suicide – American supreme
Number 11:
DAF – Fünfzehn neue D.A.F-Lieder
Number 12:
VNV Nation – Futureperfect
Number 13:
Röyksopp – Melody A.M.
Number 14:
Rammstein – Mutter
Number 15:
Vive la fete – Republique populaire
Number 16:
And One – Agressor
Number 17:
Jeans Team – Musik von oben
Number 18:
Recloose – Cardiology
Number 19:
Melotron – Sternenstaub
Number 20/21:
Télépopmusik – Genetic world
System – Self organizing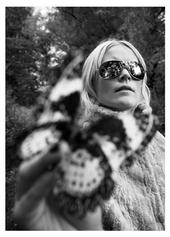 I sure hope this is just a side project and that the awesome collaboration between the two siblings aint over for good. Anyhow, Miss Karin Dreijer Andersson from The Knife send out this message on a couple of news sites telling us about the newly posted laidback and minimalistic piece "If I Had a Heart" with her solo project Fever Ray on MySpace. The debut album is scheduled for early 2009. Amongst the influences mentioned we find "Miami Vice", Aphex Twin, David Lynch and Björk.
And for old time sake a nice Knife video:
[youtube=http://www.youtube.com/watch?v=VrjwqXwyzNU]
Cheers Ola
Not only is Adrian Recordings continually stretching into new genres, they're also entering new territories! Printer is a 4-piece electronic/techno act from Denmark and this is their full-length debut.
Printer is a 4-piece band formed as a regular post-rock band but after the first two weeks, the drummer was up behind a keyboard and the guy brought in as guitar player never left his laptop. Getting more and more integrated as a band by interconnecting instruments through the computer, the name Printer became the best way to parallel this merge between digital and analogue.
On recent works the band has taken a more dirty and danceable, say techno, approach, although still maintaining the emotional and intellectual focus. It's music to be moved by whether it'll be on the dance floor or in your couch. It's electronic pop music at its best. And it's got power and depth. In addition to that the band really throws on sweaty live shows. They claim to be tired of starring at the floor while playing and instead they raise their heads, lift their hands in the air and lose themselves to the floor. Numerous shows in Denmark, at the Norberg Festival and recently in Malmö together with Familjen, have strengthened them to a full proofed elegant transcendental party banger.
[youtube=http://www.youtube.com/watch?v=7QmHfvM6krA]